The tiny town of Churchill on the shores of Hudson Bay is the gateway to polar bear viewing in the region.
Nicknamed the "Polar Bear Capital of the World" this itinerary see's guests staying at the intimate Nanuk Polar Bear Lodge, a short flight from the town.
Mid-October to Mid-November is considered the peak time to see polar bears, however the summer months of July, August and September are also superb – and offer the chance to see polar bears frolicking amongst the summer flowers and wandering the open grassy tundra.
The other bonus of visiting Hudson Bay at this time of year is to other arctic wildlife, including black bears, wolves and moose, that thrive during the warmer months.
Staying at Nanuk Polar Bear Lodge, explore the surrounding area in search of polar bears, black bears and other arctic wildlife. Enjoy guided hikes and ATV (all-terrain vehicle) excursions along the coastline and river deltas. This itinerary also includes a little bit of time in Churchill to explore the town, and guests might visit the Itsanitaq Museum and the notorious Polar Bear Jail.
---
*Valid for select travel dates in 2023. Minimum two people travelling together. Single travellers on request.
Strictly subject to availability. Conditions apply.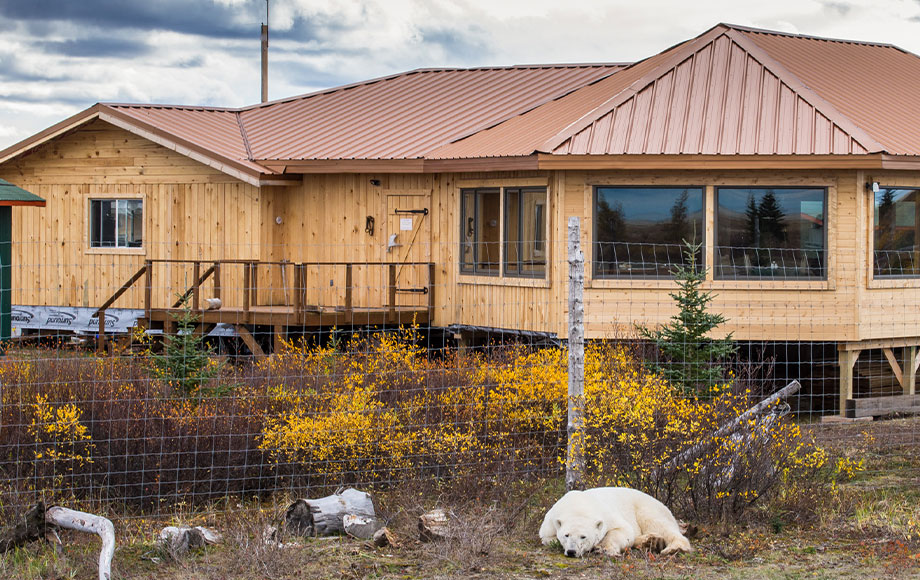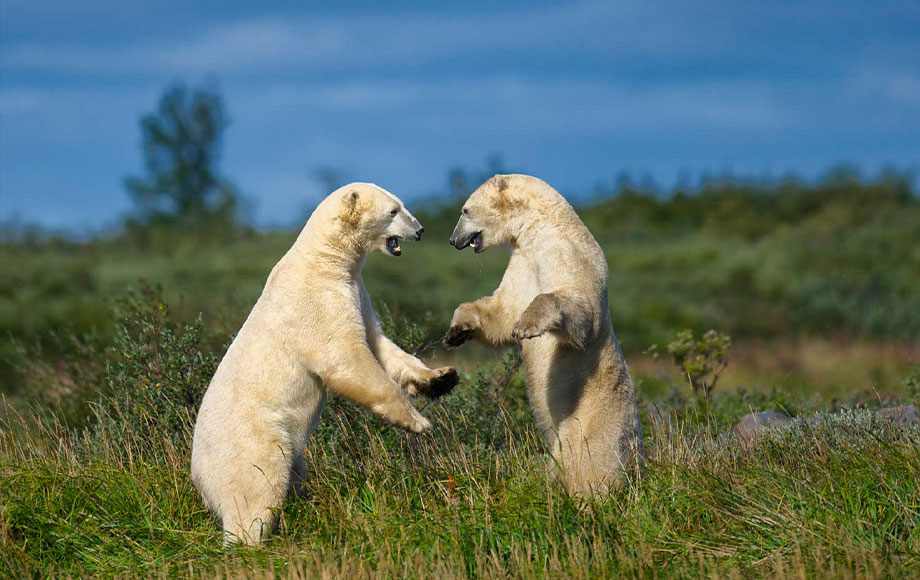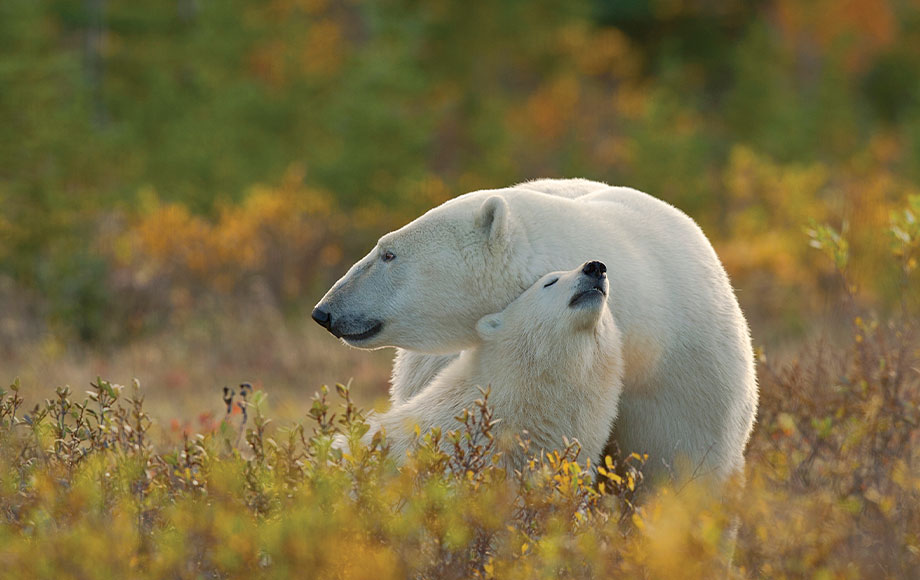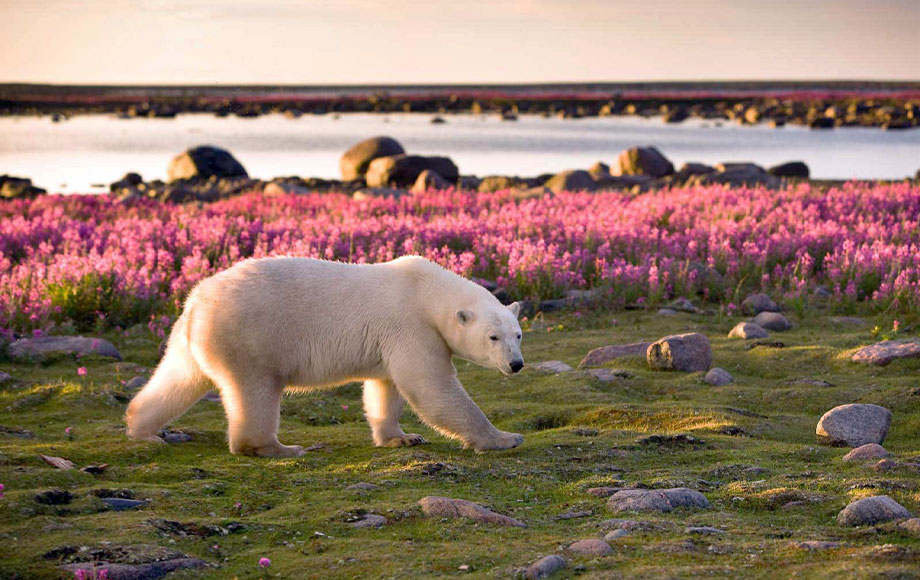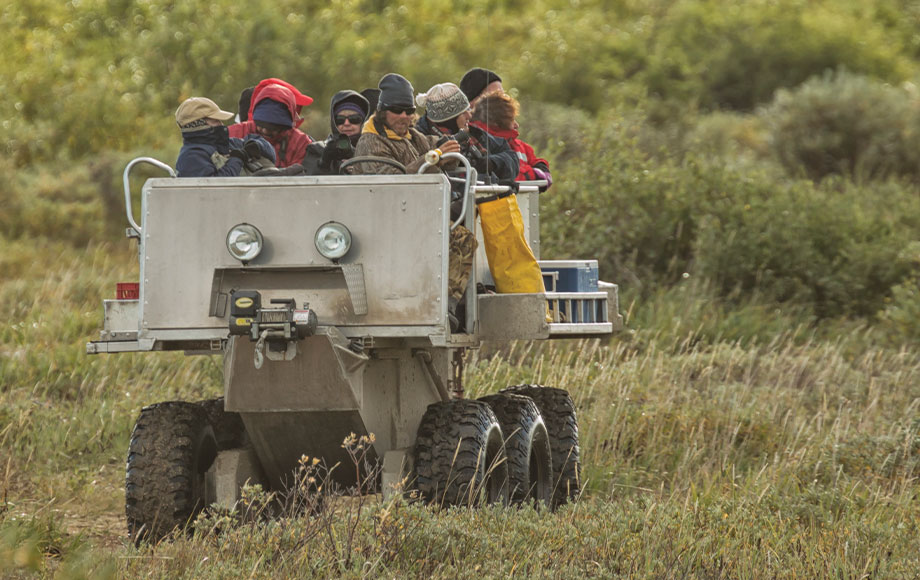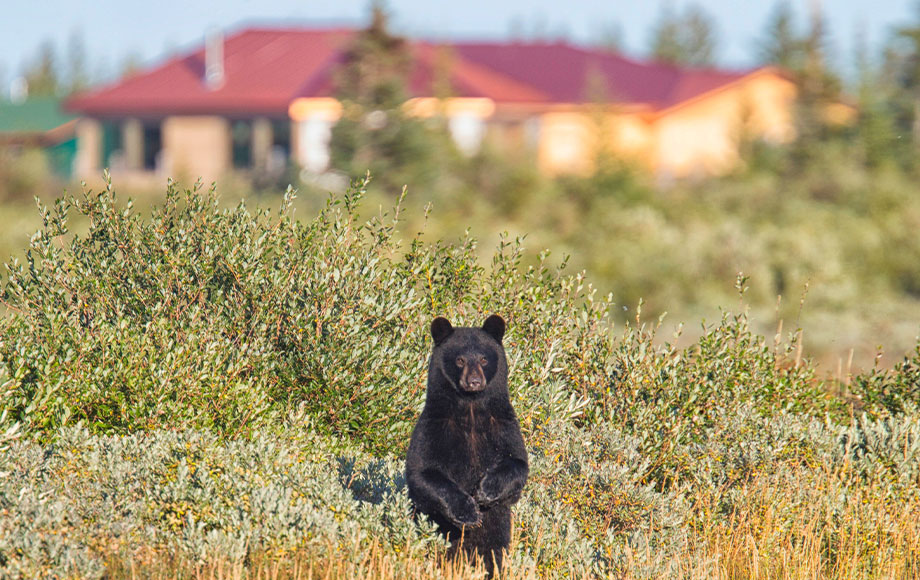 Nanuk Polar Bear Lodge
The lodge is situated on the shoreline of Hudson Bay, south-east of the frontier town of Churchill. With beautiful Boreal Forest as its backyard, the diverse ecosystem surrounding Nanuk Polar Bear Lodge is home to iconic Canadian wildlife such as polar bears, black bears, wolves and moose. Surrounded by fencing, the lodge offers a safe place to get up-close-and-personal with polar bears and other wildlife that wander past.
The property comprises eight guestrooms with en-suite bathrooms, housed in two guest wings that are connected to the main area. This communal area consists of a dining room and comfortable lounge area, that both have cosy sitting area with views out over the bay. After a days exploration, enjoy a presentation from one of the guides or just relax in the lounge discussing the days adventures.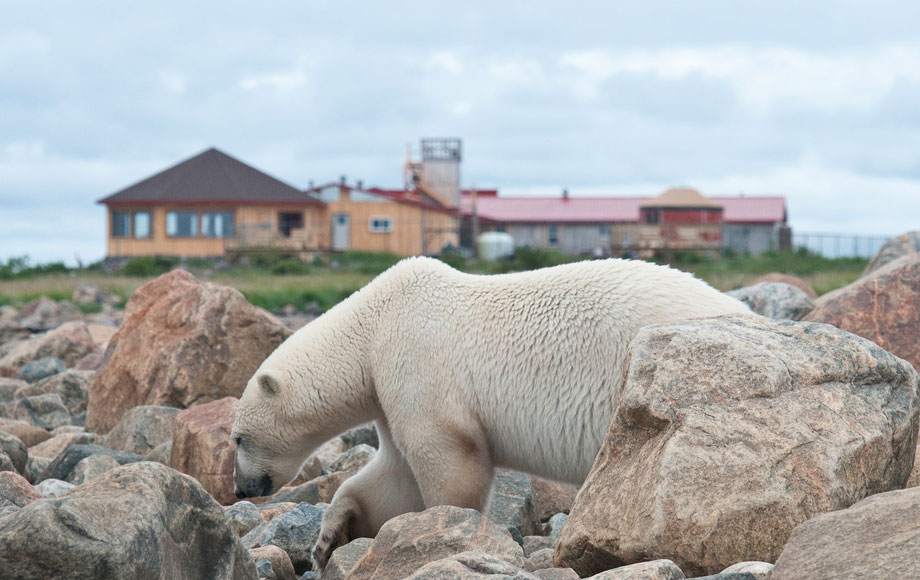 Tour Details
Departure Dates 2023
12, 16 & 20 Aug
01, 05, 09, 13 & 17 Sep
Enjoy guided hikes across the tundra
Search for wildlife such as polar bears, back bears and moose
Indulge in tundra-inspired cuisine, complemented by select Canadian wines
Marvel at the nights sky, the lodges location beneath the auroral oval offers superb aurora viewing (weather permitting – moderate chance on this itinerary)
Educational presentations by naturalist guides about Arctic ecosystems, landscape and lifestyle
Exploring further afield on a half or full-day ATV tours
Roundtrip airfare between Winnipeg and Churchill, Manitoba
Roundtrip airfare between Churchill and Nanuk Polar Bear Lodge
Two nights' accommodations in Winnipeg
Four nights' Nanuk Poor Bear Lodge
All meals, excursions and transfers as per itinerary
Rain gear*
Please note: *The rain gear we provide at the Lodge is designed to fit guests from child to adult.  Boot sizes larger than a men's size 13 or a very small child are customised sizes that we do not provide. Additionally, guests over 6'4" may be required to bring their own gear as we may not have clothing sizes to fit.
Flights other than mentioned
Arrive and departure transfers in Winnipeg
Travel insurance
Taxes
Gratuities
The tiny town of Churchill is located on the shores of Hudson Bay in the Canadian Province of Manitoba. The town is inaccessible by road. There are direct flights available from Winnipeg, or alternatively, travellers can take the more adventurous route from Winnipeg, a 2-day journey by train.
Hudson Bay Odyssey
8 days/7 nights
---
Day 1
Winnipeg
On arrival in Winnipeg make your way to The Grand by Lakeview at Winnipeg Airport. This evening, meet the rest of your group during an orientation dinner. D
Day 2
Nanuk Polar Bear Lodge
This morning make your way to Winnipeg Airport for your flight to Churchill. On arrival, you will be met by a representative who will provide you with instructions for the morning transfers. Your adventure begins with a private charter flight to Nanuk Polar Bear Lodge – make sure to keep an eye out for wildlife en route to the lodge. You will be warmly welcomed when you arrive and your hosts will provide a tour of the lodge and a safety briefing before being shown to your room.
Enjoy lunch before heading out on your first excursion – an afternoon of exploring the coastline in search of the "Great Ice Bear". Back at the lodge, enjoy appetiser hour followed by a signature tundra-inspired dinner.
Evenings typically include an informative lecture or slide show presentation narrated by one of your knowledgeable guides. On clear nights, you may also have a chance to view the spectacular aurora borealis display. B L D
Days 3-5
Nanuk Polar Bear Lodge
After breakfast your guides will outline a plan for the day's excursions. If there are bears near the lodge, your morning excursion might be delayed to take advantage of viewing and photographing these beautiful creatures. As the lodge is always staffed, you also have the option to stay behind and take photos of the wildlife you may see around the lodge.
Whilst at Nanuk Polar Bear Lodge, daily outings may include the following:
Coastal exploration of the tidal flats and Hudson Bay shoreline on foot or in specially outfitted ATV's (All-terrain vehicles) to observe and photograph polar bears and the other wildlife that live in this unique environment.
Explorations of the river deltas and vast beach ridges of the area or, alternatively, staying closer to the lodge to take advantage of opportunities to photograph polar bears and other wildlife.
At night, lodge staff will also monitor the skies after dark, and provide a gentle wake-up call if the northern lights can be seen. B L D
Day 6
Winnipeg
After another hearty lodge breakfast, transfer by air back to Churchill. Have your cameras ready for the return flight as it affords excellent opportunities for great aerial shots.
Back in Churchill, you'll spend the day with a tour guide exploring the town and surrounding area, learning about its rich history as a seaport and ex-military base. Your tour will include stops such as the Parks Canada exhibit, the Itsanitaq Museum and the Polar Bear Jail. Along the way, your guide will point out murals that were commissioned in 2016 as part of the SeaWalls mural festival. Before a group dinner, your guide will give you free time to shop for last-minute souvenirs at the unique gift stores in Churchill.
Fly to Winnipeg this evening. On arrival, collect your bags and head across to The Grand by Lakeview at Winnipeg Airport. B L D
Day 7
Winnipeg, tour ends
Check out of your hotel this morning where your tour ends.
---
Please note: This itinerary is intended as a guide and the operator reserves the right to make changes to this itinerary due to weather and logistical complications that can arise from traveling in the north and to remote locations. Daily outings are dependent on weather and ground conditions.
Canada Tours & Cruises
Our Canada tours include a range of hotels, wilderness lodges, rail tours, cruises and adventures which can be combined in an itinerary tailor made to suit your interests, style and budget. Choose from one of our featured itineraries or let us tailor make an itinerary to suit your interests, style and budget.
The tiny town of Churchill on the shores of Hudson Bay is the gateway to polar bear viewing in the region. Nicknamed the "Polar Bear Capital of the World" this itinerary see's guests staying at the
The tiny town of Churchill on the shores of Hudson Bay is the gateway to polar bear viewing in the region.
A secluded lodge with a well-established reputation for excellent grizzly bear viewing from special tree stands or by boat depending on the season.
Churchill in Manitoba, Canada offers some of the world's best polar bear viewing experiences in both summer and winter, with travellers given the chance to travel aboard the amazing Tundra Buggy.
There's no better way to experience the majestic Canadian Rockies than aboard the world-renowned Rocky Mountaineer luxury train.
Experience the magic of Canada's Rocky Mountains in winter, travelling by rail and exploring the picturesque alpine towns of Banff, Jasper and Lake Louise on this enchanting Winter Wonderland tour.