One of the most relaxed ways to explore Canada is by rail. VIA Rail has an extremely extensive network, which spans both the country's east and west coasts. The company also has a comprehensive timetable with great fares.
Travel between vibrant destinations such as Montreal and Quebec City or Toronto and Ottawa aboard comfortable day trains. You'll conveniently arrive in the heart of downtown, avoiding any traffic or parking hassles. For a classic overnight adventure, choose one of VIA Rail's long distance services connecting exciting destinations such as vibrant Vancouver on the Pacific coast to picturesque Rockies towns such as Kamloops and Jasper.
For extended journeys, take advantage of VIA Rail's 21 day CANRAIL pass for great value travel on their entire Canadian network.
Contact us for information on the entire range on VIA Rail train journeys.
Discover The Romance of Rail Travel
Travel today is all about the destination – trains place emphasis on the journey itself. VIA Rail's elegant flagship train – The Canadian – covers the route between Toronto and Vancouver, carrying passengers in utmost comfort. Travel Sleeper Plus Class for a choice of cosy berth or cabin accommodation. Alternatively, you can upgrade to Prestige Class for an upscale ensuite cabin with onboard concierge service.
There are plenty of other quality locomotives in the fleet, which transport some 4 million passengers a year over VIA Rail's 12,500 kilometre rail network. A number of different classes are available on the different trains, ranging from Economy to Sleeper Plus.
The Canadian
This exceptional route covers 4,466 scenic kilometres – including the magnificent Canadian Rockies – between Vancouver on the Pacific coast to Toronto by Lake Ontario (see The Canadian 5D/4N package shown on this page for more details).
Corridor
Follow the great St Lawrence River from Quebec City to Montreal, Lake Ontario, Toronto and Niagara Falls. This 1,765km-long line encompasses 48 stations and terminates in Windsor, with trains offering two comfortable classes of travel.
The Ocean
Explore the historic Canadian Maritimes and its lovely small towns on The Ocean route, which spans 1,346km between Montreal and Halifax.
Jasper – Prince Rupert
Gorgeous mountain scenery and rushing rivers are guaranteed on this spectacular 1,160km track which runs between Jasper in the Canadian Rockies and Prince Rupert on BC's rugged north coast.
Montreal – Senneterre/Jonquiere
The shortest of VIA Rail's routes whisks adventure seekers into the pristine wilds of northern Quebec, a mosaic of forests, waterfalls and lakes.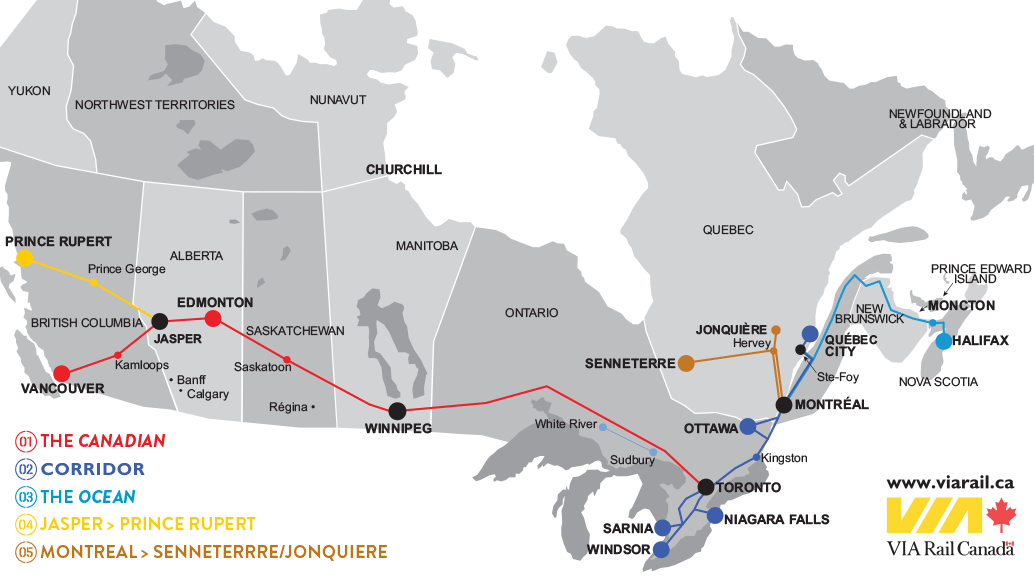 Canada Tours & Cruises
Our Canada tours include a range of hotels, wilderness lodges, rail tours, cruises and adventures which can be combined in an itinerary tailor made to suit your interests, style and budget. Choose from one of our featured itineraries or let us tailor make an itinerary to suit your interests, style and budget.
The tiny town of Churchill on the shores of Hudson Bay is the gateway to polar bear viewing in the region. Nicknamed the "Polar Bear Capital of the World" this itinerary see's guests staying at the
The tiny town of Churchill on the shores of Hudson Bay is the gateway to polar bear viewing in the region.
A secluded lodge with a well-established reputation for excellent grizzly bear viewing from special tree stands or by boat depending on the season.
Churchill in Manitoba, Canada offers some of the world's best polar bear viewing experiences in both summer and winter, with travellers given the chance to travel aboard the amazing Tundra Buggy.
There's no better way to experience the majestic Canadian Rockies than aboard the world-renowned Rocky Mountaineer luxury train.
Experience the magic of Canada's Rocky Mountains in winter, travelling by rail and exploring the picturesque alpine towns of Banff, Jasper and Lake Louise on this enchanting Winter Wonderland tour.