Travel to Duba Plains Camp, a luxury Relais & Chateaux in Botswana
One of Botswana's most extravagant and luxurious safari camps, the camp is set in a private 81,000-acre concession in the heart of the magical Okavango Delta. Duba Plains Camp is an atmospheric safari camp renowned for its personalised service and extraordinary, intimate wildlife encounters. It is also the spot where legendary conservationists and documentary filmmakers Dereck and Beverly Joubert filmed the remarkable "Relentless Enemies" documentary – showcasing the relationship between a particular pride of lions and herd of buffalo.
This intimate camp is comprised of just 5 beautifully appointed guest tents and one opulent 2-bedroom suite. The tents evoke the classic safari style of the 1920's and feature a lovely lounge area and spacious ensuite bathroom; fitted with double vanities, indoor and outdoor showers and a beautiful bathtub. There is even a generous space for guests to dine indoors in private while ceiling fans keep the air cool on warm afternoons. Each tent also has its own spacious outdoor deck boasting a plunge pool, sun lounges and a shaded sala complete with couches and coffee table – all overlooking the magnificent Okavango landscape.
The suites are connected by raised walkways to central main area, which is also elevated and consists of an oversized lounge, restaurant, library and well-stocked wine cellar. The lounge and dining area opens out onto an expansive outdoor deck which features a central fire pit surrounded by comfortable couches and chairs. The deck is shaded by giant ebony trees and has ample space for outdoor dining. The views from the deck are sensational and is a popular spot for guests to gather with pre-dinner cocktails and swap stories at the end of each day.
Duba Plains Suite
One of Botswana's largest and most exclusive private suites, the Duba Plains Suite sits on raised, recycled railway-sleeper decking and accommodates four guests in two elegant bedrooms. This magnificent suite features an indoor lounge and dining area furnished with soft leather couches and comfortable armchairs. The two bedrooms – one each side of the spacious lounge area – have their own ensuite bathrooms fitted with indoor and outdoor showers as well as a beautiful bathtub. Each room also has its own private deck complete with a private plunge pool and a shaded sala with coffee table and couches. Guests staying in the Duba Plains Suite have access to a private vehicle and guide during their stay.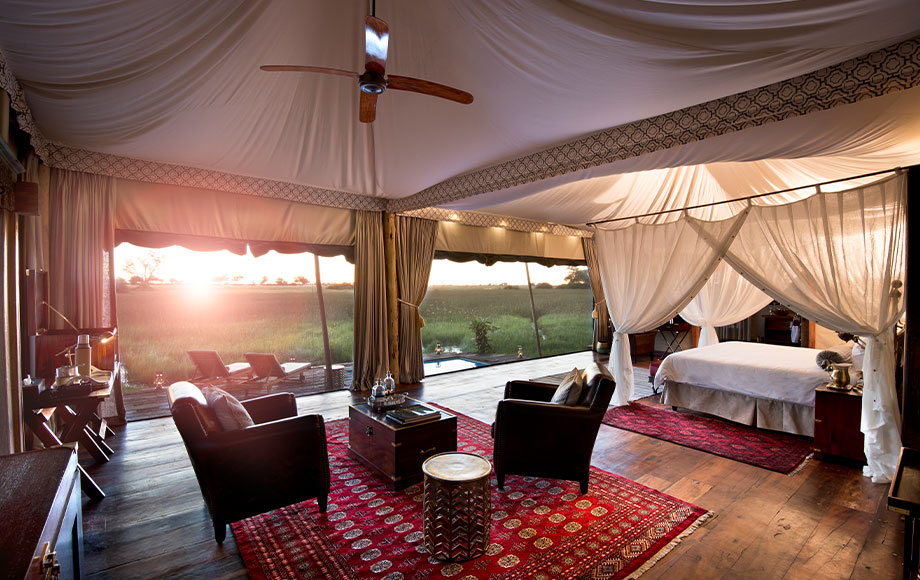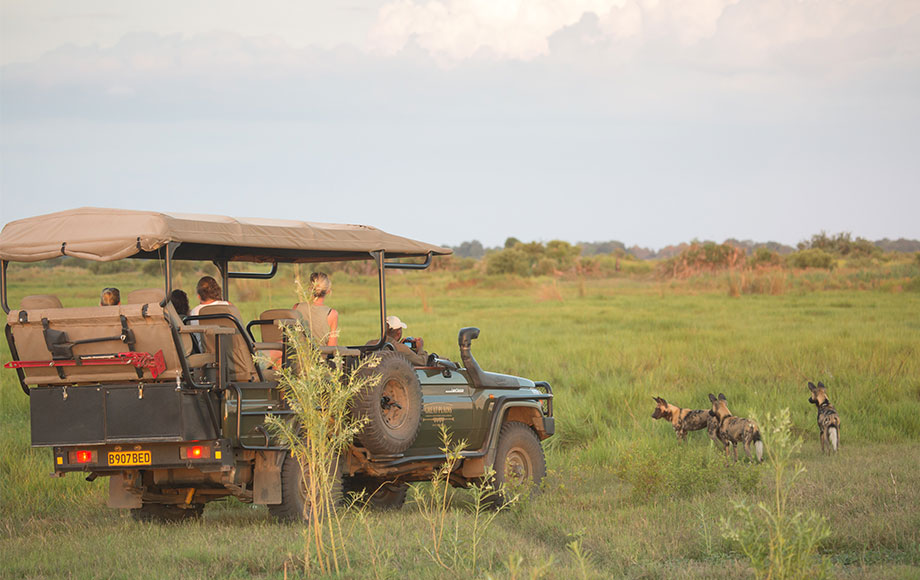 Abundant wildlife
Duba Plains is home to an abundance of wildlife including lion, leopard, elephant, buffalo and lechwe. Activities at Duba Plains Camp centre on morning and afternoon/early evening game drives in an open 4WD vehicles. Boating is also a possibility and offers guests a chance to discover birdlife and other wildlife from a different vantage point (water level dependent). Guests staying in the Duba Plains Suite have access to a private vehicle and guide during their stay.
Highlights
A luxury safari camp in a pristine corner of the Okavango Delta
A member of the esteemed Relais & Chateaux collection
Just 5 bespoke guest tents and an extravagant 2-bedroom suite
Expansive outdoor decks with private plunge pools and a shaded sala
A glorious main camp with an oversized lounge and wine cellar
Extraordinary birding and wildlife viewing opportunities
A romantic 1920s safari atmosphere
Activities
Exciting morning and afternoon game drives
Boat excursions (water level dependent)
Birdwatching
* Some activities at extra cost
Getting there
Light aircraft transfers to Duba Plains Camp can be arranged from Maun, Kasane or selected camps in the Delta.
Be Inspired
Luxury Botswana Safaris
Discover Botswana's most beautiful wilderness areas and an abundance of incredible wildlife on this luxury 10 night safari.
Okavango Delta Accommodation
Below are some of our preferred tented camps in the Okavango Delta region. Please contact us to tailor accommodation options to suit the style of your trip and your budget.
Situated amid a mosaic of landscapes, ranging from open grasslands and forest to seasonally flooded plains, Camp Moremi is one of the best places to discover the extraordinary diversity of the
Secluded Camp Okavango is a hidden gem on a beautiful forested island in a permanently flooded section of the Okavango Delta.
Camp Xakanaxa lies in the famous Moremi Game Reserve in the heart of the Okavango Delta. Its privileged location provides its guests with access to both land and water safari experiences.
On an island in the Okavango Delta's unspoilt southeast, Chitabe Camp is well-known for its resident African wild dogs and leopards.
On the other side of the island to big sister Chitabe, Chitabe Lediba Camp offers a more intimate experience of this wildlife-rich section of the southeastern Okavango Delta.
Secluded Duba Explorers Camp is set amid a classic Okavango Delta landscape in a vast private concession, assuring guests of very exclusive wildlife encounters.
Duba Plains Camp is an extravagant luxury safari camp set in a private concession in the Okavango Delta dubbed "Botswana's Masai Mara" for sheer density of wildlife.
Duke's Camp brings the iconic 1940s campaign style of Jack's Camp to the northern Okavango Delta
Located in a very remote part of the Okavango, rustic Footsteps Camp is used as a base for walking safaris - one of the most authentic ways to experience this captivating wilderness.
Jacana is a classic Okavango Delta water camp set on a secluded island deep in the magical Okavango Delta, surrounded by floodplains and papyrus swamps.
Eco-friendly Khwai Tented Camp offers classic safari experiences and a taste of local culture in a beautiful community-run concession adjacent to Botswana's predator-rich Northern Moremi Game Reserve.
Located on a tree-covered island in the heart of the Okavango Delta, Kwetsani Camp is a fine place to see the region's many specially adapted species including red lechwe, Pel's Fishing Owl and
Rustic Linyanti Expeditions offers a perfect setting for an authentic and wild safari experience at the edge of Botswana's Linyanti marshes, whose waters sustain a huge variety of game and
Little Mombo Camp is linked to Mombo Camp by a walkway. With just 3 guest suites, it's a most intimate safari camp to watch nature's dramas play out on the surrounding floodplains.
Next to big sister Tubu Tree Camp, Little Tubu offers a much more exclusive experience of the Okavango's leopard-rich Hunda Island, with just 3 walk-in tented suites.
Little Vumbura Camp is set in a private concession in the north of the Okavango Delta. Its diverse surroundings mean that just about every species found in the delta can be observed here.
On Chief's Island in the world-renowned Moremi Game Reserve, superb Mombo Camp is right in the heart of big cat country.
Qorokwe Camp is a brand new luxury safari camp set amongst some of the Okavango's most diverse habitats.
Completely rebuilt in recent years to meet today's high standards, Sable Alley is a legendary safari camp in Botswana's enviably wild Khwai Private Reserve.
In a private concession next to the Okavango Delta's celebrated Moremi Game Reserve, Sanctuary Baines' Camp offers a personalised experience of this beautiful, faraway wilderness.
Award-winning Sanctuary Chief's Camp is located on Chief's Island in an exceptionally predator-rich pocket of the Okavango Delta.
Sanctuary Stanley's Camp is a classic safari camp set in a large private concession bordering Botswana's famous Moremi Game Reserve.
Nestled amongst ancient trees on an island in the north of the Okavango Delta renowned for great concentrations of game, Tubu Tree Camp is especially famous for its leopards.
The ultra-luxurious Vumbura Plains Camp sits elevated upon a stunning floodplain in the north of the Okavango Delta where guests can enjoy both water and land-based activities.
Botswana's newest and most glamorous lodge, Xigera Safari Lodge is situated in the heart of the UNESCO World Heritage Listed Okavango Delta and is a member of the acclaimed Red Carnation Hotel group
Located on a magical lagoon, Xugana Island Lodge takes full advantage of its stunning natural surroundings with fabulous design.
JOIN OUR
E-Newsletter
Sign up to receive updates about exciting journeys, special offers and more