Jao Camp is a breathtakingly beautiful property in a remote sector of the Okavango Delta
Located where forest meets floodplain, Jao Camp is a luxurious property in the 60,000-hectare Jao Reserve in the heart of the Okavango Delta.
The camp sits on its own private island, under the shade of ancient hardwood trees. A multi award-winning property, Jao underwent a significant renovation in 2019, and is now a leading eco-friendly camp in Africa. It is composed of both natural and recycled materials, including steel, wood and glass, with spacious interiors oozing natural light a real highlight. The camp consists of 5 exquisitely designed suites and two exclusive villas, that sit either side of the main camp and are linked by high, wooden walkways. The suites feature an open-plan living space, made up of a lounge room, bedroom and ensuite bathroom. There is also a spacious outdoor deck that boasts a private plunge pool and Sala. The suites are closed off to the elements by magnificent floor-to-ceiling windows that offer guests superb views of the wilderness.
Jao Camp's central area is comprised of an elegant lounge, dining room, bar, and a very special central swimming pool that is covered by hand-crafted wooden trellis, that is reminiscent of a beehive. There is also a wonderful day spa and a well-stocked wine cellar.
With such a diversity of landscapes at its doorstep, Jao Camp offers a wide range of activities ranging from mokoro (dugout canoe) excursions, boat trips, game drives and catch-and-release fishing. Jao Camp also offers a full-day game drive option to Hunda Island as well as bush picnics. Guests can also go on a guided walk or explore the magical Okavango Delta from the air by helicopter (additional cost). About 20 minutes from camp is an elevated hide where a 'Star Bed' can be set up for an unforgettable night under the vast African skies.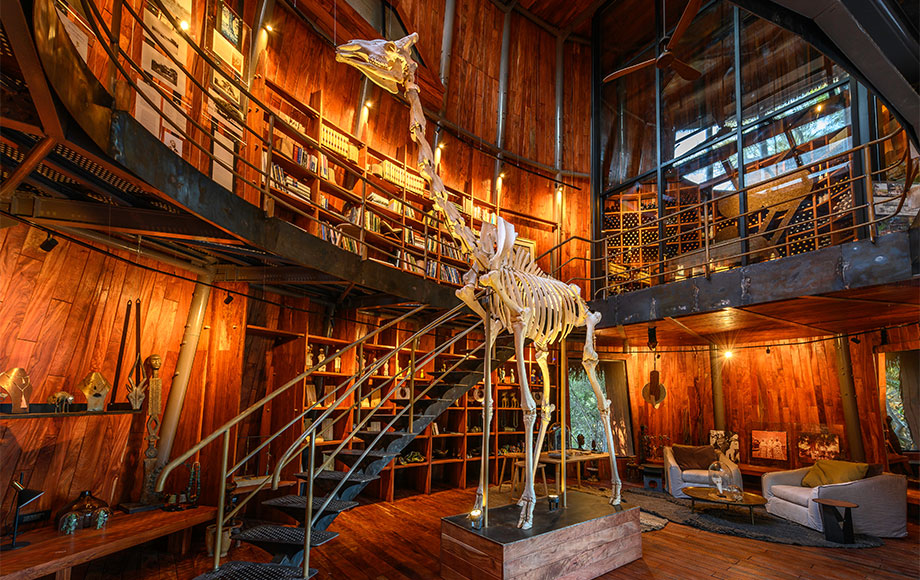 Jao Museum & Gallery
A new addition to Jao Camp is the ultra-impressive two-storey Museum and Gallery. At its centre is a standing giraffe skeleton. There are countless books and trinkets and a relaxing sitting area, where guests can take some time to relax with a book at their leisure.
Accommodation Details
Highlights
A sumptuous safari lodge with a breathtaking location in the Okavango Delta
Spacious, beautiful guest suites with private plunge pools and 'salas'
Offering a wide range of wildlife-based activities
With the option of relaxing spa treatments and sleepouts
Superb birding and gameviewing opportunities
A magnificent museum and gallery

 
Activities
Mokoro or motorboat river cruises
Game drives morning, evening and night
Guided walks
Catch-and-release fishing
Sleepouts under the stars
Spa treatments
Helicopter excursions
* Some activities at extra cost
Getting there
Light aircraft transfers to Jao Camp can be arranged from Maun, Kasane or selected camps in the Delta.
Recommended Botswana Safaris
Discover Botswana's most beautiful wilderness areas and an abundance of incredible wildlife on this luxury 10 night safari.
Accommodation in the Okavango Delta
Below are some of our preferred tented camps in the Okavango Delta region. Please contact us to tailor accommodation options to suit the style of your trip and your budget.
Situated amid a mosaic of landscapes, ranging from open grasslands and forest to seasonally flooded plains, Camp Moremi is one of the best places to discover the extraordinary diversity of the
Secluded Camp Okavango is a hidden gem on a beautiful forested island in a permanently flooded section of the Okavango Delta.
Camp Xakanaxa lies in the famous Moremi Game Reserve in the heart of the Okavango Delta. Its privileged location provides its guests with access to both land and water safari experiences.
On an island in the Okavango Delta's unspoilt southeast, Chitabe Camp is well-known for its resident African wild dogs and leopards.
On the other side of the island to big sister Chitabe, Chitabe Lediba Camp offers a more intimate experience of this wildlife-rich section of the southeastern Okavango Delta.
Secluded Duba Explorers Camp is set amid a classic Okavango Delta landscape in a vast private concession, assuring guests of very exclusive wildlife encounters.
Duba Plains Camp is an extravagant luxury safari camp set in a private concession in the Okavango Delta dubbed "Botswana's Masai Mara" for sheer density of wildlife.
Duke's Camp brings the iconic 1940s campaign style of Jack's Camp to the northern Okavango Delta
Located in a very remote part of the Okavango, rustic Footsteps Camp is used as a base for walking safaris - one of the most authentic ways to experience this captivating wilderness.
Jacana is a classic Okavango Delta water camp set on a secluded island deep in the magical Okavango Delta, surrounded by floodplains and papyrus swamps.
Eco-friendly Khwai Tented Camp offers classic safari experiences and a taste of local culture in a beautiful community-run concession adjacent to Botswana's predator-rich Northern Moremi Game Reserve.
Located on a tree-covered island in the heart of the Okavango Delta, Kwetsani Camp is a fine place to see the region's many specially adapted species including red lechwe, Pel's Fishing Owl and
Rustic Linyanti Expeditions offers a perfect setting for an authentic and wild safari experience at the edge of Botswana's Linyanti marshes, whose waters sustain a huge variety of game and
Little Mombo Camp is linked to Mombo Camp by a walkway. With just 3 guest suites, it's a most intimate safari camp to watch nature's dramas play out on the surrounding floodplains.
Next to big sister Tubu Tree Camp, Little Tubu offers a much more exclusive experience of the Okavango's leopard-rich Hunda Island, with just 3 walk-in tented suites.
Little Vumbura Camp is set in a private concession in the north of the Okavango Delta. Its diverse surroundings mean that just about every species found in the delta can be observed here.
On Chief's Island in the world-renowned Moremi Game Reserve, superb Mombo Camp is right in the heart of big cat country.
Qorokwe Camp is a brand new luxury safari camp set amongst some of the Okavango's most diverse habitats.
Completely rebuilt in recent years to meet today's high standards, Sable Alley is a legendary safari camp in Botswana's enviably wild Khwai Private Reserve.
In a private concession next to the Okavango Delta's celebrated Moremi Game Reserve, Sanctuary Baines' Camp offers a personalised experience of this beautiful, faraway wilderness.
Award-winning Sanctuary Chief's Camp is located on Chief's Island in an exceptionally predator-rich pocket of the Okavango Delta.
Sanctuary Stanley's Camp is a classic safari camp set in a large private concession bordering Botswana's famous Moremi Game Reserve.
Nestled amongst ancient trees on an island in the north of the Okavango Delta renowned for great concentrations of game, Tubu Tree Camp is especially famous for its leopards.
The ultra-luxurious Vumbura Plains Camp sits elevated upon a stunning floodplain in the north of the Okavango Delta where guests can enjoy both water and land-based activities.
Botswana's newest and most glamorous lodge, Xigera Safari Lodge is situated in the heart of the UNESCO World Heritage Listed Okavango Delta and is a member of the acclaimed Red Carnation Hotel group
Located on a magical lagoon, Xugana Island Lodge takes full advantage of its stunning natural surroundings with fabulous design.
JOIN OUR
E-Newsletter
Sign up to receive updates about exciting journeys, special offers and more