Spectacular Landscapes – Hoanib Valley Camp
Located in Namibia's remote northwest within the astounding landscapes of the Kaokoveld, Hoanib Valley Camp offers a slice of luxury amid towering mountains, sand dunes and vast expanses of desert. This unique wilderness is home to desert-adapted wildlife and fascinating, nomadic Himba tribes. The camp is situated in the Sesfontein Community Conservancy and boasts a remarkable position at the end of a hidden valley surrounded by jagged mountains with views of the intermittent Hoanib River in the distance.
In partnership with the local Sesfontein Community and the Giraffe Conservation Foundation (the world's only Africa-wide giraffe conservation organisation), Hoanib Valley Camp accommodates guests in just 6 spacious tents, including one family tent. There is a heavy focus on conservation and the camp has been built in an eco-friendly manner. The tents sit on decks made from wood, bamboo and 70% recycled-material composite and the camp is powered entirely on solar energy – making sure to leave virtually no footprint on the environment.
The rooms blend seamlessly into their surrounds and feature an ensuite bathroom and private veranda. The interior colours are neutral, reflecting their environment and furnished with locally made products from Himba carvers and local Rundu carpenters. The family tent is a bit larger than the other five, as it has two extra twin beds, separated by a curtain that can be opened and closed for greater space or added privacy.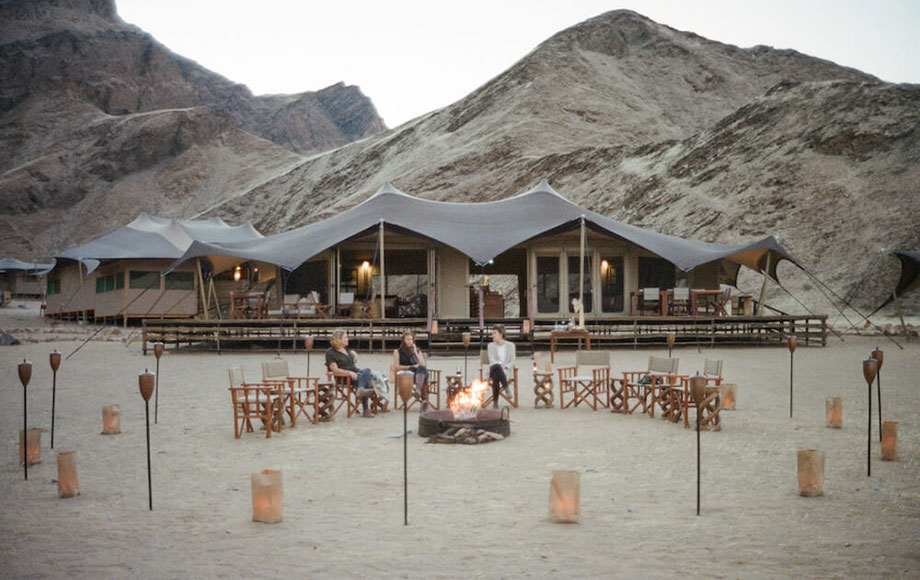 The Lodge
The main lodge houses a lounge and dining area with a central island that is used as both a bar and a breakfast bar. The open-plan area features comfortable couches, armchairs and coffee tables and opens out onto a spacious outdoor deck where most meals throughout the day are enjoyed. An open firepit sits in front of the deck where guests can enjoy an after-dinner drink. Sitting just about the rest of the lodge is a small swimming pool and deck. A perfect spot to cool off and relax during the day, the deck is partially covered and features a few sun lounges.
Outstanding Location
Thanks to its unique and astounding location, Hoanib Valley Camp offers a selection of quite unique activities including game drives in search of desert-adapted animals such as lion, elephant, mountain zebra, oryx and giraffe, walking safaris – looking a bit closer at the smaller flora and fauna of the desert – or visit a local Himba or Herero community and learn about their fascinating way of life. Guests can also work with the Giraffe Conservation Foundation (GCF) and help monitor the desert-adapted giraffe population in the region and learn more about the amazing work the foundation does across Africa. It is also possible to track black rhino in the neighbouring 500km² Palmwag Concession (we highly recommend pre-booking both these activities well in advance).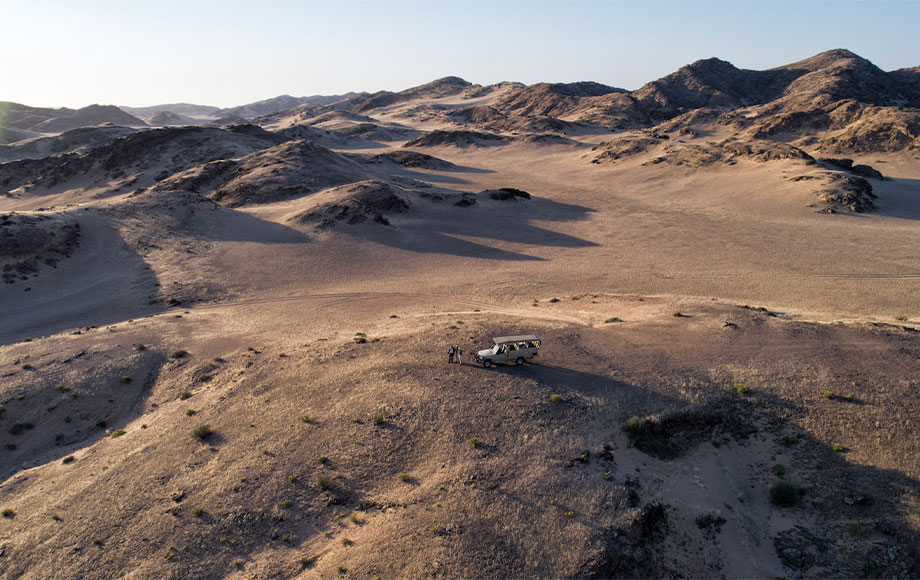 Highlights
Discover spectacular Namibian landscapes
Search for unique desert-adapted wildlife including lion, elephant and giraffe
Exclusive Hoanib Valley Camp set amid towering mountains and vast desert
Just 6 luxury tents including 1 family tent
Beautiful central lounge and dining area
Open firepit perfect for a pre or post dinner drink
Delightful swimming pool and shaded deck
Meet local Himba or Herero tribespeople
Activities
Game drives in search of unique desert-adapted wildlife
Nature walks
Cultural activities with local tribespeople
Rhino tracking
Opportunities to learn and engage with the Giraffe Conservation Foundation
Incredible stargazing in the Namibian desert
* Some activities at extra cost
Getting there
Hoanib Valley Camp can be reached by either light aircraft from Windhoek or other nearby camps as well as 4WD vehicle.
Be inspired
Namibia Tours and Safaris
Explore some of the best holidays & experiences that we can custom-design for you. All of our safaris and tours are tailor-made to suit your interests, budget and timeframe.
Discover the silent beauty of Sossusvlei, track Africa's last free-roaming rhino in Palmwag and go on safari in Etosha, Namibia's finest wildlife reserve.
Take in some of Namibia's greatest highlights including Sossusvlei, Walvis Bay, Twyfelfontein and Etosha escorted by an experienced naturalist guide.
Discover the breathtaking beauty of the Namib Desert from the air with this flying safari. Designed to offer you some of the best camps and wilderness areas in the country, this safari will take you on an
Accommodation in Namibia
Below are some of our preferred tented camps and lodges in Namibia. Please contact us to tailor accommodation options to suit the style of your trip and your budget.
Beautiful Hoanib Skeleton Coast Camp is set in one of the most remote areas of Namibia's Kaokoveld, straddling the Palmwag wilderness and iconic Skeleton Coast National Park.
JOIN OUR
E-Newsletter
Sign up to receive updates about exciting journeys, special offers and more