This tour takes in the highlights of Morocco, from historical Meknes and Fes, to the sand dunes of Erg Chebbi and the ancient medina of Marrakech. Encased in old fortified walls, these marvellous medieval cities are a hub for trade, bustling with countless souks and artisan workshops. Visit age-old hilltop kasbahs in the dramatic Dades Valley and Todgha Gorge, as well as scenic Ouarzazate, location for many movies.
10 days/9 nights
Departs ex Casablanca
Highlights:
Marvel at 12th century Hassan Tower and the Kasbah of the Oudayas
Visit the imperial city of Meknes and the Roman ruins of Volubulis
Explore the walled city of Fes with its mosaics, souks and tanneries
Climb the dunes of Erg Chebbi and explore the vast desert landscape
Accommodation options:
Option A – Le Doge, Riad Maison Bleue, Gold Sand Camp, Ksar El Kabbaba, La Maison Arabe
Option B – Novotel Casa City Centre, Riad Myra, Gold Sand Camp, Ksar El Kabbaba, Riad Ilayka
Inclusions:
9 nights accommodation on B&B basis and HB basis on days 5 & 6
Dinner with Fantasia show on day 9
Transport in air conditioned deluxe car throughout
English speaking guide
Entrance fees to monuments and sites \
Mineral water in the car
Morocco Discovery
Itinerary
10 days/9 nights
Day 1
Casablanca
Arrive Casablanca airport where you are met by your guide. Transfer to your hotel.
Days 2-4
Fes
Head to the capital, Rabat, featuring a wealth of stunning colonial architecture. Highlights include the 12th century Hassan Tower, Mohammed V Mausoleum and Kasbah of the Oudayas. Continue to Fes for overnight. On day 3 drive to 17th century Meknes, one of Morocco's imperial cities, and the Roman ruins at Volubulis. The following day explore Fes, including the medieval walled district of Fes el Bali, with its beautiful mosaics, souks and tanneries. B
Day 5
Merzouga
Desert Camp Drive to Erfoud at the edge of the Sahara. In the afternoon, explore the vast desert landscapes of Erg Chebbi, take a camel ride and climb the dunes to watch the sunset. Overnight at a traditional desert camp. BD
Day 6
Skoura
Travel by road to the Musée des Oasis, gateway to the beautiful Todgha Gorge and Dades Valley. Overnight at Skoura Oasis. BD
Days 7-9
Marrakech
Visit the magnificent kasbahs of Ouarzazate before continuing on to Marrakech. Explore the many sites of this city including Koutoubia Mosque and Djemaa el-Fnaa Square. Enjoy a 'Fantasia Extravaganza' show and dinner at Chez Ali (day 9). B/B/BD
Day 10
Tour ends Casablanca
Transfer to Casablanca airport. Tour ends. B
B = Breakfast, L = Lunch, D = Dinner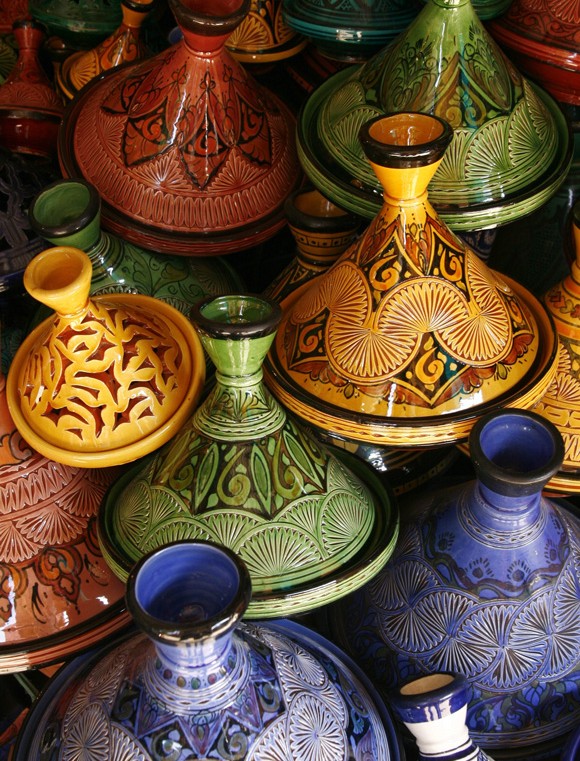 More
Itineraries
This tour takes in the highlights of Morocco, from historical Meknes and Fes, to the sand dunes of Erg Chebbi and the ancient medina of Marrakech.
In northern Morocco, Chefchaouen is one of the country's prettiest towns, renowned for its blue-white washed stone walls and cobblestone streets.
Morocco Overview
Why travel to Morocco?
Whether you are looking for history, exotic cultures or stunning scenery, Morocco has it all in spades. Style gurus will swoon over the beautifully restored riads and chic boutique hotels, whilst gourmets can enjoy the wonderful fusion of African and Arabic cuisine. For the adventurous there is also hiking or safaris into wild and remote mountains.
What is the culture of Morocco?
Predominantly Arabic, Morocco has a long and complex history and is a melting pot of different cultures and religions. It has a long tradition of tolerance, with hospitality an ingrained part of the culture. Apart from the mosques, most public monuments are open to the general public. For those who like to shop, souks are a way of life in Morocco and you usually won't have to go far to find one.
What is the climate in Morocco?
Morocco's climate is generally moderate and subtropical, cooled by sea breezes. In the interior the temperatures are more extreme, with cold winters and very hot summers. Marrakech has an average winter temperature of 21°C and summer temperature of 38°C. Mid-summer can be very hot, particularly inland. The best time to visit is spring (mid-March to May) when the country is lush and green, or autumn (Sep to Nov) when the summer heat has eased. During Ramadan most shops and restaurants are closed during the day..
What can I combine Morocco with?
Morocco can be combined with a holiday to Egypt and the Middle East or a safari in East Africa. Being just a couple of hours' flight from Europe, it can easily be combined with a European holiday, and Spain in particular has many cultural and historic links with Morocco.
How to get to Morocco?
Morocco is served by many major European and Middle Eastern airlines. Australian travellers can fly with Emirates via Dubai to Casablanca.
Do I need a Visa for Morocco? Please call us on 1300 363 302
Do I need vaccinations for Morocco? Please call us on 1300 363 302
JOIN OUR
E-Newsletter
Sign up to receive updates about exciting journeys, special offers and more