This boutique hotel is a Nairobi icon and offers one of the city's most unique experiences: the opportunity to feed and walk with rare Rothschild's giraffe
The hotel is set on 12 acres of private land in the affluent, leafy suburb of Langata. Built in 1932 as a colonial hunting lodge, it was later owned by Jock and Betty Leslie-Melville in 1974. Later, the couple founded the Africa Fund for Endangered Wildlife (AFEW) in 1979 and brought two highly endangered Rothschild Giraffe – Daisy and Marlon – to their home.
Today, Giraffe Manor is a Nairobi icon and offers one of the country's most sought-after experiences, with visitors often remarking that stepping onto the property is akin to entering a scene from the film "Out of Africa".
The manor boasts a beautiful facade as well as elegant interiors. The peaceful courtyards and terrace, coupled with the superb gardens that are home to the resident Rothschild Giraffe's, make Giraffe Manor one of the most famous (and instagrammed) properties in the world.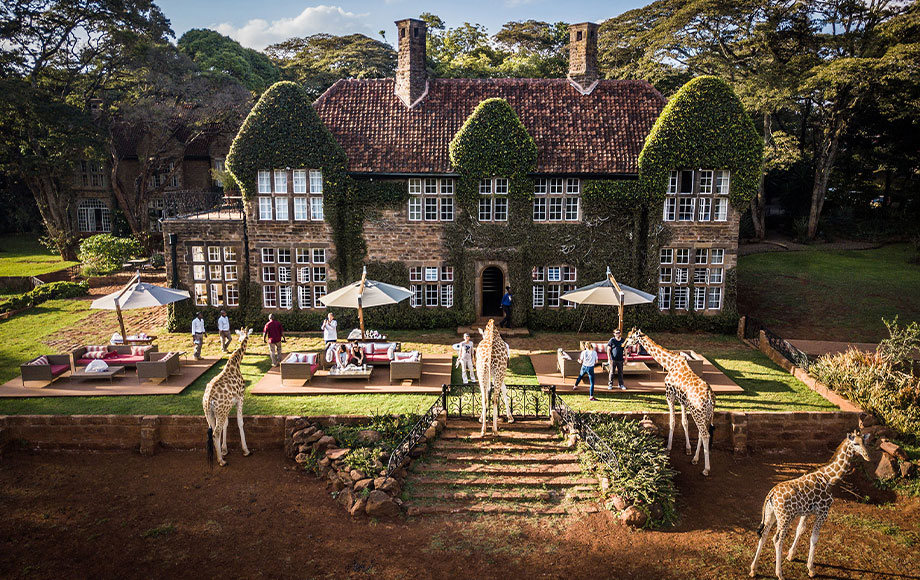 Giraffe Manor accommodation
The property offers accommodation in just 12 guestrooms (including two suites), that certainly bring to mind an earlier era, with their charming antiques, canopied beds and classic Baroque furniture. The rooms are split between the main manor and the garden manor, which also houses its own dining and lounge area.
The Finch Hatton Suite is ideal for families and located on the ground floor of the Garden Manor. It features a King-size and two single beds in the loft, accessed by spiral staircase. The Karen Blixen Suite is located on the top floor of the main manor, and is the largest room in the manor. The suite is ideal for families as it has two bedrooms, each with their own ensuite bathroom, and a lovely lounge area.
Breakfast with giraffes
What sets Giraffe Manor truly apart is its herd of endangered Rothschild's giraffe which interact with guests in one of the most unique experiences in the world. Sometimes these giant animals poke their heads into bedroom windows, or join guests at breakfast by cheekily peering in through the windows and doors looking for a morning snack.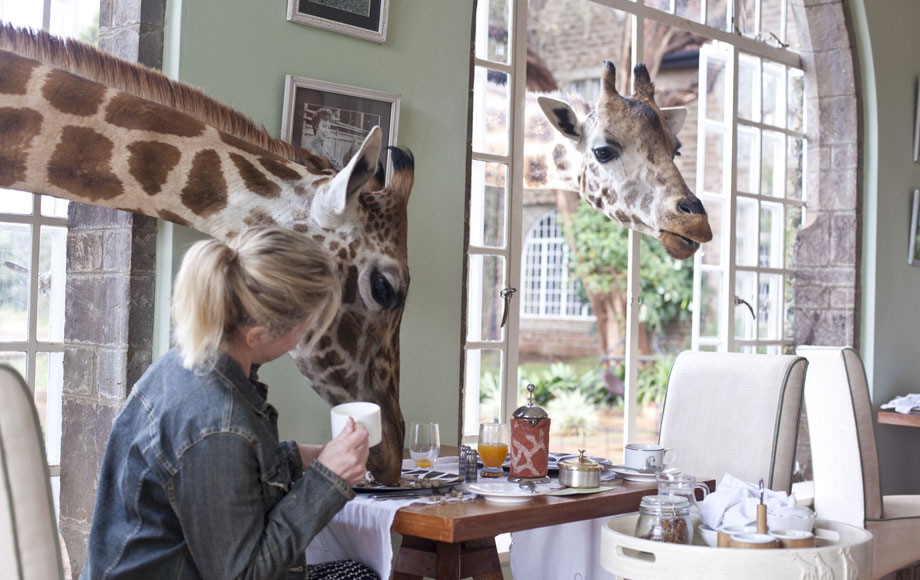 What makes Giraffe Manor Special?
Aside from the Rothschild's giraffes poking their heads in during breakfast, there are a variety of other fantastic things to do at Giraffe Manor. First and foremost, a visit to the AFEW Giraffe Centre, where you can learn about the Rothschild giraffes, the breeding program and also get up close and personal with the giraffes on the feeding platform. Guests can also visit the baby elephants at the Sheldrick Wildlife Trust (SWT), and watch their keepers feed and interact with them. The SWT is the world's leading orphan elephant rescue and rehabilitation programme and is fantastic to see first-hand. You can also explore author Karen Blixen's former home (and now a museum) and still make it back to Giraffe Manor in time for traditional afternoon tea on the terrace. The property also offers spa treatments and have lawn games such as croquet and boules, perfect for adults and children alike.
The African Fund for Endangered Wildlife (AFEW)
For over 40 years the AFEW has been helping to protect some of Kenya's most endangered and iconic species. The Giraffe Centre was first created to save the Rothschild Giraffe, a subspecies found in East Africa. Now, it is famous as an education centre, helping to educate young Kenyan school children.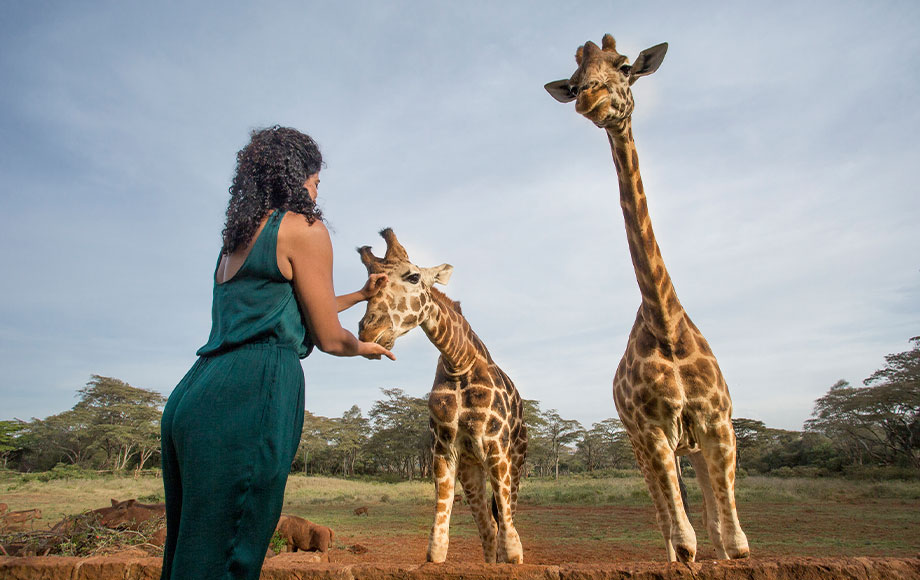 Accommodation Details
One of the most unique, boutique hotels in Kenya
Set in a former colonial hunting lodge
A nostalgic "Out of Africa" atmosphere
Opportunity to feed and walk with rare Rothschild's giraffes
Only 12 romantic rooms decorated with antiques
Close to the renowned Sheldrick Wildlife Trust
Breakfast with the giraffes
Karen Blixen Museum & Giraffe Centre visit
Sheldrick Wildlife Trust excursion
Lawn games such as croquet and boules
Spa treatments
*Some activities are available at extra cost.
Nairobi's Jomo Kenyatta International Airport is around 40 minutes (29km) from Giraffe Manor in moderate traffic, while the drive to Wilson Airport (13km) takes approximately half this time.
Related Kenya Safaris
The following tours are private, independent and can be easily customised to suit your personal travelling requirements. Please contact us to begin designing your personalised Kenya experience.
This safari combines the best wildlife experiences of Kenya and Tanzania, including the Samburu, Lake Nakuru, the Masai Mara and Serengeti.
Accommodation in Nairobi
Below are some of our preferred hotels in Nairobi. Please contact us to tailor design a selection of accommodation options to suit the style of your trip, and your budget.
This landmark Nairobi hotel was built in 1904 and continues to be one of East Africa's most popular launching points for a high-end wildlife safari.
This boutique hotel is a Nairobi icon and offers one of the city's most unique experiences: the opportunity to feed and walk with rare Rothschild's giraffe.
This gracious boutique hotel sets the standard for luxury accommodation in Kenya's vibrant capital, Nairobi.
This excellent family-run boutique hotel offers elegant accommodation and personalised service in the leafy, upmarket Nairobi suburb of Karen.
The award-winning Nairobi Serena Hotel offers luxury and serenity right in the middle of bustling Nairobi.
This comfortable hotel is located in Nairobi's city centre close to many attractions including the Maasai Market and Carnivore Restaurant.
This comfortable, modern Nairobi hotel is located on Red Cross Road very close to Nairobi National Park.
The Fairview Hotel Nairobi offers comfortable, convenient accommodation on two hectares of landscaped gardens in the heart of Nairobi.
This comfortable deluxe hotel is close to Nairobi National Park, Jomo Kenyatta International Airport and Wilson Airport.
Kenya's first luxury hotel, The Sarova Stanley continues to offer the same high standards of accommodation and world-class dining experiences as it did over a century ago.