Discover the sub Antarctic Islands
The Galapagos of the Southern Ocean expedition offers one of the most inspirational and in-depth journeys into this remarkable region of the world.
The sub-Antarctic islands to the south of New Zealand have long been recognised for their rich biodiversity, with many awarded vital UNESCO World Heritage status. To put this in some perspective, there are only 250 natural sites on the planet that have been classed as 'the most important and significant natural habitats. As a result, they are also protected by the Australian and New Zealand governments, with visitor access strictly limited to permit only.
The expedition offers guests the exclusive opportunity to explore, photograph and learn about these wonderful islands, accompanied by knowledgeable and passionate guides. Located in the cool temperate zone the islands are home to a plethora of creatures including albatross, penguins, petrels, shearwaters, sea lions, fur seals and elephant seals.
The voyage visits four of the sub-Antarctic islands including The Snares, Auckland, Macquarie and Campbell islands.
---
*Valid for select travel dates only. Price based on Superior Deck 4 cabin (twin share).
Strictly subject to availability. Single travellers on request. Conditions apply.
Auckland Islands – Enderby Island
Formed by two volcanoes erupting between 10-25 million years ago, The Auckland Islands are now a wildlife and birdlife paradise. Enderby Island is the northern most island in the archipelago, which is relatively easy to land on and walk around. Cleared of all introduced feral animals in 1994, endemic vegetation continues to recover. Sandy Bay, one of three breeding areas in the Auckland Islands for the New Zealand ( or Hooker's) Sea Lion is one potential landing spot. Whilst on the island, guests can either sit and watch the wildlife or take a walk along a boardwalk that follows the islands dramatic coastline. The island is rich in birdlife and species you may see includ: the Southern Royal Albatross, Northern Giant Petrel, Auckland Island Flightless Teal, Redcrowned Parakeet, Yellow-eyed Penguin and Light-mantled Sooty Albatross.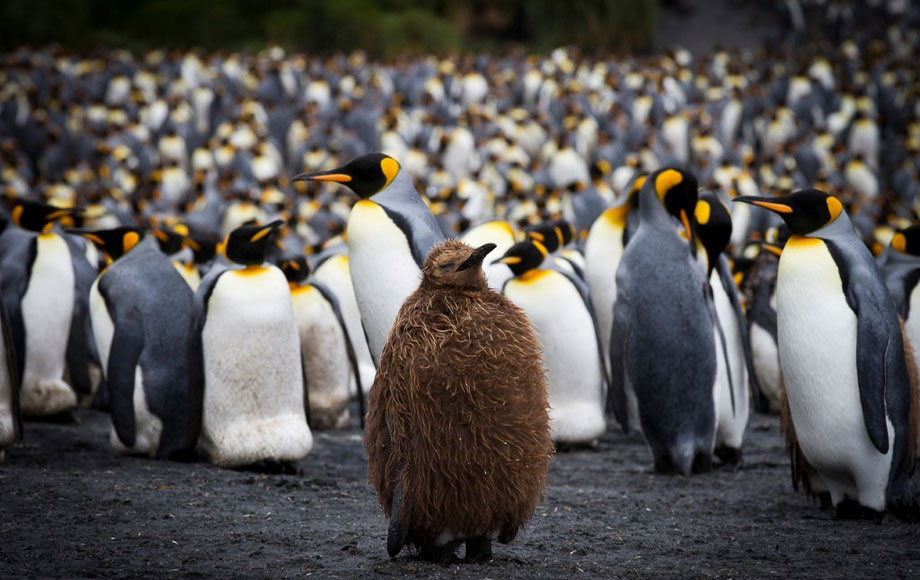 Macquarie Island
Situated 1,500 kilometres south-east of Tasmania, Macquarie Island supports one of the highest concentrations of wildlife in the Southern Ocean – including millions of penguins. The island is home to four distinct species that all breed here; King, Rockhopper, Gentoo and the endemic Royal Penguin. Just 34km in length and 5km wide, there are just two approved landing spots on the island, Sandy Bay and Buckles Bay. Sandy Bay is home to a Royal Penguin rookery as well as a substantial King Penguin Colony. Buckles Bay is home to the Australian Antarctic Division Base, which was established in the late 1940s, and there is a chance to tour the base. Slumbering Southern Elephant Seals are also present on the island. Most will quietly lie about ignoring you, but some of the younger bulls may spar in the shallow water. If weather conditions permit, a zodiac excursion to Lusitania Bay is a highlight, home to a noisy and sensational King Penguin rookery. There are also three species of fur seals that can be found on the island and four species of albatross – Wandering, Black-browed, Grey-headed and Light-mantled Sooty.
Tour Details
Experience expedition travel on the Heritage Adventurer
Explore beautiful sub-Antarctic islands including Enderby and Campbell islands
Keep an eye out for roaming seabirds including 5 different species of Albatross
Macquarie Island – the only place in the world where the Royal Penguin breeds.
Stunning Campbell Island with its rocky inlets and sea stacks
Located on New Zealand's South Island, Queenstown is often called "The Adventure Capital of the World". There are plenty of direct flights from many Australian cities, as well as connecting flights to other New Zealand hubs including Auckland and Wellington. From Queenstown to the vessel's departure point, Bluff, is approximately 213 kilometres (2h 36 minutes) by coach transfer.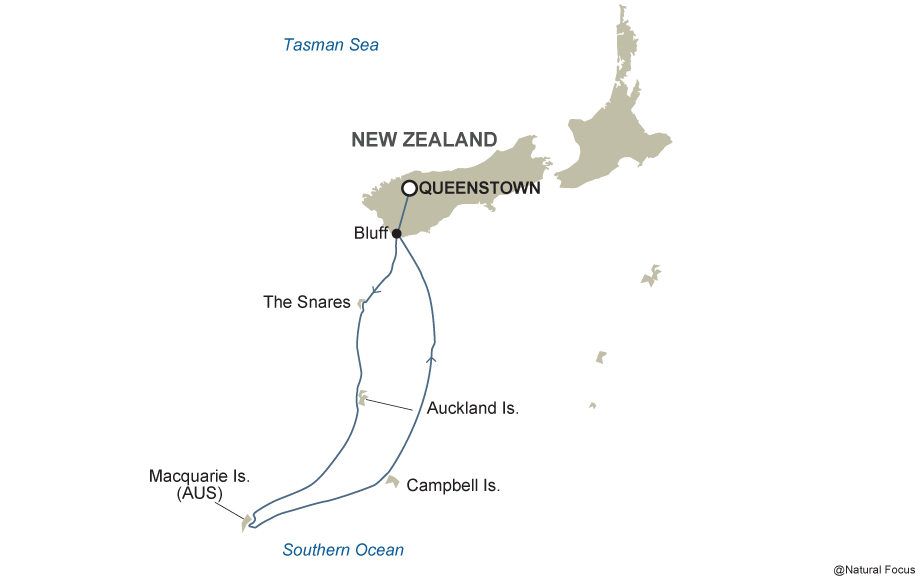 Galapagos of the Southern Ocean
12 Days/11 nights
ex Queenstown (New Zealand)
DAY 1
Queenstown
On arrival in Queenstown, please make your own way to your hotel (TBC). You will have time to get a few last-minute items for your trip and explore this famous alpine town often referred to as "The Adventure Capital of the World". Tonight, get to know your fellow travellers over dinner. D
DAY 2
Port of Bluff
This morning is at your leisure to explore the town. After lunch, you will be transferred to the port where staff will welcome you onboard the Heritage Adventurer. You will have time to settle into your cabin before your adventure begins. B L D
DAY 3
The Snares – North East Island
Once considered a hazard by passing ships, this particular group of islands are aptly named The Snares. It is claimed that The Snares are home to more nesting seabirds than all of the British Isles put together. Uninhabited, the islands are afforded the highest level of protection and therefore landings are not permitted. Today cruise the coastline aboard a Zodiac (motorised dinghy) and learn how the islands got their name. In the sheltered bays you may see the endemic Snares Crested Penguin, the Cape Petrel and Buller's Albatross nesting on the imposing cliffs. B L D
DAY 4
Auckland Islands – Enderby Island
The beautiful Auckland Islands are made up of a number of small islands, the largest being Auckland Island (Motu Maha), and are characterised by towering cliffs and rugged sea stacks. Spend the day ashore on Enderby Island – the northern-most island – which is also perhaps, the most beautiful of all the sub-Antarctic Islands. Today's planned landing spot is Sandy Bay, a breeding spot for the New Zealand (or Hooker's) Sea Lion. There are a few different walking options to enjoy or perhaps just sit and enjoy the wildlife. Birdlife you might see here include species such as the Southern Royal Albatross, Northern Giant Petrel or the Auckland Island Flightless Teal. B L D
DAY 5
Auckland Islands – Carnley Harbour
These islands have witnessed many a shipwreck in days gone by. Loaded in human history, the large, sheltered harbour tells a tale of castaways, treasure hunters, Coastwatchers and, in today's time, scientific visitors. Today the vessel enters the harbour through the eastern entrance, which has dramatic, rugged cliffs that line both sides. If weather and sea conditions permit, there are several options, including a climb to visit the Shy Mollymawk colony at South West Cape. From this vantage point there are incredible views over Carnley Harbour and Western Harbour. There is also the Tagua Bay lookout – which was occupied during World War II or a visit to the 'Grafton' shipwreck, wrecked in 1864. Fascinatingly, all five sailors survived, and lived on the island for 18 months before sailing a modified dinghy to New Zealand. B L D
DAY 6
At Sea
Today, the ship travels through an area known as the Furious Fifties in the tumultuous Southern Ocean. Onboard, learn more about the flora and fauna of your next stop – Macquarie Island. Keep an eye out for birdlife as this area offers great birding opportunities – particularly for Albatross. Species you may see include the Wandering Albatross, Royal Albatross, Black-browed Albatross, Light-mantled Sooty Albatross, Northern and Southern Giant Petrel, Sooty Shearwater and the Little Shearwater. B L D
DAYS 7/8
Macquarie Island
A remote, rocky outpost, Macquarie Island endures roaring winds, but that doesn't stop this island from supporting one of the highest concentrations of wildlife in the Southern Hemisphere. The island is home to four species of penguin: King, Royal, Rockhopper and Gentoo, as well as hundreds of Southern Elephant Seals along its beaches. There are a few planned excursions, including Sandy Bay, home to a Royal Penguin Rookery, and Buckles Bay, where you may get to meet with the Park Rangers and visit the Australian Antarctic Base. A Zodiac excursion in Lusitania Bay is also possible, the site of a noisy and spectacular King Penguin rookery. B L D
DAY 9
At Sea
The ship heads north once more towards Campbell Island. Remember to keep a keen lookout for seabirds and whales. There will also be briefings and lectures on Campbell Island in preparation for your visit. B L D
DAY 10
Campbell Island – Perseverance Harbour
Since its discovery in 1810, Campbell Island has been occupied by sealers, leased as pastoral land for cattle, stationed by Coastwatchers during World War II and occupied by the New Zealand Meteorological Service. After years of strict measures by the New Zealand Government, the island was declared predator free in 2003. Over the years, the island's natural vegetation has successfully recovered, and numerous bird species reintroduced. Today the ship drops anchor in Perseverance Harbour, occasionally used as a refuge for Southern Right Whales who come here to calve. Take a walk to the nesting site of the Southern Royal Albatross and see the strange and beautiful mega-herbs on the hills. Other birdlife that you may see include Campbell Island Shags and the Light-mantled Sooty Albatross. B L D
DAY 11
At Sea
Enjoy a final day onboard as you relax and reflect on a remarkable journey. Join your fellow guests and naturalist guides for a recap of your trip highlights and enjoy a farewell dinner this evening. B L D
DAY 12
Invercargill or Queenstown
Disembark today and say farewell to new-found friends. You will be transferred to either Invercargill or Queenstown airports. B
---
B = Breakfast  |  L = Lunch  |  D = Dinner
Please note: In case of unexpected delays due to weather or port operations, please do not book any onward travel until after midday from Invercargill and after 3pm from Queenstown.
Pease note: This itinerary is intended as a guide only. During the voyage, circumstances may make it necessary or desirable to deviate from the proposed itinerary. This may include poor weather or opportunities for unplanned excursions. The Expedition Leader will always keep you informed throughout the voyage. Landings at the sub-Antarctic Islands of New Zealand are by permit only as administered by the Government of New Zealand. No landings are permitted at The Snares.
Your Vessel
Heritage Adventurer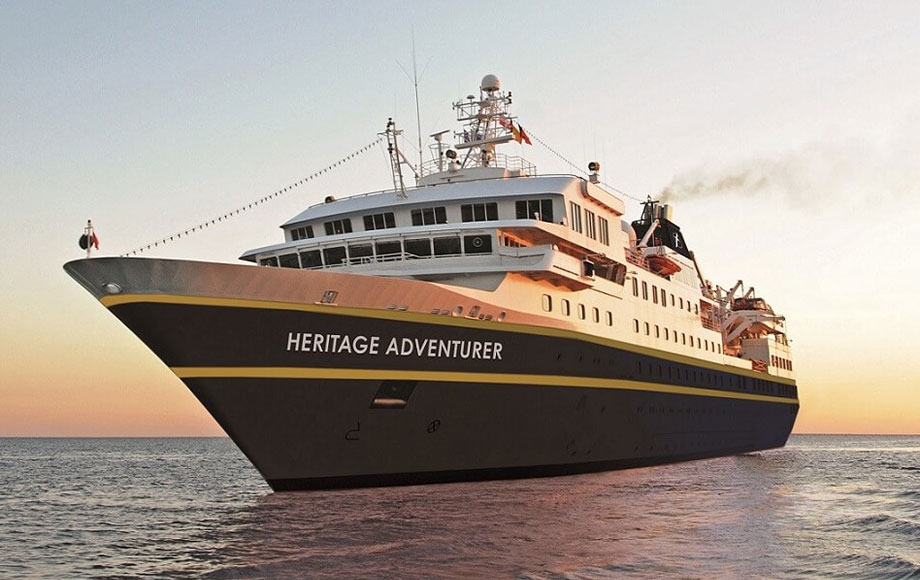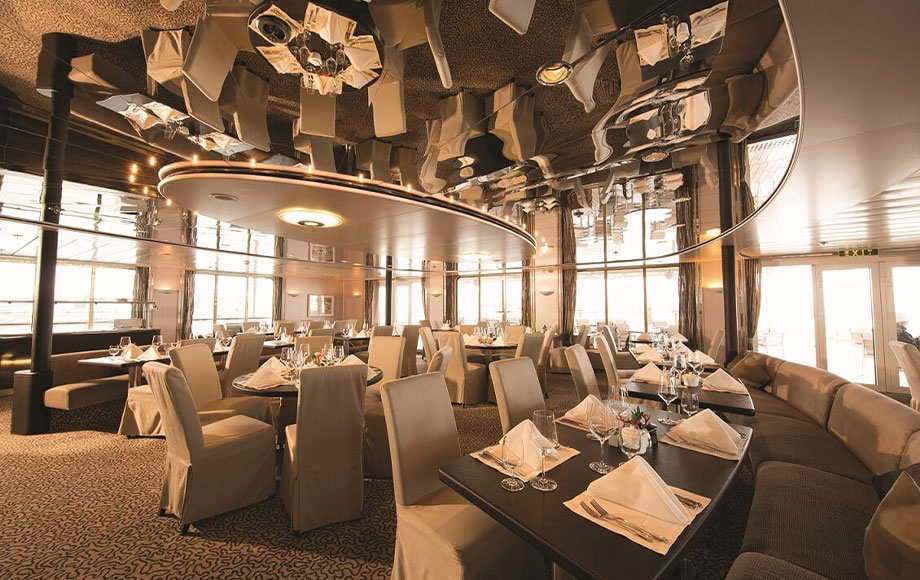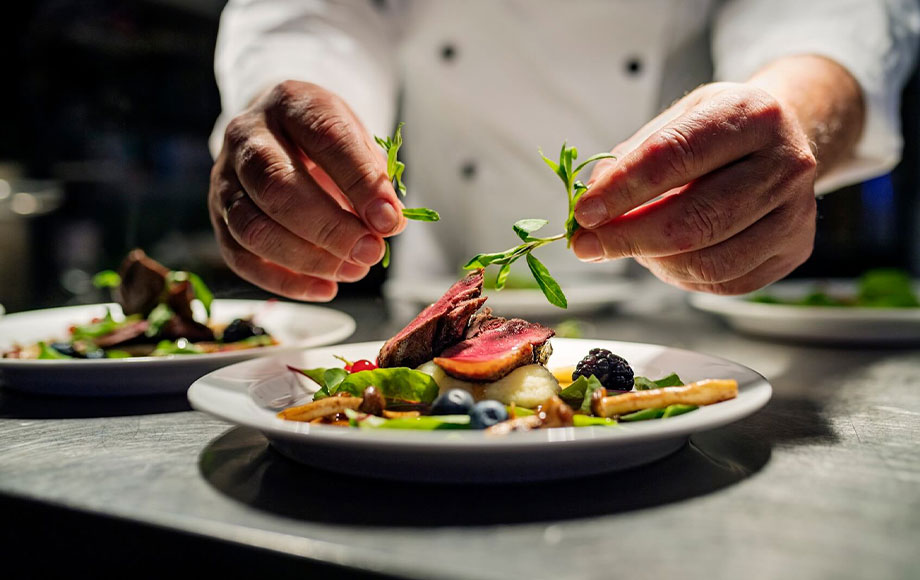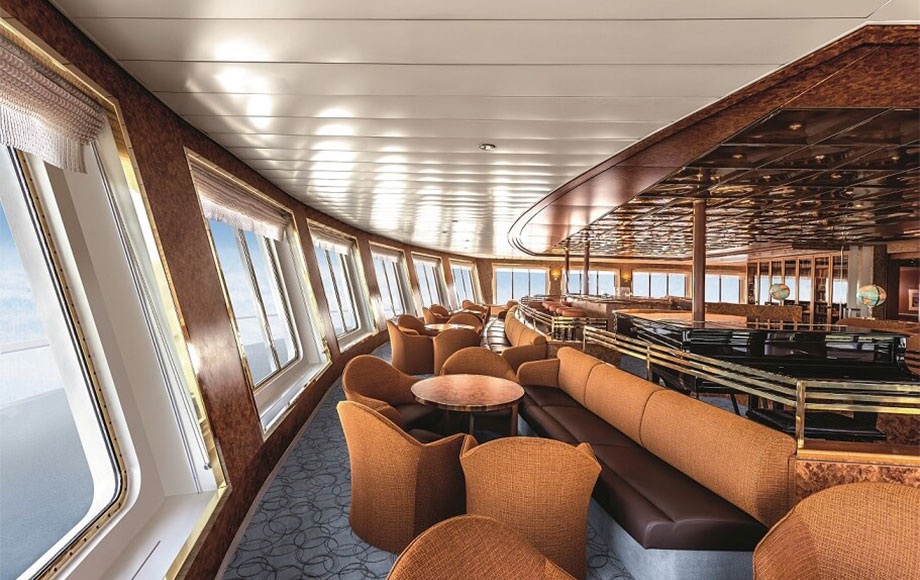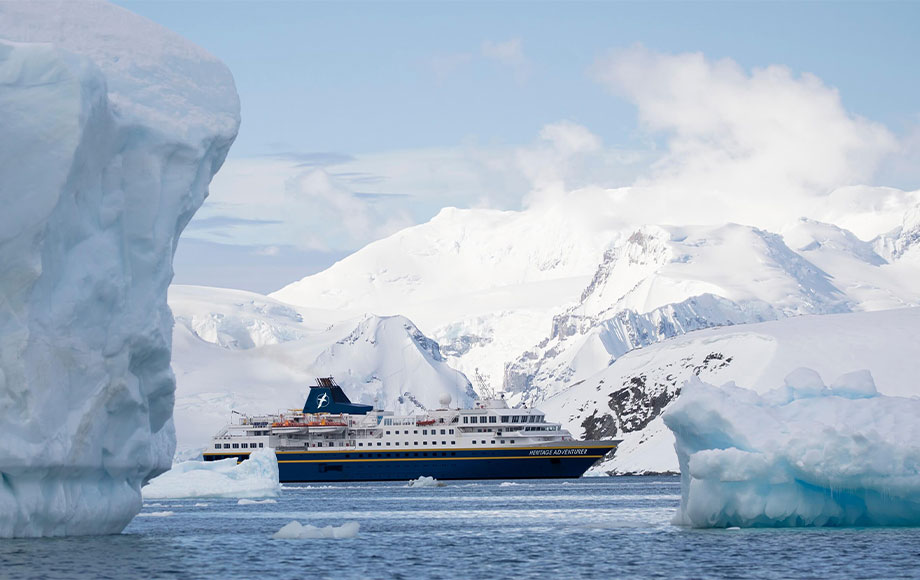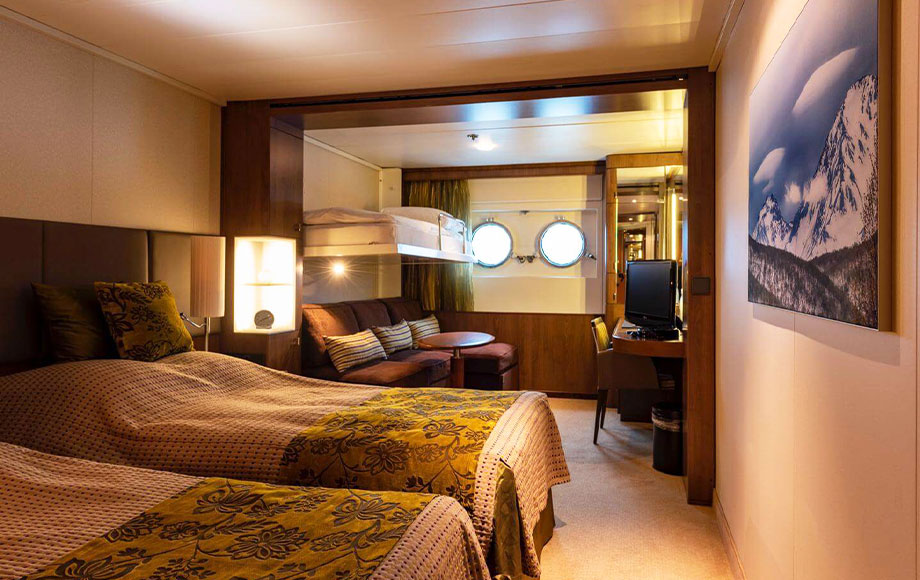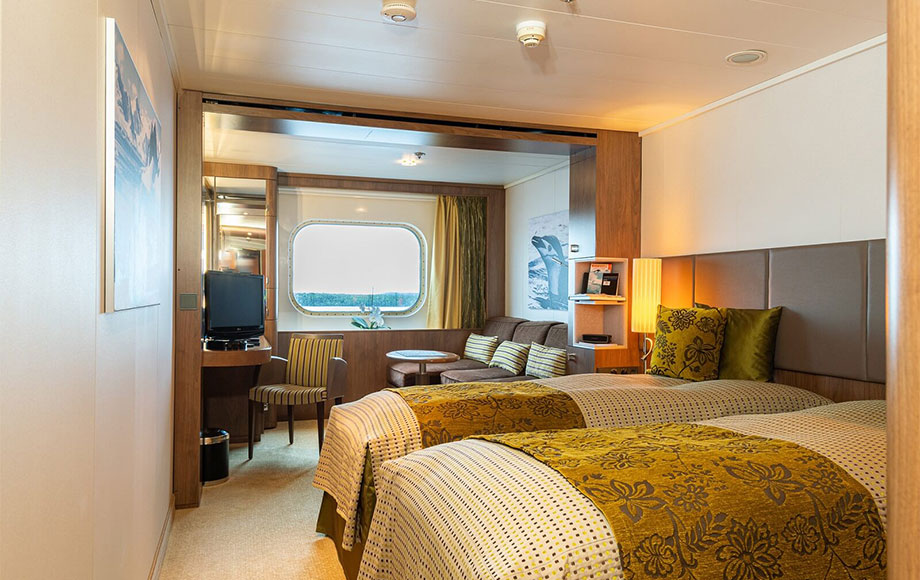 Built in 1991 for Polar expedition travel, the Heritage Adventurer (formerly the MS Hanseatic) holds the highest passenger-ship ice-class rating (1A Super). Originally designed to accommodate 184 guests, this world-class polar pioneer now welcomes just 140 passengers, creating a more spacious, comfortable and personalised onboard experience. Facilities include superb indoor and outdoor viewing locations including the Observation Lounge (with 270-degree views), a library, pool, gym, hot tub and steam room. Guests can relax in their comfortable cabins that span 4 decks or meet up with fellow guests in the café or bar. Accompanying each voyage is a world-renowned team of naturalists, botanists, historians and experts as well as a fleet of 14 Zodiacs. The vessel also has an Open Bridge Policy.
Classification: Lloyds 1AS, GL E4
Year built: 1991
Accommodation: 140 guests
Shipyard: Rauma, Finland
Engines: 3,940 horsepower (x2)
Maximum speed: 15 knots
Cruising speed: 12 knots
Range: 8,600 nautical miles
Gross Tonnage: 8,378gt
Length: 124 metres
Zodiacs: 14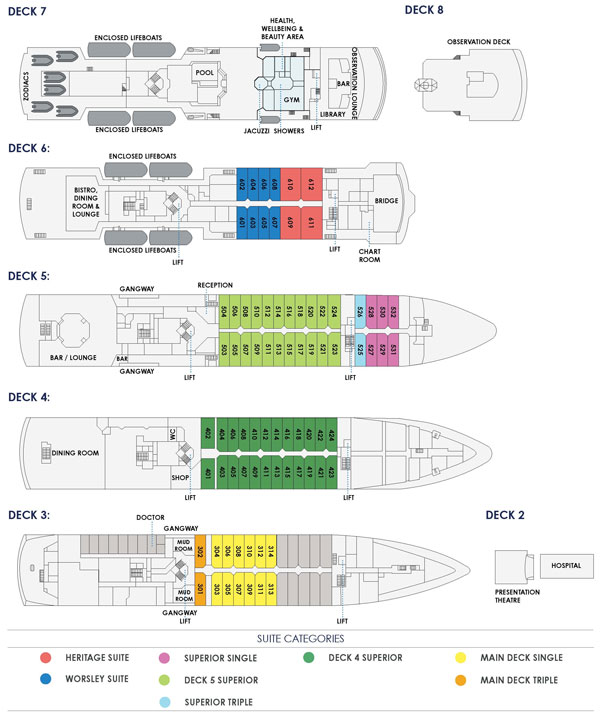 More Antarctica tours
We have a unique selection of Antarctic Peninsula cruise options carefully chosen for their itineraries, as well as the vessels used. Our selection of ice-strengthened ships are all small to medium in size, with a maximum of 67-199 passengers, ensuring an authentic, up-close encounter with the untrammelled wilderness. All of our cruises and tours are completely tailor made to suit our clients interests, budget, and timeframe.
These unique Antarctic air journeys make it possible to explore the 'Great White Continent' while avoiding the often turbulent Drake Passage by boat