Antarctic air journeys make it possible to explore the 'Great White Continent' while avoiding the often turbulent Drake Passage
Combining a short flight between Punta Arenas in Chile to King George Island and vice versa, these unique Antarctic journeys make it possible to explore the 'Great White Continent' while avoiding the often turbulent Drake Passage. On arrival at King George Island, transfer to your expedition vessel. Your time on the peninsula will be spent sailing along ice-filled fjords and between spectacular icebergs in the constant company of seabirds, penguins, seals and whales. Your daily itinerary will be very active, filled with a combination of several daily landings, cruises in Zodiac boats or walks along the shore to bird and seal colonies.
The 8-day Air-Cruise focuses on visiting the many attractions near the tip of the magnificent Antarctic Peninsula, including Paulet Island, Hope Bay, Port Lockroy, Petermann Island, Paradise Bay, Deception Island as well as crossing the Lemaire Channel. The 10-day Air-Cruise encompasses a more in-depth exploration of the Peninsula with the goal of attempting to cross the Antarctic Circle. In small groups, you'll hike and take part in exploratory Zodiac excursions to otherwise inaccessible areas, abundant in wildlife and breathtaking scenery. Your expert polar guides will share their passion for Antarctica through presentations, and lead you ashore to see the many wonders of the Antarctic environment.
Why choose an Antarctic Air-Cruise?
There are several advantages for choosing an air-cruise instead of a traditional Antarctic cruise. This itinerary is ideal for those short on time, as a traditional cruise involves a return crossing by ship across the Drake Passage (almost 2 days each way). The second is for those that wish to avoid sea-sickness, as the Drake Passage is also notorious for its rough conditions.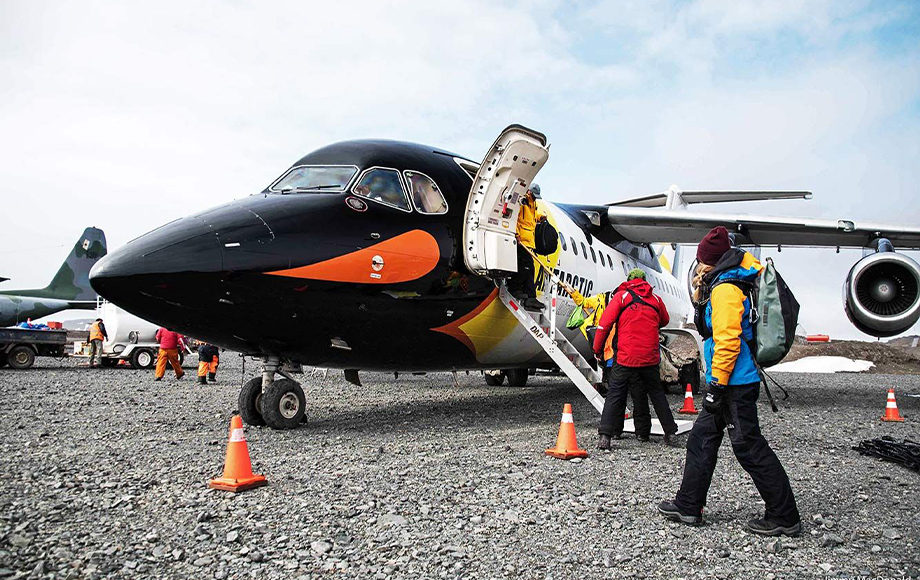 Tour Details
Experience one of the world's most awe-inspiring regions
Witness astonishing scenery and remarkable mountain ranges
Walk amongst penguin colonies and lazy seals
Explore the coastline aboard a Zodiac in search of whales and seals
Possible chance to visit a remote scientific research station
Keep an eye out for seabirds such as Antarctic Skuas, Snow Petrels and Shearwaters
Punta Arenas is reached by direct flights from Santiago, Chile. South America's major airline LATAM operate several services each day, approximately 3h25 minutes.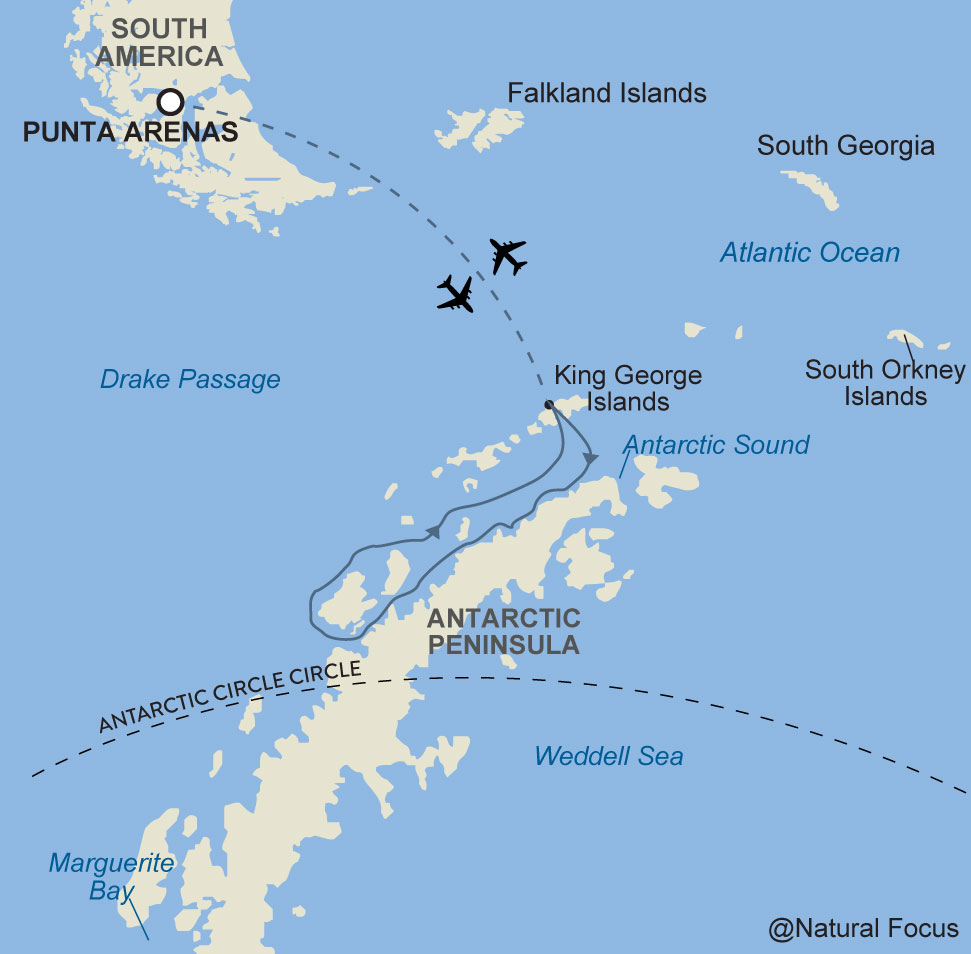 Sample Itinerary
8 days/7 nights
Day 1
Punta Arenas, Chile
Your adventure begins in Punta Arenas, Chile, the most populated city in southern Patagonia. There are plenty of museums, restaurants and shops to explore and a pre-night in the town is a popular option, allowing guests a chance to explore and relax. In the late afternoon, you will be met at a hotel by a representative. Enjoy a welcome dinner with your fellow guests, where you will be briefed about tomorrow's embarkation day.
Day 2
Fly to King George Island and Embarkation
This morning, you will be transferred to the airport for your charter flight from Punta Arenas to Antarctica, crossing the renowned Drake Passage in only two hours. Glimpse the dramatic Antarctic landscapes from the air as the plane descends for landing on King George Island in the South Shetland Islands. Upon arrival, it is approximately a one-mile (1.6 km) walk to the coast. Transfer by Zodiac to your ship to begin your Antarctic adventure!
Days 3 – 6
Antarctic Peninsula and South Shetland Islands
Your first glimpses of Antarctica are something you will never forget, an indescribable feeling that can only truly be appreciated in the present. The Captain and Expedition Team will always be on the lookout for whales, seabirds and any other marine life, and keep you up-to-date with any possible sightings.
Each day, enjoy exciting excursions to different parts of the Antarctic Peninsula. These might be Zodiac cruises along the coastline in search of seals and penguins or landings on the shore, inspecting penguin colonies. Your first landing will be an experience you won't forget, whilst your second will be equally as thrilling! Each landing is different and dependent on weather conditions. Penguin species you might encounter include, Adélie, gentoo and chinstrap penguins, whilst other wildlife you may see include leopard, crabeater and Weddell seals. 
The scenery is just as enthralling as the wildlife, with dramatic glaciers and impressive icebergs scattered across the coastline. The Expedition Team will always be there to accompany you and answer any questions you might have about the wildlife or the continent. When not out exploring, guests will enjoy enriching lectures on topics such as glaciology, history and wildlife.
Day 7
Disembarkation and return to Punta Arenas
Today marks the end of your time in one of the world's most remarkable environments. Say goodbye to your Expedition Team and disembark at King George Island for your return flight to Punta Arenas, Chile. A group transfer is provided back to the hotel, whereupon you are free to explore the town once more.
Day 8
Tour ends, Punta Arenas
After breakfast, check out of your hotel. Tour ends. 
---
Please note: The above itinerary is provided as a guide to what you may see and do. Conditions may vary and make it necessary or desirable to alter the proposed itinerary if the need arises. This can include poor weather and opportunities for making unplanned excursions.
More Antarctica tours
We have a unique selection of Antarctic Peninsula cruise options carefully chosen for their itineraries, as well as the vessels used. Our selection of ice-strengthened ships are all small to medium in size, with a maximum of 67-199 passengers, ensuring an authentic, up-close encounter with the untrammelled wilderness. All of our cruises and tours are completely tailor made to suit our clients interests, budget, and timeframe.
These unique Antarctic air journeys make it possible to explore the 'Great White Continent' while avoiding the often turbulent Drake Passage by boat