A haven of luxury in the wilderness
Stunningly situated in a private 129,500-acre wildlife reserve bordering the southern Serengeti, Mwiba Lodge overlooks a rocky gorge on the Arugusinyai River.
A haven of luxury in the wilderness, Mwiba is both intimate and exclusive. Built amongst massive stone boulders and surrounded by ancient coral trees and acacias, the lodge becomes part of the very landscape. The enormous, thatched roof of the main lodge rests upon massive boulders. It boasts two outdoor decks: an upper deck which houses the lounge and dining rooms, and a lower deck featuring an impressive infinity pool surrounded by comfortable sun lounges. The pool overlooks natural springs which attract an array of resident wildlife. Breathtaking in its scale and craftsmanship, the lodge interiors seamlessly blend the traditional and modern together, using classic safari colours – pure whites, khaki tans and darker charcoals.
Guests are accommodated in 10 immaculate, welcoming suites with awe-inspiring views and doors opening onto a private outdoor deck. Open plan and spacious, each canvas clad suite has large windows which bring the outside in, king or twin beds, and a lovely lounge area. The superb ensuite bathrooms feature large floor to ceiling windows with gorgeous stark-white curtains which allow you to be open or closed to the elements. Each is fitted with a romantic freestanding bathtub and an oil lamp – ideal for relaxing during the afternoon or after dinner.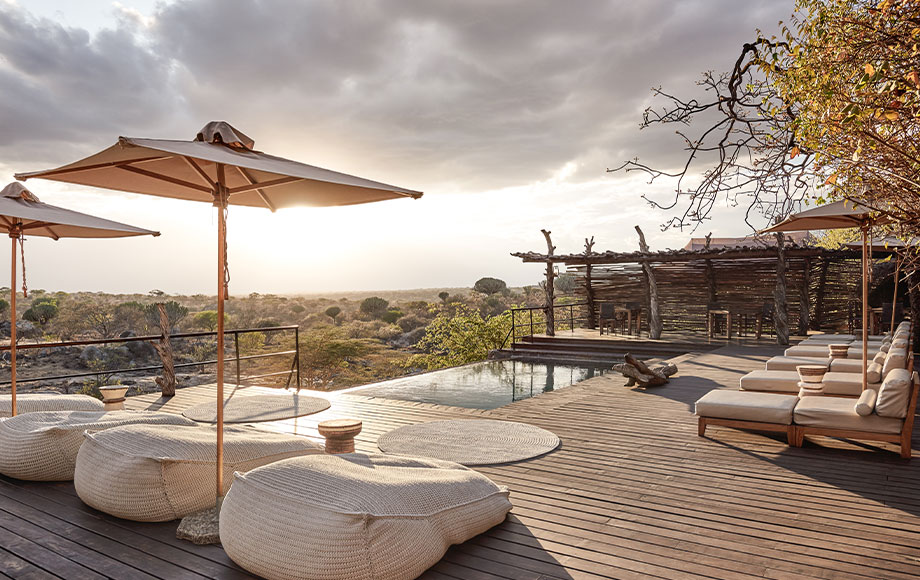 The Facilities
Between morning and afternoon activities, guests can make the most of the camp's facilities like the infinity pool, the well-equipped gym or the in-house spa. Select spa treatments can also be enjoyed in the privacy of their own suite, or morning yoga on the deck. To top off the list of facilities, the camp also has a stunning Jacuzzi, which is built into the side of a huge boulder with views of the springs below.
Activities
Whilst at Mwiba Lodge guests can choose from a wealth of activities including walking safaris, day and night game drives and classic sundowners – a highlight of any safari. Unforgettable helicopter experiences and walking with the local Hadzabe tribe are other exciting and fulfilling experiences available. An undoubtable highlight is sleeping underneath the stars in a peaceful fly-camp.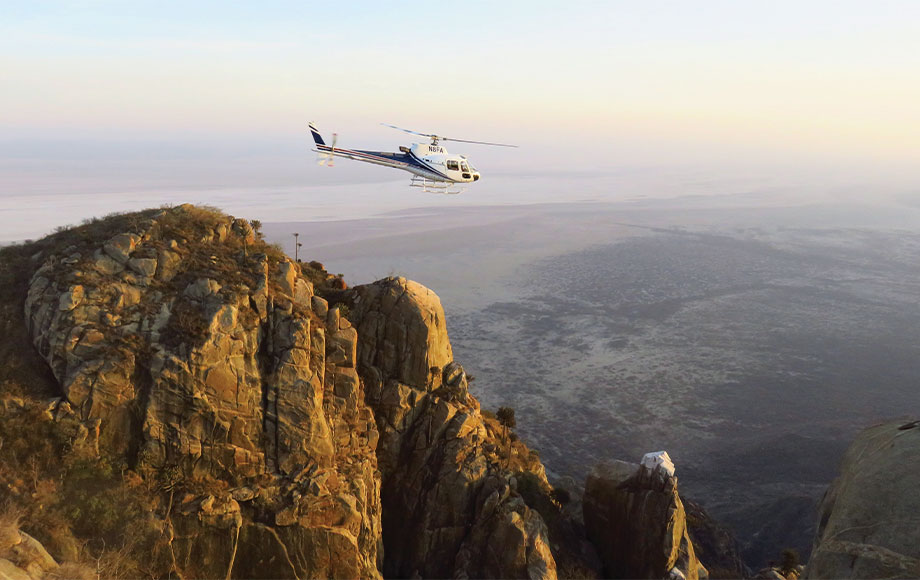 Highlights
Situated in a private 129,500-acre reserve conserving precious wilderness
Awe-inspiring views from the lodge overlooking a rocky gorge
10 beautifully designed, elegant suites
Ensuite bathrooms with freestanding baths and floor-to-ceiling windows
A variety of exciting activities such as day and night game drives
Sensational infinity pool with fabulous views
Breathtaking Jacuzzi overlooking the natural springs
Facilities
Just 10 tented suites with private decks
Two interconnecting suites for familites
Sofa bed for child under 12 years
Cot for child under 2 years
Ensuite bathrooms with freestanding bath and shower
Outdoor arain shower
Air cooling system
Complimentary Wi-Fi
Laundry included
Stylish central lounge and dining areas with dual outdoor decks
Infinity pool overlooking the natural springs below
Stunning hot tub overlooking the natural springs
Well-equipped gym and in-house spa
Activities
Day and night game drives
Private vehicle
Walking safaris
Children's safaris
Authentic cultural experiences
Bush meals and sundowners
Exciting helicopter excursions*
Sleep out under the stars in a lovely fly-camp*
* Some activities at extra cost
Getting there
Mwiba Lodge can be reached by scheduled or private charter flight from Arusha or Lake Manyara airstrips to Mwiba airstrip. The lodge is a 15 minute drive from the airstrip. The nearest international airport is Kilimanjaro Airport.
Be inspired
Our Best Tanzania Safaris
The following tours are private, independent and can be easily customised to suit your personal travelling requirements. Please contact us to begin designing your personalised Tanzania experience.
Explore the antiquities of Africa on this 16 day tour to Tanzania and Egypt. Explore the Pyramids of Giza and Marvel at the mighty Shypnx
Related accommodation in the Serengeti
Below are some of our preferred tented camps and safari lodges in the Serengeti surrounds. Please contact us to tailor accommodation options to suit the style of your trip and your budget.
Ubuntu Camp is a mobile tented camp that can be found in three locations throughout the year. It has just 7 simple yet sublimely comfortable suites under canvas with hot water bucket showers that
Singita Sasakwa Lodge is located in the unspoilt Grumeti Reserves in the northern Serengeti. It offers 10 private guest cottages with personal infinity pools, walking safaris and guided game drives.
Singita Sabora Tented Camp is a nostalgic 1920s explorer-style camp in the private Grumeti Reserves adjoining the Serengeti, with 9 romantic suites that lead out onto the plains.
Singita Mara River Tented Camp is an impossibly chic safari camp on the northern banks of the Mara River in Tanzania's famous Serengeti National Park.
Singita Faru Faru Lodge sits on a riverbank in a private reserve adjoining Tanzania's northern Serengeti. This sensational property has 9 premium suites, a fleet of Land Rovers for game drives
Serengeti Safari Camp follows the wildebeest herds as they move across the Serengeti plains throughout the year. To stay lightweight, it only offers 6 walk-in guest tents and a comfortable
Serengeti Bushtops is an alluring safari camp in the Serengeti whose tented suites offer butler service and private hot tubs overlooking the open plains.
Sayari Camp offers 15 stunning tented guest suites, exceptional gameviewing on the plains of the northern Serengeti and easy access to the Mara River and its infamous croc-filled crossing points.
Roving Bushtops is a unique collection of boxes on wheels comprised of 6 guest suites that can be towed anywhere in the Serengeti. This marvel of Swiss engineering presently sits in the game-rich
Olakira Camp has just 9 traditional safari tents with classic bucket showers. This outstanding mobile camp follows the wildebeest herds from north to south, to provide the best opportunities for
Situated in a little-visited, remarkably unspoilt corner of the Serengeti, Namiri Plains is where you'll find some of East Africa's best big cat sightings, from lion and leopard to cheetah.
Stunningly situated in a private 129,500-acre wildlife reserve bordering the southern Serengeti.
Offering perfect seclusion, this intimate tented camp is perched on a ridgeline of granite kopjes in Tanzania's southwest Serengeti.
Follow the annual wildebeest and zebra migration at the exclusive Migrational Camps; Nyasi and Songa – that move between the Serengeti's south and north.
Lemala Ndutu is a seasonal camp with 12 guest suites that offers terrific gameviewing and the Serengeti's wildebeest migration far from the crowds.
Situated in the eastern section of the Serengeti National Park Lemala Nanyukie encapsulates the same excellent standard of comfort and service as the other luxury properties in the Lemala Collection.
Lemala Mara is a seasonal mobile tented camp in the northern Serengeti where herds of wildebeest cross the croc-filled Mara River between June and October.
Lemala Kuria Hills is a luxury lodge located near the Mara River in the northern Serengeti and features 15 lavish, glass-fronted guest tents offering unrivalled views over the Serengeti plains.
Lemala Ewanjan Tented Camp is set in the peaceful Seronera Valley in the game-rich Central Serengeti. It offers 12 beautiful guest tents and amazing big cat viewing opportunities.
Lamai Serengeti is a small 12-suite safari lodge spread across a rocky, scrub-covered hillside in the remote northern Serengeti. During certain months of the year, the surroundings teem with
Kimondo Camp is a fabulous mobile safari camp that follows the wildebeest herds from the Mara River in the north to the lush, golden grasslands of the Serengeti in the south.
Highly awarded Intimate Places Camping is designed for travellers who wish to immerse themselves in the wilderness almost anywhere on the northern Tanzania's safari circuit without sacrificing on
Dunia Camp is a semi-permanent camp set in a secluded valley where the migrating wildebeest herds pass twice a year. It has 8 simple yet very comfortable suites with bucket showers overlooking
Camp Zebra is a small, semi-permanent camp that follows the wildebeest as they move across the Serengeti. There are 6 comfortable guest tents in total, with activities centred around the Great
andBeyond Serengeti Under Canvas offers the ultimate luxury camping experience. Expect chandeliers, crystal and silverware as you follow the Great Migration.
Luxurious and exclusive andBeyond Klein's Camp offers an unbeatable location between two of East Africa's finest wildlife reserves: the Masai Mara and Serengeti.
andBeyond Grumeti Serengeti Tented Camp is set in the Serengeti's remote Western Corridor, renowned for incredible year-round wildlife and seasonal migration viewing.
JOIN OUR
E-Newsletter
Sign up to receive updates about exciting journeys, special offers and more