Experience a wildebeest and zebra migration safari
Follow the annual wildebeest and zebra migration at the exclusive Migrational Camps; two seasonal camps – Nyasi (meaning grass) and Songa (meaning move) – that move between the Serengeti's south and north.
Camping in the Serengeti under canvas is one of the most authentic safari experiences within Africa – and an activity high up on many bucket lists. Start each morning out the front of your private tent sipping coffee and watching the sun rise over the endless plains before a day jam-packed with adventure. The Great Migration is one of life's most astounding spectacles, with vast herds of wildebeest following the same well-trodden migratory paths year after year. These two migrational camps are perfectly positioned, putting guests in the heart of the action.
Each camp consists of 8 ensuite tents and one family tent that are decorated in lots of neutral, earthy colours that reflect the tranquillity of the surrounding environment. The tents consist of a comfortable living space, double or twin beds fitted with quality natural linens and an ensuite bathroom featuring double vanities and large mirrors.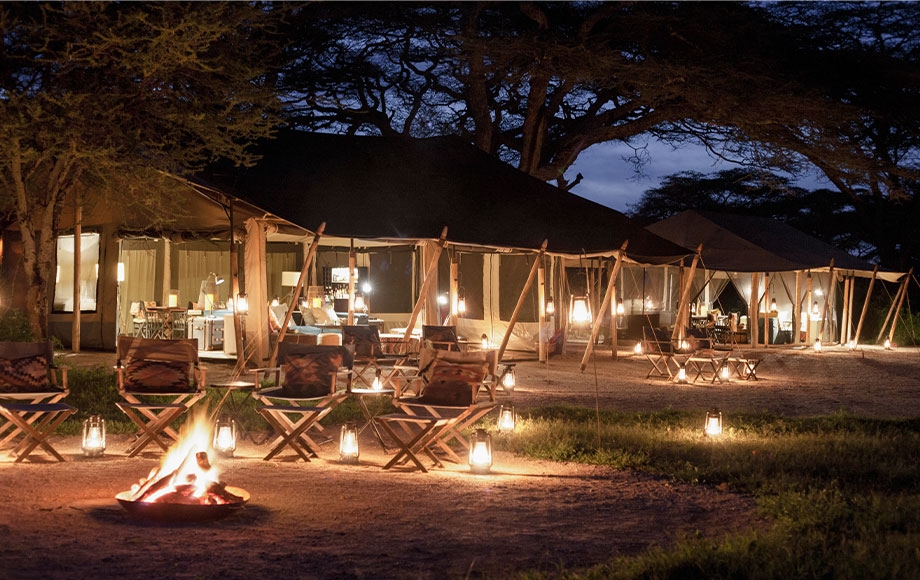 The Camps
The camps main area consists of two tents set under canvas that feature dining and lounge spaces. There are plenty of comfortable couches or chairs to laze around during the day, read a book or chat with fellow guests. There is also an open firepit in front of the camp that is perfect for enjoying a drink or sharing stories with guests about the days adventures. At night, the camp is lit with countless paraffin lanterns that help to create a fantastic atmosphere.
Activities
Activities at Migrational Camps centre on morning and afternoon (or full day) game drives in search of the wildebeest migration or other iconic African wildlife such as lion, leopard, giraffe or elephant. When the camps are in the north (June – mid-November) guests can take to the skies in a hot air balloon, gaining a magnificent birds-eye view of the landscape and the wildlife below (additional cost). Of course, at the end of each day, sundowners are mandatory on safari (and always a popular hit amongst guests) as you stretch your legs and enjoy a cool beverage as you watch the sun go down.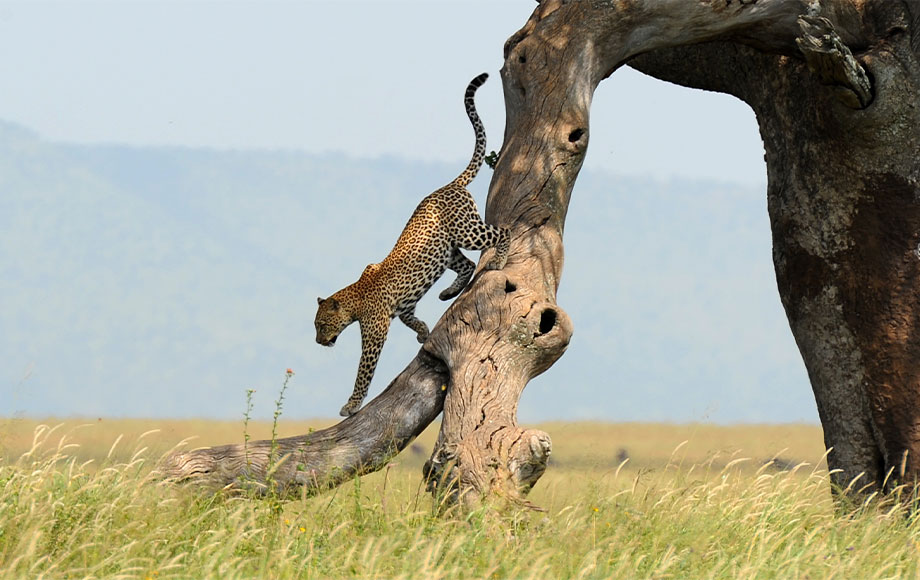 Highlights
Beautiful, tented camp located in prime Serengeti migration spot
Spacious and private enusite tents with quality finishes
Main area boasting comfortable dining and living spaces
All-day game drives in search of the migration and other iconic wildlife
Take to the skies in a hot air balloon (northern Serengeti only – additional cost)
Enjoy sundowners over the endless plains
Activities
Morning, afternoon or all-day safaris
Sundowners – a favourite amongst safari-goers
Hot air ballooning (northern Serengeti only – additional cost)
* Some activities at extra cost
Getting there
Both camps are best accessed via light aircraft flight.
Northern Serengeti – When the camps are set up in the north (June-mid-November) the closest airstrip is Lamai (a ± 45-minte drive).
Southern Serengeti – From 15 December until 31 March, the camps are in the southern Serengeti. Guests can fly into either Mwiba or Makao airstrips (a ± 45-minte drive).
Be inspired
Our Best Tanzania Safaris
The following tours are private, independent and can be easily customised to suit your personal travelling requirements. Please contact us to begin designing your personalised Tanzania experience.
Explore the antiquities of Africa on this 16 day tour to Tanzania and Egypt. Explore the Pyramids of Giza and Marvel at the mighty Shypnx
Related accommodation in the Serengeti
Below are some of our preferred tented camps and safari lodges in the Serengeti surrounds. Please contact us to tailor accommodation options to suit the style of your trip and your budget.
Ubuntu Camp is a mobile tented camp that can be found in three locations throughout the year. It has just 7 simple yet sublimely comfortable suites under canvas with hot water bucket showers that
Singita Sasakwa Lodge is located in the unspoilt Grumeti Reserves in the northern Serengeti. It offers 10 private guest cottages with personal infinity pools, walking safaris and guided game drives.
Singita Sabora Tented Camp is a nostalgic 1920s explorer-style camp in the private Grumeti Reserves adjoining the Serengeti, with 9 romantic suites that lead out onto the plains.
Singita Mara River Tented Camp is an impossibly chic safari camp on the northern banks of the Mara River in Tanzania's famous Serengeti National Park.
Singita Faru Faru Lodge sits on a riverbank in a private reserve adjoining Tanzania's northern Serengeti. This sensational property has 9 premium suites, a fleet of Land Rovers for game drives
Serengeti Safari Camp follows the wildebeest herds as they move across the Serengeti plains throughout the year. To stay lightweight, it only offers 6 walk-in guest tents and a comfortable
Serengeti Bushtops is an alluring safari camp in the Serengeti whose tented suites offer butler service and private hot tubs overlooking the open plains.
Sayari Camp offers 15 stunning tented guest suites, exceptional gameviewing on the plains of the northern Serengeti and easy access to the Mara River and its infamous croc-filled crossing points.
Roving Bushtops is a unique collection of boxes on wheels comprised of 6 guest suites that can be towed anywhere in the Serengeti. This marvel of Swiss engineering presently sits in the game-rich
Olakira Camp has just 9 traditional safari tents with classic bucket showers. This outstanding mobile camp follows the wildebeest herds from north to south, to provide the best opportunities for
Situated in a little-visited, remarkably unspoilt corner of the Serengeti, Namiri Plains is where you'll find some of East Africa's best big cat sightings, from lion and leopard to cheetah.
Stunningly situated in a private 129,500-acre wildlife reserve bordering the southern Serengeti.
Offering perfect seclusion, this intimate tented camp is perched on a ridgeline of granite kopjes in Tanzania's southwest Serengeti.
Follow the annual wildebeest and zebra migration at the exclusive Migrational Camps; Nyasi and Songa – that move between the Serengeti's south and north.
Lemala Ndutu is a seasonal camp with 12 guest suites that offers terrific gameviewing and the Serengeti's wildebeest migration far from the crowds.
Situated in the eastern section of the Serengeti National Park Lemala Nanyukie encapsulates the same excellent standard of comfort and service as the other luxury properties in the Lemala Collection.
Lemala Mara is a seasonal mobile tented camp in the northern Serengeti where herds of wildebeest cross the croc-filled Mara River between June and October.
Lemala Kuria Hills is a luxury lodge located near the Mara River in the northern Serengeti and features 15 lavish, glass-fronted guest tents offering unrivalled views over the Serengeti plains.
Lemala Ewanjan Tented Camp is set in the peaceful Seronera Valley in the game-rich Central Serengeti. It offers 12 beautiful guest tents and amazing big cat viewing opportunities.
Lamai Serengeti is a small 12-suite safari lodge spread across a rocky, scrub-covered hillside in the remote northern Serengeti. During certain months of the year, the surroundings teem with
Kimondo Camp is a fabulous mobile safari camp that follows the wildebeest herds from the Mara River in the north to the lush, golden grasslands of the Serengeti in the south.
Highly awarded Intimate Places Camping is designed for travellers who wish to immerse themselves in the wilderness almost anywhere on the northern Tanzania's safari circuit without sacrificing on
Dunia Camp is a semi-permanent camp set in a secluded valley where the migrating wildebeest herds pass twice a year. It has 8 simple yet very comfortable suites with bucket showers overlooking
Camp Zebra is a small, semi-permanent camp that follows the wildebeest as they move across the Serengeti. There are 6 comfortable guest tents in total, with activities centred around the Great
andBeyond Serengeti Under Canvas offers the ultimate luxury camping experience. Expect chandeliers, crystal and silverware as you follow the Great Migration.
Luxurious and exclusive andBeyond Klein's Camp offers an unbeatable location between two of East Africa's finest wildlife reserves: the Masai Mara and Serengeti.
andBeyond Grumeti Serengeti Tented Camp is set in the Serengeti's remote Western Corridor, renowned for incredible year-round wildlife and seasonal migration viewing.
JOIN OUR
E-Newsletter
Sign up to receive updates about exciting journeys, special offers and more