Napo Wildlife Centre is situated in the Yasuní National Park – the most biodiverse place on earth.
The Ecuadorian Amazon spans nearly 2.5 million acres of lush rainforest, home to an incredible diversity of flora and over 600 species of birds. The lodge is located in a remote part of the Yasuní National Park, roughly 2 hours by motorboat from the city of Coca. Run by the local Kichwa Añangu people the centre is 100% community based and is built around a sustainable, eco-tourism model.
Located on the shores of Añangu Lake this sensational ecolodge can accommodate a maximum of just 40 people in 20 spacious cabanas. The airy rooms have king sized beds, a small sitting area, modern ensuite bathrooms and private verandas. Jars of drinking water are provided in each room while there are also 110-volt electric plugs to charge personal devices.  
At the heart of the property is a central tower with panoramic views. The tower features comfortable lounge areas with sofas and hammocks, a restaurant serving a mix of local and international cuisine and a bar where guests can enjoy refreshing cocktails. There is also an Interpretation Centre where visitors can learn about the traditions and culture of the Kichwa community. A hands-on experience, guests will learn all about hunting methods, uses for local plants, traditional cooking, songs and dances.       
With the highest density of biodiversity in the world, there are a variety of exciting activities on offer at Napo. There are plenty of trails to discover on foot around the ecolodge. Jungle species you may come across include turtles, tapirs and monkeys. Birds such as the hoatzin, macaw and toucan may also be seen. Exploring the black waters of the Añangu Lake by canoe is another popular activity, as is navigating the Napo River by motorised boat. The waters are home to different species of fish, caimans, turtles and giant otters. Visiting a parrot clay lick is one of the Amazon's most amazing spectacles. The licks are walls of clay that contain a huge amount of minerals attracting large numbers of birds – parrots in particular – that feed on the clay.
Observation Tower
The ecolodge also has a 36-metre-high Observation Tower, built next to a huge tree. The tower offers an awe-inspiring, unobstructive view of the forest canopy. You may see flocks of colourful birds in flight or troops of monkeys in the high branches.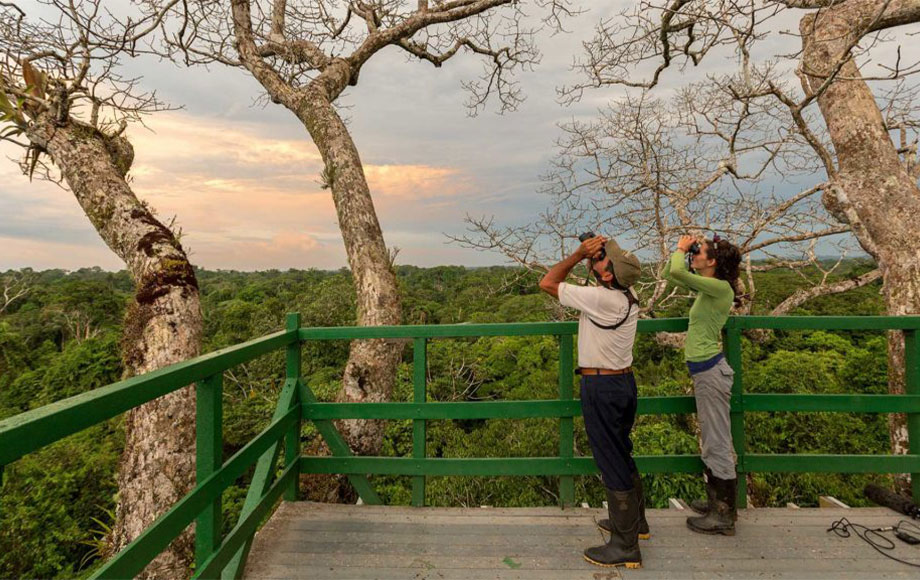 Highlights
Discover the remarkable biodiversity of the Ecuadorian Amazon

Located in a remote part of the Yasuní National Park

A superb ecolodge run by the local 

Kichwa A

ñ

angu people

Sensational central tower home to the main lodge

Fantastic range of wildlife-based and cultural activities

36-metre-high Observation Tower with panoramic forest views
Activities
Cultural interactions with the local 

Kichwa A

ñ

angu people

Guided walks along the trails surrounding the lodge

Canoe trips on Lake 

Añangu
Motorboat excursions down the Napo River
Visiting fascinating parrot clay licks

Viewing the rainforest from the 36-metre high Observation Tower
Facilities
20 spacious cabanas with ensuite facilities

Central tower with lounge, dining room and bar

Comfortable sofas and hammocks

Interpretation Centre and a 36-metre-high Observation Tower

Motorised

 boats and canoes for exploration
Getting there
The lodge is located in a remote part of the Yasuní National Park. It is reached by a comfortable 2.5 hour motorboat ride from the city of Coca, known as the "Gateway to the Amazon" down the Napo River to the welcome centre. From here, guests transfer into a dugout canoe and quietly paddle along the Añangu Creek to the lodge located on Añangu Lake.
Be Inspired
Recommended
Best places to stay in Ecuador
Situated on Plaza San Francisco in the heart of Quito's historic centre, Casa Gangotena is the city's leading luxury hotel.
Featured
Best Ecuador holidays
Navigate the remote waterways of Ecuador's Amazon River aboard the comfortable M/V Manatee or the M/V Anakonda cruise vessel
This 15 day/14 night itinerary combines the very best of the southern, north and central islands exploring Floreana, Espanola, San Cristobal, Santa Cruz, South Plaza and North Seymour islands.
This 7-night itinerary combines the very best of the southern and central islands exploring Floreana, Espanola, San Cristobal, Santa Cruz, South Plaza and North Seymour islands.
This 7-night itinerary combines the best of the northern and central islands including Genovesa, Santa Cruz, Isabela, Rabida and Fernandina islands.
What is the best thing to do in Ecuador?
Ecuador offers an incredible array of experiences within its borders; from heritage-rich colonial cities and luxurious rainforest lodges to opulent Amazon River cruises and exciting rail journey's – there is something for everyone to enjoy. Most compelling of all is the wild beauty and unique fauna of the Galapagos Islands.
Ecuador Culture
From Amazonian frontier towns and Pacific fishing villages, to colonial cities and country markets, Ecuador is a blend of a many cultures. The country is famous for its excellent handicrafts, whilst Afro-Ecuadorians are known for marimba, a lively form of traditional music and dance.
What can I combine Ecuador with?
Mainland Ecuador can be easily combined with a cruise through the beautiful Galapagos Islands, located just under 1000 kilometres off the coast. Neighbouring Peru is the other county most easily (and best) to combine with Ecuador. Top highlights include Machu Picchu, the Sacred Valley and historic Cusco.
How do you get to Ecuador?
Ecuador's capital Quito, and the country's largest city Guayaquil, are the major hubs for flights into the country. Both cities are serviced by a number of airlines directly such as KLM Royal Dutch Airlines, American Airlines, Air France and United. Latam Airlines (primarily based in Santiago, Chile), is the major airline in South America and offers direct flights to number of US and European cities. The Galapagos Islands are a 2 hour flight from Quito or 1.5 hour flight from Guayaquil.
US – Ecuador is very easy to fly to from the United States. There are plenty of direct flights to either Quito or Guayaquil from a number of US cities. Airlines that fly between the countries include United Airlines, American Airlines and Latam Airlines.
Europe – There are a number of countries that operate direct flights into Ecuador from Europe including France and the Netherlands. Alternatively Latam fly to European countries such as Germany and Spain.