Located in Quito's charming historic centre, Illa Experience Hotel is one of Quito's most exclusive hotels.
This boutique hotel situated in the neighbourhood of San Marcos offers guests a chance to experience the very best of Ecuador's culture and traditions. One of the most recent hotels to open in Quito (December 2017), the hotel is set within a part of a large colonial building constructed around the beginning of the 18th century.
This stylishly restored hotel offers just 10 beautifully refurbished rooms and suites decorated in a mix of Colonial, Republican and contemporary styles. All guestrooms are spacious and offer comfortable chairs to relax in as well as beautifully appointed bathrooms with luxurious L'occitane amenities. The beds are fitted with fine linens and cosy cotton quilts while other comforts include blackout curtains, slippers, television, herbal and hot water compress and Wi-Fi. Some rooms overlook iconic Junín Street while others offer a view of the Virgen del Panecillo, one of Quito's most glorious landmarks.
Guests can savour innovative Ecuadorian cuisine at the hotel's restaurant partner Nuema. The award-winning restaurant is run by head chefs Alejandro Chamorro and Piedad Salazar – founding member of a gastronomic collective composed of chefs who work with local ingredients. Gastronomic culture in Ecuador blends different regions, cultures and history together. Many dishes mix grains, fruits and vegetables together from the Amazon, the Andes and coastal regions. These are then mixed with Spanish cuisine resulting in a wide variety of delicious food. Classic Ecuadorian fare include dishes such as hornado – a roast pork served with potato tortillas and vegetables – and encocado de camarones, a delicious coconut and shrimp stew. Wine connoisseurs can try superb South American wines from the hotel's exclusive collection, while private tasting sessions can also be arranged (prior to arrival).
Facilities
The hotel's main lobby is a relaxing place to sit and boasts a central water feature. There is a Reading Room and Break Room whilst the bilingual staff at the concierge desk can answer any questions guests may have. With panoramic views of the historic centre, the breathtaking terrace is the ideal spot to enjoy a cocktail. Guests can also treat themselves to a little pampering on the spa, which features a body treatment room, Jacuzzi and a "reflexology room".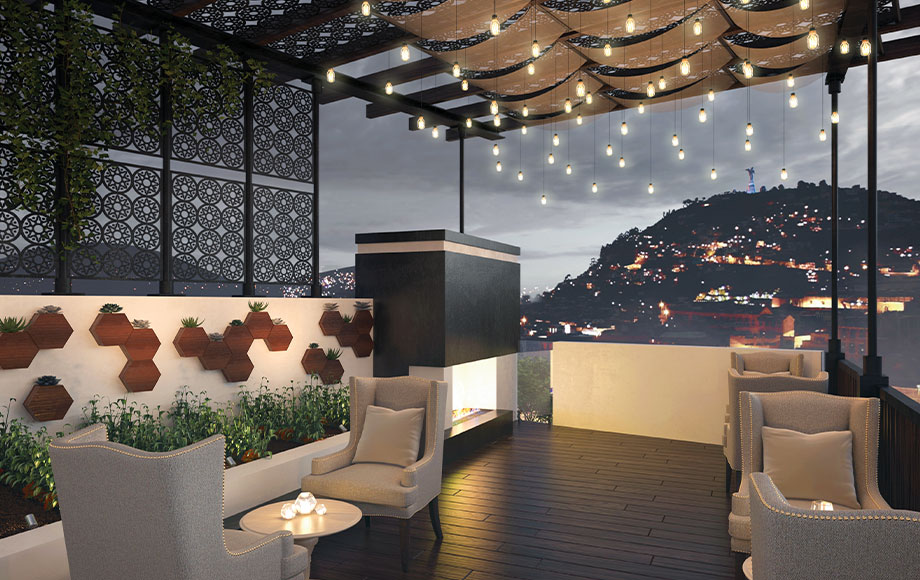 Highlights
Situated in Quito's charming historic centre
One of the city's most exclusive hotels
Just 10 stylish and beautiful rooms and suites
Explore the beautiful neighbourhood of San Marcos
Dine at the renowned Nuema restaurant
Discover sensational roof top views from the hotel's terrace
Facilities
Just 10 stylishly refurbished rooms and suites
Hotel's restaurant partner Nuema serving tasty Ecuadorian fare
Relaxing Reading Room and Break Room
Bilingual staff and personalised concierge service
Rooftop terrace with panoramic views of Quito's historic centre
Day spa with an assortment of treatments and a Jacuzzi
Valet parking service
24-hour room service
Wi-Fi throughout the hotel
Getting there
Be Inspired
Recommended
Best places to stay in Ecuador
Situated on Plaza San Francisco in the heart of Quito's historic centre, Casa Gangotena is the city's leading luxury hotel.
Featured
Best Ecuador holidays
Navigate the remote waterways of Ecuador's Amazon River aboard the comfortable M/V Manatee or the M/V Anakonda cruise vessel
This 15 day/14 night itinerary combines the very best of the southern, north and central islands exploring Floreana, Espanola, San Cristobal, Santa Cruz, South Plaza and North Seymour islands.
This 7-night itinerary combines the very best of the southern and central islands exploring Floreana, Espanola, San Cristobal, Santa Cruz, South Plaza and North Seymour islands.
This 7-night itinerary combines the best of the northern and central islands including Genovesa, Santa Cruz, Isabela, Rabida and Fernandina islands.
What is the best thing to do in Ecuador?
Ecuador offers an incredible array of experiences within its borders; from heritage-rich colonial cities and luxurious rainforest lodges to opulent Amazon River cruises and exciting rail journey's – there is something for everyone to enjoy. Most compelling of all is the wild beauty and unique fauna of the Galapagos Islands.
Ecuador Culture
From Amazonian frontier towns and Pacific fishing villages, to colonial cities and country markets, Ecuador is a blend of a many cultures. The country is famous for its excellent handicrafts, whilst Afro-Ecuadorians are known for marimba, a lively form of traditional music and dance.
What can I combine Ecuador with?
Mainland Ecuador can be easily combined with a cruise through the beautiful Galapagos Islands, located just under 1000 kilometres off the coast. Neighbouring Peru is the other county most easily (and best) to combine with Ecuador. Top highlights include Machu Picchu, the Sacred Valley and historic Cusco.
How do you get to Ecuador?
Ecuador's capital Quito, and the country's largest city Guayaquil, are the major hubs for flights into the country. Both cities are serviced by a number of airlines directly such as KLM Royal Dutch Airlines, American Airlines, Air France and United. Latam Airlines (primarily based in Santiago, Chile), is the major airline in South America and offers direct flights to number of US and European cities. The Galapagos Islands are a 2 hour flight from Quito or 1.5 hour flight from Guayaquil.
US – Ecuador is very easy to fly to from the United States. There are plenty of direct flights to either Quito or Guayaquil from a number of US cities. Airlines that fly between the countries include United Airlines, American Airlines and Latam Airlines.
Europe – There are a number of countries that operate direct flights into Ecuador from Europe including France and the Netherlands. Alternatively Latam fly to European countries such as Germany and Spain.