Tour Valparaiso and Vina del Mar, a great contrast between the charming, colourful neigbourhoods of Valparaiso and the coastal town of Vina del Mar.
Visit the vibrant and unique port city of Valparaiso, famous for its colourful hillside neighbourhoods and declared a UNESCO World Heritage Site in 2002.
Though some claim that there are 42, no one knows exactly how many hills circle the bay of Valparaiso. Whatever the number, there are many of them, and each is filled with multicolored houses perched at crazy angles connected by a gigantic labyrinth of streets, long staircases and lookout points. Between these hills and the sea lies a downtown area filled with beautiful architecture, narrow streets and even trolleybuses.
Also visit the beautiful coastal town of Vina del Mar, known as the 'Garden City'. Clean and orderly, Vina del Mar is a sharp contrast to the charming jumble of neighboring Valparaiso with its boulevards lined with palm trees, beach and expansive parks.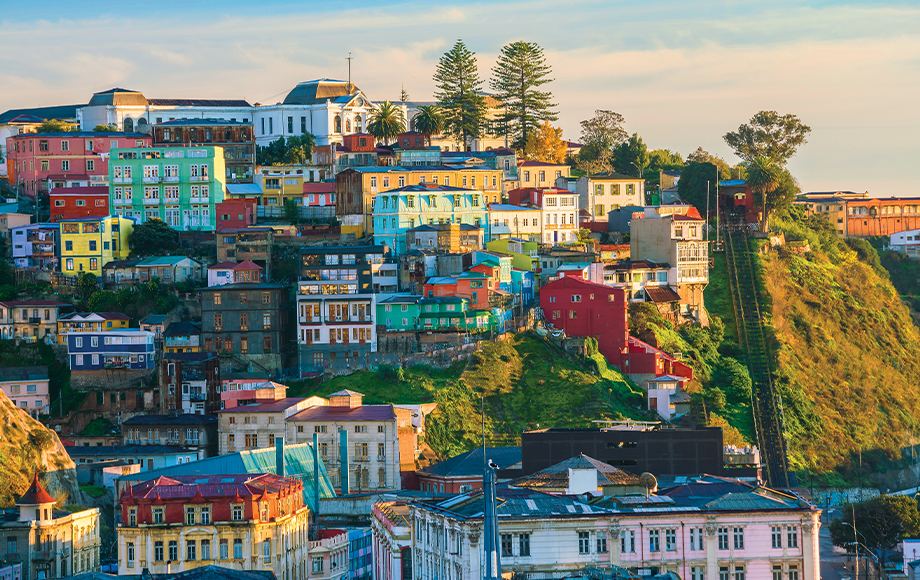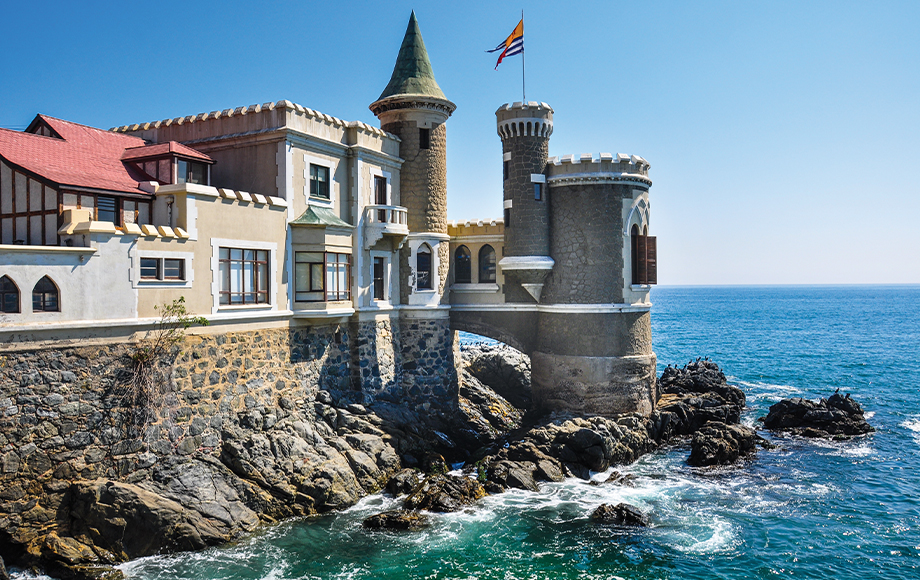 Valparaíso & Viña del Mar
3 days/2 nights
Day 1
Valparaíso
Transfer from Santiago to Valparaíso on the Pacific Coast. Recently declared a Monument of Humanity by UNESCO, Valparaíso's colourful houses by the sea and steep hills create an amazing urban landscape. Overnight Valparaíso.
Day 2
Valparaíso
Tour Valparaíso's vibrant neighbourhoods and the downtown area including the Plaza Sotomayor, the cathedral and the harbour. Travel north along the coastline to the elegant seaside town of Viña del Mar. Return to Valparaíso for overnight.
Day 3
Tour ends Santiago
Journey back to Santiago via Valle de Casablanca, one of Chile's supreme wine regions. Enjoy a visit to a winery including lunch. Arrival transfer to your hotel or the airport. Tour ends.
Chile Itineraries
Cruises are one of the best ways to experience the unique and untrammelled wilderness of Chilean and Argentinean Patagonia.
Go in search of the elusive Puma by 4WD or on foot. Discover the amazing wildlife of the Torres Del Paine National Park
Tour Valparaiso and Vina del Mar, a great contrast between the charming, colourful neigbourhoods of Valparaiso and the coastal town of Vina del Mar.
Why Chile: When it comes to awesome scenery and untouched wilderness, Chile is hard to beat. From dry deserts to lush forests, gentle lakes and glimmering icefields, this country has it all.
Culture: Chile's rich, diverse culture is influenced as much by its indigenous and European peoples, as the varied landscape. Art, literature, folk music, dance and festivals are all central to Chilean society.
When to Go: Chile's climate varies with latitude. The Atacama is dry and sunny, hot in summer and cold at night in winter. Central Chile has a pleasing Mediterranean climate, with warm summers and wet, mild winters. Southern Patagonia receives plenty or rain, with cool, windy summers and cold winters.
Combine With: Neighbouring Argentina, particularly when visiting the Patagonia region. Chile also combines well with Peru, where you can visit Cusco, the Sacred Valley and Machu Picchu or experience the Amazon rainforest at a secluded eco-lodge.
Getting There: Qantas and LAN fly from Australia via New Zealand to Santiago.