Jack's Camp – One of Africa's most iconic camps
Named after an adventurer who stumbled upon the site in the 1960s, award-winning Jack's Camp sits in the shade of palms amid a giant salt lake which dried up thousands of years ago. The award-winning camp pays homage to its past, adorned in vintage 1940's style campaign furniture.
Located adjacent to Botswana's astounding Makgadikgadi Pans National Park, the vast pans offer a unique desert experience in the dry season, offering otherworldly lunar terrain to explore. The landscape is home to several fascinating desert species including brown hyena, porcupine, aardwolf and aardvark. Other wildlife you may see include black-maned Kalahari lion, honey badgers, jackals or bat eared fox. After the rains, the ecosystem transforms into watery grasslands, attracting huge herds of zebra and wildebeest. For several months, the landscape teems with game. During this green season, guests can bear witness to Southern Africa's last remaining mass mammal migration of zebra.
The central hub of the camp, the expansive and gorgeous mess tent houses a grand dining table, lounge room, museum, antique pool table and bar – set within a large chest. Throughout the mess tent, guests can find beautiful campaign furniture and cabinets filled with fascinating artefacts, old maps and fossils. Not far from the main area, there is a separate tent that houses a sensational indoor pool, surrounded by elegant sun loungers.
Jack's Camp (and sister property San Camp) is home to several authentic and special safari experiences few other camps can match. A 3-night stay complements a greater Botswana safari, and some activities are only available during the dry season. Aside from morning and afternoon game drives in search of unique desert-adapted wildlife such as brown hyena and aardwolf, guests can also enjoy walks with the local Zu'/hoasi Bushmen, quad biking through the ancient salt pans or visit Chapman's Baobab – an ancient fallen tree and a national monument of Botswana. A highlight of a stay at Jack's Camp is a visit to see the habituated meerkats.
Persian Tea Tent
If Jack's Camp wasn't already unique enough in its design, décor and overall splendour, then the glorious Persian Tea Tent adds a final element to this remarkable camp. The iconic tea tent is a place where guests can sink into one of the countless cushions scattered across the floor and enjoy a relaxing afternoon tea in style. Afternoon tea in the Tea Tent is a highlight of every stay at Jack's Camp; where there are always a variety of mouth-watering treats on offer.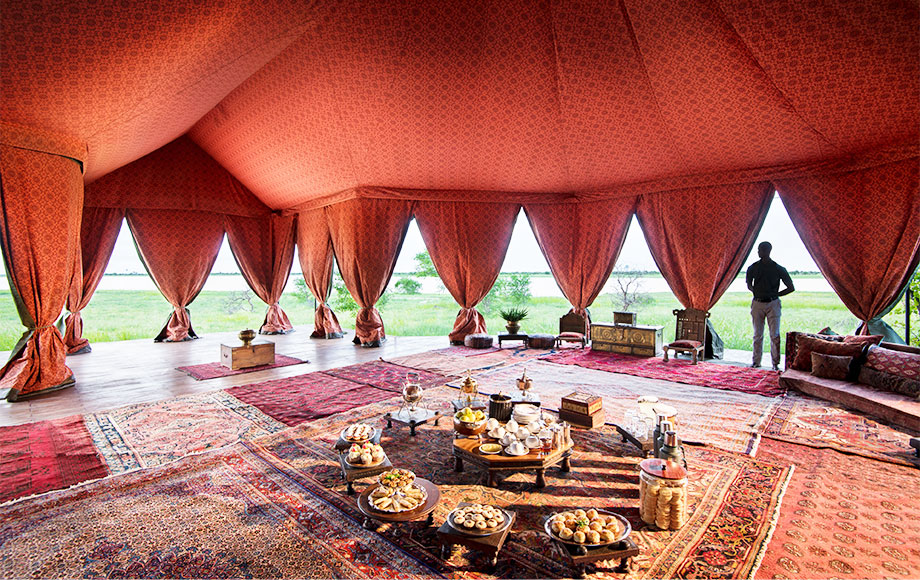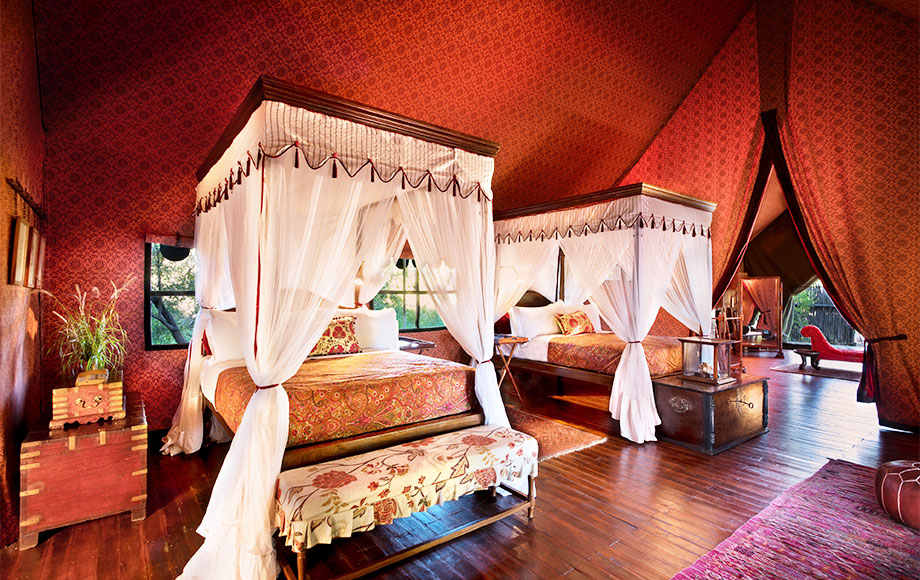 Unique and elegant guest tents
One of Africa's most unique camps, Jack's Camp has just 9 beautiful guest tents reminiscent of a classic 1940's East African safari camp. The spacious tented rooms feature raised-four poster beds, a peaceful lounge area and gorgeous ensuite bathrooms. The rooms are decorated with rich Persian and North African rugs, mahogany campaign furniture, brass fittings and still feature the iconic green canvas and rich muslin-draped walls. The ensuite bathrooms feature both indoor and outdoor showers and huge brass basins, while the enormous outdoor deck boasts a private plunge pool and multiple soft deck chairs. At night, the romantic tents are lit with paraffin lanterns.
Visit a habituated "mob" of meerkats
One of the highlights when visiting Jack's Camp is an excursion to see the nearby habituated meerkats. Members of the mongoose family, these small, fascinating creatures live in groups (called a mob or gang) typically around 20 individuals in number. The meerkats are almost always in the presence of a ranger, which is why they have become accustomed to humans. Guests can sit and watch them as they go about their daily lives, searching for food or standing on their hind legs keeping an eye out for unsavoury characters. The curious meerkats have been known to even sit on top of guests heads to get a better vantage point!
Accommodation Details
A legendary camp in Botswana's ethereal Makgadikgadi Pans National Park
Decorated in vintage 1940's explorer style décor
Open year-round – Offering perspectives of the Kalahari's green and dry seasons
Beautiful mess tent with lounge room, museum and an antique pool table
Afternoon tea in the sensational Persian Tea Tent
A glorious Pool Tent – perhaps the most unique in Africa
A wide range of activities from walking with Bushmen to quad biking
Search for desert wildlife such as the brown hyena, aardwolf and porcupine
Come face-to-face with a mob of meerkats
Morning, afternoon or night game drives in search of desert-adapted wildlife
Visit a "mob" of habituated meerkat
Walk with the local Zu'/hoasi Bushmen
Quad bike across the vast, open salt pans (dry season)
Visit the ancient Chapman's Baobab
Make the most of the camp's facilities including the pool table, tea tent and pool tent
*Some activities are available at extra cost.
Light aircraft transfers can be arranged from Maun to Jack's Camp.
Best Botswana Safaris
Discover Botswana's most beautiful wilderness areas and an abundance of incredible wildlife on this luxury 10 night safari.
Accommodation in the Kalahari
Below are some of our preferred tented camps in the Kalahari region. Please contact us to tailor accommodation options to suit the style of your trip and your budget.
Award-winning Jack's Camp sits in the shade of palms amid a giant salt lake which dried up millennia ago, beside Botswana's otherworldly Makgadikgadi Pans National Park.
Comfortable, laid-back Camp Kalahari sits at the very edge of the remote Makgadikgadi Saltpans, offering travellers a unique desert safari experience.
About halfway between the Central Kalahari Game Reserve and the Okavango Delta, Meno a Kwena offers a diversity of safari experiences from a very scenic, secluded setting.
In an exceptionally remote section of the immense Central Kalahari Game Reserve, Kalahari Plains Camp overlooks an enormous white salt pan.
Welcoming Leroo La Tau sits on a cliff beside the Boteti River, an important source of water to many birds and animals especially during Botswana's dry season.
JOIN OUR
E-Newsletter
Sign up to receive updates about exciting journeys, special offers and more