San Camp is a collection of romantic white tents which sit like a mirage beneath a scattering of lofty palms at the edge of a vast, glittering saltpan.
San Camp is a collection of romantic white tents which sit like a mirage beneath a scattering of lofty palms at the edge of a vast, glittering saltpan adjacent to Botswana's surreal Makgadikgadi Pans National Park. You might be in the middle of nowhere, surrounded by flat, featureless landscapes, yet your spacious bedroom is a cool haven under canvas, replete with light cotton sheets and luxe feather bedding.
This intimate and romantic camp has just 7 guest tents in total to ensure privacy and seclusion, two specially set up for families. Inside the billowing white tents are magnificent four-poster beds sitting on Persian rugs, a Mahogany writing desk, leather armchairs and ensuite bathrooms. The bathrooms feature wooden floorboards, showers and copper basins. Run entirely on solar power, the camp and guest tents are lit at night by lanterns, creating a sense of old-world charm.
A sublime central mess tent contains a small museum – filled with a collection of od maps, fossils and other fascinating artefacts – a library and glorious dining table. Decorated in 1940's campaign style, the open-sided pavilions are the main hubs, with a small lounge area the perfect spot to enjoy a refreshing drink during the day. There is also a standalone swimming pool tent, with a shaded private deck. The deck doubles as a yoga pavilion for daily meditation or quiet contemplation of your natural surrounds.
There is a wealth of unique and diverse activities available at San Camp and sister property Jack's Camp that make it a highlight of any Botswana itinerary. Aside from morning and afternoon game drives in search of unique desert-adapted wildlife such as brown hyena and aardwolf, guests can also enjoy walks with the local Zu'/hoasi Bushmen, quad biking through the ancient salt pans and visit the ancient Chapman's Baobab – an impressive fallen tree under which early explorers Livingstone and Selous once made camp.
Persian Tea Tent
There is also a glorious Persian Tea Tent, where guests can relax and sink into the countless cushions that are scattered lazily across the floor. Afternoon tea in the Tea Tent is a highlight of every stay at San Camp; where guests can casually try the mouth-watering treats on offer – including the best brownies you will find in the desert.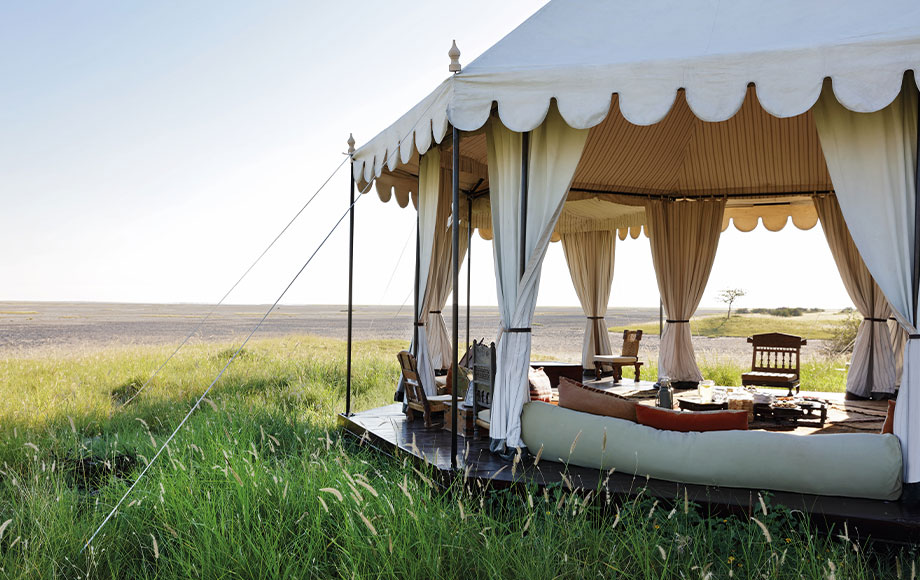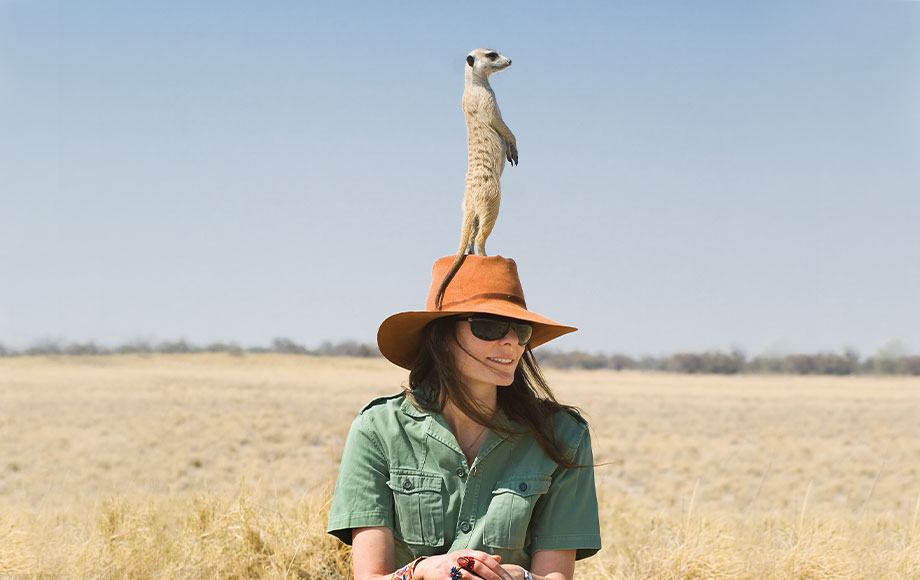 Hang out with habituated Meerkats
One of the highlights when visiting San Camp is an excursion to see the nearby habituated meerkats – who are almost always in the presence of a ranger. Members of the mongoose family, these small, fascinating creatures live in groups (called a mob or gang) typically around 20 individuals in number. Guests can sit and watch them as they go about their daily lives, searching for food or standing on their hind legs keeping an eye out for unsavoury characters. The meerkats have been known to even sit on top of guests heads to get a better vantage point!
Highlights
An enchanting tented camp at the edge of a spellbinding saltpan
Decorated in 1940s glamorous safari style
Offering exciting quad biking excursions on the salt pans
Opportunities to view rare hyena and interact with meerkats
Walk with Zu'/hoasi Bushmen and learn desert survival skills
Facilities
7 romantic, lantern-lit safari tents
Afternoon tea in the beautiful Persian Tea Tent
Central mess tent with a small museum, dining room and lounge area
Spacious pool tent with shaded deck often used for yoga
Activities
Quad biking
Game drives
Walks with Bushmen
Meerkat experience
Archaeological and historic site visits
* Some activities at extra cost
Getting there
Light aircraft transfers can be arranged from Maun to San Camp.
Be Inpired
Luxury Kalahari Accommodation
Award-winning Jack's Camp sits in the shade of palms amid a giant salt lake which dried up millennia ago, beside Botswana's otherworldly Makgadikgadi Pans National Park.
Comfortable, laid-back Camp Kalahari sits at the very edge of the remote Makgadikgadi Saltpans, offering travellers a unique desert safari experience.
About halfway between the Central Kalahari Game Reserve and the Okavango Delta, Meno a Kwena offers a diversity of safari experiences from a very scenic, secluded setting.
In an exceptionally remote section of the immense Central Kalahari Game Reserve, Kalahari Plains Camp overlooks an enormous white salt pan.
Welcoming Leroo La Tau sits on a cliff beside the Boteti River, an important source of water to many birds and animals especially during Botswana's dry season.
Recommended Botswana Safaris
Discover Botswana's most beautiful wilderness areas and an abundance of incredible wildlife on this luxury 10 night safari.
JOIN OUR
E-Newsletter
Sign up to receive updates about exciting journeys, special offers and more