Travel to remote Lord Howe Island & relax in peace
At any given time, the World Heritage-listed island of Lord Howe Island has only 400 visitors so you can rest assured you'll have its twin peaks, idyllic beaches and crystalline waters almost all to yourself. Shaped like an irregular crescent, the volcanic island of Lord Howe is often compared to paradise. There is no mobile phone reception, the commonest form of transport is bicycle and nobody hurries anywhere. Most of the population live in the island's north, which is bordered by picture-perfect beaches and lapped by crystal-clear ocean.
Accessible only on foot or by boat, North Bay is home to a huge variety of colourful undersea life as well as a fascinating 60 year-old shipwreck. To the east lies Blinky Beach, beloved for its champagne surf. Situated at the heart of Lord Howe Island, Transit Hill offers gorgeous panoramic vistas, while the sparsely inhabited south is dominated by the soaring peaks of Mount Lidgbird and Mount Gower.
Awe-inspiring scenery
Unique eco-systems, rare flora and fauna
World's southernmost coral reef
Stunning Mount Lidgbird and Mount Gower
Magnificent opportunities for outdoor adventures
Remoteness, tranquillity and timelessness
Picture-perfect Old Settlement Beach
Ned's Beach fish feeding
Ball's Pyramid
Snorkel amid kaleidoscopic coral at Old Settlement Beach or hand-feed eager mullet, kingfish and wrasse at Neds Beach. Wander the brooding Valley of the Shadows on the island's eastern shore, and trek up Mount Gower, Lord Howe Island's highest mountain. From the summit, you might spot Balls Pyramid, the world's tallest sea stack. Sailing to this 551m-high peak is highly recommended, and scuba divers here are often circled by vast schools of marlin, runners and dolphin.
Lord Howe Island is a 2-hour flight from Sydney or Brisbane, with seasonal services operating from Port Macquarie. Strict luggage limits (14kg per person) apply on all Lord Howe Island flights.
Part of the state of New South Wales, a visit to Lord Howe Island fits well with other highlights of eastern Australia such as Sydney, the Blue Mountains, and Tropical North Queensland's Great Barrier Reef and Daintree Rainforest.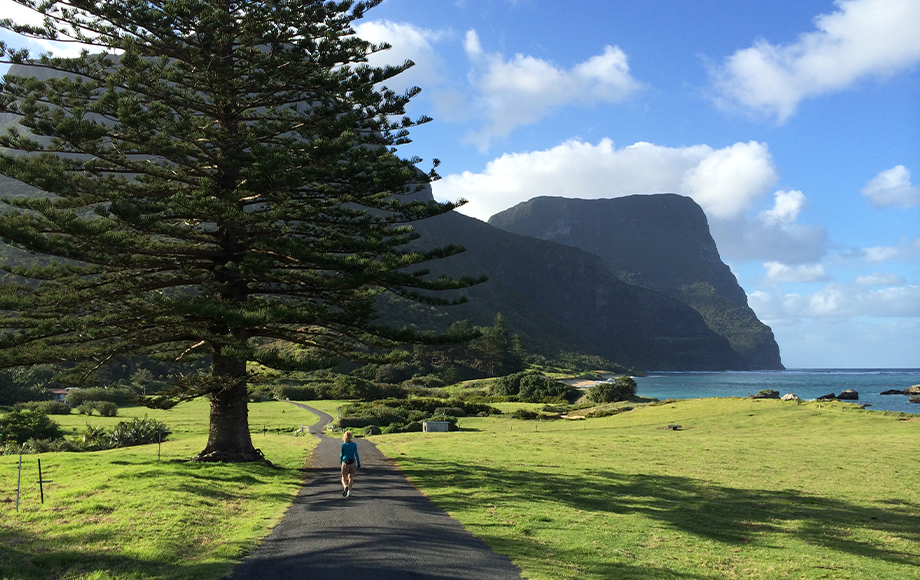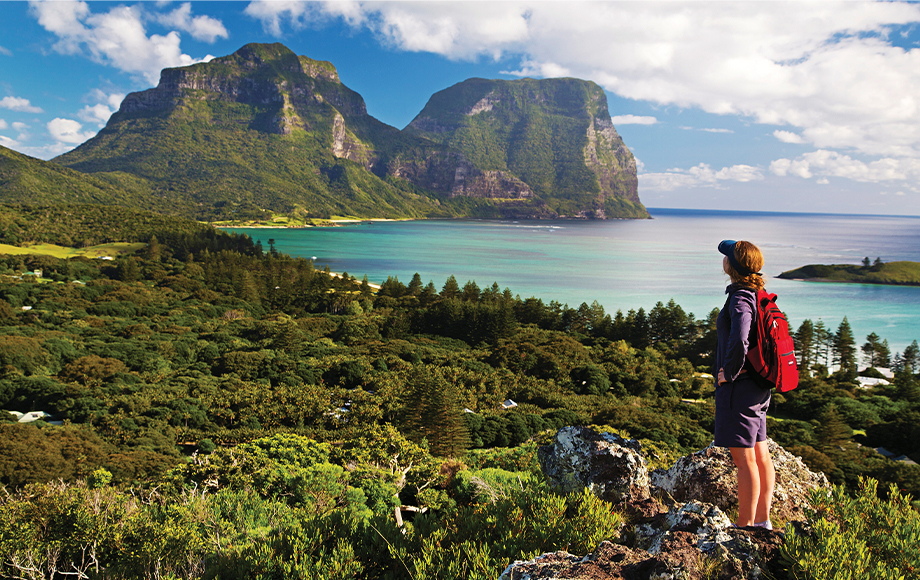 New South Wales Itineraries
A personalised itinerary takes into account your individual travel style, budget and special interests. To get you started on deciding what you may want to do and see we have compiled a range of suggested itineraries and inspirations in case you are travelling as a family, on a honeymoon or enjoy more physical activity. Below are some of our most popular sample tour in New South Wales.
No grid was found for: AU NSW Itineraries.
Accommodation on Lord Howe Island
Below is our range of luxury accommodation that you can stay at on Lord Howe Island. Please contact us for availabilty
Arajilla Retreat is a beautiful boutique hotel nestled under a canopy of palms and trees at the northern end of Lord Howe Island
Overlooking the azure Pacific Ocean and tiny Lovers Beach is Capella Lodge, a stylish luxury retreat on stunning Lord Howe Island.
Subscribe below
Sign up to receive updates about exciting journeys, special offers and more.