Search for the magnificent Bengal tiger, contemplate the mystery of ancient temples, grand palaces and the beauty of the Taj Mahal.
2024 – FULL
Register your interest for 2025. Dates TBC.

Join us for our 17th Taj, Temples and Tigers – our most successful and popular escorted small group tour. If you love wildlife, history and culture this is perfect for you, with unprecedented opportunities to get up-close to the majestic Bengal Tiger. Nothing can prepare you for the excitement of seeing this magnificent creature in its natural habitat, a privilege that few people will ever experience. Throughout this 17-day trip you will be escorted by our General Manager Anne-Marie Zambelli, whose knowledge and zest for India (and travel in general) knows no bounds, as well as naturalist Tirath Singh who has accompanied many of our previous tours. Whilst this tour visits two of India's national parks there is also plenty of time for cultural experiences and historical sites.
The itinerary for 2024 has been tweaked a little to slow the pace down even more. The amazingly biodiverse tiger sanctuaries will be a priority, with four nights at Bandhavgarh and three nights at Ranthambore, providing the opportunity for 11 safari excursions in search of tigers and many other animals.
We invite you to join us on this escorted tour, the main focus of which is to view the endangered tiger. Nothing can prepare you for the excitement of seeing this magnificent creature in its natural habitat, a privilege that few people will ever experience. Whilst this tour visits 2 of India's national parks there is also plenty of time for cultural experiences and historical sites.
Tour details
Total of 11 guided tiger safaris in Bandhavgarh and Ranthambore
The avian paradise of Keoladeo National Park
The historic treasures of Delhi, Jaipur & the beautiful Taj Mahal
Accompanying naturalist and Australian escort
Meals, accommodation
Sightseeing as per the itinerary with services of a local English speaking naturalist
Internal Airfares (Delhi/Jabalpur & Jaipur/Delhi)
All current passenger departure taxes and levies
Transfers by air conditioned vehicle, city tours and excursions as per the itinerary, jungle excursions by jeep
1 bottle of mineral water per person per day for all surface travel and at meal times
Gratuities
International Airfares*
Items of a personal nature.
*We can book international airfares in your preferred class of travel and any additional arrangements. Contact us for details.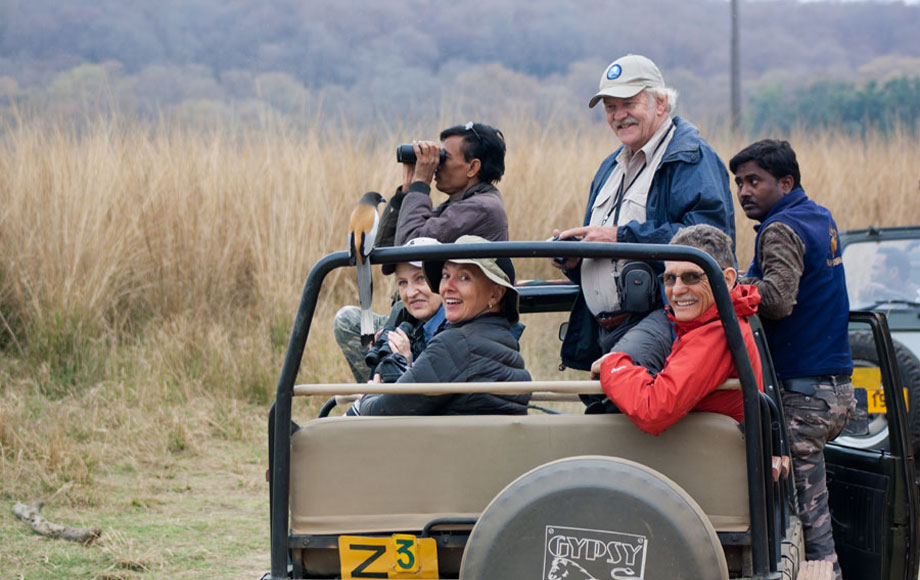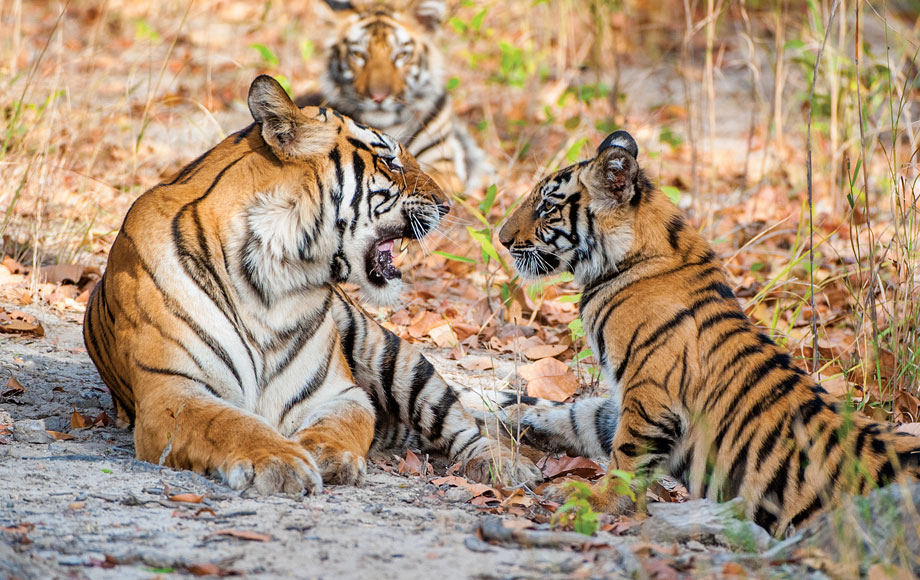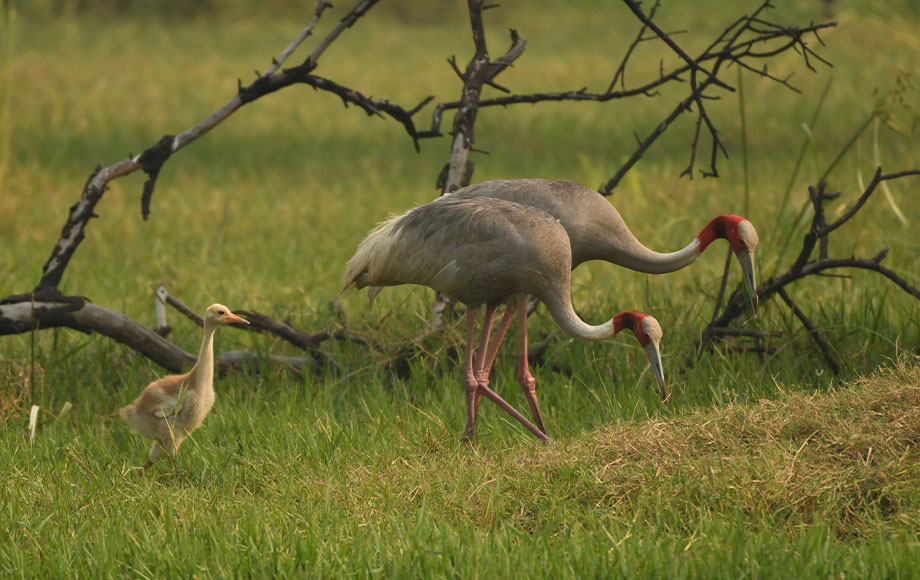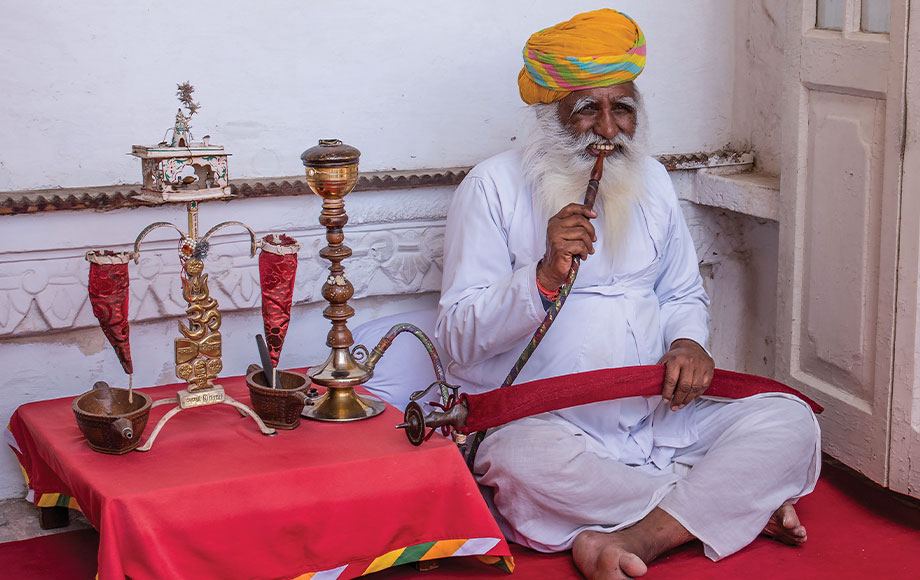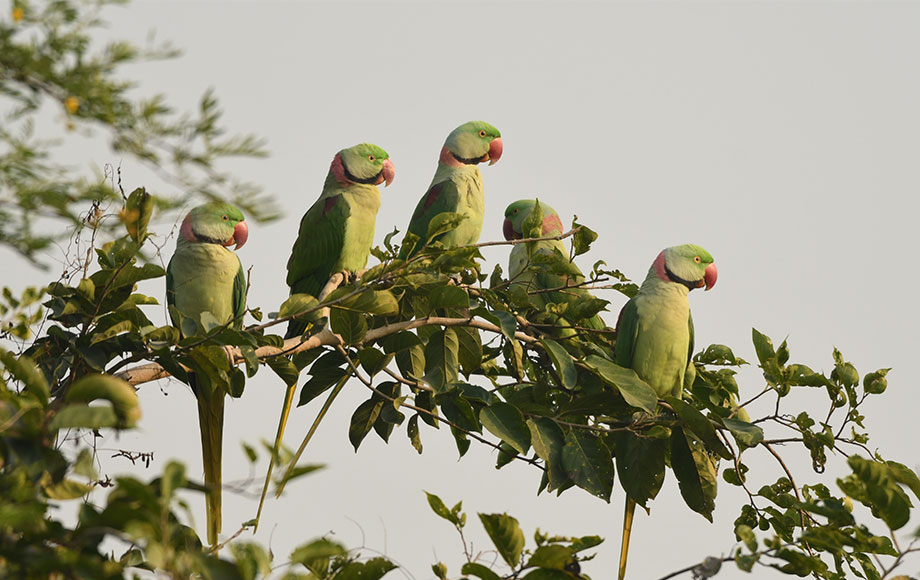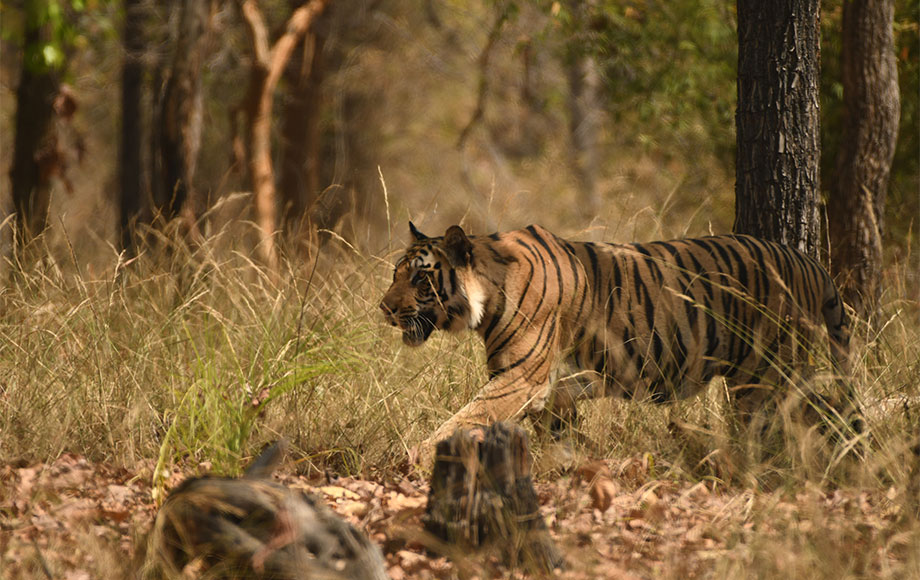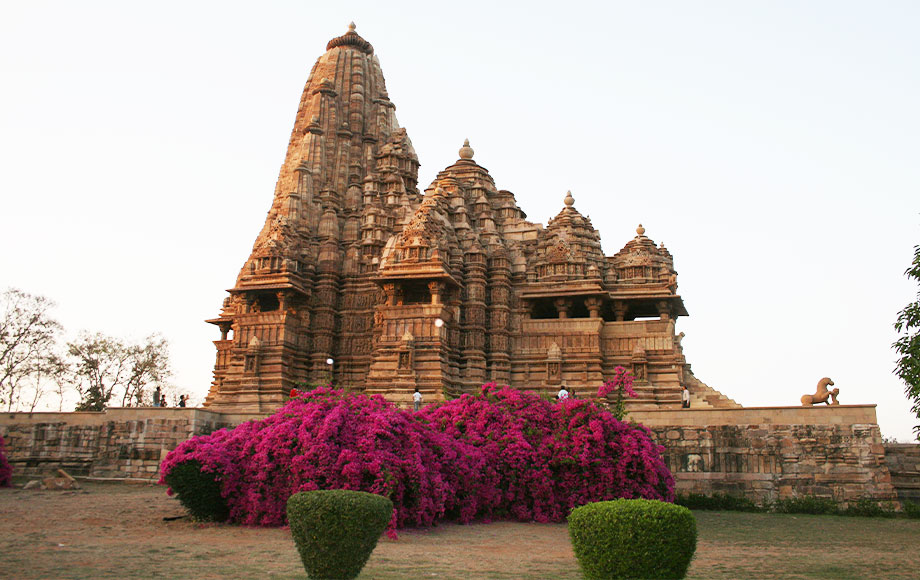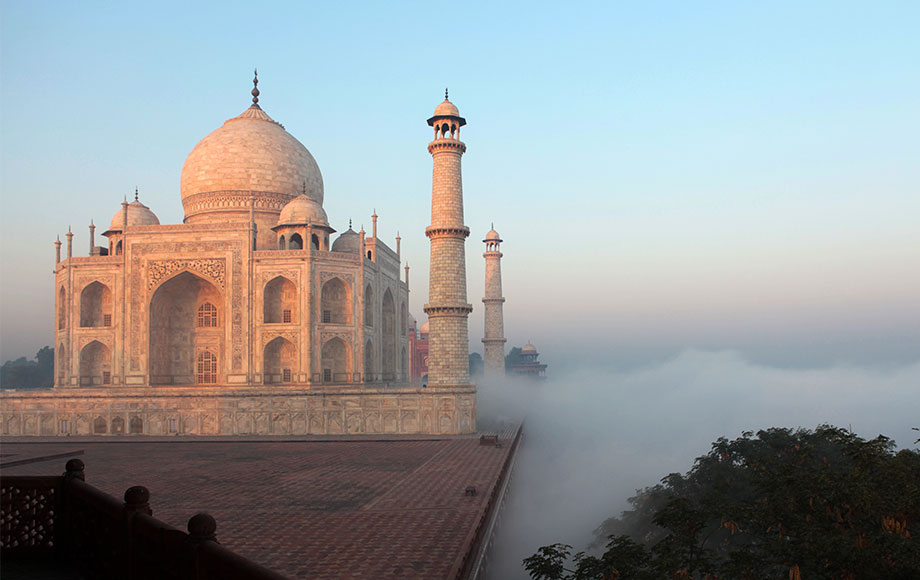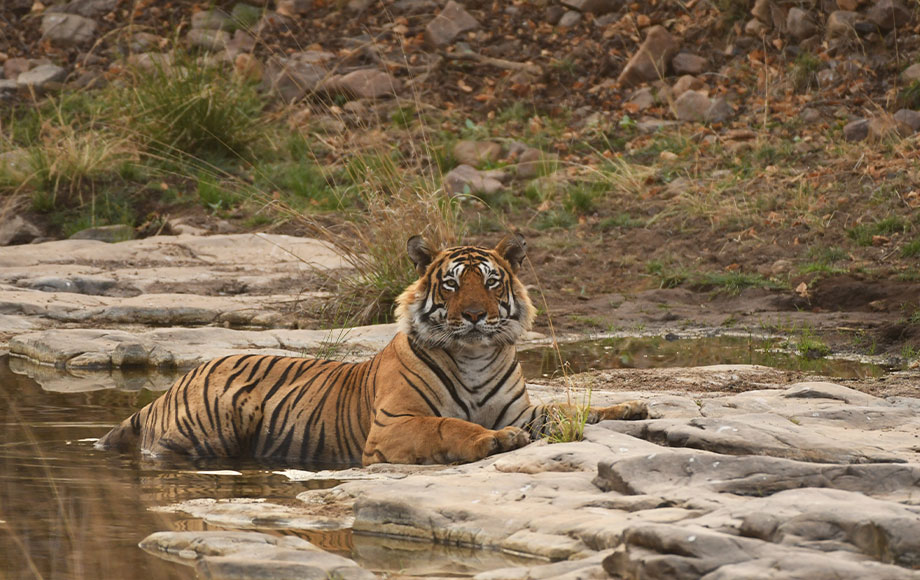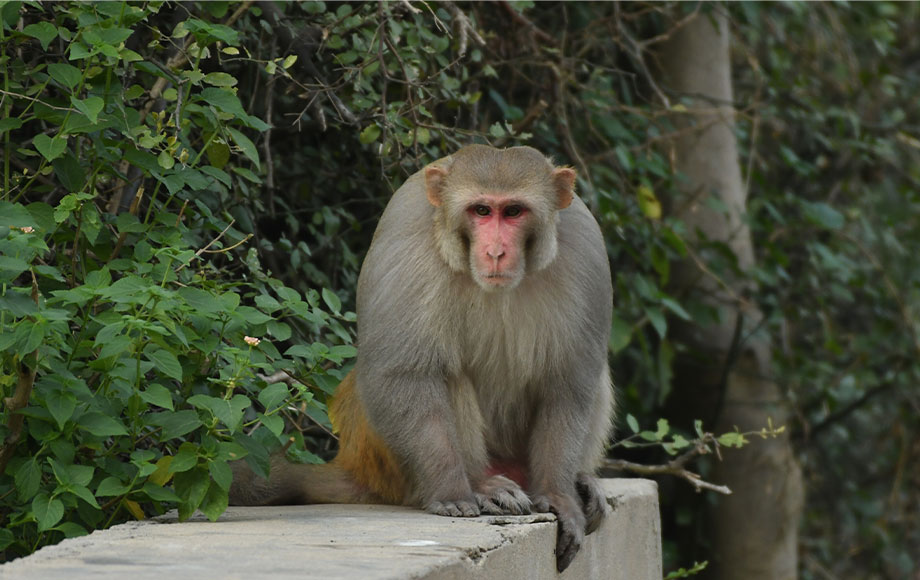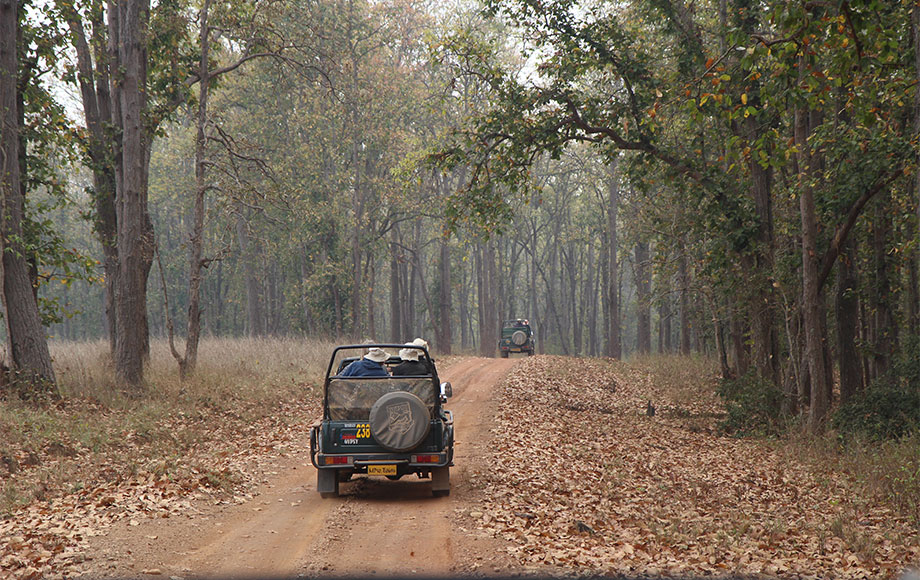 26 Feb 2024 – ex Delhi
17 days/16 nights
Day 1   |    26 Feb
Delhi
Arrive Delhi and transfer to your hotel. Overnight at Le Meridien.
Day 2   |   27 Feb
Delhi
Enjoy a tour of New Delhi visiting renowned sites including the unique Qutab Minar and Humayun's Tomb. Lunch at a local restaurant. Overnight at Le Meridien. BLD
Days 3-6   |   28-2 Mar
Bandhavgarh
Morning flight to Jabalpur and then road transfer to Bandhavgarh National Park (4 hrs). Morning and afternoon jungle excursions. Accommodation at Bandhav Vilas. BLD
Day 7   |   3 Mar
Khajuraho
Continue by road to Khajuraho and visit one of the oldest temple complexes in India, dating back to 930AD. Overnight Khajuraho. BLD
Day 8   |   4 Mar
Agra
Early departure for Agra, home to the Taj Mahal built by Emperor Shah Jahan to honour his late wife Mumtaz Mahal. Overnight Agra. BLD
Days 9-11   |   5-7 Mar
Bharatpur
Visit the Taj Mahal at sunrise and tour the impressive Agra Fort before arriving at The Birder's Inn Bharatpur in the evening. Activities include the Keoladeo National Park and sunset visit to the 16th century Moghul city of Fatehpur Sikri.
Days 12-14   |   8-10 Mar
Ranthambore
Travel by road to Ranthambore National Park, a former private hunting ground of the great rulers of Jaipur and one of the most renowned national parks in India for viewing tigers. Accommodation at Dev Vilas. BLD
Days 15/16   |   11/12 Mar
Jaipur
Depart by road to India's "Pink city" – Jaipur and transfer to your hotel. Sightseeing includes the Amber Fort, City Palace and a visit to the Jantar Mantar Observatory. BLD
Day 17   |   13 Mar
Tour Ends, Delhi
Morning at leisure before your departure to Jaipur airport and flight to Delhi. Tour ends. B
---
B = Breakfast  |   L = Lunch  |   D = Dinner
Tour escort
Annie – Natural Focus General Manager
"Travel is part of my makeup – it is in my DNA. My father was from Italy and my mother, Australian born but of German/Irish heritage. I grew up listening to mum's tales of exploring America by bus and sailing from Australia to Japan on board an ocean liner. At the age of 10 our family embarked on a two month round the world adventure that ultimately set the scene for future travels. Every chance I had (weekends and school holidays) I worked at a tourist information centre so it was only natural that once school was over, I would choose to forge a career in the travel industry."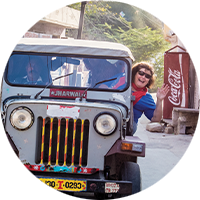 Naturalist
Tirath Singh
With an arts degree from Rajasthan, Tirath is a keen naturalist, photographer and excellent guide to have along on any Indian journey. He has accompanied many of our Taj, Temples & Tigers Tours with Annie, and has an exceptional knowledge of India's wildlife and culture. For more than 20 years' Tirath has been part of the Natural Focus India team, developing strong ties with Australia, and he has made several trips down under to promote our tours.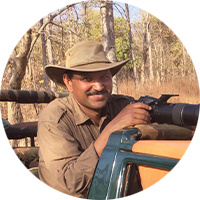 Taj Temples & Tigers – Over the Years
Testimonials
The Natural Focus Safaris Taj Temples and Tigers 2017 tour was outstanding!

Host Annie and naturalist Tirath were exceptionally knowledgeable, friendly and efficient and made the entire group feel welcome and at ease.  It was clear that both were working extremely hard to deal with and resolve the logistical issues that inevitably arise on journeys like this.  At all times they did so without inconveniencing the group or impacting on the planned itineraries.  I cannot speak highly enough of their efforts and outcomes.

At a more general level, the transport and accommodations exceeded my expectations with many of the hotels and lodges being superb, and the others at least very good. I cannot speak highly enough of my NFS experience and have already recommended them to friends, including my travel agent.  I will enthusiastically travel with the company again.
We have recently returned from the above trip to India with Annie who gave us a wonderful holiday and experience in India.  While we were a little apprehensive about going to India especially as Africa is a favourite destination of ours, we had a fabulous time so much so we would definitely love to return one day.  Having said that we would love a trip with Annie and friends to visit Southern India.  We enjoyed going on this small tour which was a change for us as we generally travel on our own. As you know India is such a colourful country with lots of culture and chaos all which adds to the flavour.  Our extended few days after the tour was excellent where we enjoyed visiting Jodhpur and Udaipur.  Annie organised everything for us and we did not have to worry about a thing.  We were met by our drivers, guides etc who looked after us well.

As we are very keen photographers we were most interested in the animals/birds and very excited that we saw 7 tigers however, we found ourselves thoroughly enjoying the various Palaces ,Forts, mausoleums, villages, towns and the beautiful colourful saris the women wear.  We came home very happy and look forward to our next adventure with AWS/Natural Focus
This particular trip was as smooth as silk, thanks to the efforts put in by Annie, AKA Anne-Marie Zambelli, our larger than life Tour Escort. I was goggle eyed at the level of care she provided, not to mention her first aid kit!…It was an absolute job to be able to sit back and just enjoy the trip without having to worry about any of the details in what is a fairly chaotic country…Suffice to say, thank you Natural Focus for a wonderful experience.
My partner Denise and I very much enjoyed Taj Temples & Tigers Tour. If Annie were Japanese, she would be a National Living Treasure!! Or if she were a bird, then a duck of course … floating serenely on the surface of the water and paddling like crazy underneath it. Seriously though, Annie's organisational skills and larger-than-life personality made for a great trip for all her clients. Indian bureaucracy would try the patience of a saint but she and Tirath ensured that any and all problems were met and overcome in a timely and efficient manner with no/minimal inconvenience caused to their guests.

This was my third trip to India (and the first for Denise) and I have only ever seen the  usual tourist destinations in the north as well as some tiger reserves. A 16 day trip really does only provide a 'tasting platter' of what is on offer but their experience, knowledge and friendliness really does make a great difference …. whether for a first time traveller or a very frequent flyer (and there were both kinds in our group).
As a traveller who enjoys both culture & especially adventure, Taj Temples & Tigers not only met but exceeded my expectations.

I found India to be a fascinating country, a country of many contrasts & the balance of this tour was just right, the planning by Natural Focus was absolutely  impeccable.

Personally, as an avid wild life photographer I was in my element, especially with the sighting of no less than 5 tigers.

I must pay a special mention to Anne–Marie (Annie) from Natural Focus & Tirath Singh our outstanding Naturalist Guide for making this trip so very special.

Having previously travelled throughout South America with Natural Focus I am now waiting anxiously to  hear what they can come up with next.
Loving nature & animals we have been to Africa on several occasions & thought it's time to visit India – especially as the Tiger is an endangered animal. It was a stroke of good fortune when Natural Focus sent us a brochure of " TAJ, TEMPLES & TIGERS", a small group tour led by an experienced tour escort "Anne- Marie". Not being experienced in the ways of India we thought that this would be the ideal introduction to India.

The programme was exactly what we wanted, slanted to wildlife which gave us the greatest opportunity to see the great Bengal Tiger in its natural habitat & other Indian animals & birds. The other main attraction for us was the Taj Mahal.  Accommodation throughout the tour was from good to excellent. Suggest that this be reviewed from tour to tour to get the best Hotels & value for clients. The service as well as the food was excellent throughout our stay.  Anne- Marie & Tirath ran a very efficient programme and ensured we wanted for nothing. Great job. Excellent Tour, highly recommended if you are wanting nature with a sprinkling of historic treasures!
Teeming with Tigers! I have been fortunate to travel on all 7 continents by way of plane, train, car coach and canal under the auspices of a number of travel companies; however my Temples, Tigers and Taj tour with Annie and her team was just the best for variety, pace and attention to detail. The colour, contrast and chaos of urban and rural India was presented in comfort and congeniality with no question or request overlooked by our guides. Thank you for the wonderful experience, we were so fortunate to view so many of the magnificent and elusive cats.
Subscribe below
Sign up to receive updates about exciting journeys, special offers and more.