"authentic, exclusive, unique, and meaningful land and sea experiences"
Quasar Expeditions began pioneering sustainable tourism through small-ship expeditions to the Galapagos Islands in 1986. Their goal was to show the treasures of the Galapagos Islands to the world and maintain the pristine archipelago for future generations. 34 years later the company is still family-run and operates two luxury vessels, the 32 passenger M/Y Grace and the M/V Evolution, a classic 18 passenger yacht.
In 2013 they expanded their business, partnering with Jeep and began leading one-of-a-kind Patagonian Safaris, exploring Chile's famous Torres Del Paine National Park. A highlight of the region is the impressive, yet elusive puma, and their incredible puma tracking itineraries that offer clients an experience that will rival any African safari.
Patagonia and Puma Trekking
Patagonia
At the very bottom of South America is the beautiful Torres Del Pane National Park, one of Chile's most iconic adventure hotspots. The park is a pristine wilderness renowned for its rugged rock pinnacles, calving glaciers and alpine forests perfect for hiking, 4WD safaris and a plethora of other adventure based activities. Within this picturesque setting are 26 different species of mammal including the Red Fox, Grey Fox, Patagonian Skunk, Guanaco (a relative of the Andean llama) and the world's largest mountain lion – the puma.
Puma Tracking
Like their African relatives, the best time to see these cats, nicknamed "The Ghost of the Andes" is when they are most active during early mornings and late afternoons. Daily puma tracking excursions follow this schedule, in the wilderness everything runs on nature's clock. Traverse this beautiful landscape either by 4WD or on foot with a professional tracking team. In search of this elusive cat. During the middle of the day you can return to your chosen accommodation to relax, enjoy a home-cooked meal or perhaps a spa treatment – there are a number of luxury accommodation options in the park. For more information click here.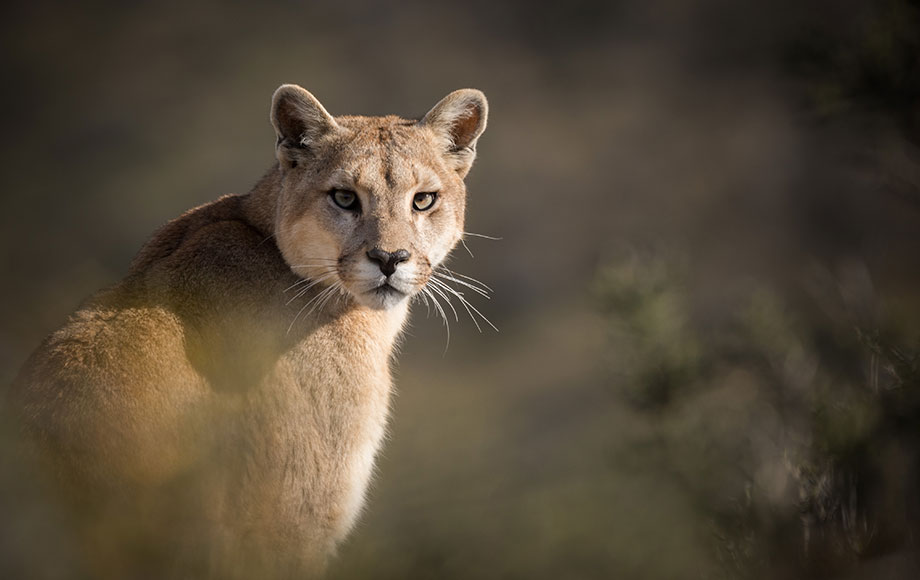 Galapagos Islands
Remote and starkly beautiful the Galapagos Archipelago is filled with unique and diverse species. Located 1,000 kilometres off Ecuador's coastline the islands were made famous by Charles Darwin, after he published his ground-breaking "On the Origin of Species" in November 1859. There is no better way to discover these famous islands than by a luxury small ship, allowing you to anchor at quiet beaches crowded with iguanas and off-the-deck snorkelling with sea lions and sea turtles. Sailing between the islands maximises your chains to experience the best wildlife opportunities and see more of the iconic Galapagos scenery. Immersive wildlife experiences including hikes, snorkelling, kayaking and zodiac excursions are led by highly trained naturalist guides.
THE
M/V Evolution
Crafted to experience the islands through Darwin's lens, the M/V Evolution is a beautiful 1920's style luxury yacht, adapted to offer the very best in amenities and comfort for cruising in the 21st century. Accommodating a maximum of 32 passengers the vessel has 16 spacious twin or double bed suites that each have ensuite facilities and desktop workspaces. Guests can enjoy a sense of freedom onboard, as the vessel features a 360-degree exterior deck, as well as a spacious sundeck with a Jacuzzi. Other shared spaces include multiple outdoor sitting areas, a bar, indoor lounge and dining area.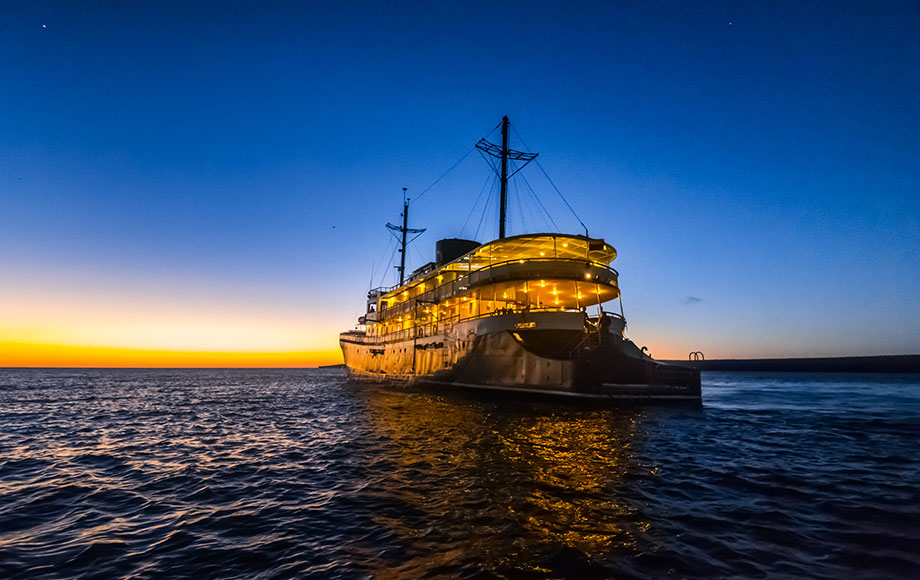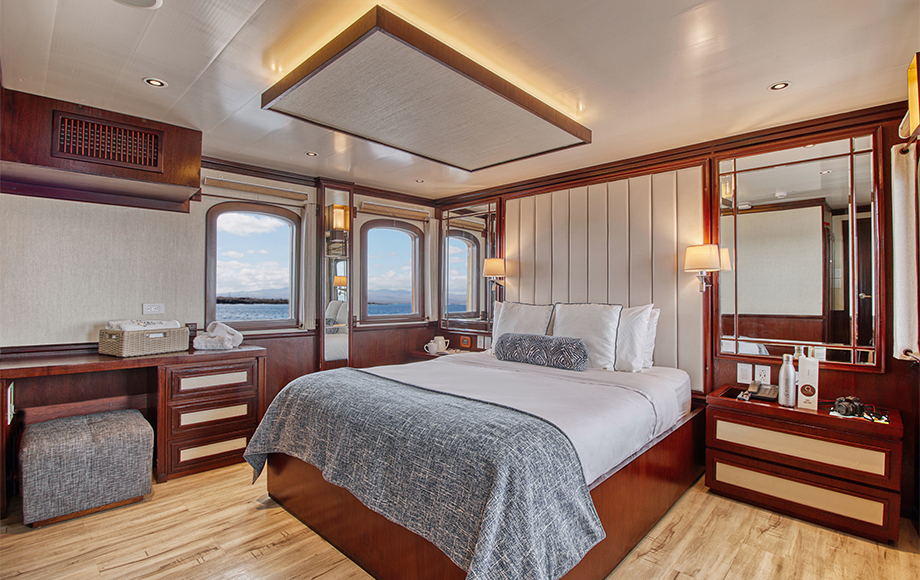 THE
M/Y Grace
This exclusive yacht is the vessel that took Princess Grace Kelly & Rainier III, Prince of Monaco on their honeymoon across the Mediterranean in 1956. After a princely refurbishment in 2008, and renamed the M/Y Grace, this stately yacht now accommodates just 16 people in 8 beautiful wood-furnished cabins. Refined, yet adventurous and agile, guests will get a glimpse into the yachts fascinating history, whilst also enjoying the luxuries of today. The yacht boasts multiple outdoor sitting areas, a Jacuzzi, spacious lounge and dining areas as well as a terrific bar.