Win an Alaskan cruise worth up to $30,000
One of Earth's last wild places, with soaring mountains, pristine seas and giant tidewater glaciers, Alaska is perfect for small ship cruising. Meandering through a myriad of islands, sailing into narrow inlets and feeling the spray from towering waterfalls, is the way to experience this spectacular destination up-close and personal. With fewer than 90 guests onboard there is plenty of opportunity for flexibility and adventure. Search for whales and grizzly bears, feel the icy touch of a glacier, explore forested shores with an expert guide, or kayak tranquil bays and remote inlets. 
At Natural Focus we have a passion for travel, and in particular immersive and authentic experiences in some of the world's most spectacular wilderness locations. We specialise in small group and small ship adventures, luxury safaris, intimate boutique accommodation and exclusive wilderness lodges. From bear viewing in North America, to tiger trails in India or big game safaris in Africa, we offer memorable adventures that reconnect you with nature. Our expertise is in creating personalised tailor-made itineraries, drawing on our in-depth knowledge of each destination, and 38 years' experience in travel. 
Alaska is one of our favourite destinations, with dreamy expanses of unspoilt wilderness teeming with wildlife. The famous Inside Passage is a sheltered waterway of islands and fjords where whales, dolphins and seals flourish, grizzly bears roam dense forests where rivers are filled with salmon, and mountain goats scale the steep-sided cliffs. Magnificent Glacier Bay is a UNESCO World Heritage Site, filled with jaw-dropping scenery, ice blue glaciers, narrow channels and incredible wildlife. 
The prize
Go into the draw for your chance to WIN an 8 day/7 night small-ship expedition cruise, exploring Alaska's stunning coastline. Departing from the capital Juneau you will explore the famed Inside Passage and Glacier Bay accompanied by expert guides. Get close to massive glaciers, and search for humpback whales, sea otters, seals and seabirds.
Don't miss this chance of a lifetime to visit one of the world's greatest wilderness areas.
Tour details
2023 Departure Dates:
26 May
23 & 30 June
7 & 21 July
11 & 25 August
1 September
The above cruise dates are offered but are only bookable 75 days prior to departure based on availability at that time.
Experience the wonders of Glacier Bay National Park
Witness Dawes, Margerie, and Grand Pacific glaciers
Explore Chichagof and Kuiu Islands in Tongass National Forest
Search for humpback whales in Icy Strait and Frederick Sound
Keep an eye out for sea otters, harbor seals and sea lions
Kayak, paddle board and skiff remote inlets
Explore Admiralty Island National Monument
Transfers to/from vessel on embarkation and disembarkation day
7 nights onboard the Safari Quest in a Navigator Cabin (twin share)
Sightseeing and shore excursions as per the itinerary
All meals while onboard including wine, beer, spirits and non-alcoholic beverages
All activities and equipment (except snorkelling) including hot tub and yoga
Services of onboard professional naturalist or escort
Taxes and port charges
Airfares
Gratuities
Pre/post land arrangements
Travel & cancellation insurance
Personal expenses
Juneau is easily reached by air from both Seattle and Anchorage. Alaskan Airlines run regular flights from each city to Juneau. Flying time from Anchorage is approximately 1 hour 50 minutes while from Seattle it is roughly 2 hours 20 minutes.
Alaska Glacier Country
Sample Itinerary
8 days/7 nights
---
Day 1
Juneau, Embarkation
Your cruise departs today from Juneau, a charming small town first settled during the gold rush of the 1880's. Toast your voyage as the Safari Quest departs towards Icy Strait. D
Day 2
Icy Strait
Begin your morning with on-deck yoga stretches or a strong cup of coffee. There are options aplenty today. Glide around the remote bays of Icy Strait by kayak, through giant bullwhip kelp that can grow to over 100 feet long. Alternatively hop aboard a skiff to explore a rocky outcropping to watch sea lions play. Pull on some mud boots for a forest hike with your naturalist guides who have plenty to share about everything Alaska, from marine biology to geology.
On board you  can relax in the hot tub and soak in the beauty of the area. Tonight, the vessel sails into Glacier Bay National Park with a special early entry permit – only available on this itinerary. B L D
Day 3
Glacier Bay National Park
Discover the wonders of The UNESCO World Heritage Listed Glacier Bay National Park. The jewel in Alaska's crown, the park is 3.3 million acres in size and is a playground of adventure. You're in for a real treat. Explore South Marble Island – a birder's paradise home to Puffins, Guillemots and Gulls. Keep an eye out for snoozing sea lions and cruise to the far end of Tidal Inlet to see magnificent glaciers calve into the water. Backed by knife-edged peaks, it's also possible to see bears forage along the shoreline of Tidal Inlet. If time and daylight allow, in Bartlett Cove, enjoy a forest hike around the park's HQ. B L D
Day 4
Admiralty Island National Monument
Today at Admiralty Island National Monument kayak, skiff, and weave in and out of the bays and islets keeping your eyes peeled for Alaska brown bears and nesting bald eagles. The Tlingit call the island Kootznoowoo, meaning "Fortress of the Bear", and Admiralty Island has a higher density of bald eagles than all the other states combined. After another big day, pop up to the bridge to look over charts with your captain and mates. B L D
Day 5
Frederick Sound
Enjoy the show today. You may find yourself surrounded by feeding humpbacks that travel through and feed in these abundant glacial waters. Based on wind and weather, your expedition team has the lineup of adventures all mapped out. Cruise past Five Fingers Lighthouse, Alaska's oldest light station and The Brothers Islands, where sea lions nap on rocky outcrops. Keep an eye out for carrot-billed black oystercatchers as well. B L D
Day 6
Windham Bay & Stephens Passage
Your captain navigates Wyndham Bay and Stephens Passage today. Humpback and orca are frequent visitors of this Southeast passage, and your guides will look out for a misty spout, a sure sign they're in the neighbourhood. Paddling and hiking are on the agenda, and the routes are all picked out. Make your choice and make your move. Slip off the kayak launch and take it slow, searching for sea stars and shore birds, or for those after a faster pace, take a long wild paddle to the salt chuck at the back of the inlet. For those that wish to get their feet a little muddy, hike into the Tongass National Park and discover its landscape of hanging waterfalls and green forests. B L D
Day 7
Endicott Arm/Dawes Glacier
Take a skiff ride up Endicott Arm, looking for harbor seals lazing around on icebergs. If the tides are right, slip into Fords Terror, the steep walls of this narrow opening are streaked with waterfalls. Back in the Arm, be amazed at the deep glacier-carved valleys. At the end is the magnificent Dawes Glacier, where blue ice marches down from the Coast Mountains. With a sharp crack, the white thunder of a calving slice makes a mega-splash. Tonight, celebrate with a festive Farewell Dinner and "photo journal" from your expedition team. B L D
Day 8
Juneau, Tour Ends
Enjoy a final breakfast onboard this morning of fresh baked pastries, before saying goodbye to your crew and newfound friends. Transfer to Juneau airport or hotel. Tour ends. B
---
B = Breakfast  |  L = Lunch  |  D = Dinner
The Safari Quest
The Safari Quest is an intimate 22 passenger vessel that can cut into the tiniest nooks that even other smaller vessels cannot reach. An agile and spry vessel with clean design lines, explore coveted wilderness areas with highly limited access of no more than two groups of twelve guests per day. Though small, the interior feels anything but, with spacious and comfortable cabins and a welcoming lounge, dining room and bar. At the same time, there are plenty of cosy places to relax, including a small library. The Observation Deck has an on-deck hot tub, sun lounges and a few pieces of fitness equipment. There is also a small library. Also carried onboard are the kayaks, paddleboards, inflatable skiffs and hiking poles.
Specifications
Year built – 1992
Length – 36.5 metres (120 feet)
Beam – 8.5 metres (28 feet)
Speed – 10.5 knots (12mph)
Guests – 22 passengers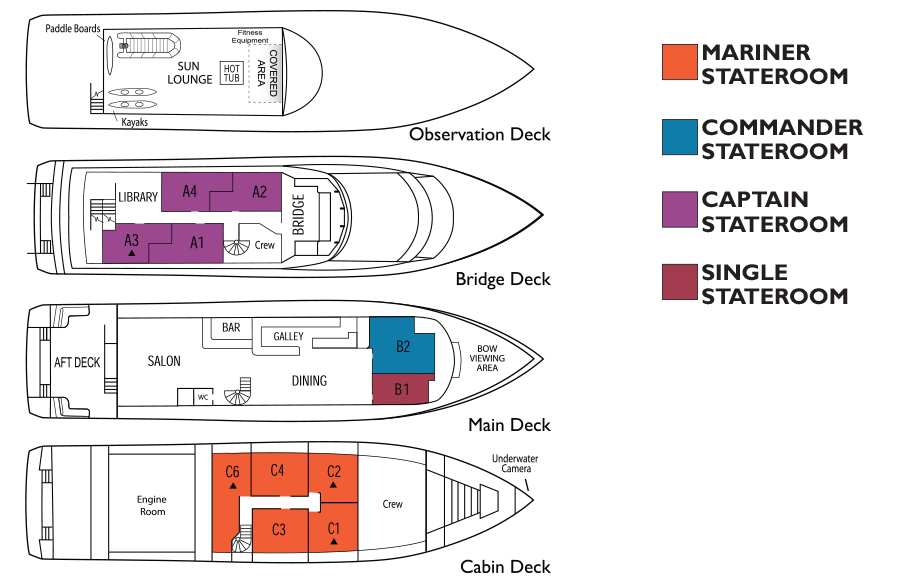 Subscribe below
Sign up to receive updates about exciting journeys, special offers and more.