Explore New Zealand's remarkable Fiordland National Park in style aboard the 18-passenger Heritage Explorer
Start your adventure in breathtaking Queenstown with 3 nights at The Rees Hotel, a sophisticated property situated on the shores of Lake Wakatipu. The region is one of New Zealand's finest with a wealth of scenic and exhilarating activities alike from helicopter tours and jet-boating to exploring renowned wineries and golf courses. Included is a full day winery tour where you can experience first-hand some of the country's best vintages.
Departing from Te Anau revel in the delights of a scenic helicopter flight over the magical fiords to where the Heritage Explorer is moored. The vessel accommodates just 18 guests in 10 comfortable cabins – including two single cabins. The breathtaking Southern Fiords are only accessible by sea, making them one of the most remote regions of New Zealand. Over the next 6 nights discover the hidden coves, mighty waterfalls, towering cliffs and misty mountain peaks, home to iconic wildlife such as the Fiordland Crested Penguin and the Little Spotted Kiwi.
The region has experienced some exposure to industrialisation with some gold mining and forestry activity during the 1890's. There are a number of old structures that are still visible, such as the three-storey chimney at the failed Tarawera Mine, that have since been reclaimed by nature. Preservation Cove also claims to have one of the country's most remote lighthouses at Puysegur Point.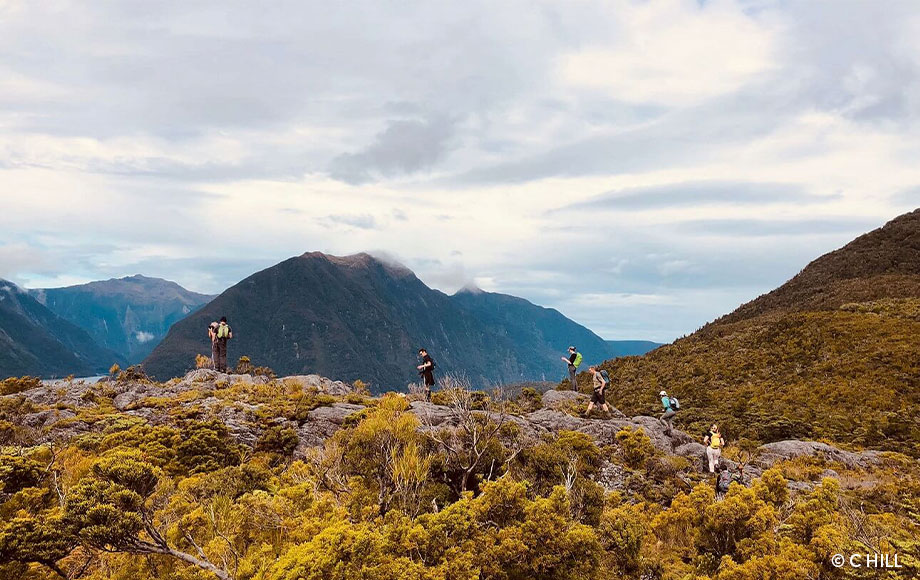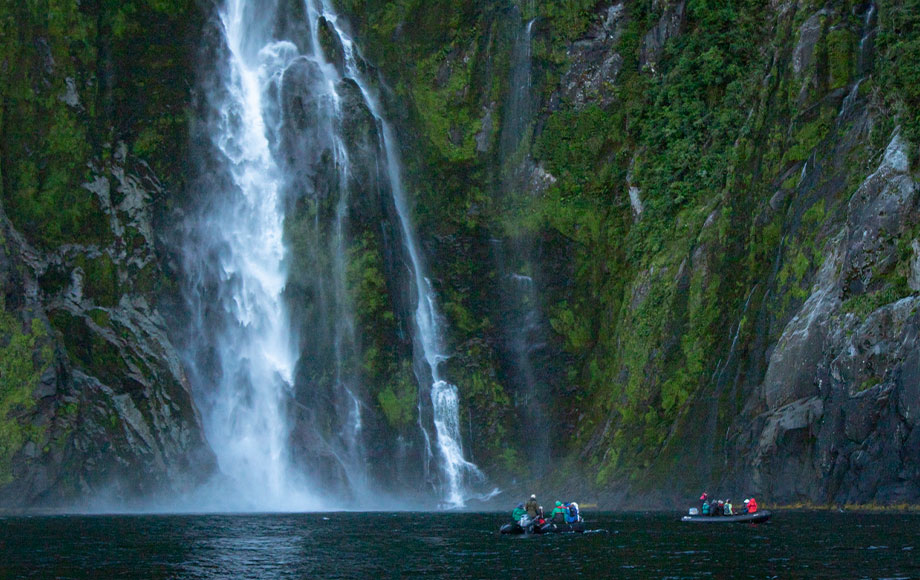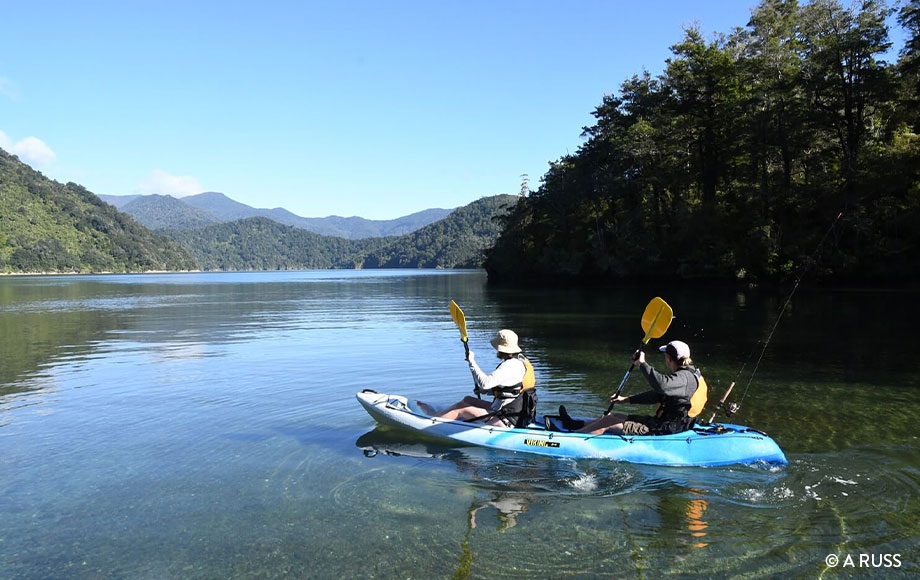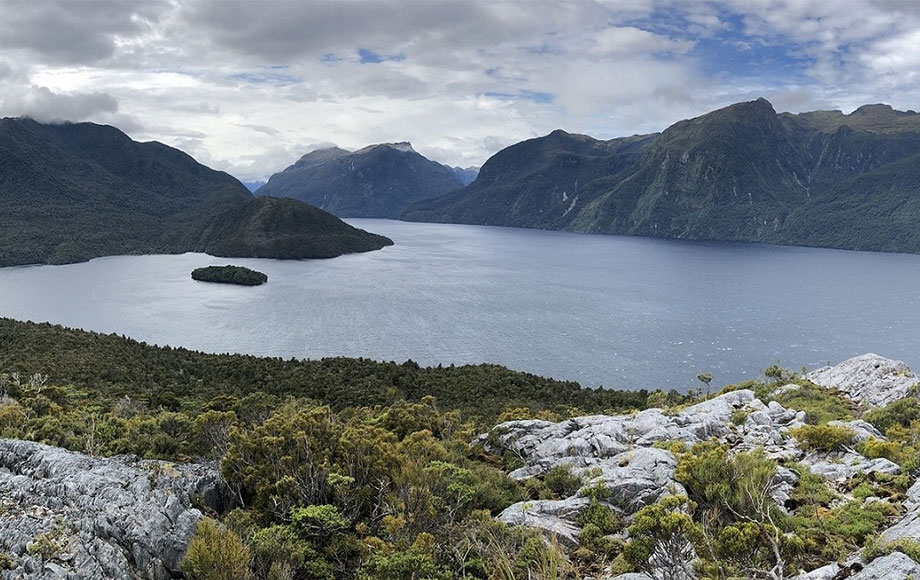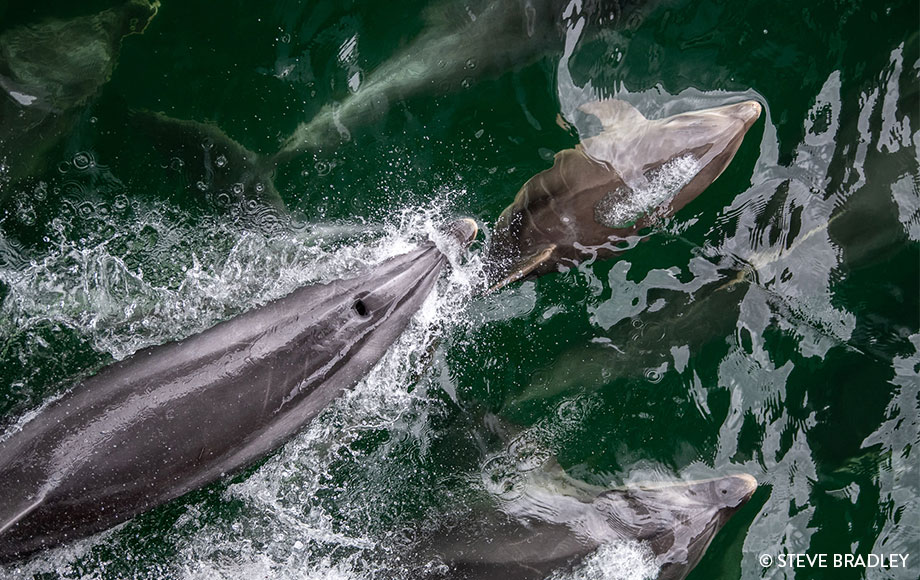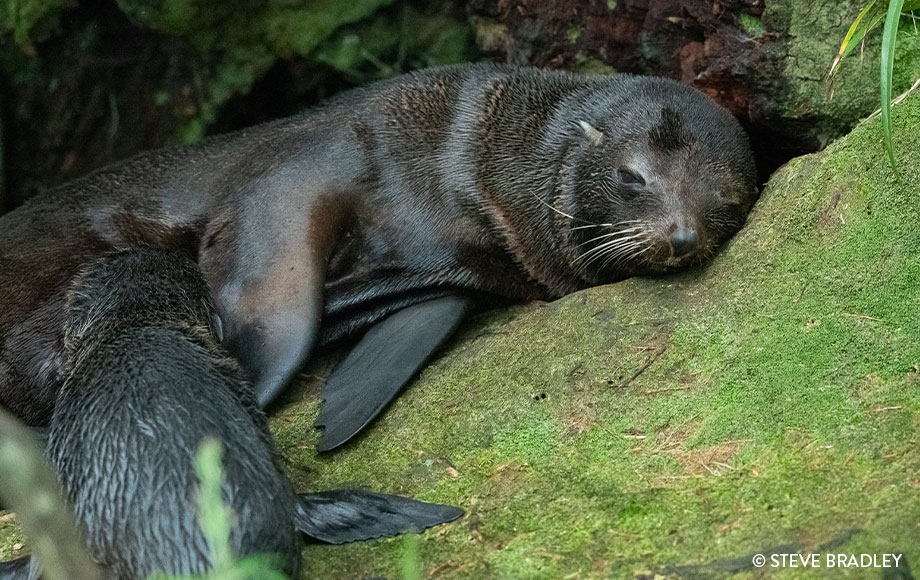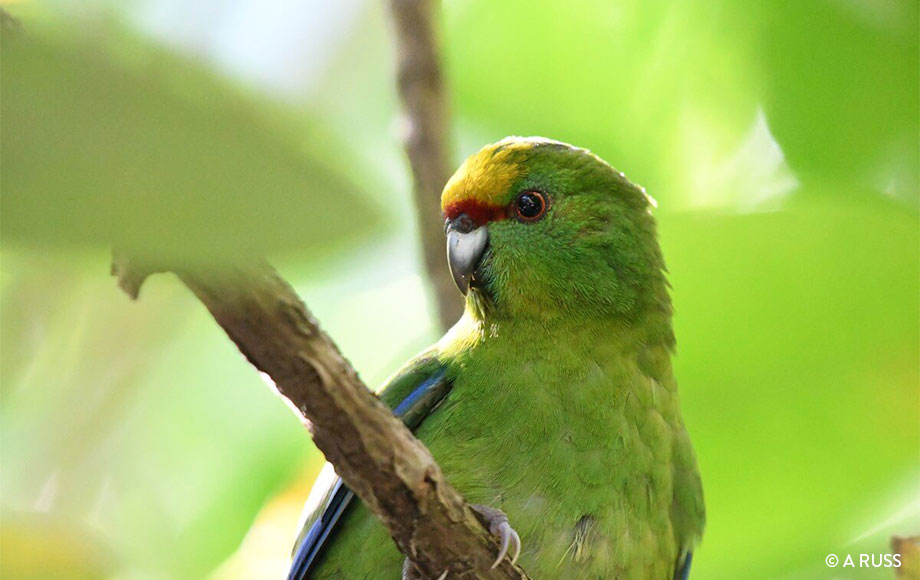 Tour details
4 nights at The Rees Hotel Queenstown in an Executive Lake View Room (with breakfast)
½ bottle of Quartz Reef Methode Traditionelle and local cheese platter on arrival
1 full-day private wine tour and lunch, visiting up to 4 wineries
6 nights aboard the Heritage Explorer in a Salvin Suite (Full Board) including house drinks (beer, wine, soft drinks and spirits)
All shore excursions and activities whilst onboard
Expert on board naturalist guide
Return road transfers ex Queenstown
Pre cruise helicopter transfer
Post cruise coach transfer
Flights
Travel insurance
All items of a personal nature
Laundry
The Rees Hotel – A jaw-dropping setting on the shores of Lake Wakatipu
Enjoy a full day private wine tour and lunch
Award-winning True South Dining Room
Expedition travel aboard the intimate Heritage Explorer
Exciting guided adventures on foot and by skiff (dinghy)
Breathtaking scenery including hidden coves, mighty waterfalls and towering cliffs
Explore remote regions such as Preservation Inlet, Chalky Inlet & Dusky Sound
Fascinating early gold mining and foresting history
Airlines including Qantas, Air New Zealand and Virgin Australia offer direct flights to Queenstown from a number of major Australian cities including Sydney, Melbourne and Brisbane. If arriving domestically, Air New Zealand operate inter-city flights from many of the country's other major hot spots. The Rees Hotel is located just 5km from Queenstown Airport. Te Anau, the departure point for the cruise, is 2 hours by road south-west of Queenstown.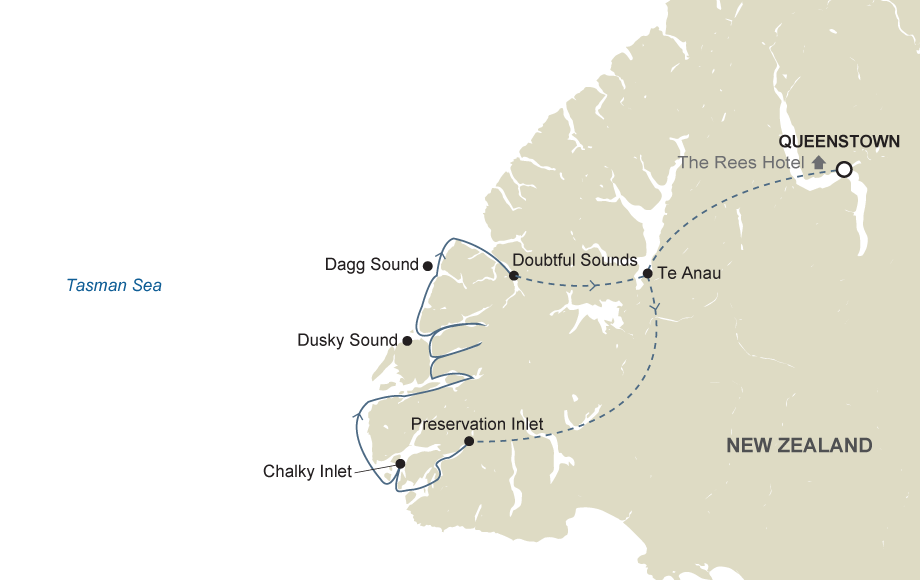 Cruise New Zealand's Fiordland
11 days/10 nights
Days 1-3
Queenstown
On arrival in Queenstown you will be met and transferred to The Rees Hotel, located just 5 kilometres from the airport and only 2.5 kilometres from Queenstown City Centre.  Relish a ½ bottle of sparkling wine and local cheese platter on arrival. Enjoy three nights at this lovely lakeside property and discover the many wonders and exhilarating activities Queenstown has to offer. On one day during your stay, explore the region on a full day wine tour, visiting up to 4 different wineries. Queenstown is renowned for its diverse range of activities, with plenty to do for people of all ages; such as cruises on Lake Wakatipu, scenic helicopter flights, kayaking, jet-boating, white-water rafting, wine tours, hiking or even golf. The hotel is also home to the award-winning True South Dining Room that offers mouth-watering, locally sourced dishes that change each month. Meals are accompanied by a fine selection of wines from the onsite cellar, that houses one of the most comprehensive collections of fine Bordeaux wines in the Southern Hemisphere. Guests can also enjoy a drink in the beautiful Bordeaux Wine Lounge.
Day 4
Te Anau/Preservation Inlet
This morning you will be transferred to the meeting point in Te Anau, approximately a 2 hour drive from Queenstown. From here you will be transferred by helicopter to join the Heritage Explorer moored in Preservation Inlet (exact times TBC). On arrival you will be met by the Captain and Expedition Leader who will show you to your cabin. Take some time to settle into life onboard before setting sail along Long Sound, enjoying your first look at the incredible scenery.
Day 5
Preservation Inlet
Today is dedicated to exploring Preservation Inlet. The inlet is rich in history and you will learn about the fascinating early gold mining and forestry activity during the 1890's. More than 2,500 gold miners and saw millers once made this now quiet waterway a bustling hub of activity. The once busy mining towns of Cromarty and Te Oneroa have now been reclaimed by nature, but there are still a few visible structures – including the three-storey chimney at the failed Tarawera Mine and Smelter that was restored in 2015. Preservation Cove also claims to have one of the country's most remote lighthouses at Puysegur Point. The lighthouse began operating in 1879 and sits some 40-feet above the south island's most south-westerly point. There is also a beautiful coastal walk (formerly a telegraph track) that leads to an old landing shed.
Day 6
Chalky Inlet
The entrance to Chalky Inlet is guarded by the impressive limestone cliffs of Chalky Island, the inspiration behind Captain Cook's naming of the fiord. One of several important predator free islands in the inlet, Chalky Island is home to some of New Zealand's most critically endangered bird species including the Little Spotted Kiwi, the Kakapo and the endemic Te Kakahu Skink – that was only discovered in 2002. The protected harbours at North and South ports offer plenty of opportunities to explore. North Port is the final resting place of the rusting hulk of the GSS Stella which was grounded on purpose, while South Port reveals an industrial past with the remnants of once prolific sawmilling activity. As you sail towards the heads of the fiord, the mountain scenery is at its best.
Days 7/8
Dusky Sound
Over the following two days enjoy leisurely expedition cruises through Dusky Sound, visiting some of the most significant historical and conservation sites in New Zealand. Marvel at the majestic scenery as the vessel heads deep into the heart of Fiordland. Acheron Passage, which separates Resolution Island from the mainland, is sure to be one of the highlights. Another predator-free island, Anchor Island is home to half of the world's population of Kakapo and Little Spotted Kiwi. It is also the location of historic Luncheon Cove and a number of New Zealand firsts including; the building of New Zealand's first European homestead and first European designed ship, the 16-metre Providence, launched in 1795. Nearby on Pigeon Island learn the history of Richard Henry and his pioneering life – transferring birds to island refuges – an international first in wildlife conservation. While his attempts were unsuccessful (due to stoats swimming over to the island), the island is now pest free and a sanctuary for native birdlife.
Day 9
Dagg & Doubtful Sounds
After a quiet night aboard surrounded by the nature and wilderness of the Breaksea Sound, join your naturalists on deck to spot seabirds including the majestic Wandering and Buller's Albatross as you pass Breaksea Island, which guards the entrance to Breaksea Sound. It was on Breaksea Island that the first successful island rat eradication program was completed, today it is a protected nature reserve of great significance to the many endangered species which call the island home. From here sail onwards towards some of the most spectacular scenery in all of Fiordland – Doubtful Sound, or the sound of silence as it's also known. Spanning some staggering 40-kilometres and holding the title as New Zealand's deepest fiord, Doubtful Sound with its cloud-scraping wilderness cloaked mountains, sheer cliffs, waterfalls, inlets, quiet coves and wildlife presents nature on a scale so grand it's off the chart. This evening enjoy a farewell dinner. 
Day 10
Queenstown
This morning the Captain navigates to the very head of Doubtful Sound in Deep Cove home to several waterfalls including Helena and Lady Alice Falls. After a final breakfast and farewells, head ashore for your transfer to Te Anau, via the picturesque Wilmot Pass, the road constructed as part of the Manapouri hydro scheme. On arrival in Te Anau, you will be met and transferred to the Rees Hotel in Queenstown.
Day 11
Tour Ends, Queenstown
This morning after breakfast, please check out of your hotel. Tour ends.
---
Please note: In case of unexpected delays, we ask you not to book any onward travel from Te Anau until after 3pm this afternoon.
Please note: During our voyage, circumstances may make it necessary or desirable to deviate from the proposed itinerary. This can include poor weather and opportunities for making unplanned excursions. Your Expedition Leader will keep you fully informed. Voyages are planned and scheduled pending final regulatory approval.
B= Breakfast  |  L = Lunch  |  D = Dinner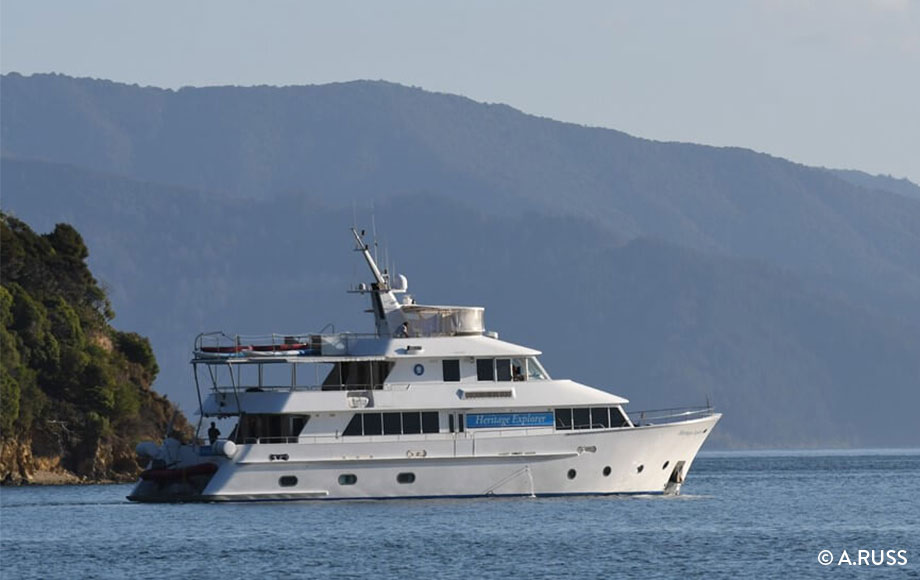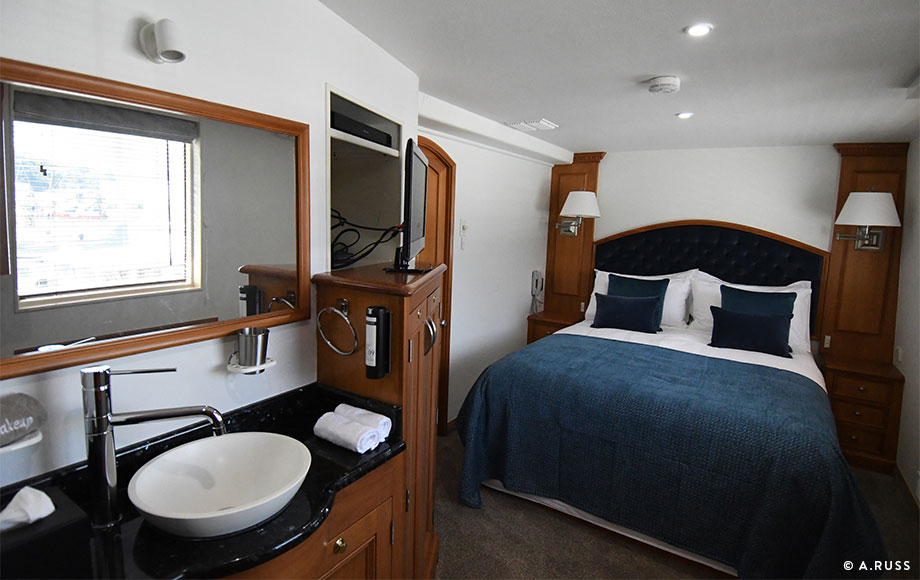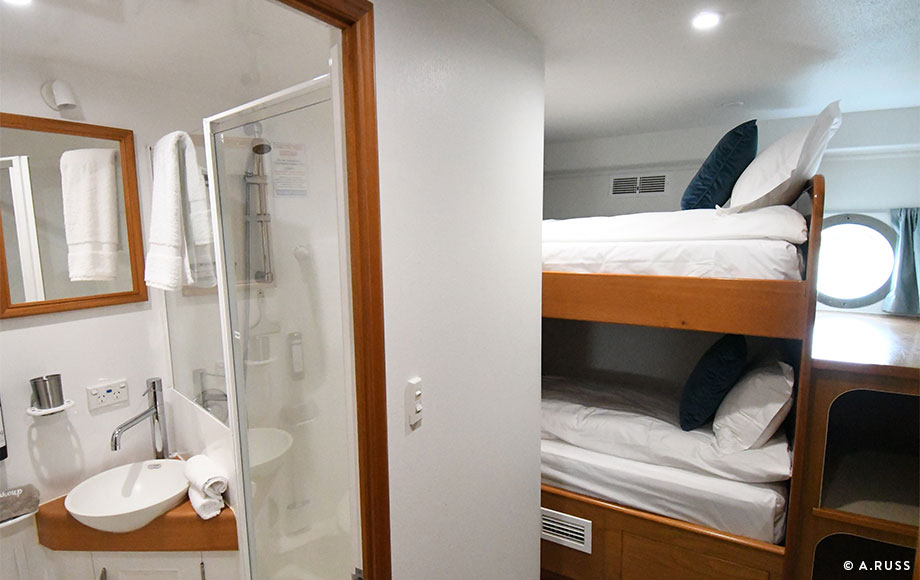 The Heritage Explorer is a small expedition yacht that operates exclusively within New Zealand. The vessel sets a new standard for discovery travel accommodating just 18 guests, and combines comfort and expert service with personalised experiences.
Built in 2004 by the renowned wooden boat building family Carey's Boatyard in Picton, it features a contemporary wood-finished interior, 10 well-appointed cabins (across three decks) and a dining room boasting spectacular 180-degree panoramas with theatre capabilities. There is also a small, well-stocked library, lounge and bar that features a flight of inclusive regional New Zealand wines, beers and spirits.
There are also a few covered spaces on the Bridge and Sun decks where guests can relax, spot wildlife, or enjoy a beautiful sunset. The vessel also has kayaks and fishing equipment available for use during the voyage, while there are two tenders (small dinghy's) that allow for deeper exploration. The Heritage Explorer also has an open bridge policy and a kitchen, headed by a talented chef who produces delicious meals using local produce. The vessel is crewed by local New Zealanders as well as an enthusiastic and passionate expedition team.
The yacht features state-of-the-art technology to provide a comfortable trip, using bow thrusters, fin stabilisers, sound attenuated twin generators and a hydraulic aft ramp.
Vessel Type: Expedition Yacht
Expedition Staff & Crew: 5
Guests: 18
Cabins: 10
Length: 30m
Breadth: 7.8m
Draft: 1.93m
Gross Tonnage: 76.1gt
Engine: 653 horsepower
Cruising Speed: 10 knots
Tenders: 2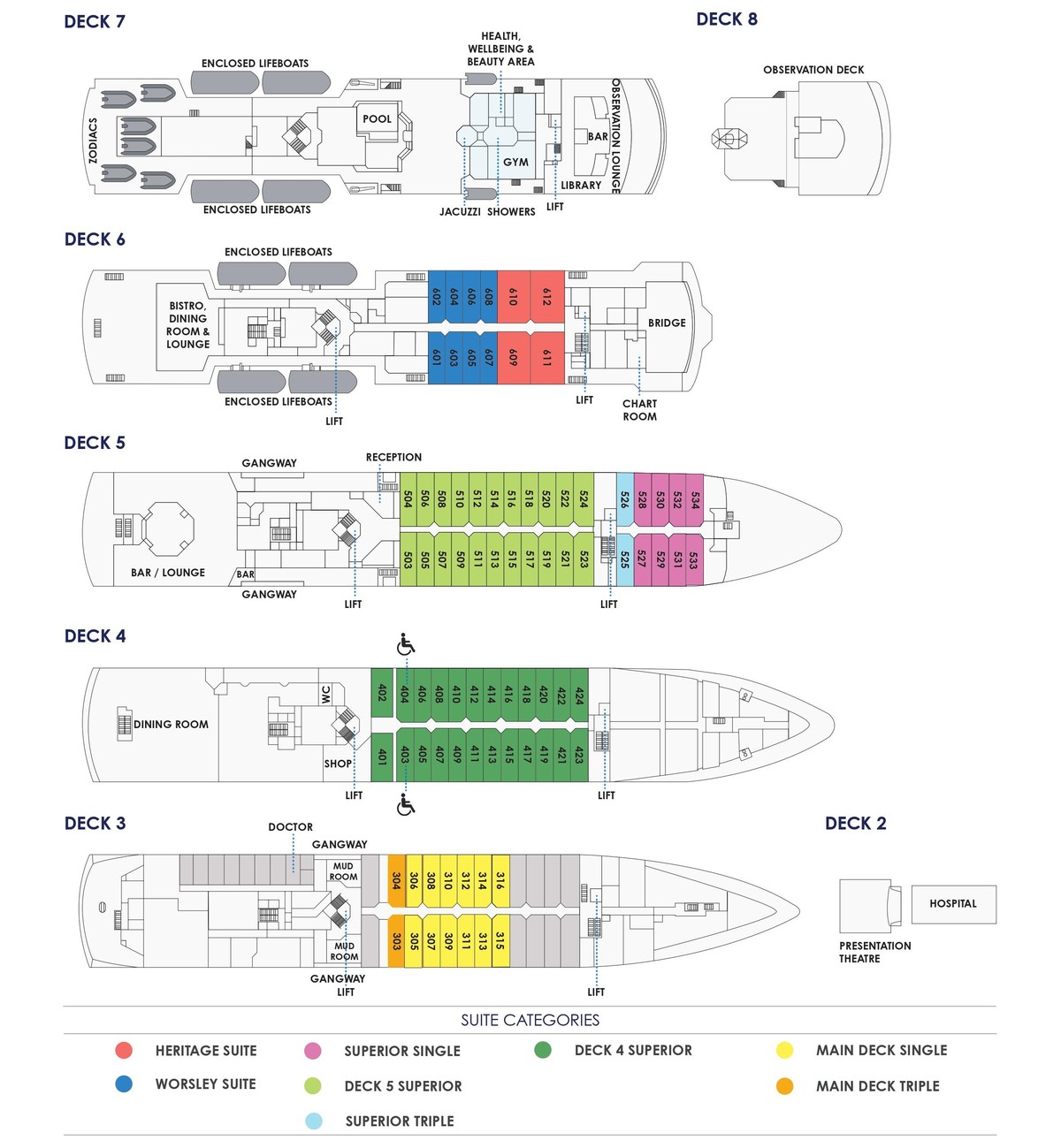 More New Zealand Tours
A personalised itinerary takes into account your individual travel style, budget and special interests. To get you started on deciding what you may want to do and see in New Zealand, we have compiled a range of suggested itineraries and inspirations in case you are travelling as a family, on a honeymoon or enjoy more physical activity. Below are some of our most popular sample tour in New Zealand.
Explore New Zealand's remarkable Fiordland National Park in style aboard the 18-passanger Heritage Explorer
Subscribe below
Sign up to receive updates about exciting journeys, special offers and more.