Discover Brazil's magnificent Pantanal and encounter the most powerful predator in the Americas – the jaguar.
The 195,000km2 Pantanal is home to an estimated 4,000-6,000 jaguars. The Pantanal jaguars are known to be some of the largest in the world, many weighing much more than a male leopard. The best way to search for these jaguars is from a comfortable base at the edge of the remote Pantanal wilderness. Baiazinha Lodge offers daily skiff excursions with excellent bilingual naturalists so you can navigate the waterways in search of jaguar and other wildlife.
Tour details
Scheduled transfers to/from Cuiabá
Accommodation at Araras Eco-Lodge (beverages excluded) and Baiazanha Lodge
Guided activities and conservation fees.
See the amazing Jaguar
Discover the Pantanal
Stay at rustic Araras Eco Lodge
Stay at remote Baiazinha Lodge
Trekking and canoeing
Jaguar Encounters
6 days/5 nights
Days 1/2
Araras Eco-Lodge
Depart Cuiabá along the fauna-rich Transpantaneira Highway to Araras Eco-Lodge. Built in harmony with its surrounds, this rustic property offers a range of activities including trekking and canoeing. On Day 2 enjoy a safari to discover the northern Pantanal's many endemic species. D/BLD
Days 3-5
Baiazinha Lodge
Depart early for the drive to Caceres to reach the riverside Baiazinha Lodge. On the afternoon of your arrival, and for two further days, enjoy river safaris in skiffs from your hotel base, travelling along the river and its tributaries in search of the elusive jaguar and other wildlife such as giant river otters. Excursions and wildlife tracking will take place in motorised skiffs. BLD
Day 6
Tour ends Cuiabá
After breakfast return to Cuiabá. Tour ends. B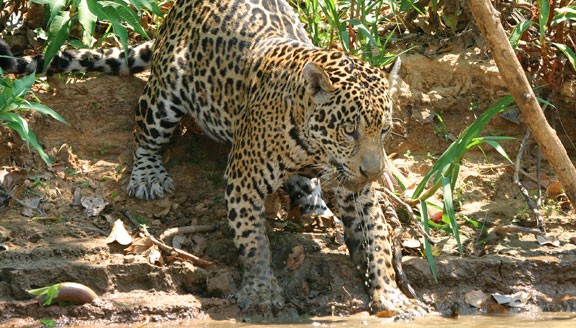 Fancy a shorter option
The Jaguar Express
5 days/4 nights
Spend 5 days at Araras Eco-Lodge and enjoy a full day tour searching for jaguars and other creatures along the Cuiabá River's banks. Jaguar Express is the perfect option for those who would love to encounter a jaguar in the wild, but prefer to overnight at a lodge.
Please contact us for details
"The jaguar sightings were the highlight. We saw nine jaguar in five days, but the sheer diversity of wildlife was extraordinary".
Recommended Brazil Itineraries
Discover Brazil's magnificent Pantanal and encounter the most powerful predator in the Americas – the jaguar.
Brazil is renowned for its biodiversity and has three major biomes each with distinctive landscapes and a diverse range of animals and plants.
Why Brazil: The largest country in South America, Brazil has it all: huge swathes of Amazon rainforest, the Iguazu Falls, beautiful beaches, historic colonial architecture, a vibrant mix of peoples and cultures, and the amazing wildlife of the Pantanal.
Culture: Brazilian culture has historically been influenced by European, African and indigenous cultures and traditions. Because of strong colonial ties with Portugal, Brazilians speak Portuguese unlike most countries in South and Central America, which are mostly Spanish-speaking. One of the most enduring images of Brazilian culture is the festival of Carnaval with its spectacular street parades, glitzy costumes and catchy samba music.
When to Go: Brazil experiences a varied climate as a result of its large size. Rio de Janeiro, Parati, Ilha Grande and Buzios have good weather all year round, with the best months to visit being between Feb – May. From Oct – Jan, the region can be hot and humid. The Pantanal is best visited during the dry season (Apr – Sep), as it is very hot and wet during the rainy season (Oct – Mar). The Amazon is hot and humid year-round. Its dry season lasts from Jun – Dec and is often called "summer" by the locals as it is hot and sunny. The humid wet season typically runs from Dec – May and is referred to as "winter."
Combine With: Peru and discover the Inca treasures of Cusco, the Sacred Valley and Machu Picchu. Alternatively, combine Brazil with the glaciers and mountains of Patagonia in Argentina/Chile for a completely different South American wilderness experience.
Getting There: Most visitors to Brazil enter via Guarulhos International Airport in São Paulo, which receives direct flights from both capital cities throughout South America and major destinations around the world.  Travellers departing from Australia most commonly stop in Santiago, Chile, where they board a connecting flight to São Paulo.