Anna has her father to thank for instilling in her a love for travel. She grew up watching him travel the world and could not wait until she was old enough to do the same.
Even in his 80's he is still exploring, travelling to Sri Lanka and Cambodia in recent times. It got Anna thinking on how she could combine this great passion with work. It led her to a Business Degree in Tourism. Over the last 25 years she has worked with some fantastic and inspiring travel wholesalers – none more so than African Wildlife Safaris and Natural Focus.
Anna has loved all the amazing destinations that she's visited and has generally shied away from the "mainstream" destinations, preferring more off-the-beaten-track styles of travel. Since she has worked for the company Anna has explored the likes of South Africa (on her first safari), experienced Sri Lanka with its eye-opening culture and the glorious white-sand beaches of the Maldives. Anna has also traversed much of South America, including Peru, Chile and Argentina with highlights such as Machu Picchu, the Atacama Desert and Iguazu Falls. There are still a number of countries Anna is excited to explore in the future including returning to the African continent. At the top of the list is Botswana; and in particular to explore the winding waterways of the Okavango Delta by mokoro (dugout canoe). Discovering the ancient wonders of Egypt is also high on the list.
Anna's recommendations
Africa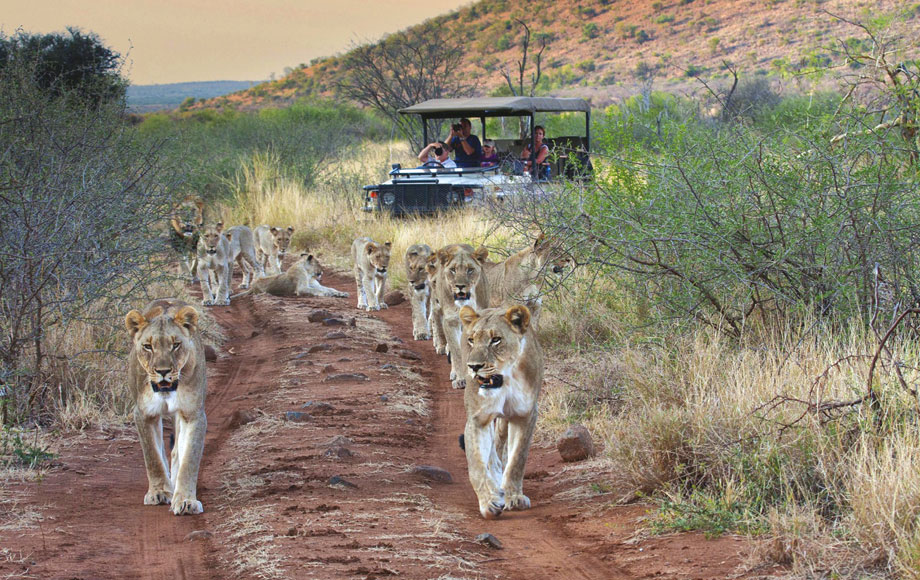 South Africa offers a spectacular array of experiences to visitors from world-renowned Kruger National Park to the history and wonder of Cape Town. Discover dramatic mountains and vast open semi-arid deserts to lush woodlands and coastal nature reserves – South Africa's diversity is almost unrivalled. In the north, the vast game parks and private reserves surrounding Kruger National Park provide plentiful opportunities to witness Africa's iconic "Big 5". Beginning life as an early Dutch settlement and supply post for trading ships, Cape Town offers a fascinating mix of history and culture whilst boasting awe-inspiring scenery. There is wealth of experiences to enjoy here; such as a trip to the top of iconic Table Mountain, exploring infamous Robben Island (where Nelson Mandela was incarcerated for 18 years) or indulging in a fabulous High Tea at one of the cities exclusive hotels. Cape Town is best combined with the famed Garden Route or the Cape Winelands. There's no better way to cap off a South African itinerary then by experiencing one of the world's most luxurious train journeys. Travel from Cape Town to Pretoria aboard the award-winning Blue Train that offers a glimpse into the golden-era of luxury train travel.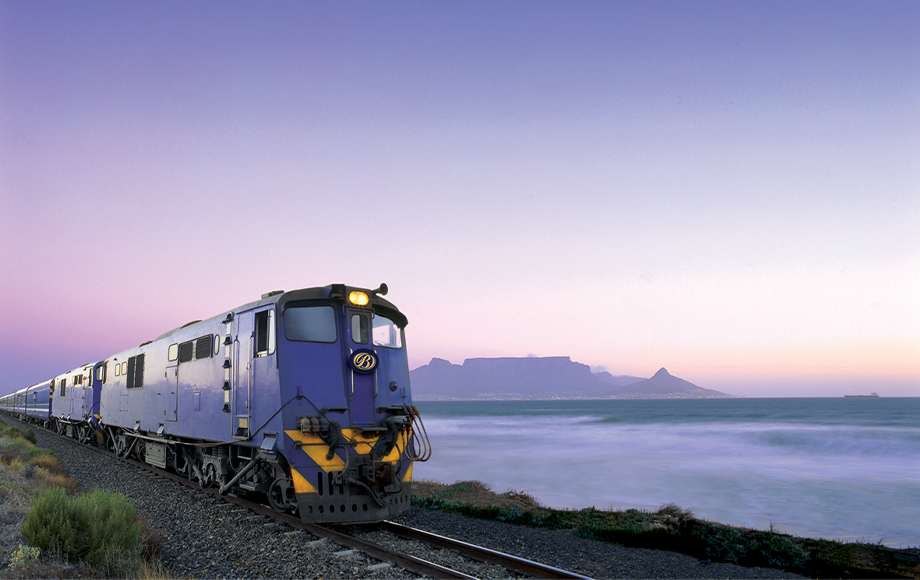 If you have ever dreamed of experiencing the romance of a train journey, the Blue Train is your perfect introduction. I finally ticked off one of my many bucket-list experiences with one of the world's great train journeys from Cape Town to Pretoria in South Africa. Arriving at Cape Town's central railway station elegantly dressed porters direct you to your suite – the fun begins the moment you set foot onboard the train. As the train gently glides away from the platform you are treated to passing views of Table Mountain. If you like the sound of high tea with silver service, the ambience of an evening meal with matched South African wines in an opulent dining car or after-dinner drinks and a chat in the lounge with fellow travellers, then this is the trip for you. Each stately suite offers views of the passing countryside and clear African night-skies from your panoramic window. This grand 2-night, 1,600 kilometre journey is a unique way to start or end a safari experience in South Africa, providing a memorable way to take in some of the country's beautiful scenery. The Blue Train definitely lives up to its motto "A window to the soul of South Africa".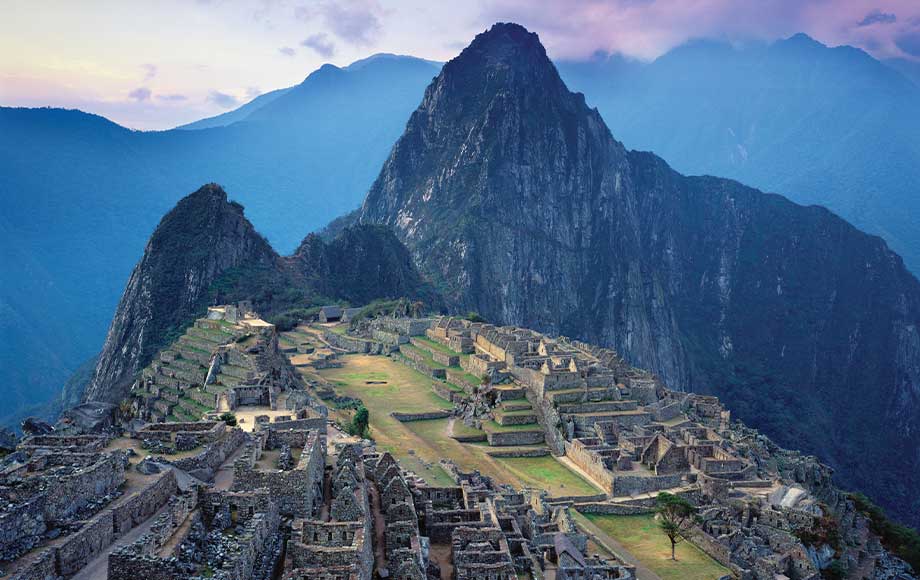 Peru is a mysterious land of ancient Incan ruins, resplendent Spanish architecture, snow-covered mountains and lush Amazon jungle teeming with spectacular flora and fauna. One of the oldest inhabited cities in the western hemisphere and historic capital of the Incan Empire, Cusco is a treasure trove of history home to magnificent buildings from the pre-Incan, Incan, colonial and republic eras. The Peruvian Amazon boasts an extraordinary biodiversity waiting to be discovered from either the comforts of a luxury riverboat or a remote eco-lodge. The country's crowning jewel however, remains the 15th century mountain-top citadel of Machu Picchu. The "Lost City of the Incas" has one of the most impressive locations of any archaeological site in the world. Meaning "Old Mountain", Machu Picchu sits at 2,430 metres above sea-level. Below the ancient ruins is the town of Machu Picchu Pueblo (formerly Aguas Calientes), reached by rail or road from Cusco 80 kilometres away. Machu Picchu is accessed by a 30-minute bus ride to the top of the mountain.
A stay at Inkaterra Machu Picchu Pueblo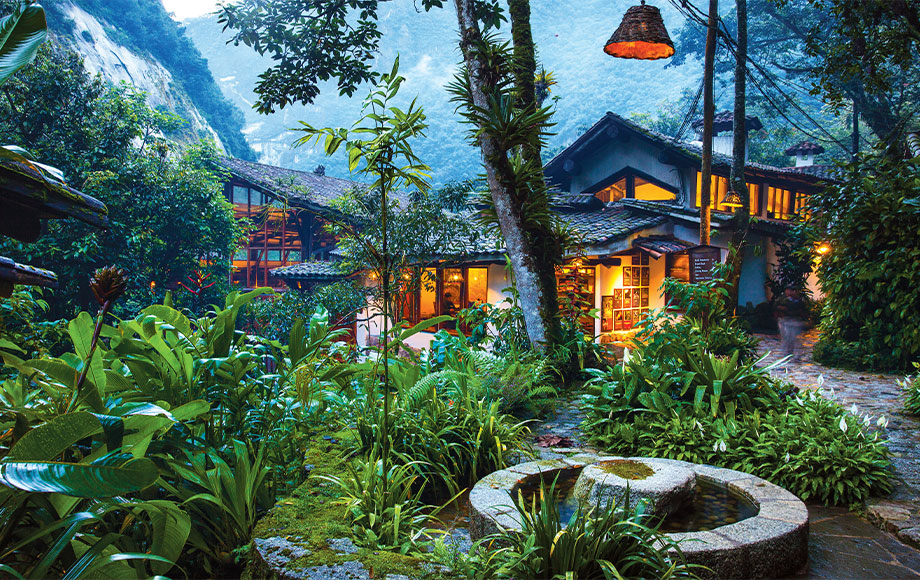 Inkaterra Machu Picchu Pueblo is a hacienda-style hotel with a rustic chic feel located at the base of one of the world's greatest archaeological sites – Machu Picchu. The hotel stands apart from the town of Machu Picchu Pueblo on its own 12-acre densely wooded reserve, at the foot of the mountains beside the Urubamba River. You are met at the station by the hotel porter who will lead you to the hotel, where on arrival you can relax and enjoy a fresh welcome drink. The whitewashed guest cottages are set in small clusters within the grounds filled with beautiful native orchids and home to some 200 species of bird. It is only a five-minute walk into town and a half-hour bus ride up to Machu Picchu. The property also has an onsite café, restaurant and bar. The restaurant has superb views of the Vilcanota River and surrounding mountains, whilst the café – café Inkaterra – is situated under a traditional palm-thatched roof and created fusion-style fare. After a day exploring the ancient ruins or walking through the town, a visit to peaceful Unu Spa is the ideal way to relax and rejuvenate.
What's your most memorable travel experience?
My first trip to South Africa. Nothing can explain the excitement of going on that first safari drive, watching the sun rise over the African savannah and viewing wildlife in its natural environment. Experiencing the different smells, colours and sounds almost overwhelms the senses and it was just sensational to be so far from my normal reality. It was love at first sight with Africa and I can't wait to explore this magical part of the world again.
What do you enjoy most about visiting a new country or region?
Experiencing first-hand what I have read in brochures, travel magazines and watched on travel shows after weeks and months of research. Nothing compares to the excitement of actually witnessing for the first the famous sights of a particular country.
What is one thing you always pack for a safari?
Comfortable layers of clothing that will keep me warm on early morning game drives, that can be removed as the morning sun gets warmer and cool during hot afternoons back at my lodge.
Photos of Anna