Zimbabwe's newest luxury lodge, Tembo Plains Camp sits on the banks of the renowned Zambezi River
The country's first Relais & Chateaux member, Tembo Plains Camp is located in the private 128,000 hectare Sapi Reserve, just upriver from legendary Mana Pools National Park. "Tembo" means elephant in the local language, and the camp pays homage to the many elephants that are found on the Zimbabwean plains near the Zambezi River.
The camp itself is hidden within a thick riverine forest on the edge of the river, and accommodates a maximum of 12 guests. The main camp area boasts a well-stocked wine cellar, an interactive 5-star kitchen, and a spa and curio store that are both hidden discreetly behind weathered Zanzibar doors.
The 5 beautiful guest suites, including the 2-bedroom Tembo Plains Suite, are superbly designed and look out over the river. Each suite has its own indoor lounge area, expansive outdoor deck with a private plunge pool and exercise bike, as well as an outdoor dining area. The ensuite bathrooms feature glorious handmade bathtubs as well as indoor and outdoor showers. To cap off the luxury safari experience, each suite also has a camera, lenses and high-quality binoculars that are available for guests to use during their stay.
Tembo Plains Suite
The Tembo Plains Suite is the perfect place to stay for either a family or two couples travelling together who wish to have a little more privacy. The suite comprises two splendid bedrooms that sit either side of the shared lounge and dining area. The outdoor deck is just as outstanding, with its private pool and outdoor dining space.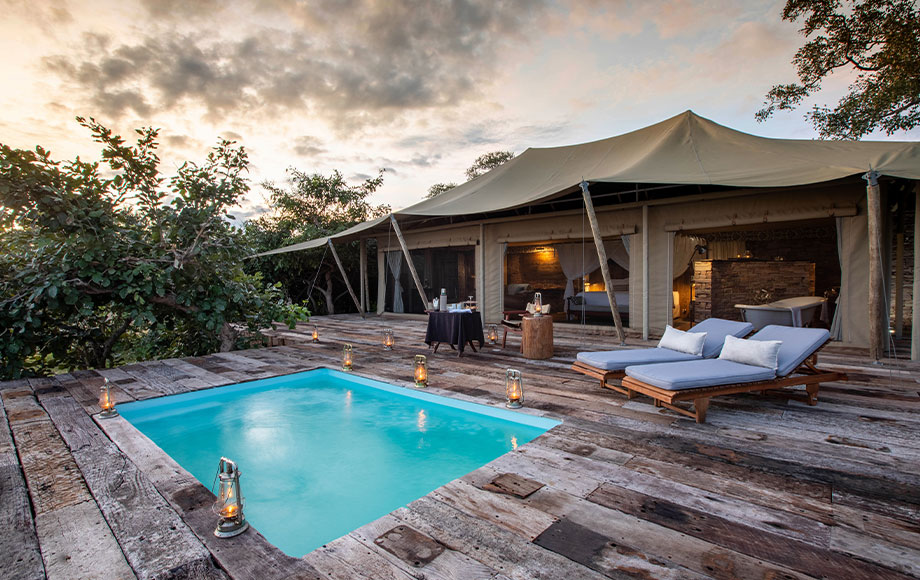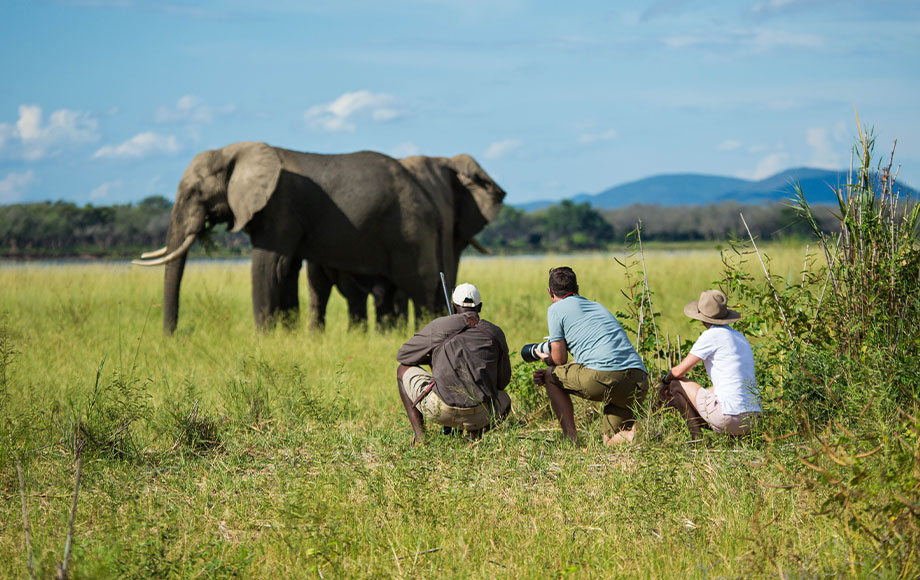 Sapi Reserve – Wildlife & Activities
Previously a hunting area, the Sapi Reserve was established in 2016 and borders the legendary Mana Pools National Park. Together, these two areas combine to protect over 337,000 hectares of prime wilderness landscape, and are part of the UNESCO World Heritage-listed site. This wildlife-rich sanctuary is home to African wild dogs, lions and leopards (all frequently sighted), as well as buffalos and elephants that can sometimes be seen swimming in the Zambezi River. Activities at Tembo Plains Camp include morning, afternoon and evening game drives, boating and canoeing safaris, guided walks.
Accommodation Details
Morning, afternoon and evening game drives
Boating excursions
Canoe excursions
Guided nature walks
Zimbabwe's first Relais & Chateaux member
An intimate luxury tented camp located on the Zambezi River
Just 5 luxury suites including the 2-bedroom Tembo Plains Suite
Tembo Plains is accessible via light aircraft to the Sapi Airstrip. From there it is a short drive to the camp.
Accommodation in Zimbabwe
Below are some of our preferred tented camps and lodges in Zimbabwe. Please contact us to tailor accommodation options to suit the style of your trip and your budget.
Bumi Hills Safari Lodge boasts one of Africa's finest wilderness locations set on a series of hilltops overlooking Zimbabwe's vast Lake Kariba.
Zimbabwe Itineraries
The following tours are private, independent and can be easily customised to suit your personal travelling requirements. Please contact us to begin designing your personalised Zimbabwe experience.
This safari explores three of Zimbabwe's greatest highlights: Hwange National Park, breathtaking Mana Pools National Park and Victoria Falls.
Explore the jewels of Zimbabwe, including iconic Victoria Falls, spectacular Hwange National Park and Lake Kariba set against the Zambezi Escarpment.
This thrilling safari provides incredibly close encounters with wildlife either from your canoe or on foot in Zimbabwe's stunning Mana Pools National Park.
Experience the excitement of canoeing down Zimbabwe's mighty Zambezi River encountering magnificent wildlife set against a backdrop of stunning landscapes.
This trip combines Zimbabwes's stunning Victoria Falls and iconic Hwange National Park with Botswana's magnificent Okavango and Linyanti regions.
JOIN OUR
E-Newsletter
Sign up to receive updates about exciting journeys, special offers and more