Pristine national parks and towering fjords — Alaska is nature on a grand scale.
Combine two of Alaska's most renowned national parks on this 13day/12 night itinerary – Glacier Bay and Katmai national parks. 
Departing from Juneau, discover the wonders of Tracy Arm, impressive Frederick Sound and enjoy two-days in the UNESCO World Heritage listed Glacier Bay National Park aboard a small expedition vessel. Accompanied by expert guides daily excursions include nature hikes, kayaking, paddle-boarding, exploring remote inlets by motorised dinghy and beach combing tidal pools. The region is rich in wildlife and wildlife sightings may include humpback whales, harbour seals, sea otters, black and brown bears and a plethora of bird species.
From Juneau, travel to the scenic city of Anchorage and enjoy two nights exploring all the city has to offer. Nestled between the Church Mountains and Cook Inlet, it was first settled in 1915. Today it is the business and cultural centre of Alaska. Two places worth visiting are the Museum of History and Art, as well as the Alaska Native Heritage Centre.
Finally, fly to Katmai National Park and enjoy 3 nights at Katmai Wilderness Lodge, renowned for its incredible Brown (or grizzly) bear sightings. Go out each day by boat and search for bears, or enjoy guided wilderness hikes and sea kayaking excursions.
Katmai National Park
Katmai National Park is famous for brown (or grizzly) bears, fish, volcanoes and rugged wilderness. Originally created in 1918 to preserve the famed Valley of Ten housand Smokes, the area was designated a National Park in 1980. The park covers an area in excess of 16,000 sq km.
Brown bears are very active in Katmai, with numbers increasing to more than 2,200. As they are not hunted, and food during the summer months is plentiful, the bears are extremely tolerant of humans, and extraordinary viewing is possible. Males can grow to an amazing 3 metres in height and to observe their behaviour at close quarters is a privilege few people will ever experience.
Despite the park's size, there are only a few places where you can view bears in Katmai and we recommend Katmai Wilderness Lodge and Brooks Lodge.
For an unrivalled bear viewing experience, we recommend you incorporate one of these lodges into your itinerary.
Tour Details
7-night cruise through Alaska's Inside Passage
Enjoy two full days in Glacier Ba National Park
Discover tidewater glaciers including Margerie & Grand Pacific glaciers
Search for whales in Frederick Sound and Icy Straits
Explore beautiful Katmai National Park
Get up close to Brown Bears
Spend a day exploring the city of Anchorage
This itinerary departs from the Alaskan capital of Juneau, the closest 'big" city to the the lower 48 states. Direct flights are available with Alaska Airlines from Anchorage (1h40 mins) and Seattle (2h40 mins).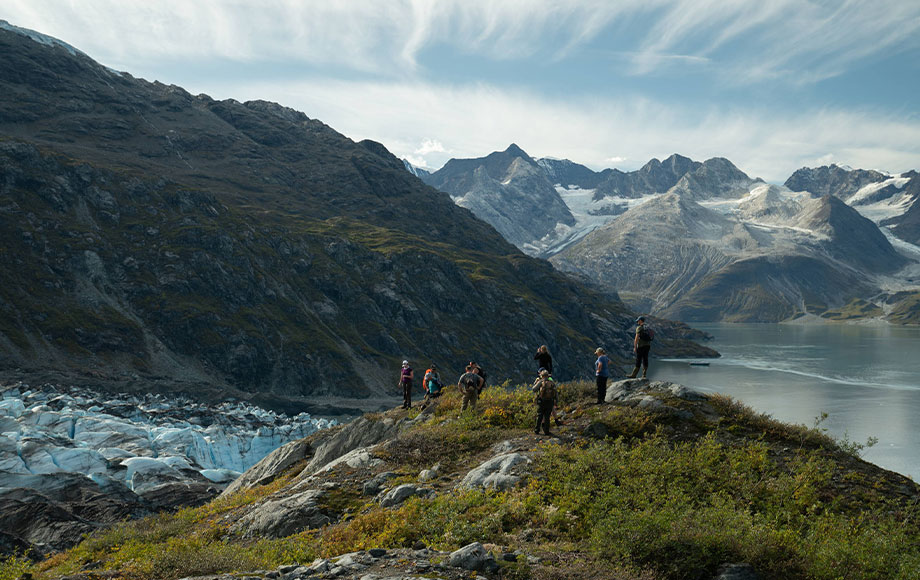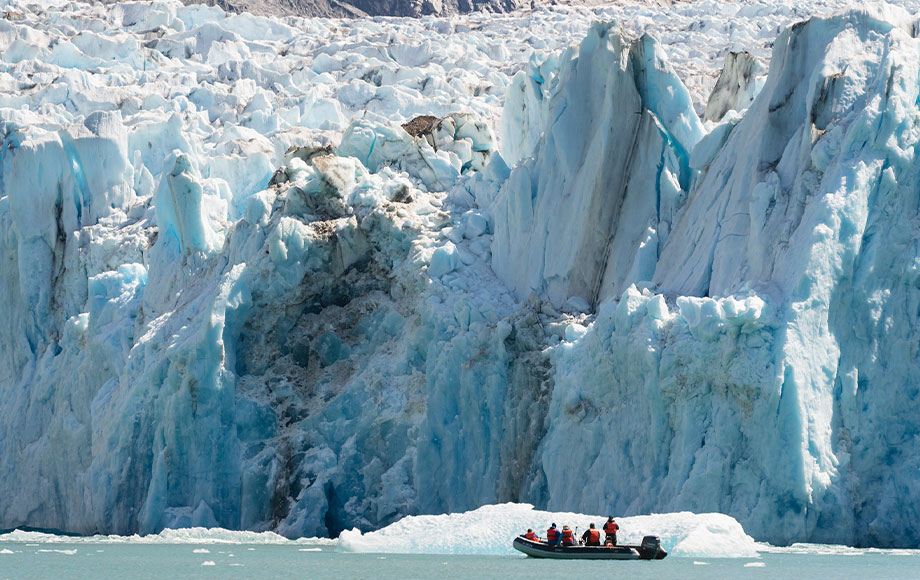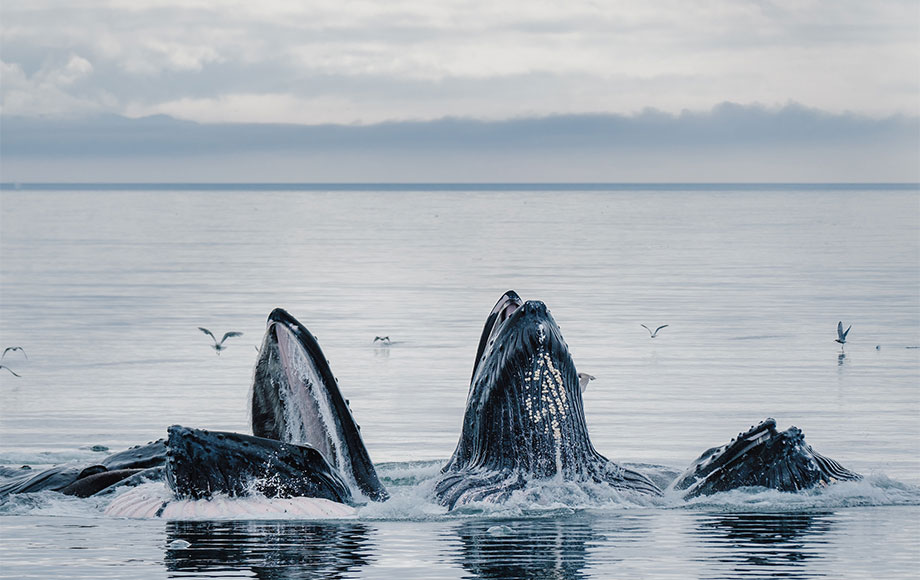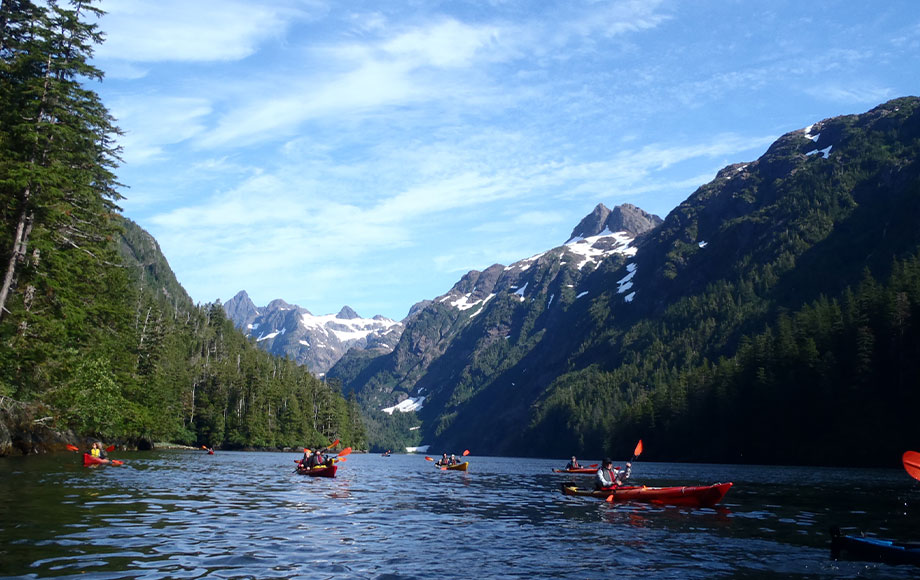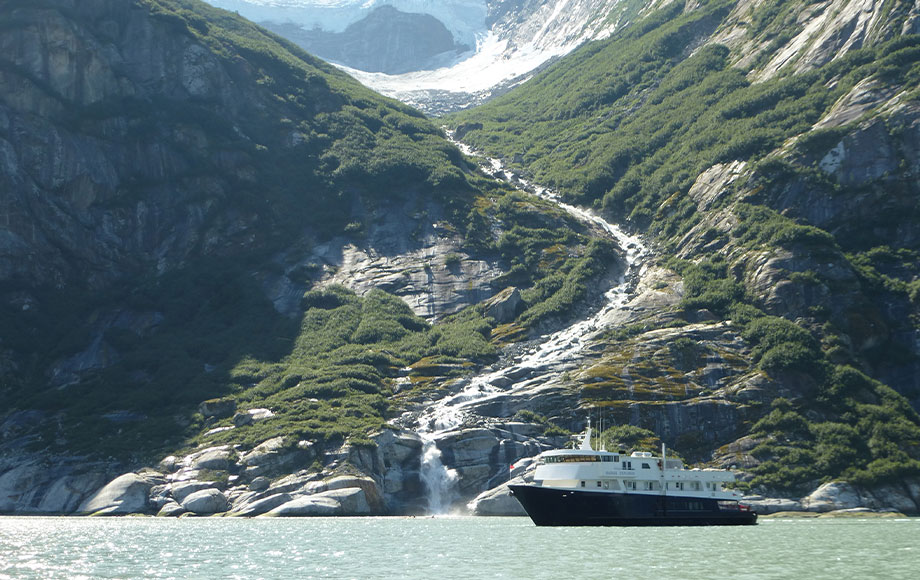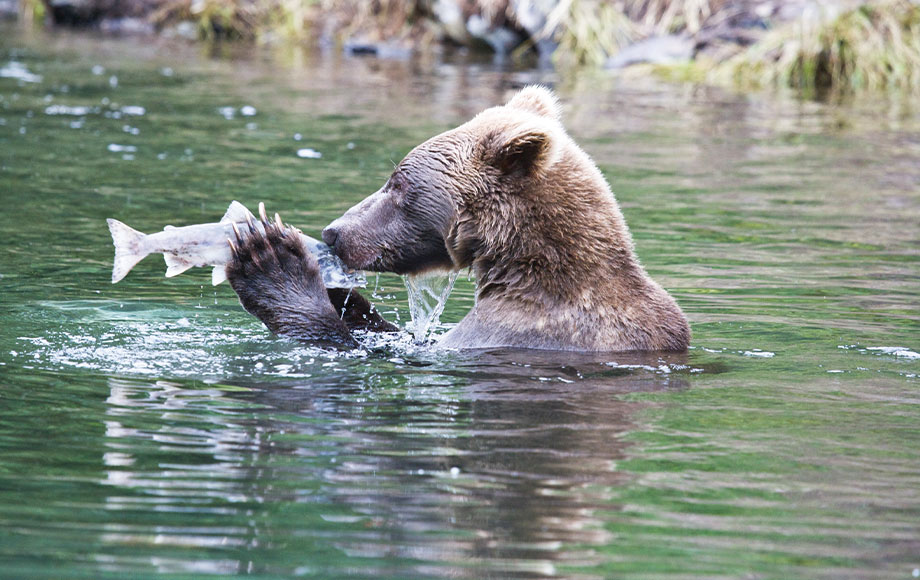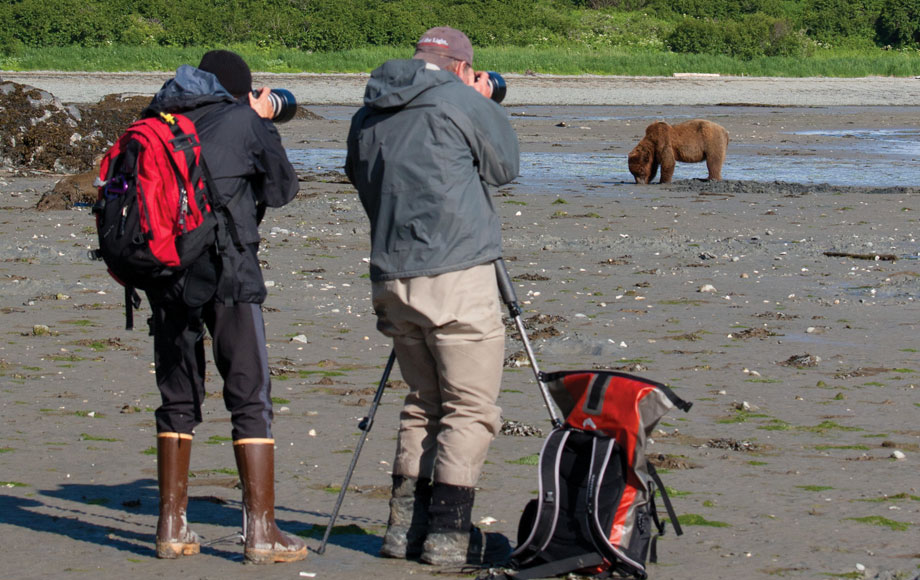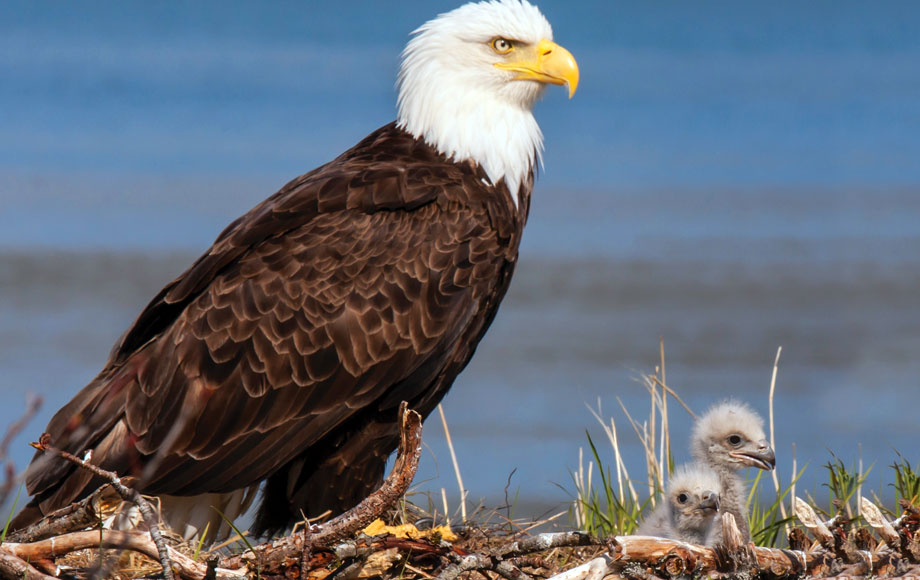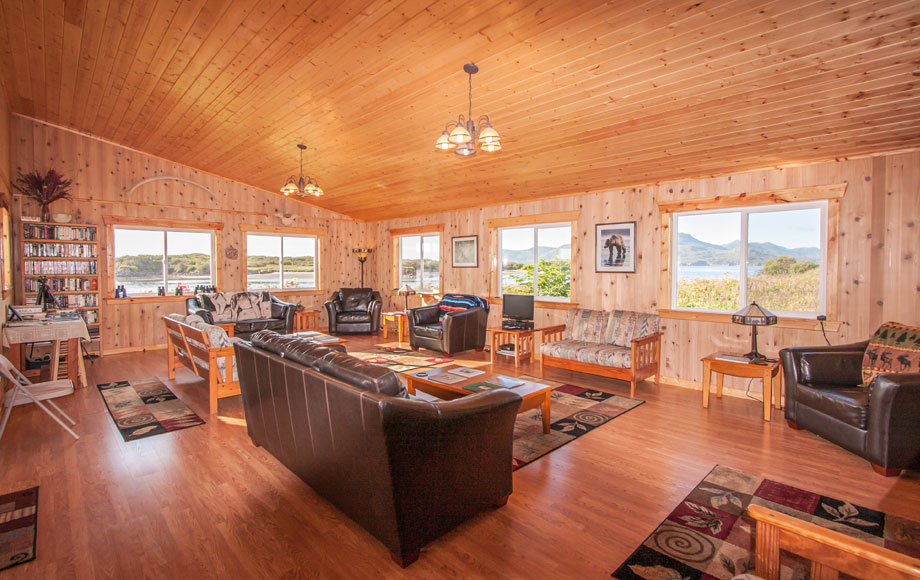 Alaska Cruise & Bear Adventure

Ex Juneau
---
Day 1
Juneau
On arrival in Juneau today, you will be met and transferred from the airport to the meeting area before boarding the vessel. Meet your fellow passengers and enjoy a champagne toast as you set sail out of Juneau.
Day 2
Tracy Arm
Wake up this morning amidst beautiful fjords, with skyward reaching cliffs, floating ice and deep u-shaped valleys. Cruise slowly through beautiful Tracy Arm, keeping an eye out for harbor seals and their pups lounging on chunks of ice. The cotton candy blue Twin Sawyer glaciers at its furthest reaches are the highlight today. Tides permitting, explore by skiff as your guide points out wildlife and geological wonders – towering walls, the Coastal Mountains and plenty of waterfalls. Keep an eye out for mountain goats high up on the the cliffs.
Day 3
Frederick Sound
Frederick Sound is one of the best spots to see humpback whales, who arrive here each season to feed on krill, zooplankton and herring.
Depending on wind and weather, your expedition team has today's line-up of adventure all mapped out. Cruise past Five Fingers Lighthouse (Alaska's oldest light station) as well as The Brothers Islands, where sea lions can be seen napping on rocky outcrops. There is always the chance to see birdlife, including Carrot-Billed Black Oystercatchers, easily identifiable by their bright orange bills.
Day 4
Icy Strait
Wake up to the wonders of the Inside Passage. Make the most of a beautiful morning, perhaps beginning the day with some yoga on the deck or a strong cup of coffee as you watch the wilderness pass by.
Enjoy an invigorating kayak excursion, gliding around in remote bays off Icy Strait through giant bullwhip kelp – which can grow to over 100 ft long. Other options for today might include hopping aboard a skiff (motorised dinghy) to a rocky outcropping to watch sea lions play or stepping into mud boots for a forest hike with a naturalist guide. Your expert guides will have plenty to share about Alaska — including topics such as marine biology, plants or geology – so make sure to ask plenty of questions.
Days 5/6
Glacier Bay National Park
Over the next two days, discover the wonders of The UNESCO World Heritage Listed Glacier Bay National Park. The jewel in Alaska's crown, the park is 3.3 million acres in size and is a playground of adventure. Cruise into Taylor Bay and witness sea stacks and rocky shores. You might also have the chance to hike into the Fairweather Mountain Range, traversing the outwash field of glaciers. In nearby Dundas Bay you may have a chance to see wildlife such as bears, humpbacks, and if you're lucky, a wolf sighting. Here you can kayak or bushwalking through the forest. Make sure to have your binoculars handy.
On Day 6, explore South Marble Island – a birder's paradise home to Puffins, Guillemots and Gulls. Keep an eye out for snoozing sea lions and cruise to the far end of Tidal Inlet to see magnificent glaciers calve into the water. Backed by knife-edged peaks, it's also possible to see bears forage along the shoreline of Tidal Inlet. At the western-most point of the bay sits impressive Margerie and Grand Pacific glaciers, and you might get to see them calving.
Day 7
Chatham Strait
Stretching 150 miles into the Tongass National Forest, Chatham Strait offers visitors plenty of chances to explore this beautiful wilderness.
The captain will anchor the vessel in a remote inlet, where a morning of adventure awaits, exploring the inlet on a forest walk along the shore or on the water by skiff, paddleboard or kayak. Beachcomb along the rocky shore, looking in rock pools, and make sure to keep an eye out for curious seals. Tonight, enjoy a nightcap on the sun deck and watch the sunset.
Days 8/9
Anchorage
Enjoy a final breakfast onboard this morning of fresh baked pastries, before saying goodbye to your crew and newfound friends. Transfer to Juneau airport for your onward flight to Anchorage. On day 9, enjoy a day at your leisure explore the city of Anchorage.
Day 10
Katmai Wilderness Lodge
Transfer by light aircraft this morning to Kodiak (not included). On arrival change planes and board a float plane to the lodge, arriving around 1330. Enjoy your first afternoon activity.
Days 11/12
Katmai Wilderness Lodge
Each day you will set out by boat with your guide to explore this beautiful wilderness area. Activities include guided bear viewing and photography, guided wilderness hikes sea kayaking and birding. Apart from bears, there are moose and fox in the area and marine mammals such as otters and seals.
Day 13
Tour ends, Kodiak
This morning enjoy breakfast and one more guided activity before your flight at 1330 to Kodiak Airport. Tour ends.
Accommodation in Alaska
Below are some of our other recommended Alaskan wilderness lodge accommodation options, carefully selected for their superior location, incredible wildlife and wilderness experiences, service and level of comfort.
Probably the most famous lodge in Alaska for grizzly bear viewing, Brooks Lodge occupies prime position next to the salmon-rich Brooks River and Brooks Falls.
Amongst the finest bear viewing destinations in Alaska, Katmai Wilderness Lodge is also one of the few lodges within Katmai National Park.
Family-run Redoubt Bay Lodge is the only lodge in a vast 171,000 acre wilderness teeming with bears and other native Alaskan wildlife.
Alaska Tours
Below are some of our most popular tours around Alaska. Please contact us for more information.
Combine two of Alaska's most renowned national parks on this 13day/12 night itinerary - Glacier Bay and Katmai national parks.
JOIN OUR
E-Newsletter
Sign up to receive updates about exciting journeys, special offers and more