Bamurru Plains offers some of Australia's richest wildlife viewing in comfort and style.
Wallaroos, wallabies, crocodiles, dingoes and buffalo are just some of the thousands of species that inhabit the fertile floodplains and savannah woodlands in the Mary River catchment area. A little west of the World Heritage-listed Kakadu National Park, and with just ten bungalows on offer, Bamurru Plains lets you lose yourself to the remote wilderness with minimal impact on the fragile environment.
The camp is built at the edge of bushland, so as not to disturb existing plant growth, and almost all power for electricity and hot water is generated from whisper-quiet solar panels. Bore water is filtered for drinking and native herb soaps are entirely chemical free. Bamurru Plains is so committed to sustainability that sheets are organic cotton and sand-coloured, so as not to require bleach.
Meals at camp are contemporary Australian, with an emphasis on home-grown seasonal ingredients thus your daily menu is also influenced by what time of year it is. Expect plenty of locally sourced fish and meats, as well as bush spices, finger limes and macadamia nuts. There is also an onsite bar where guests can help themselves to a range of refreshments.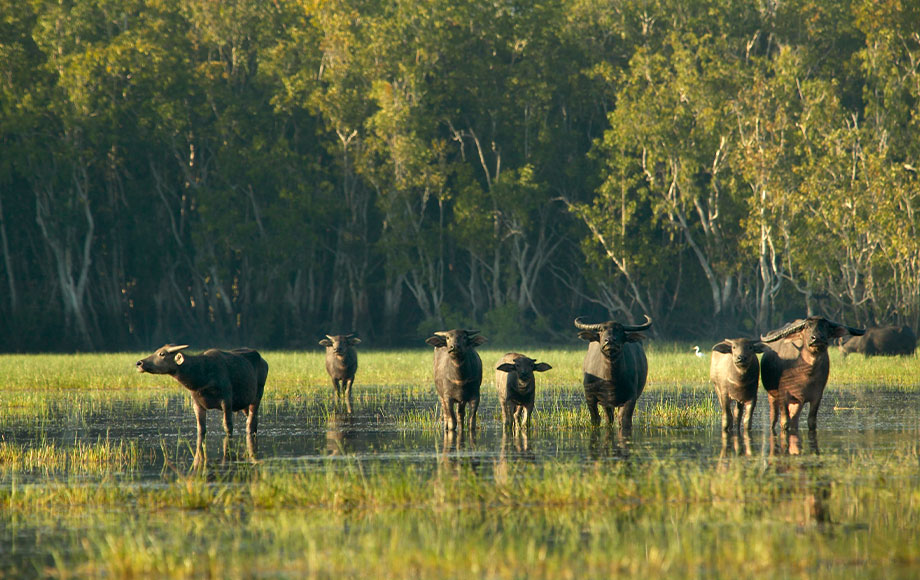 Bear in mind that the landscape surrounding Bamurru Plains changes dramatically throughout the year, dictating the types of activities on offer. The 'Early Dry' from May to July brings cooler temperatures and extraordinary raptor watching. From August until December, the waters dry up leading to vast numbers of birds and animals congregating at remaining waterholes. When the monsoon arrives in January, the region is drenched by impressive thunderstorms which induce plant growth. Due to heavy rains, please note that Bamurru Plains is closed from November to February.
Bird and animal lovers will be thrilled with the many wildlife-based activities available. Observe the camp's feathered residents from the Hide, a 6 metre-high platform with 360-degree panoramas of the floodplains. You also have the option to sleep out here, immersed in the sights and sounds of the bush after dark. Zip across the waters in an airboat or embark on a more sedate river cruise. Keen fishermen may get a chance to catch prized barramundi in the area's abundant waterways.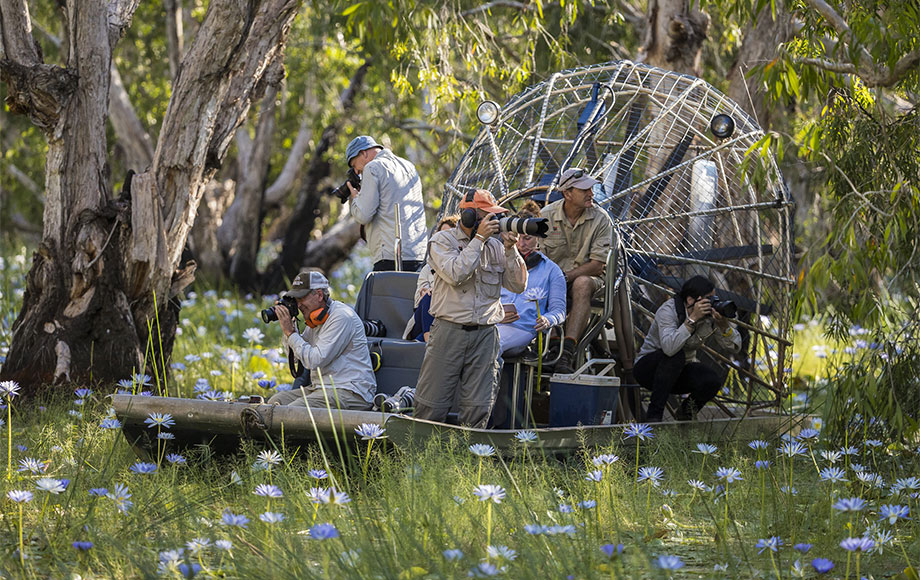 Accommodation Details
10 bungalows, including 1 suite
Dining room
Bar
Outdoor pool
The Hide
Airboat safaris
4WD tours
River cruise
Fishing charters
Half or full trip to Arnhem Land or Kakadu NP*
Picnic lunch or three-course dinner at the Hide
Sleep out at the Hide
*Recommended only if staying at Bamurru Plains for more than 3 nights.
The Top End's most luxurious safari experience
In the heart of Crocodile Dundee territory
Bush-tucker inspired meals
Floodplain safaris
Multitude of wildlife activities
World Heritage-listed Kakadu National Park
Over 280 bird, 110 reptile and 60 mammal species
Ancient Aboriginal art sites
Barramundi fishing
Complete immersion in the wilderness
Bamurru Plains is three hours by road from Darwin. Self-driving guests are requested to park their vehicle safely within the property boundaries – you are then picked up by a guide for the 20-minute drive to the lodge. It is also possible to take a 30-minute scenic charter flight from Darwin or Kakadu National Park to this property.
Accommodation in the Northern Territory
Below are some of our most popular places to stay in the Northern Territory. Please contact us for more information.
Experience true outback adventure and hospitality at the historic Bullo River Station, a 500,000 acre working cattle station and conservation sanctuary in the Northern Territory.
Northern Territory Itineraries
Below are some of our most popular tours around the Northern Territory. Please contact us for more information.
Discover the mesmerising beauty and wonder of Botswana in luxury
Explore Australia's Northern Territory on this 12 day itinerary discovering the best of the outback and staying at three sensational lodges.
Discover Australia's remote Kimberley and pristine Kakadu National Park on this 10 day/9 night safari staying at three exclusive lodges.
JOIN OUR
E-Newsletter
Sign up to receive updates about exciting journeys, special offers and more