Experience true outback adventure and hospitality at the historic Bullo River Station
Bullo River Station is set on a 500,000 acre working cattle station and conservation sanctuary in the Northern Territory. Explore stunning landscapes, encounter amazing wildlife, cool off in remote waterholes and discover ancient indigenous rock art.
'You know you're in the Territory when you see a few huge 5m crocs basking on the riverbank enjoying the sun!' Bullo Station Manager.
Reached by light aircraft (it is many hours' drive even from their nearest neighbor), Bullo River uses sustainable farming methods and balances a successful business with conservation and harmony with the land. Situated between the Bullo and Victoria Rivers this is one of the most beautiful cattle stations on the continent, with rugged gorges, billabongs, waterfalls and amazing wildlife. Crocodiles, goannas and wallabies are just some of the creatures you might encounter. The area is also a paradise for bird watchers, home to some 180 resident and migratory bird species, including emus, brolgas, parrots and long-legged black-necked storks called jabiru.
Since the early pioneering days life on this remote station has become a lot more comfortable but still maintains the famous spirit of outback hospitality. Guests are warmly welcomed in a relaxed, home-from-home atmosphere. The 12 guest rooms are tastefully furnished in cool colours and natural fabrics – a welcome retreat after a day of adventures. Each room is the same, with king or twin beds, air-conditioning, modern en suite bathroom, and French doors opening out onto shady lawns. There is also a large outdoor pool with sunbeds.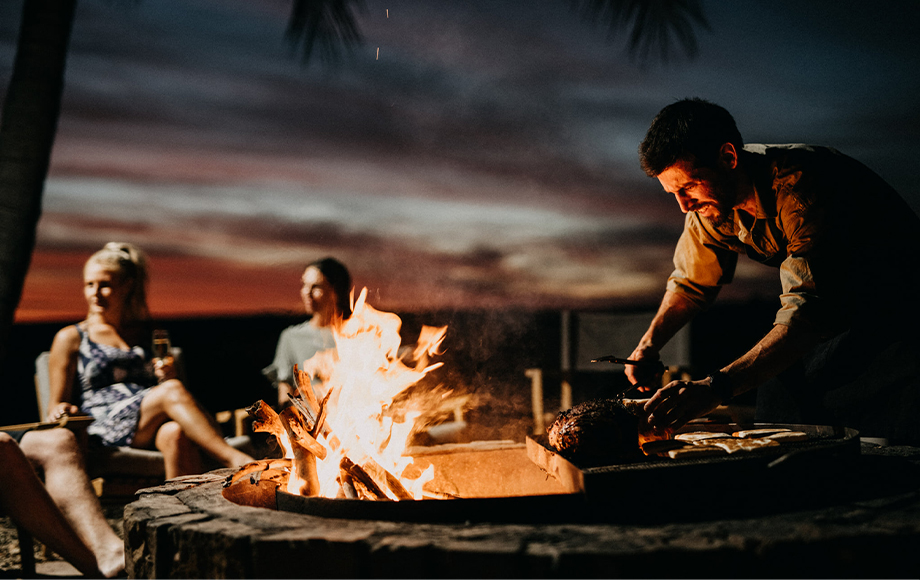 Wholesome meals
Tasty, wholesome meals are served out on the wide verandah. Lunch is often a picnic out by a shady waterhole while dinner is usually around the camp fire under a stunning canopy of stars. Fresh caught barramundi and prime organic beef from the surrounding pastures are favourites on the evening menu, but dietary requirements can be catered for.
Activities at Bullo River
Most activities at Bullo River Station are included and can be tailored to suit guests' interests. Cruise by motor boat on the Bullo River with its steep red cliffs and banks lined with mangroves, fig trees and pandanus, as well as lounging crocodiles. Explore on foot with your guide, following well-trodden trails in search of local wildlife, discovering waterfalls and natural swimming holes. Visit stunning, ancient rock art galleries, created by the ancestors of the Miriuwung-Gajerrong. Seldom seen by outsiders these galleries are only accessible by guided tour in an all-terrain vehicle or helicopter.
Then there is ranch life itself, and everyone is encouraged to discover their "inner cowboy or girl" and get involved. There are poddy calves to be fed and muster training, or cattle yard work to do. Learn how to crack a stock whip or head out on the station in a 4WD or all-terrain vehicle or even on horseback for bore checks, or lick runs. With 4,000 Brahman-cross cattle there is always plenty to do. Cattle mustering takes place in the dry season months of June to September and guests are welcome to watch.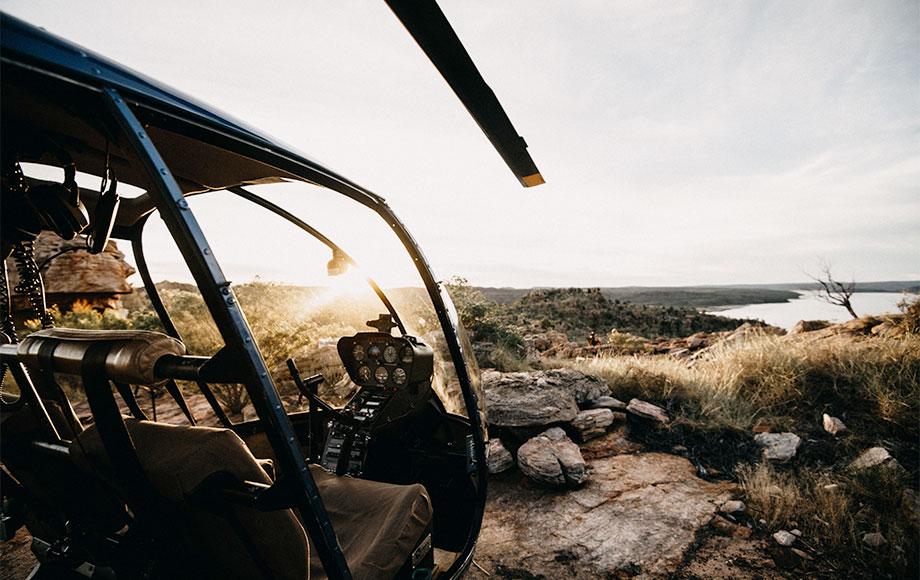 Accommodation Details
12 en suite guest bedrooms with king or twin beds
Air conditioning and ceiling fan
Complimentary toiletries, hair dryer and Wi-Fi
Guest rooms run off a central corridor and open directly onto gardens
Rooms are serviced daily
Laundry service
All meals and drinks are included
Meals are served on the wide homestead veranda
Lunch is arranged around guests' activities and is often a picnic in the bush
Evening drinks and canapés around the camp fire under the stars
There is a communal lounge with drinks and snacks available
Large outdoor swimming pool with sun beds
A range of ranch based or wilderness guided activities to choose from
Cruising the scenic Bullo River
Early morning or evening guided activities to see wildlife
Guided tours to see rock art sites, gorges and water holes
Cattle ranch related activities with the station workers
Fishing on the Bullo River including guide, boat and fishing tackle
Horse riding including guide and gear (recent riding experience required)
One short scenic helicopter flight is included
Additional Helicopter experiences incorporating waterfall and gorge visits, barramundi fishing and access to other parts of the property are available at extra cost.
A unique outback experience on a remote working cattle ranch of 500,000 acres
An innovative collaboration between a sustainable cattle business and the Australian Wildlife Conservancy
Wildlife aplenty including crocodiles, goannas, emus and wallabies
A paradise for bird watchers with over 180 bird species
A range of included guided activities by 4WD, by boat, on foot, or on horseback
Guided tours to see spectacular indigenous rock art
Opportunities to get involved with the day to day activities of the ranch
Warm and welcoming outback hospitality
Comfortable guest accommodation and facilities despite the remote location
Bullo River Station is around 800 kilometres southwest of Darwin and 200 kilometres east of Kununurra in the East Kimberley region. It can be reached by private charter plane to the station homestead strip from Darwin (90 minutes) or Kununurra (30 minutes). Air transfers are also available to/from a number of other lodges, such as: El Questro, Bamurru Plains or Katherine. Helicopter transfers from Darwin or Kununurra can also be arranged. Self drive by 4WD is possible but outback driving experience is recommended.
Please note: Bullo River Station is closed October to 31 March due to the wet season.
Accommodation in the Northern Territory
Below are some of our most popular places to stay in the Northern Territory. Please contact us for more information.
Experience true outback adventure and hospitality at the historic Bullo River Station, a 500,000 acre working cattle station and conservation sanctuary in the Northern Territory.
Northern Territory Itineraries
Below are some of our most popular tours around the Northern Territory. Please contact us for more information.
Discover the mesmerising beauty and wonder of Botswana in luxury
Explore Australia's Northern Territory on this 12 day itinerary discovering the best of the outback and staying at three sensational lodges.
Discover Australia's remote Kimberley and pristine Kakadu National Park on this 10 day/9 night safari staying at three exclusive lodges.
JOIN OUR
E-Newsletter
Sign up to receive updates about exciting journeys, special offers and more