This unique eco lodge is a magical destination about as far away from anywhere as you could wish to be.
Perched above a perfect bay on the Kimberley Coast, the lodge and its 8 elevated cabins overlook the turquoise Timor Sea. Faraway Bay is an exclusive and authentic wilderness retreat featuring simple luxury and tranquillity cocooned in the heart of nature. It offers an experience like no other, including superb isolation, warm hospitality, good food, and a rare opportunity to explore the Kimberley outback. Discover significant ancient rock art, waterfalls, stunning natural wonders, archaeological sites, and abundant wildlife.
The lodge is situated on high conservation value land and is a leader in nature-based, low impact tourism. Guests are accommodated in 8 comfortable double or twin cabins surrounded by natural bushland, each offering absolute privacy and 180-degree views of the bay. Each cabin has air conditioning and ceiling fans, ensuite facilities and an outdoor solar-heated, spring water shower with a view. There is no electronic entertainment, nor mobile reception, so guests can immerse themselves in nature. Wake to the sound of bird song and go to sleep to the gentle lapping of the waves on the shore.
The cabins are a short walk on sandy paths to the central open-air Eagle Lodge, built from recycled materials. Dining is al fresco around the "long table" with stunning views of the sea. All meals (and non-alcoholic drinks) are included and feature fresh local produce from the Ord River orchards and wild caught fish. Alcoholic drinks including excellent wines are available for purchase. Lunch is often a delicious picnic whilst out in the wilderness or on one of the lodge vessels. Pre-dinner canapes or plated entrees are served around the campfire or around the bar, whilst dinner is a sumptuous two course affair. The lodge has a freshwater plunge pool and infinity outdoor spa, and a comprehensive research library, with books on local flora and fauna, bush tucker and rock art.
Faraway Bay is open between 1 March and 31 October. March/April can still be wet but ideal for seeing the waterfalls and for fishing. From April to September the weather is usually perfect with daily temperatures averaging 30°C, blue skies and cooler evenings. Temperature in March and October generally rise and rain is a possibility. There is a minimum stay of 3 nights.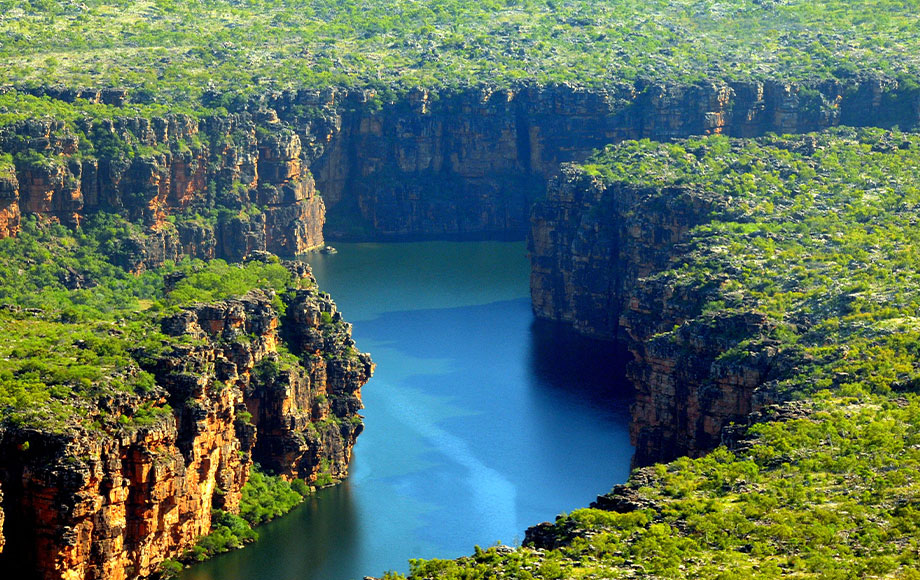 Faraway Bay has a high staff to guest ratio, so you will be well looked after. With their local knowledge, guiding abilities and bush skills the staff will share with you the wonders of this remote Kimberley wilderness. An array of activities are included during your stay, including a day cruise to the renowned twin King George Falls, past towering cliffs and looking out for turtles, manta rays and sea birds along the way. There are also trips by boat or 4WD to see rock art, billabongs and waterfalls.  There is excellent fishing both for enthusiasts and novices, bushwalking, star gazing or just relaxing at the lodge.
Accommodation Details
8 individual elevated cabins situated in natural bush with sea views
Each cabin has ensuite flush toilet, hand basin, and unique outdoor shower
Ensemble single or king size beds
All cabins have air conditioning
There are 240V overhead fans and lighting, with mosquito nets
Torches for use at night, walking to and from Eagle Lodge
locally handcrafted aromatherapy soaps and toiletries and natural insect repellent
240V power points for recharging of batteries, use of hairdryers etc.
Coffee machines, water coolers, tea and coffee making facilities
Main lodge with open air design to suite the Kimberley climate
Al fresco dining room with spectacular views of the bay
Bar and lounge with beers on tap and quality wine for purchase
Spring fed plunge pool with 360-degree views
Infinity spa with 360 deg views
Vessel with skipper and guide available during your stay
Private airstrip 4 km from the lodge
Helipad
Laundry available for your use during your stay.
Boat cruise along King George River to the twin King George waterfalls
Rock Art Tours by 4WD or boat to remote rock art sites (Bradshaw paintings)
Fishing along the rivers and creek or between islands. Catch and release.
Billabong and wildlife 4WD trips, with swimming or canoeing.
Boat trips to waterfalls, beaches and swimming holes
Bushwalking
Bird watching
Stargazing
Trip to Lesueur Island
Exclusive eco resort meeting strict environmental conditions
Remote and beautiful area accessible only by plane or boat
Comfortable private accommodation for a maximum of 16 guests
High staff to guest ratio
Al fresco gourmet dining with sea views
Outdoor picnics
Bar with selection of beers on tap and quality wines
Sundowner canapes around the campfire
Spring fed plunge pool and infinity spa
Wilderness experience offering both tranquillity and adventure
Experienced staff guided activities
Rates inclusive of all meals and activities
Wide range of activities including day trip to King George waterfalls
Faraway Bay is located 280 kms north west of Kunanurra and reached only by helicopter or light aircraft. There is no regular air service, and charters are booked for each group of guests (not included in accommodation cost). There are regular flights from Darwin to Kununurra. Maximum pay loads apply and there is a strict luggage allowance.
Accommodation around Broome & The Kimberleys
Below are some of our most popular places to stay around Broome & the Kimberleys. Please contact us for more information.
A glamorous oasis in the remote and rugged Kimberley region, El Questro Homestead is a diamond in the rough.
This unique eco lodge is a magical destination about as far away from anywhere as you could wish to be. Perched above a perfect bay on the Kimberley Coast, the lodge and its 8 elevated cabins
Situated a stone's throw from beautiful Cable Beach, this award-winning resort offers a relaxing setting amid gently swaying palm trees and endless Indian Ocean sunsets.
Western Australia Itineraries
Below are some of our most popular tours around Western Australia. Please contact us for more information.
Explore Western Australia's remote Kimberley and world-renowned Ningaloo Reef on this 13 day/12 night safari staying at three exclusive lodges.
JOIN OUR
E-Newsletter
Sign up to receive updates about exciting journeys, special offers and more