Camping off grid in the bush from a young age, Carolyn is passionate about the great outdoors and relishes the chance to get off the beaten track and explore remote, wild

 and beautiful

 places.
Her 25 years' experience in travel have seen her visit the vast open game parks of East Africa, travelled through Southern Africa on an overland safari and be pampered at the luxurious lodges of the Sabi Sand Game Reserve. She has also experienced the thrills of bungee jumping off Victoria Falls Bridge, the white water rapids of the Zambezi and spent some well earnt time relaxing on the tranquil islands of Mauritius & Zanzibar. Over the years her travellers have also taken her to Ecuador with its pretty colonial cities and Amazonian rainforest, the legendary Inca Trail in Peru, Alaska's awe-inspiring Inside Passage and the cultural and culinary delights of India as well as the marvellous Tahj Mahal.
Some of her fondest memories include camel trekking through the remote Samburu tribal lands in Northern Kenya and witnessing the incredible song of Humpback whales as they bubble net feed off the Alaskan coast. A wildlife enthusiast, Africa remains close to her heart. To be surrounded by natures' hypnotic rhythm, from its exotic wildlife and the warm and welcoming smiles of the local people, to the brilliant sunsets and campfire stories, Africa is where she loves to be.
Carolyn's recommendations
Africa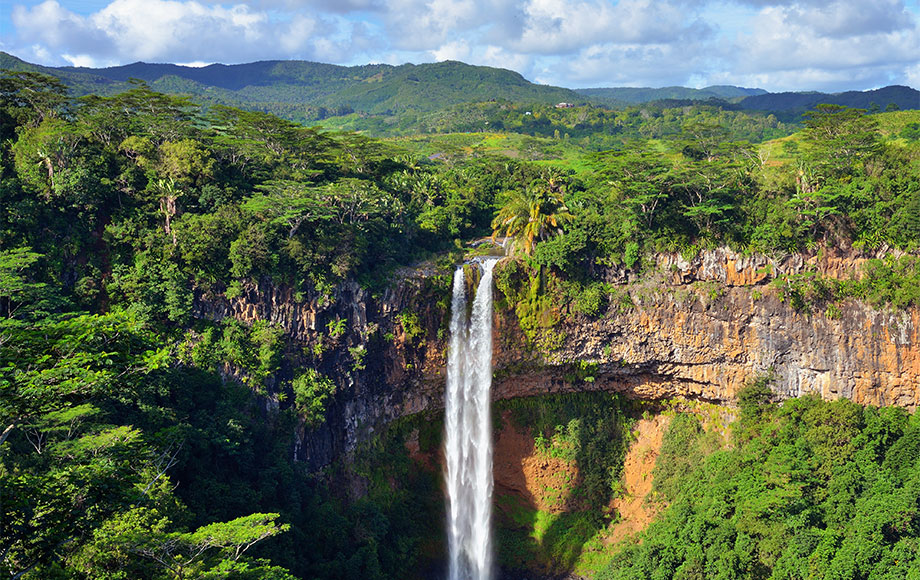 Located in the Indian Ocean, off the southeast coast of Africa, Mauritius is surrounded by some of the world's most beautiful coral reefs. A pint-sized Garden of Eden, Mauritius is a world of unrivalled luxury and tropical splendour. This exotic island paradise prides itself on its refreshing natural beauty – from its lovely mountainous landscapes and pristine white sandy beaches, to its lush forests and crystal-clear emerald waters. The Mauritian people are mainly from European, Asian and African descent, and this unique mix has formed an extraordinary melting pot of cultures and culinary richness. Far from just a "honeymoon" or "beach-goers" destination, discover beautiful colonial towns and learn about the history of centuries-old sugar-cane plantations. Hike to a sacred lake in the crater of an extinct volcano, visit the Seven Coloured Earths of Chamarel and explore Pamplemousses, the oldest Botanic Garden in the southern hemisphere, famous for its ponds of giant water lilies. The island is home to some of the finest hotels and beachside spa retreats in the world, popular among families, honeymooners and adventure travellers alike.  The variety of hotels and resorts take you to a level of luxury that will go beyond your wildest dreams, whilst all offer a wide choice of both sea and land-based activities.
A stay at Mauricia Beachcomber Resort & Spa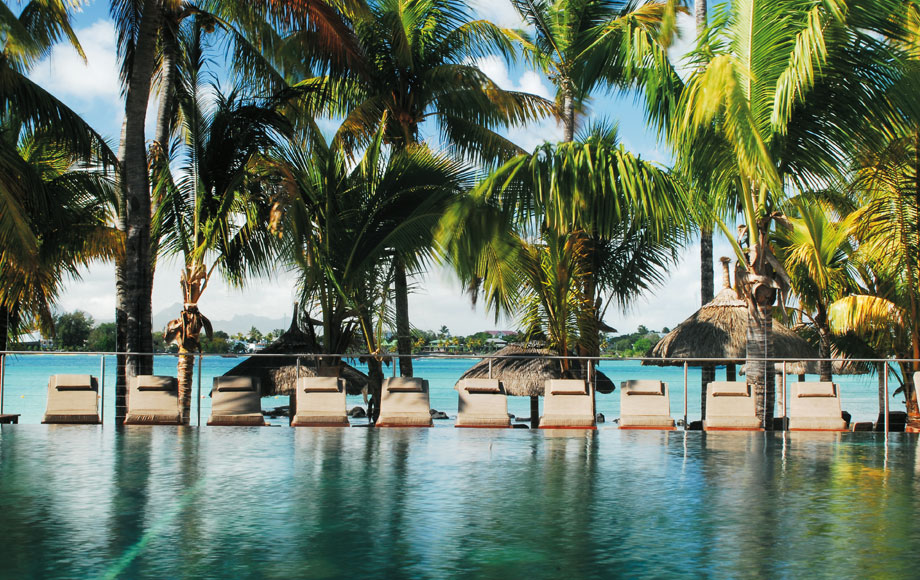 Located on the island's northern coast, Mauricia Beachcomber Resort & Spa sits right on the beachfront with views of the magnificent, turquoise bay. It is cosmopolitan and relaxed, simple yet cosy, comprising 237 spacious and bright rooms with views of the garden or sea. Featuring two restaurants (one buffet and one à la carte), there is no shortage of superb cuisine, whilst the pool bar is surrounded by 2 infinity pools. The resorts architecture evokes a traditional Mediterranean style, with sweeping views of the bay from the public areas. Ideally positioned, the property is within walking distance of the lively village of Grand Baie, one of Mauritius' main tourists' hubs, providing guests with a choice of restaurants, bars, disco's and boutiques to explore during their stay. I love this resort when I stayed here as part of my Indian Ocean island hopping adventure, as it gave me the flexibility to explore both outside of the resort as well as offering a wide range of included land and water sports to enjoy. Guests also receive full access to the facilities of nearby sister hotel Le Canonnier. During your stay at Le Mauricia, make sure you learn to dance Sega!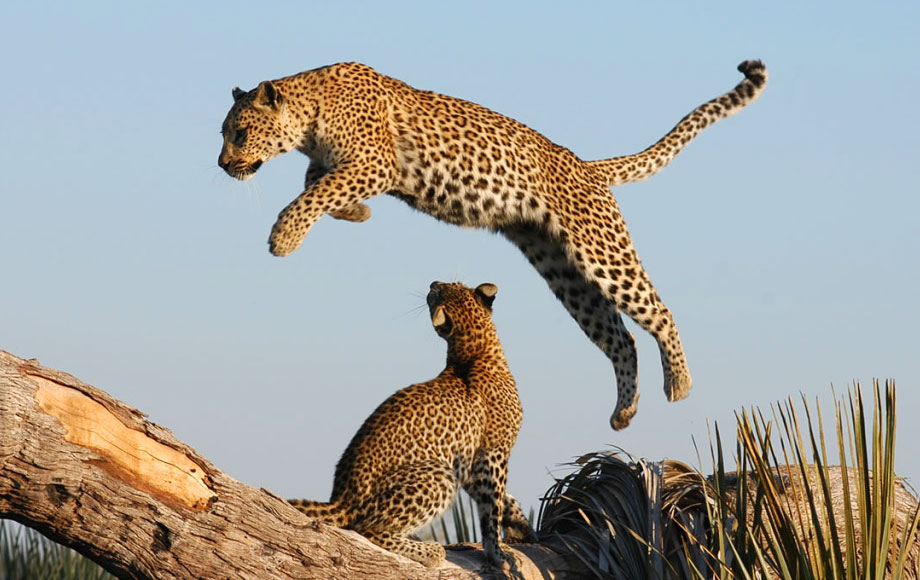 Zimbabwe offers some of Africa's most raw and exciting safari experiences. It is home to unspoilt wilderness areas, game-rich national parks and of course the awe-inspiring Victoria Falls. The country also boasts a wealth of beautiful, old historic hotels as well as luxurious safari lodges in remote, jaw-dropping locations. Located in the country's north, Matusadona National park and its surrounding private concessions on the shores of Lake Kariba are one of Africa's (let alone Zimbabwe's) most scenic wildlife regions. Set against the majestic backdrop of the dramatic Zambezi Escarpment Lake Kariba is one of the largest man-made lakes in the world. With an abundance of water from the lake and a ready supply of grasses as a source of food, both plains game and predators flourish here, so you can expect incredible wildlife viewing opportunities. The lake supports an abundant population of both hippo and crocodile, whilst herds of elephant, buffalo, waterbuck, zebra, and impala come to drink from its shores. You can also find all members of the "Big 5" here. Birdlife also thrives in the region, so keep an eye out for a multitude of species including the impressive African Fish Eagle.
A stay at Bumi Hills Safari Lodge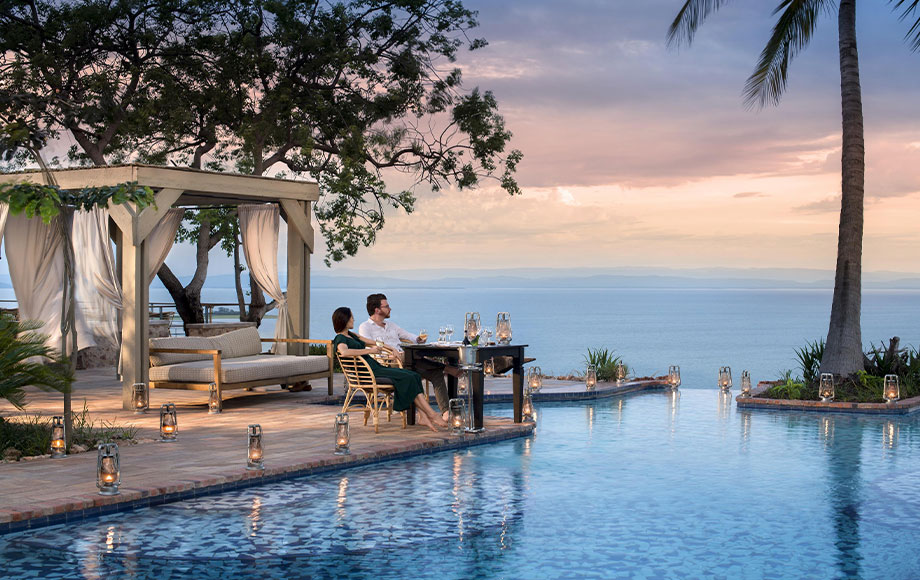 Set on a remote hilltop overlooking Lake Kariba and with the Zambezi Escarpment as a backdrop, Bumi Hills Safari Lodge boasts one of the most remote, scenic and breathtaking locations in Africa. Aside from Lake Kariba's productive shoreline, the lodge's proximity to Matusadona National Park, allows wildlife to move freely between the national park and the lodges private concession, creating sensational wildlife viewing opportunities. The property accommodated guests in 10 stylish suites and a glorious 2-bedroom villa, appointed with all the comforts guests have come to expect from Africa's high-end lodges. For families or guests looking for a completely private experience, the 2-bedroom Baobab Villa is the height of opulence, featuring its own living room bar, indoor and outdoor dining areas, butler and a dedicated safari vehicle and guide. Offering outstanding views from almost every point, the main lodge is the ideal spot to relax during the day. Surrounded by comfortable day beds, take a dip in the splendid infinity pool or enjoy a drink on the enormous lower deck fitted out with a bar and fire pit. The lodge offers a wealth of experiences including guided walking safaris, day and night game drives, boating, catch-and-release fishing, community visits and stargazing. Lunch or sundowners on a sandy beach are a special treat.
What's your most memorable travel experience? 
The intimate and regular leopard encounters I experienced in the Sabi Sands Private Game Reserve on my visit to South Africa in 2003 were unforgettable. Watching in awe from the open 4WD game viewing vehicle, it was a 'freeze in your seat' moment when one cat leisurely strolled past and stopped right next to our vehicle, locking eyes with me. Barely a metre away, it was just the most exhilarating moment to come face to face with this beautiful, sleek and strong feline. I was also privileged to see a leopard up a tree after it had hauled its prey into the branches, as well as a mother with her gorgeous young cubs frolicking about. I even witnessed a young daredevil leopard fall out of a tree – it was practically raining leopards during my stay!
What is it about Africa that makes it so special? 
To view wildlife roaming free in their natural habitat is one of the many things that makes Africa so special. To see the collaboration of local communities and businesses working together to protect and support these fragile environments and to preserve these important wilderness areas for future generations makes travelling to the national parks of Africa so rewarding. 
Where would you like to travel next?
From a young age I have been fond of gorillas and a trek to view the critically endangered mountain gorillas in Uganda or Rwanda would be my ultimate dream. To see them in their natural habitat under the guidance of an experienced tracker and spend time observing their antics and behaviour as they go about their daily routines is a life-long aspiration of mine.