Experience the tradition, colour, music, dance and drama of a Bhutanese Tsechu
A Tsechu draws hundreds of Bhutanese people together in a spirit of reverence, festivity and celebration, and is one of the best ways to discover the rich cultural heritage of Bhutan.
Bhutan festival tours are one of the best ways to experience the ancient living culture of Bhutan. A Tsechu is a Buddhist festival in honour of Guru Rimpoche, the saint who brought Buddhism to the country. Most Tsechus date back to medieval times and involve sacred rituals, music, masks, flamboyant costumes and dances that tell age-old stories. Some, like the Thimphu and Paro festivals, are grand occasions that attract locals from miles around, as well as tourists. The popular Paro Tsechu is most famous for its unique unfurling of the world's largest Thangka (Buddhist painting on silk).
We can easily organise tours incorporating these festivals; however we recommend smaller Tsechus as this ensures a more genuine experience without huge crowds. The wonderful Jambay Lhakhang Drup Festival takes place at one of Bhutan's oldest temples and involves fire rituals and an unusual naked dance.
Another interesting festival is the Black-necked Crane festival in November with masked and costumed crane-inspired dances alongside colourful markets in the Phobjikha Valley to celebrate the arrival of these magnificent birds.
Bhutan Festival Tour Highlights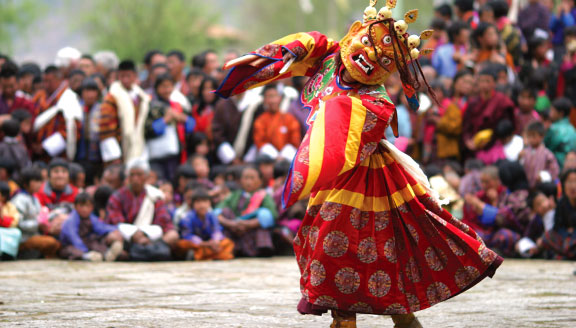 Enjoy the colourful pageantry of the masked dances
Almost all Tsechus involve colourful costume, lively masked dances and elaborate rituals performed by monks or local villagers.
The dancers are accompanied by music played on traditional instruments. Each dance usually tells a story about important events in the life of Guru Rimpoche during the 8th century, and brings blessings to onlookers, while instructing them about the Buddhist Dharma.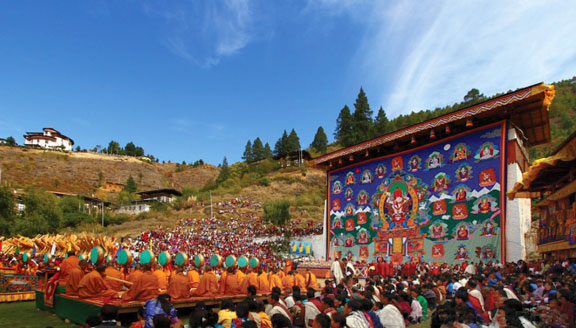 View ancient rituals and blessing ceremonies
Although colourful and energetic, Tsechus are very spiritual occasions held in temples, monasteries and dzongs across the country.
In Bhutan, i
t is believed that everyone must attend a Tsechu and witness its mask dances at least once in order to be blessed and cleansed of their sins.
People come from all over the country to receive blessings from monks in these special ceremonies. Festivals take place throughout the year in almost every district.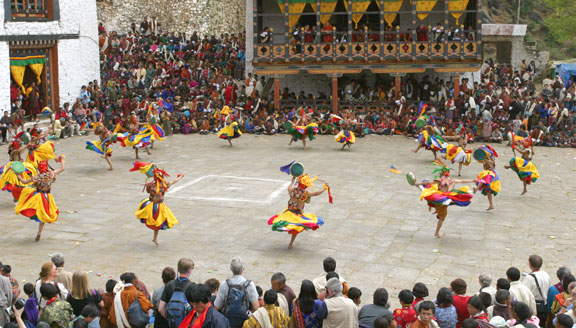 Immerse yourself in the festive atmosphere of villages
Villages come alive during Tsechus with local people congregating in town to join in a great celebration of faith.
Villagers congregate in town to enjoy the pomp and pageantry of ceremonies, share traditional foods and drink local rice wine called 'Ara'. Although deeply religious, festivals are full of noise and colour – a chance for locals to show off their best clothes and take a break from the daily grind. It is also an opportunity for foreigners to experience Bhutan's unique living culture first hand.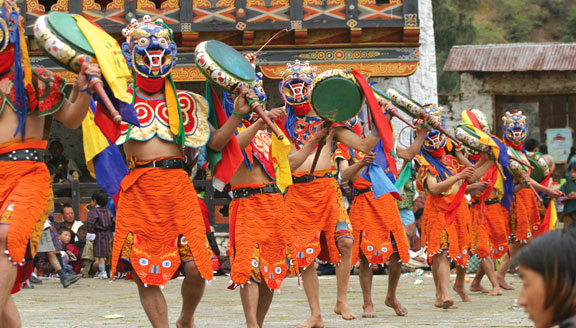 Listen to ancient Buddhist chants and music
Step inside Bhutan's monasteries and dzongs during a festival to hear age-old traditional chants and music.
It is a privilege to hear these performces by monks in ceremonial masks and colourful costumes. This is a rare opportunity to experience the mysticism, customs and religious ceremonies of Bhutan's living culture unchanged for centuries. The deep drone of horns, thud of ancient drums, ringing of bells and resonant chanting can often be heard across the valley from where the Tsechu is taking place.
Bhutan Itineraries
We have a unique selection of suggested Bhutan festival tours designed to help you discover the unique spirit of this Himalayan kingdom. All of our tours are completely tailor made featuring a range of accommodation styles customised to suit our clients interests, budget, and timeframe. To find out more about the type of Bhutan tour we can put together for you, please download pages below. If these departure dates do not suit you, please contact us as festivals are held through the year in almost every district of Bhutan.