The Ross Sea region of Antarctica is one of the most remote places on Planet Earth
Departing ex Queenstown aboard the superb Heritage Adventurer – a pioneering expedition vessel – this remarkable itinerary explores several of New Zealand's wild and beautiful sub-Antarctic Islands before reaching the remote Ross Sea section of Antarctica. 
With shipping restricted by impenetrable pack ice to just two brief months each austral summer, few people have ever visited this strange and beautiful territory. Therefore, opportunities for non-scientific personnel are limited to just a handful of expedition ships. Set sail aboard the Heritage Adventurer, a 140-passenger vessel with the highest ice-class rating (1A Super) and crewed by some of the most experienced officers and sailors in the world.
*Valid for select travel dates only. Prices based on Superior Deck 4 cabin twin share.
Strictly subject to availability. Single travellers on request. Conditions apply.
Sub-Antarctic Islands
The islands offer a wealth of natural biodiversity and are an important wildlife refuge, home to fascinating wildlife and birdlife such as albatross, penguins, petrels, sea lions, and fur seals, as well as plenty of endemic plant species.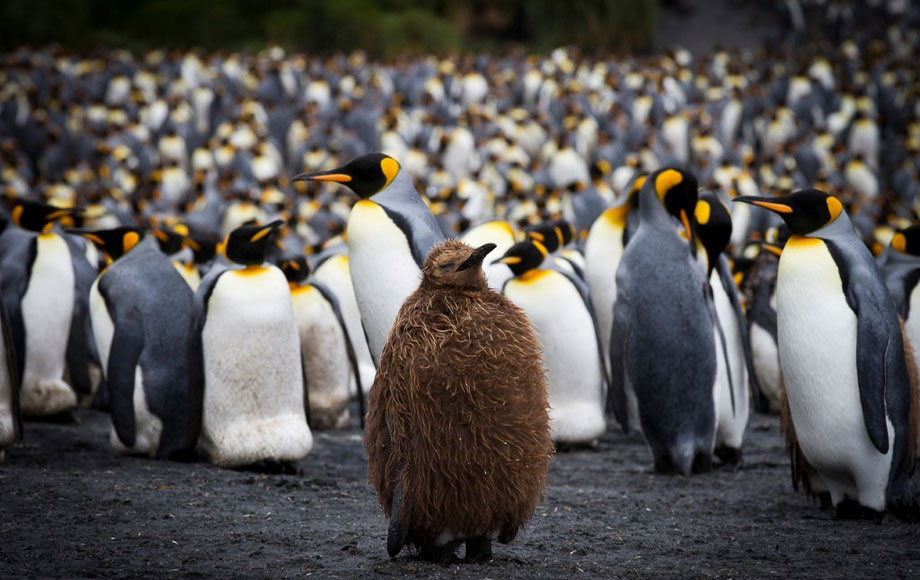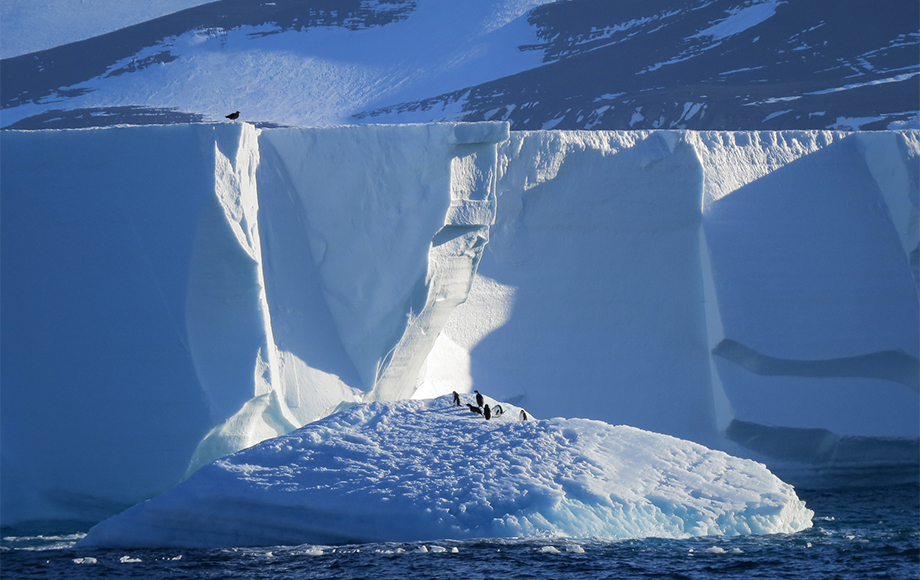 Ross Sea section of Antarctica
Further south, follow in the footsteps of legendary explorers such as Ernest Shackleton and Robert Scott as you head to the magnificent Ross Sea – one of the most remote places on the planet. Due to the impenetrable pack ice, expedition vessels can only visit during two brief months each austral summer. You will have the chance to witness spectacular scenery, explore penguin rookeries and even visit scientific bases or perhaps Robert Scott's hut erected in 1911.
Tour Details
Pre/post cruise transfers (to/from vessel)
1 night at select Queenstown hotel (twin share)
All onboard ship accommodation
All expedition shore excursions
Landing fees
Meals as specified in the itinerary
International/domestic flights
Travel insurance and any applicable visas
All items of a personal nature
Laundry
Drinks
Gratuities
Experience true polar travel on the Heritage Adventurer
Explore beautiful sub-Antarctic islands including Macquarie and Campbell islands
Witness astonishing scenery and awe-inspiring mountain ranges
Spot an impressive variety of birdlife
Walk amongst vast penguin colonies and lazy seals
Marvel at the wonders of the Ross Sea
Enjoy a chance to visit a remote Scientific Research Station
Located on New Zealand's South Island, Queenstown is often called "The Adventure Capital of the World". There are plenty of direct flights from many Australian cities, as well as connecting flights to other New Zealand hubs including Auckland and Wellington. From Queenstown to the vessel's departure point, Bluff, is approximately 213 kilometres (2h 36 minutes) by coach transfer.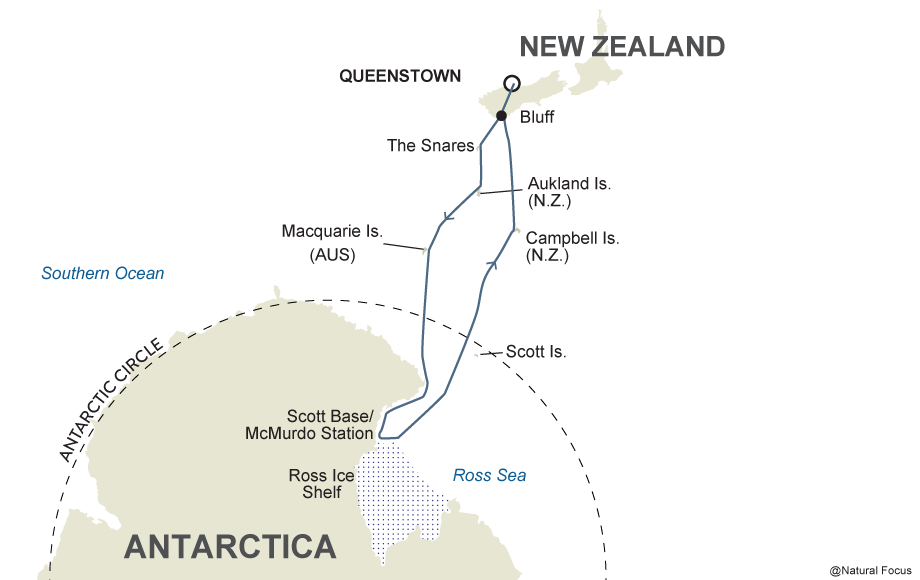 In the Wake of Scott and Shackleton
28 days/27 nights
ex Queenstown (New Zealand)
Day 1
Queenstown
On arrival in Queenstown please make your own way to your hotel (TBC). You will have time to get a few last-minute items for your trip and explore the famous alpine town at your leisure. Tonight, get to know your fellow travellers over dinner. D
DAY 2
Port of Bluff
This morning enjoy breakfast at the hotel before having a chance to explore some of the local attractions. Return to the hotel for lunch before heading to the Port of Bluff to board your ship. You will have a chance to settle into your cabin and join your expedition team and the captain for a welcome on board. B L D
DAY 3
The Snares – North East Island
It is claimed that The Snares are home to more nesting seabirds than all of the British Isles put together. Today cruise the coastline aboard a Zodiac (motorised dinghy) and learn how the islands got their name. In the sheltered bays you may see the endemic Snares Crested Penguin, the Cape Petrel and Buller's Albatross nesting on the imposing cliffs. B L D
DAY 4
Auckland Islands – Enderby Island
The beautiful Auckland Islands are made up of a number of small islands, the largest being Auckland Island (Motu Maha), and are characterised by towering cliffs and rugged sea stacks. Spend the day ashore on Enderby Island – the northern-most island – which is also perhaps, the most beautiful of all the sub-Antarctic Islands. Today's planned landing spot is Sandy Bay, a breeding spot for the New Zealand (or Hooker's) Sea Lion. There are a few different walking options to enjoy or perhaps just sit and enjoy the wildlife. Birdlife you might see here include species such as the Southern Royal Albatross, Northern Giant Petrel or the Auckland Island Flightless Teal. B L D
DAY 5
At Sea
Though today you will not get a chance to wander the beaches of a remote island, a day at sea is never wasted. Enjoy a host of informal lectures presented by naturalists onboard on topics including the biology and history of these islands or the Southern Ocean. Don't forget to keep an eye out for seabirds, this particular stretch of ocean is very productive, and a variety of species can be seen including five or six kinds of albatross and numerous species of petrel. B L D
DAYS 6/7
Macquarie Island
A remote, rocky outpost, Macquarie Island endures roaring winds, but that doesn't stop this island from supporting one of the highest concentrations of wildlife in the Southern Hemisphere. The island is home to four species of penguin: King, Royal, Rockhopper and Gentoo, as well as hundreds of Southern Elephant Seals along its beaches. There are a few planned excursions, including Sandy Bay, home to a Royal Penguin Rookery, and Buckles Bay, where you may get to meet with the Park Rangers and visit the Australian Antarctic Base. A Zodiac excursion in Lusitania Bay is also possible, the site of a noisy and spectacular King Penguin rookery. B L D
DAYS 8-10
At Sea
Continue heading south through the Southern Ocean towards Antarctica. Over the next few days lectures concentrate on the Ross Sea region. As the vessel heads further south, you will begin to see drifting icebergs appear before passing into the Antarctic Circle and into the continent's realm of 24-hour daylight. B L D
Your Vessel
Heritage Adventurer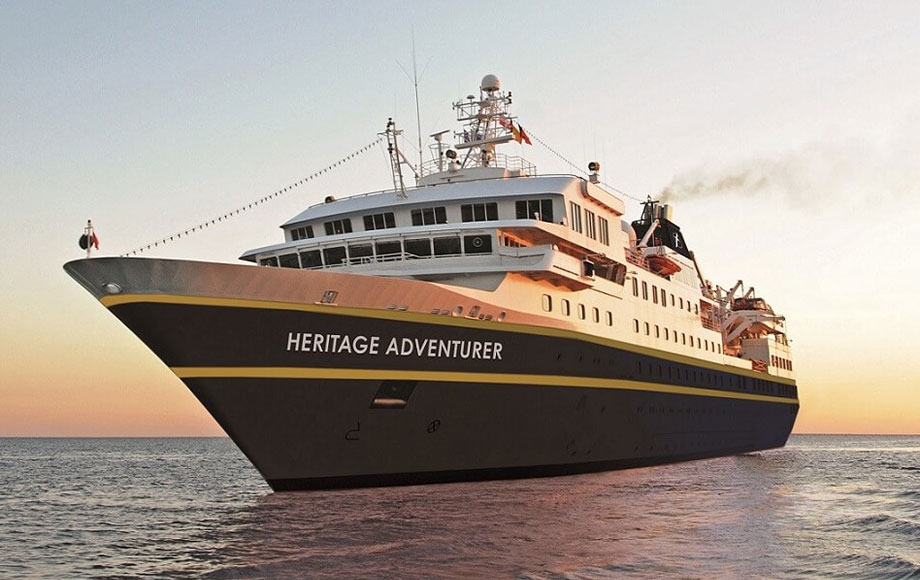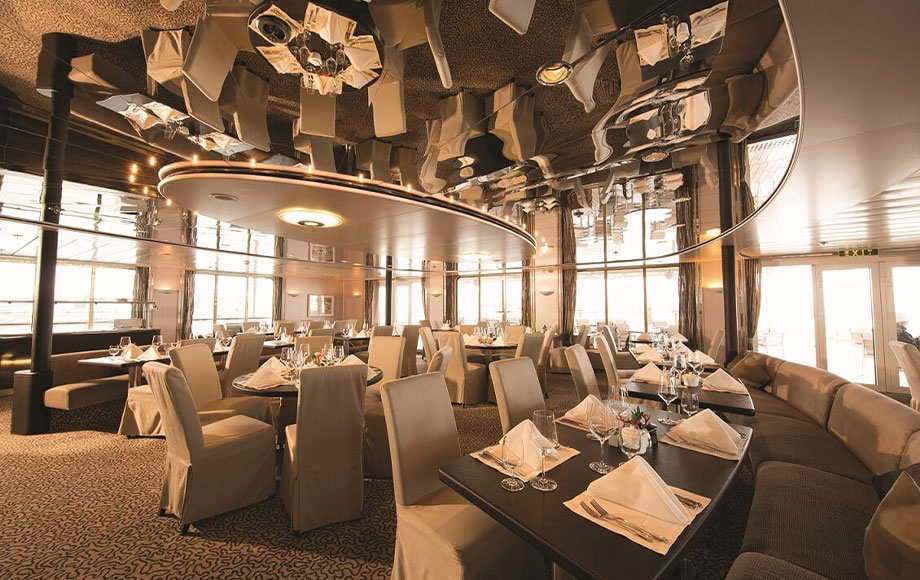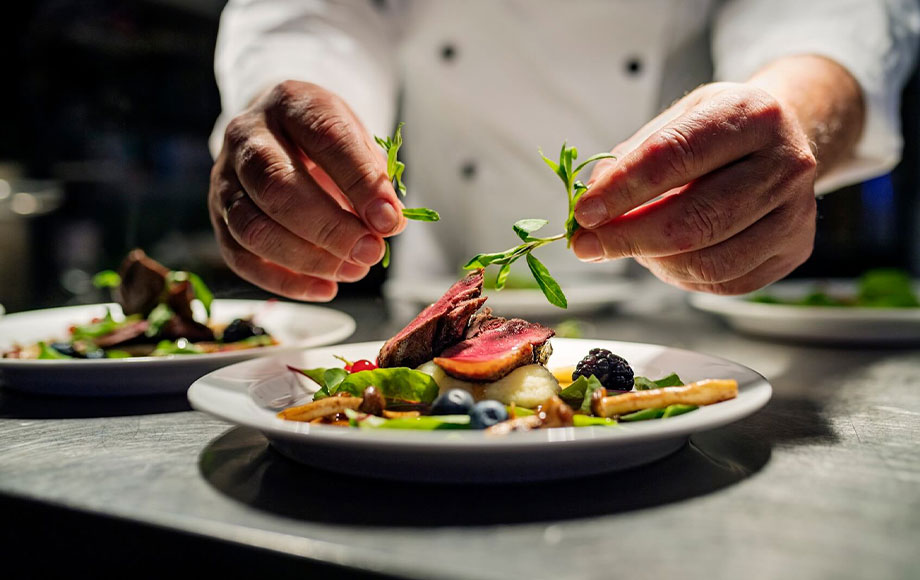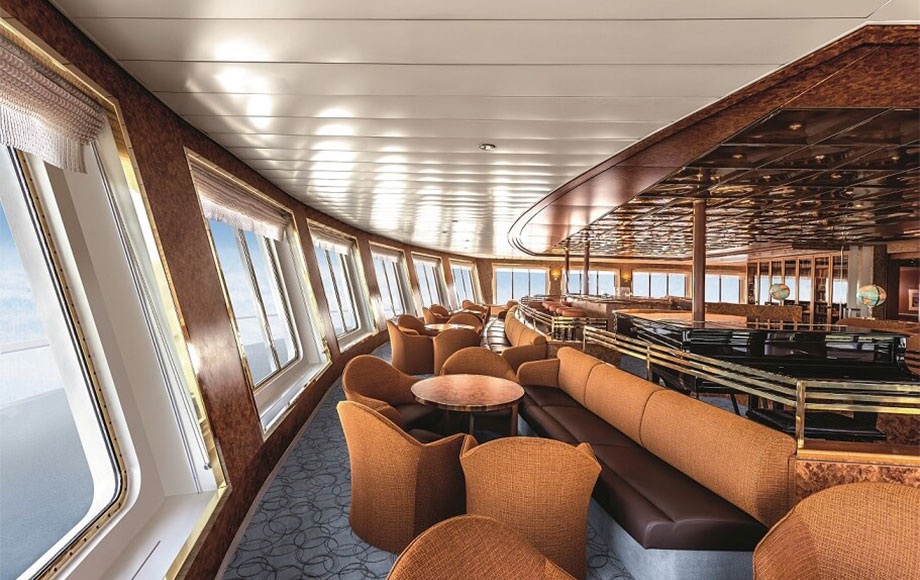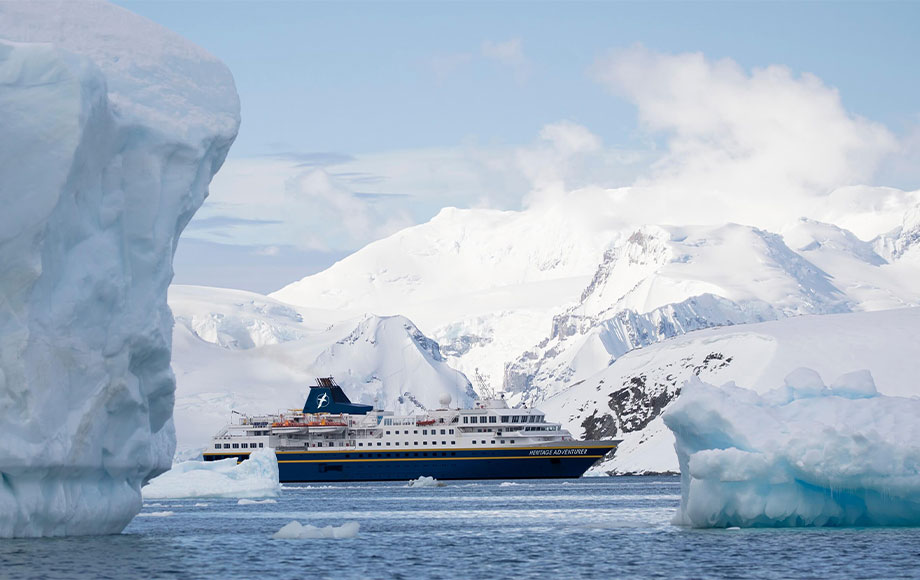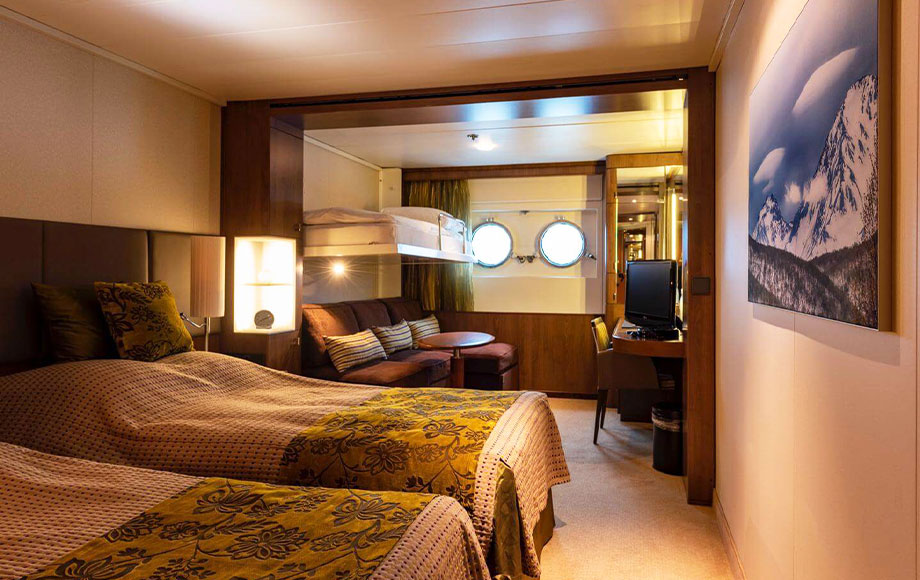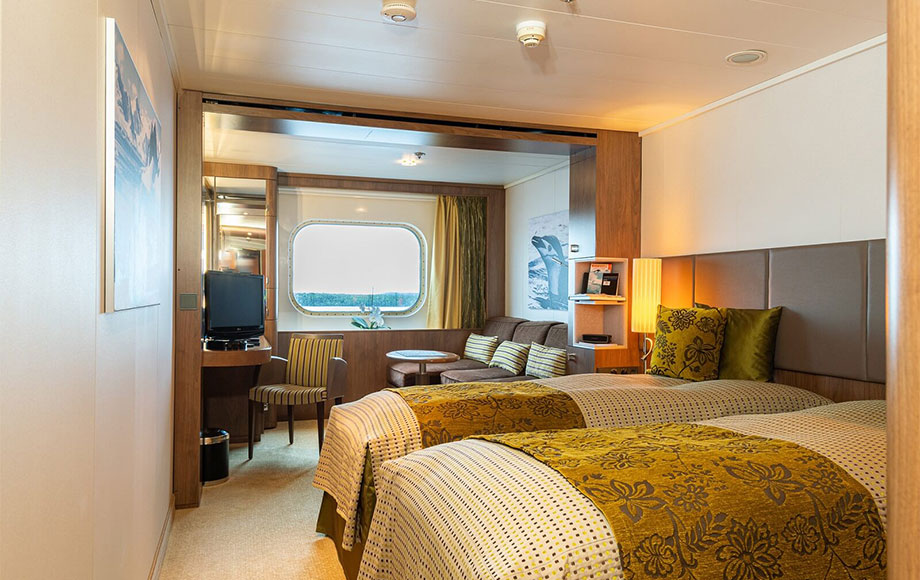 Built in 1991 for Polar expedition travel, the Heritage Adventurer (formerly the MS Hanseatic) holds the highest passenger-ship ice-class rating (1A Super). Originally designed to accommodate 184 guests, this world-class polar pioneer now welcomes just 140 passengers, creating a more spacious, comfortable and personalised onboard experience. Facilities include superb indoor and outdoor viewing locations including the Observation Lounge (with 270-degree views), a library, pool, gym, hot tub and steam room. Guests can relax in their comfortable cabins that span 4 decks or meet up with fellow guests in the café or bar. Accompanying each voyage is a world-renowned team of naturalists, botanists, historians and experts as well as a fleet of 14 Zodiacs. The vessel also has an Open Bridge Policy.
Classification: Lloyds 1AS, GL E4
Year built: 1991
Accommodation: 140 guests
Shipyard: Rauma, Finland
Engines: 3,940 horsepower (x2)
Maximum speed: 15 knots
Cruising speed: 12 knots
Range: 8,600 nautical miles
Gross Tonnage: 8,378gt
Length: 124 metres
Zodiacs: 14