Nestled in hills to the south of the Ngorongoro Crater
One of the premier lodges surrounding Tanzania's Ngorongoro Crater, The Manor is located on a 6km² Arabica coffee estate.
Reminiscent of an elegant up-country farmhouse this beautiful manor is one of the first safari lodges of its kind to blend beautiful old-world Cape Dutch architecture with renowned East African hospitality. For guests wanting to explore the Ngorongoro Crater, The Manor is within easy reach of this real life "Garden of Eden". Set on 6km² of beautiful gardens, its intimate and elegant accommodations take in the natural beauty of its surrounding verdant hills.
Adjacent to the Ngorongoro Conservation Area, The Manor offers guests accommodation in 9 elegant cottages – comprising 18 suites – including a family cottage. The 18 Manor Suites mirror the same traditional Cape Dutch architecture as the Main House and have their own private entrances as well as a private terrace. The rooms are spacious and feature a King-sized bed and a beautiful lounge area separated by a double, open-fronted log fireplace. The interiors are furnished in the same manner with rooms featuring lovely wooden desks, elegant furniture and beautiful hardwood coffee tables. The ensuite bathrooms are fitted with rain showers, Victorian-style claw-footed baths and twin vanity basins. The Family Cottage – also known as the Stable Cottage as it is located at the rear of the stables – is divided into two floors. It has three bedrooms (each with their own ensuite) as well as a lounge and private dining area and TV playroom.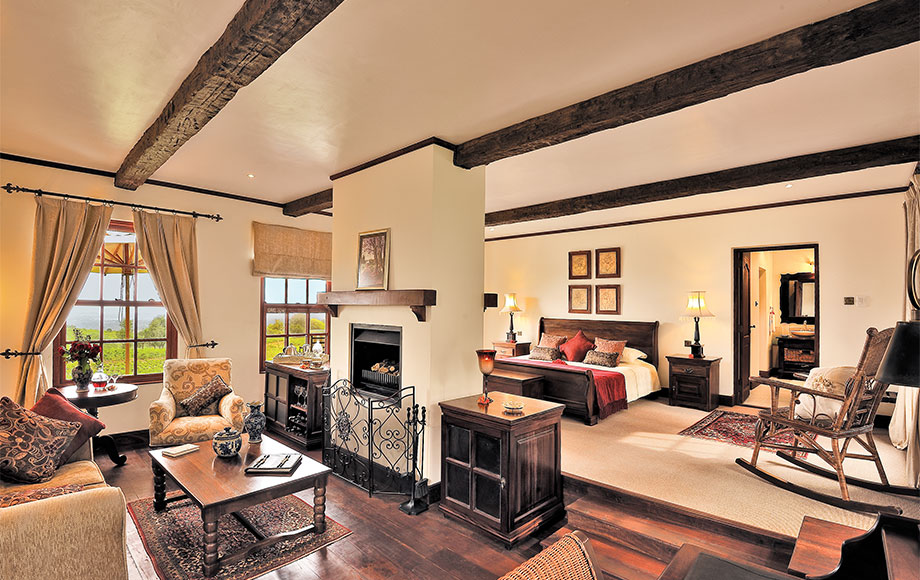 A Grand Entrance
From the moment you enter The Manor's grand entrance hall you will be impressed by its scale and grandeur. The high ceilings feature high wooden beams and large double doors at each end. Off to the sides are the elegant lounge room and dining room. The lounge room and connecting bar are furnished with large comfortable couches and features a grand piano near the bar. The Dining Room boasts plush, high-backed chairs with large French windows opening out onto the terrace. Downstairs, guests will find a full-size billiards table, a cinema room and a large wooden dining table that is often used for private dinners or wine tastings.
Activities
Activities centre around a day's adventure in the renowned Ngorongoro Crater, however, there are several other options available at The Manor Ngorongoro Crater. Guests can go horse riding around the estate, enjoy picnics in the gardens, visit nearby Olduvai Gorge, take a guided nature walk or coffee tour, play a game of croquet on the lawn or enjoy a game drive in nearby by Lake Manyara National Park, home to wildlife including buffalo, hippo, impalas and wildebeest. There are also plenty of activities for children, including pony rides and activity books.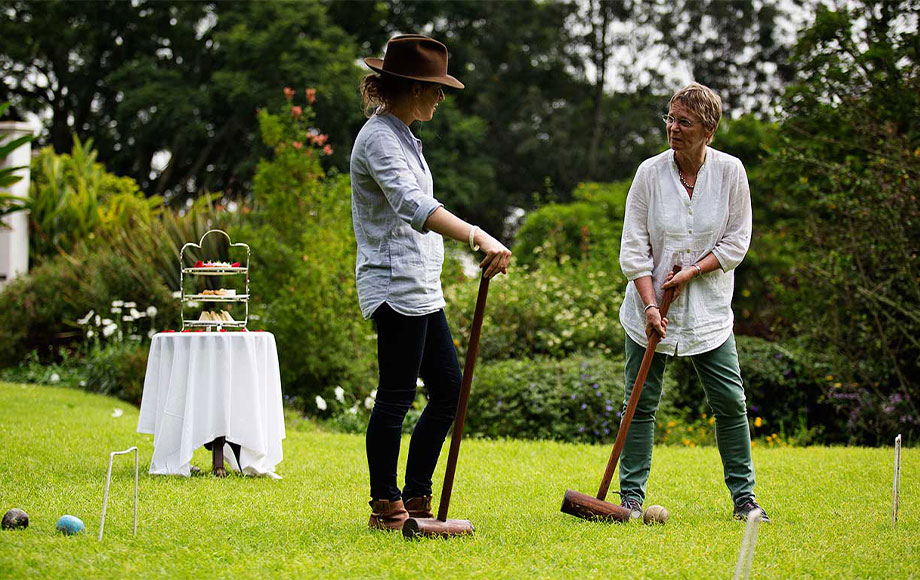 Highlights
A premier lodge near to Tanzania's renowned Ngorongoro Crater
A beautiful, old Cape Dutch farmhouse
Situated amid 6km² of beautiful gardens with sensational views
Superb interiors including the lounge, bar and dining room
Plenty of family-friendly activities from croquet and pony rides to activity books
Game drives with the Ngorongoro Crater and Lake Manyara National Park
Peaceful outdoor swimming pool
Billiards table and cinema room
Facilities
18 elegant Manor Suites as well as a Family Suite
Beautiful lounge and bar fitted with a grand piano
Dining room and outdoor terrace
Billiards table
Cinema room
Swimming pool set within a walled garden
King-sized or twin beds
En suite bathroom with rain shower and claw-footed bathtubs
Specially blended fragranced soap, shampoo and conditioner
Complimentary bottles of mineral water
Bathrobes and slippers Tea and coffee making facilities
Writing desks
Activities
Game drives within the Ngorongoro Crater
Game drives to Lake Manyara National Park
Explore the renowned Olduvai Gorge – known as "the Cradle of Mankind"
Guided nature walks and coffee tours
Pony and horse riding
Croquet equipment
* Some activities at extra cost
Getting there
Guests are able to transfer to The Manor at Ngorongoro by road from Arusha (around 2 hours 45 minutes) or Kilimanjaro Airport (3 hours 45 minutes). Alternatively, they can fly to Manyara Airstrip, which is just 40 minutes' drive to the lodge.
Be inspired
Our Best Tanzania Safaris
The following tours are private, independent and can be easily customised to suit your personal travelling requirements. Please contact us to begin designing your personalised Tanzania experience.
Explore the antiquities of Africa on this 16 day tour to Tanzania and Egypt. Explore the Pyramids of Giza and Marvel at the mighty Shypnx
Accommodation in the Ngorongoro Crater and Karatu regions
Below are some of our preferred tented camps and safari lodges in the Ngorongoro Crater and Karatu regions. Please contact us to tailor accommodation options to suit the style of your trip and your budget.
Gibb's Farm is a former colonial homestead comprising of a central farmhouse and 17 charming guest cottages located in Karatu, a lush area of flower farms and coffee plantations.
Nestled in 50 acres of pristine bush just 5 minutes' from the Crater entrance, Neptune Ngorongoro Luxury Lodge comprises of 20 standalone, sumptuously appointed guest cottages.
Exclusive Kitela Lodge overlooks the eastern wall of the Ngorongoro Crater, lush coffee plantations and a cascading waterfall. Guests are accommodated in 20 beautiful romantic suites.
Featuring 52 beautiful ensuite rooms, Ngorongoro Farm House is reminiscent of an old colonial homestead with its tasteful decor, thatched roofs and tranquil flower gardens.
Clinging to the edge of the rim, the exquisite Ngorongoro Crater Lodge is like something out of a fantasy. The property is renowned for its unique design and high standards of service.
Perched on the rim of the caldera, Ngorongoro Serena Lodge features 75 comfortable guest rooms built with local stone, each featuring uninterrupted views over the Ngorongoro Crater.
Lemala Ngorongoro Tented Camp is set in ancient forest on the Ngorongoro Crater rim, and provides guests with privileged access to the game-rich crater floor.
Ngorongoro Sopa Lodge sits on the highest point of the Ngorongoro Crater rim. Themed around traditionally circular African houses with conical roofs, it features 97 comfortable rooms all with a view.
Located the slopes of the Olmoti Volcano to the north of the Ngorongoro Crater, the Highlands Ngorongoro offers guests an exclusive wilderness experience with all the trimmings of a premium
Entamanu Ngorongoro is located high on the caldera rim offers views of sunrise over the Ngorongoro Crater and sunset over the Serengeti plains. There are just 6 stunning canvas guest tents
Nestled in hills to the south of the Ngorongoro Crater lies The Manor at Ngorongoro masterfully blends old-world Afro-European grandeur and service with modern-day East African style and hospitality.
Situated on one of Tanzania's largest coffee plantations, Arusha Coffee Lodge is the perfect haven for before or after an exciting safari
JOIN OUR
E-Newsletter
Sign up to receive updates about exciting journeys, special offers and more