Discover the wonders of Aoraki/Mount Cook National Park staying at The Hermitage Hotel
Standing at 3,724 metres (12,218 feet) Aoraki/Mount Cook is New Zealand's highest mountain. The national park is home to awe-inspiring scenery including glacial lakes and icebergs to towering mountains and grassy valleys. The Hermitage Hotel offers visitors everything from excellent accommodation and exciting adventures to fascinating insights into the country's history at the Sir Edmund Hilary Alpine Centre. The centre also has a 360° Digital Dome Planetarium that opens your eyes to the night sky like never before.
The hotel has a plethora of accommodation options including hotel rooms and suites consisting of numerous configurations that suit all guests. Each room or suite is fitted with King or Queen beds, ensuite bathrooms, tea & coffee making facilities, air-conditioning, and views of Mount Cook.
There is no shortage of dining options either with 4 restaurants as well as a comfortable lounge and a bar that open from 4pm until late. The Panorama Room provides guests with an intimate dining experience and offers an evolving à la carte menu of delicious New Zealand cuisine.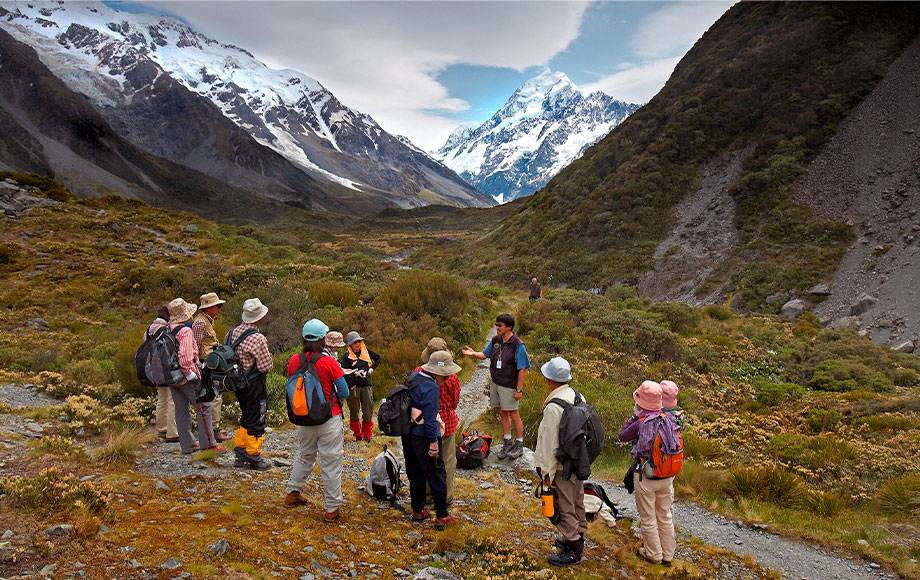 Discover the surrounding area
Guests at The Hermitage Hotel are free to explore the surrounding wilderness at their own pace. There are plenty of beautiful walking tracks and cycling trails to explore – full or half day bike hire is available – and the region is fast becoming very popular amongst cycling enthusiasts. A highlight of the Aoraki/Mount Cook National Park is a tour of the country's largest glacier – the Tasman Glacier, surrounded by snow-capped mountains. Guests can also explore the national park from the air on a scenic flight, skiplane, helicopter or alternatively, on a 4WD overland adventure.
Sir Edmund Hilary Alpine Centre
Paying tribute to the legendary New Zealand explorer and mountaineer, the centre is a must-visit when staying at The Hermitage Hotel. Showcasing the history of the region through transport and climbing, the centre houses several fascinating displays as well as a 126-seat theatre and a 360° Digital Dome Planetarium. One of only six planetariums in New Zealand, explore our galaxy and discover the far reaches of the known universe.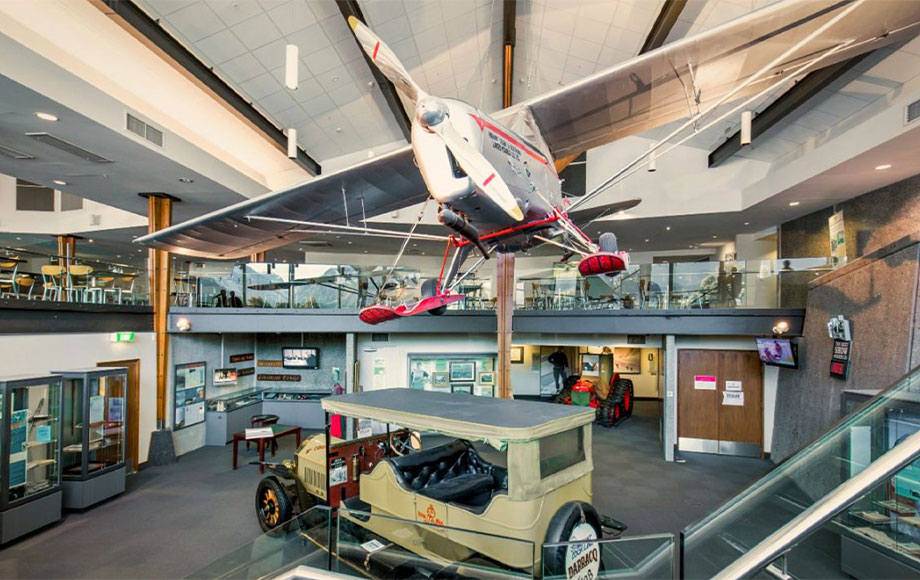 Accommodation Details
A plethora of comfortable accommodation options
Four restaurants offering guests plenty of dining choices
Snowline lounge and bar offering signature cocktails
Sir Edmund Hilary Alpine Centre
360° Digital Dome Planetarium
3D Theatre
Explore the beauty of Aoraki/Mount Cook National Park
Sensational walking and cycling trails to explore
Explore New Zealand's largest glacier – Tasman Glacier
Sir Edmund Hilary Alpine Centre
360° Digital Dome Planetarium
Discover beautiful walking trails
Bike hire*
Glacier Exploration tour*
Aoraki/Mount Cook National Park 4WD Tour*
Sir Edmund Hilary Centre and Planetarium*
Scenic flights, glacier and heli-skiing*
*At extra cost
The Hermitage Hotel is located in the Aoraki/Mount Cook National Park, roughly halfway between Christchurch and Queenstown. The hotel is at the very end of Mount Cook Road – a scenic drive alongside Lake Pukaki – and 55 kilometres from the closest major road, State Highway 8. From Christchurch its approximately a 4 hour drive (330 kilometres) and from Queenstown approximately 3 hours and 10 minutes (263 kilometres).
More South Island Accommodation
Below is a range of suggested hotels in the South Island of New Zealand. Please contact us for availability.
Located in the heart of Christchurch overlooking beautiful Hagley Park, The George offers superb accommodation and impeccable service
Recommended New Zealand Tours
A personalised itinerary takes into account your individual travel style, budget and special interests. To get you started on deciding what you may want to do and see in New Zealand, we have compiled a range of suggested itineraries and inspirations in case you are travelling as a family, on a honeymoon or enjoy more physical activity. Below are some of our most popular sample tour in New Zealand.
Explore New Zealand's remarkable Fiordland National Park in style aboard the 18-passanger Heritage Explorer
Explore some the South Island's most inspiring landscapes staying at a range of beautiful lodges
Explore the highlights of Aotearoa/New Zealand on this 15-day semi-circumnavigation, exploring it's three main islands
Explore the South Island's Queen Charlotte Sound and the West Coast's scenic Franz Josef/Waiau, staying at a range of beautiful lodges.
JOIN OUR
E-Newsletter
Sign up to receive updates about exciting journeys, special offers and more