Pure luxury in the northern-most reaches of the Great Barrier Reef
This remarkable resort is a member of the country's most distinguished hotel group – Luxury Lodges of Australia. Located 240 kilometres north of Cairns (1 hour flight), the lodge is one of the most secluded properties in Australia. The island boasts 24 picture-perfect white beaches, and sits within the Lizard Island National Park comprising Lizard, Osprey, Palfrey and South islands.
The lodge itself consists of 40 luxury suites, a relaxing day spa, a superb restaurant and two bars. There are several categories of rooms and suites, but all offer easy access to the beach, king beds (or king singles), ensuite bathrooms, outdoor decks and a comfortable lounge area. For guests looking for the ultimate in relaxation and seclusion, the Oceanview Plunge Pool Villas offer the addition of a private plunge pool with a view.
There are a host of water and land-based activities available at Lizard Island, including nature walks, scuba diving, snorkelling as well as access to paddle boards, motorised dinghies and glass bottomed sea kayaks. Guests can also explore the Lizard Island Research Station, or pay a visit to the Essentia Day Spa that offers a range of relaxing and rejuvenating treatments.
The resorts main dining room, Salt Water Restaurant, takes advantage of the sensational ocean views whilst serving a selection of superb dishes inspired from the island's surrounds. Dining here is just the tip of the iceberg, as Lizard Island offers a selection of unique dining experiences.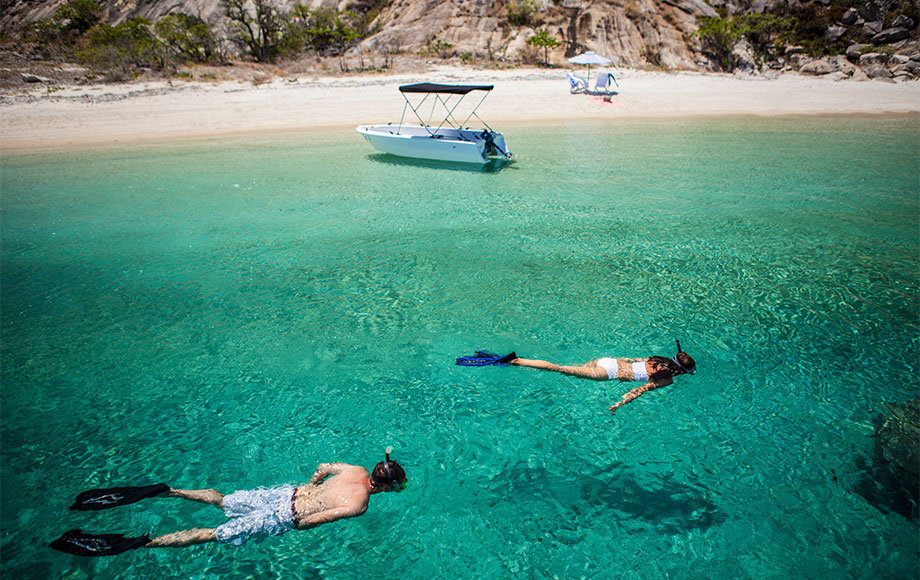 Private Beach Excursions
A speciality of Lizard Island is their exclusive private beach excursions – something not to be missed! Select a refreshment pack the night before and simply take a private dinghy out to a beach of your choice. Included in your stay, this signature experience just needs to be organised with 24 hours' notice.  
Beachside Degustation*
An even more exclusive opportunity is a beachside degustation in one of the two private beach pavilions situated on Anchor Bay. Enjoy a 7-course degustation menu with accompanied wines whilst enjoying the breathtaking sunsets in this part of the world.
*Strictly subject to availability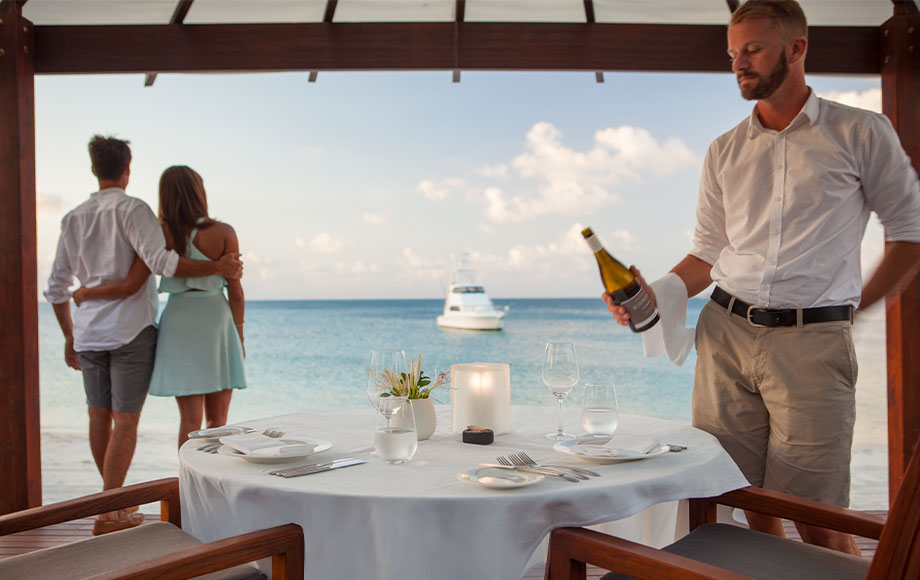 Accommodation Details
40 luxurious rooms and suites
Salt Water Restaurant
Driftwood Bar & Marlin Bar
Essential Day Spa
Paddleboards
Motorised dinghies
Glass bottom sea kayaks
Nature Walks
Paddleboards
Motorised dinghies
Glass bottom sea kayaks
Beachside Degustation
Private Beach Excursions
Lizard Island Research Station
Scuba diving
Fishing
Snorkelling
*At extra cost
The northern most resort of the Great Barrier Reef
One of Australia's most luxurious lodges
Take a picnic and explore a pristine beach all to yourself
Explore the surrounding reef by paddle board or motorised dinghy
Spot a myriad of marine species in a glass bottom sea kayak
Enjoy mouthwatering cuisine at Salt Water Restaurant
Don't miss out on a private beachside degustation
Lizard Island is only accessible by a scenic charter flight from the Far North Queensland town of Cairns.
Cairns is serviced by carriers Jetstar, Qantas and Virgin Australia. There are direct flights available between most of Australia's major cities including Melbourne, Sydney, Adelaide, Brisbane and Perth.
Accommodation in Tropical North Queensland
Below are some of our most popular places to stay in Tropical North Queensland. Please contact us for more information.
A little piece of paradise, Thala Beach is a private nature reserve and eco resort on the doorstep to the Great Barrier Reef.
Queensland Itineraries
Below are some of our most popular tours around Queensland. Please contact us for more information.
Take in the tranquillity of Queensland's Scenic Rim on this moderately challenging 6 day accommodated walking adventure.
JOIN OUR
E-Newsletter
Sign up to receive updates about exciting journeys, special offers and more