Experience the ancient Flinders Ranges from the comforts of a luxury homestead
Starting in the South Australian capital Adelaide, this exciting new lodge-based walk explores the remarkable Flinders Ranges from the comforts of the elegant Arkaba Homestead – a member of the esteemed Luxury Lodges of Australia collection.
Enjoy two nights in Adelaide at the either the Mayfair Hotel or Adabco Boutique Hotel exploring the city and its surrounds before heading to the remote Arkaba Homestead.  Spend 4 nights at the delightful homestead staying in a beautifully restored 19th century guest room. Each day, guests will go out on guided walks exploring different part of the conservancy accompanied by an expert guide, before returning for a superb dinner and peaceful nights sleep. The historic homestead offers complete comfort and guests can enjoy outstanding South-Australian inspired food and wine.
The Arkaba Lodge-Based Walk provides a close-up view of South Australia's prolific wildlife without compromising on comfort and can be easily incorporated into your travel itinerary.
Tour Details
2 nights accommodation in Adelaide

4 nights at the renowned Arkaba Homestead

Guided lay of the land safari experience

Meals (including trail snacks) as specified in the itinerary

Return road transfers ex Adelaide

Backpack with hydration reservoir & plenty of room for personal items

 

Select hiking gear

National Park entry fees

 

Arkaba Conservation Levy
An intimate journey into the South Australian outback
Visit a wonderful private wildlife conservancy
See impressive Wilpena Pound
Enjoy four nights in a beautiful heritage homestead
Carry nothing more than a day pack each day
Gourmet meals and premium beverages throughout
Inspiring scenery amid pristine wilderness
Plentiful native wildlife including kangaroos and wallabies
Discover the city and beachside suburbs of Adelaide
Stay two nights at either the Mayfair hotel or Adabco Boutique Hotel
Adelaide city centre is conveniently just 6 kilometres from Adelaide Airport. The airport is serviced by regular flights from all major cities in Australia. Regular flights also arrive from destinations including Doha, Singapore and Hong Kong. The Arkaba Lodge-Based Walk commences from Arkaba Homestead, approximately 400 kilometres north of Adelaide. It is possible to self-drive or alternatively, arrange transfers from Adelaide/Adelaide airport to the homestead. Please contact our Desitnation Specialists on 1300 363 302 for more details.
The Barossa Valley is the perfect spot to relax after your walking tour, providing the opportunity to taste world-renowned wines at their source. You could also continue south to magnificent Kangaroo Island while Victoria's mountainous, wildlife rich Grampians provide an excellent stop en route if self-driving to Melbourne.
Arkaba Lodge Based Walk
7 days/6 nights
---
Days 1-2
Adelaide
Your South Australian guided walking adventure begins with a short stay in Adelaide. The city centre is surrounded by parklands, whilst there are a number of peaceful beachside suburbs to explore boasting a superb cafe and restaurant scene. Enjoy two nights at either the Mayfair Hotel or Adabco Boutique Hotel in central Adelaide.
Day 3
Arkaba
Transfer this morning from Adelaide to Arkaba Homestead, enjoying lunch enroute. Arriving in the late afternoon the staff will welcome you and provide a short orientation before an afternoon guided safari experience on the conservancy. Explore the rolling hills, gorges and valleys as guides explain the geology and history of the area. Cap off your first afternoon with a sundowner atop the ranges with views that emphasis the scale and grandeur of the South Australian outback. Return to the homestead for dinner and relax and revel in the atmosphere of an outback safari. L D
Day 4
Arkaba Creek
(Walking distance approx. 13-15km/5-6h)
This morning enjoy breakfast before a briefing on today's walk along Arkaba Creek. A picturesque walk, the creek is lined by River Red Gums that provide plenty of shade. Keep an eye out for birds including galahs, parrots and several species of honeyeaters that may be sitting in the canopy. The latter section of the walk will pass through undulating hills, acacia flats and open ridgelines as you head towards the Elder Range. There are spectacular views of the surrounding ranges as you enjoy afternoon tea, and you may spot species including emu and red kangaroo. The day ends with a 3-kilometre climb over Arkaba Hill before the path descends back to the Arkaba Homestead. Depending on the time of year, take a dip in the pool or relax by the fireplace before dinner. B L D
Day 5
Arkaba Conservancy
(Walking distance approx. 13-15km/5-6h)
This morning's walk begins with a short walk to the historic Arkaba shearing shed. Afterward, the track crosses undulating plains dotted with recovering acacia species and she-oak groves. As you walk, guides will inform you on how Arkaba's conservation programs are helping native species recover, an essential ecological network within the South Australia's Flinders Ranges. Birdlife you may spot along the way include babblers, native pigeons, thornbills and Wedge-tailed Eagles all common sightings. Return to the homestead for a bush-inspired late lunch. The rest of the afternoon is at your leisure. Alternatively, you could enjoy an optional activity, such as a relaxing massage or an exciting scenic flight over the Wilpena Pound. Tonight, enjoy another mouth-watering dinner. B L D
Day 6
Ikara-Flinders Ranges National Park
(Walking distance approx. 10-12km/4-5h)
This morning's breakfast is a little earlier before you head out by 4WD into the breathtaking ranges and valleys of the Ikara-Flinders Ranges National Park. An undoubted highlight is passing the natural amphitheatre of Wilpena Pound – the jewel of the Flinders Ranges. Today's walk is along the Wilcolo Track in the Bunyeroo Valley, travelling through remote sections of the national park. Guests will enjoy views of Wilpena Pound and the Heysen Ranges along the way. The path leads steadily up onto the ABC Range with views that have inspired many artists. There are plenty of chances to see both wildlife and birdlife today. Species you may come across include    the Grey-fronted Honeyeater, Black Kites and small semi-arid dragon species. Keep a keen eye out for the endemic Yellow-footed Rockwallaby as you leave Bunyeroo Gorge. B L D
Day 7
Tour Ends
After one last delicious breakfast depart Arkaba for your transfer back to Adelaide. Arrive in Adelaide in the late afternoon. B L
---
B= Breakfast  |  L = Lunch  |  D = Dinner
Optional Add On:
After a multi-day hike there's no better way to rest and relax than sipping a glass of wine in the countryside. The Louise in the state's renowned Barossa Valley is the ideal spot to explore on the way back to Adelaide after your walk. With just 15 peaceful suites, this intimate property has plenty of quiet spaces. Fill your days visiting boutique winemakers, the Barossa Valley is home to over 80 cellar doors and more than 50 artisan producers. For a relaxing afternoon spend a few hours playing a round or two of boules or try your hand at a game of chess using the giant outdoor board. Boasting an evolving menu using only the freshest produce, no stay is complete without a meal at the highly acclaimed Appellation restaurant.
Arkaba Homestead
A member of the revered Luxury lodges of Australia collection, Arkaba is one of the country's most exclusive outback experiences. Lovingly restored, the original layout of the homestead has been retained and accommodates 10 guests in five beautiful guestrooms. Each guestroom is named after an early settler, explorer or property owner and has its own unique character. Each room has ensuite facilities and opens onto a shaded verandah with superb views of the surrounding ranges. The hand-fashioned décor reflects the homestead's setting, with intricate details such as the recycled fence post bedheads and gumnut tassels that tie back the curtains adding character to each room. Though the rooms do not have Wi-Fi or televisions (which would take away from the incredible natural setting), they do have 21st century comforts including air-conditioning, premium mattresses and hot water showers. The homestead itself has a comfortable library fitted with deep leather armchairs and a large stone fireplace, outdoor terrace used for dining and a sensational swimming pool overlooking the Arkaba Creek.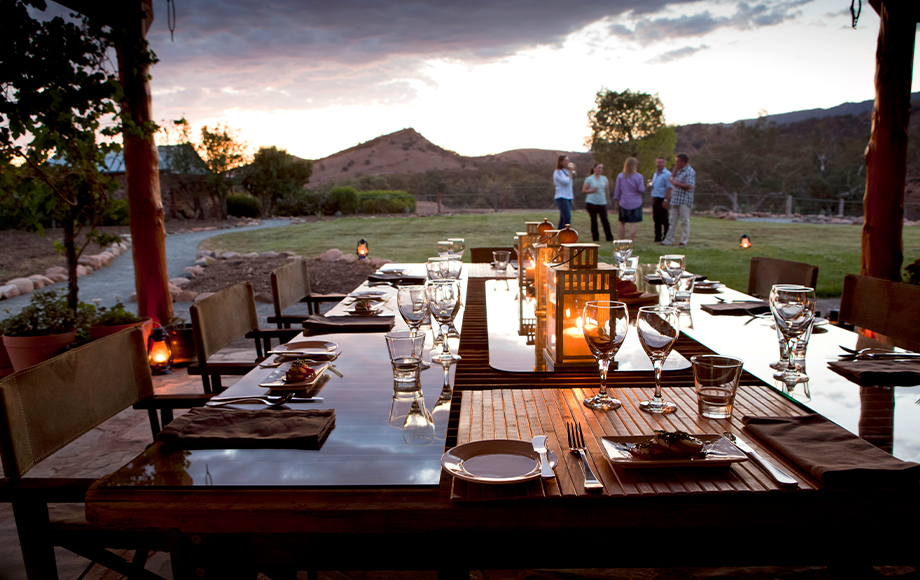 Places to stay in South Australia
Below are some of our most popular places to stay in South Australia. Please contact us for more information.
Some of Australia's best bush walking can be found at historic Arkaba, a 19th century homestead situated in South Australia's remarkable Flinders Ranges.
More Australia Walking Tours
Below are some of our most popular walking tours around Australia. Please contact us for more information.
Experience the Flinders Ranges from the comforts of a luxury homestead, taking in the Australian outback, a private conservancy and wildlife.
Maria Island is a pristine untouched wilderness, home to rare wildlife, fascinating history and crystal-clear waters.
Take in the tranquillity of Queensland's Scenic Rim on this moderately challenging 6 day accommodated walking adventure.
Journey through the Flinders Ranges taking in iconic Australian outback. Stay at Arkaba Homestead, Wilpena Pound, Black's Camp and Elder Camp
JOIN OUR
E-Newsletter
Sign up to receive updates about exciting journeys, special offers and more