Experience some of the world's best polar bear viewing
Experience one of the world's greatest polar bear viewing  on the shores of Hudson Bay in Manitoba in both summer and winter. Each year in the autumn, scores of polar bears gather near Churchill, waiting for the bay to freeze over so that they can venture out onto the ice to hunt seals, their favourite prey. The world's largest carnivore, these magnificent animals can weigh up to 500 kg and stand up to 3 metres tall.
Our polar bear viewing programs allow viewing from specially designed all-terrain vehicles called Tundra Buggies® which permit passengers to watch and photograph the polar bears safely at close quarters. Buggies are heated, have washrooms and opening windows offering exceptional comfort as well as an exceptional view of wildlife in northern Manitoba. The experience aboard is unlike anything you'll find anywhere else.
Gateway to the vast protected tundra of the Churchill Wildlife Management Area
Home to polar bears, Arctic foxes, ptarmigans and other iconic animals
Beautiful wildlife and beluga whales by the thousands in summer
Opportunities to learn about Eskimo culture and dogsledding
Ride the amazing Tundra Buggy across the vast tundra
Polar bear and Arctic wildlife viewing
Wildflowers and beluga whales in summer
Churchill town and area tour
Cultural experiences and dogsledding
Tundra landscape photography
Flights are available from Winnipeg to Churchill.
Organising your polar bear tour
Step 1
Choose your styles of tours
Adventurer
Larger-sized groups
Shorter programs with minimal community activities
Enthusiast
Medium-sized groups
Led by an Interpretive Guide.
History, culture and bear viewing. Activities include dogsledding, museum visits and slide presentations
Specialist
Small-sized groups
Guided by a Photo Specialist
Most amount of time spent on the tundra with polar bears
Step 2
Choose where to stay. We offer visitors two options: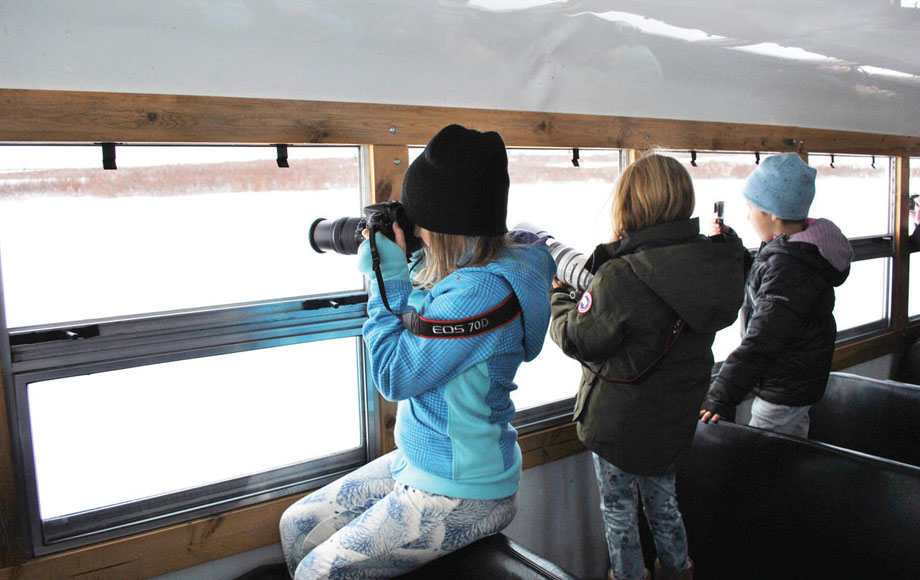 Hotel Based Tour
If you prefer the character and intimacy of a small hotel or want to spend more time exploring the town of Churchill, then the hotel-based option would suit you best. This option still allows you to enjoy the thrill of polar bear-watching aboard the Tundra Buggy by day, without missing out on the comforts of a Churchill-based hotel by night.
---
Day 1
Winnipeg
Arrive Winnipeg and check into an airport hotel.
Days 2-4
Churchill
Early departure to Churchill. You are met on arrival and transferred to your hotel.
Whilst in Churchill, enjoy 2 full day Tundra Buggy excursions including lunch and refreshments, to observe polar bears in their natural environment. Whilst on board, gain an insight into the area's geology and history from your guide. Back in town, there is time to tour Churchill's attractions, try your hand a dogsledding, enjoy a home-cooked meal at one of the many local family-run restaurants or visit the fascinating Eskimo Museum. Enjoy an educational slide presentation and farewell dinner on your final night.
Day 5
Winnipeg
Transfer to the airport for your flight to Winnipeg. Overnight at an airport hotel.
Day 6
Tour ends Winnipeg
Tour ends in the morning.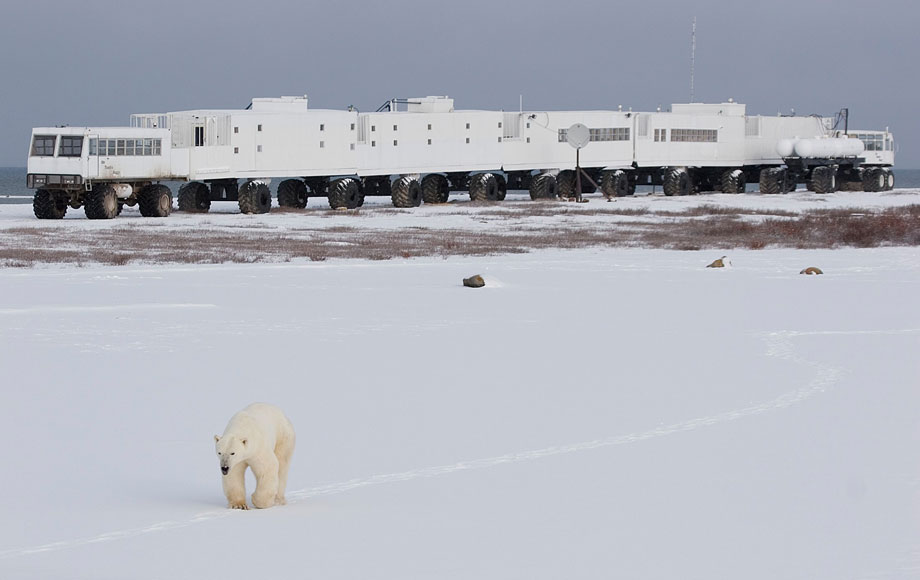 Lodge Based Tour
If you've ever imagined sipping your morning coffee whilst watching polar bears emerge from under a blanket of snow, this option is for you. Eat, sleep and breathe with the polar bears aboard the Tundra Buggy Lodge, essentially a "Lodge-on-Wheels" comprised of five large units linked together. There are two sleeping units with shared sleeping quarters, bathrooms and showers, as well as lounge, kitchen and dining facilities.
---
Day 1
Winnipeg
Arrive Winnipeg and overnight at an airport hotel.
Day 2
Churchill
Early morning flight to Churchill. Depart on a town and area tour visiting the Eskimo Museum. Evening excursion to Parks Canada Interpretive Centre. Overnight Churchill hotel.
Days 3-5
Tundra Buggy Lodge
Afternoon dogsled program before transfer to Tundra Buggy Lodge for 3 nights. Enjoy polar bear viewing for 3 days and search for other wildlife such as Arctic fox and ptarmigan with the help of your knowledgeable guide. The lodge's open air decks offer unrivalled photographic opportunities, while the dining car is where informative presentations take place as wholesome meals are served.
Day 6
Winnipeg
Morning departure to Tundra Buggy launch followed by transfer to the airport for your flight to Winnipeg. Evening at airport hotel.
Day 7
Tour ends Winnipeg
Tour ends in the morning.
Alternative Summer Tour
If you're planning to visit in summer, consider our "Belugas, Bears & Blooms" tour. This 6 day/5 night adventure begins in Winnipeg, where you'll encounter extraordinarily friendly beluga whales by the thousands as you cruise the Churchill River by Zodiac. There's also time to scour the wildflower-carpeted tundra in the vast Churchill Wildlife Management Area on board a custom-designed Tundra Buggy in search of polar bears and other iconic Arctic wildlife including foxes and hares.
Canada Tours & Cruises
Our Canada tours include a range of hotels, wilderness lodges, rail tours, cruises and adventures which can be combined in an itinerary tailor made to suit your interests, style and budget. Choose from one of our featured itineraries or let us tailor make an itinerary to suit your interests, style and budget.
The tiny town of Churchill on the shores of Hudson Bay is the gateway to polar bear viewing in the region. Nicknamed the "Polar Bear Capital of the World" this itinerary see's guests staying at the
The tiny town of Churchill on the shores of Hudson Bay is the gateway to polar bear viewing in the region.
A secluded lodge with a well-established reputation for excellent grizzly bear viewing from special tree stands or by boat depending on the season.
Churchill in Manitoba, Canada offers some of the world's best polar bear viewing experiences in both summer and winter, with travellers given the chance to travel aboard the amazing Tundra Buggy.
There's no better way to experience the majestic Canadian Rockies than aboard the world-renowned Rocky Mountaineer luxury train.
Experience the magic of Canada's Rocky Mountains in winter, travelling by rail and exploring the picturesque alpine towns of Banff, Jasper and Lake Louise on this enchanting Winter Wonderland tour.