In February 2023, Natural Focus copywriter James Cameron journeyed to Chile before making his way down to Antarctica with a friend, travelling aboard Aurora Expeditions' superb expedition vessel the Greg Mortimer. 
James enjoyed 8 full days on the 7th Continent, and witnessed magical scenery, incredible wildlife viewing and even plunged into the clear ice-cold waters. Read below an account of his experiences and discover why Antarctica is not just one of the world's greatest destinations, but one you need on your bucket list for 2023/2024!
If someone had asked me this time last year if I would be standing on the Antarctic continent in 2023 I would've said you're dreaming. Fast forward 12 months and there I was, stepping off our zodiac onto the shore to a cacophony of noise from the resident Gentoo Penguin colony at Yankee Harbour in the South Shetland Islands.
Hearing the scrunching of snow, the rumbling of carving glaciers and smelling the clear, fresh air – admittedly mixed with a strong scent of guano! I stood there for a little while thinking to myself; "Wow!" "This is what travel is all about. This is what we've all been missing over the last 3 years". But I'm getting ahead of myself…
Getting to Antarctica
My journey started a few days earlier in the Chilean port town of Punta Arenas with my friend Spike. The city is the entry point for thousands of travellers each year seeking thrilling life-changing experiences. It is the gateway to Patagonia's legendary Torres Del Paine National Park, as well as the starting point for many "Fly the Drake" Antarctic expeditions.
Flying across the sometimes turbulent waters of the Drake Passage has become increasingly popular in the last 5-10 years. The two main reasons for this is that 1). it saves you time on the 2-day crossing (giving you more time to explore) and 2). reduces the chances of getting sea-sickness.
This is what Spike and I did. And I must say, having experienced a 2-day long Drake Passage crossing when I was 15 years old, crossing in 2 hours aboard a four-engine BAe 146-200 aircraft was a far better way to reach the 7th continent. This is not meant to deter anyone from the traditional crossing however, which is an experience in itself, and one I would never take back.
The views arriving into King George Island were also special to see from the air. We were lucky with the weather on arrival, blue skies and calm seas. Disembarking from the aircraft, we boarded the bus to the shoreline. Here, we met some of the expedition team and changed into our gumboots (provided) in order to jump aboard the zodiac that would take us to the vessel anchored in the harbour.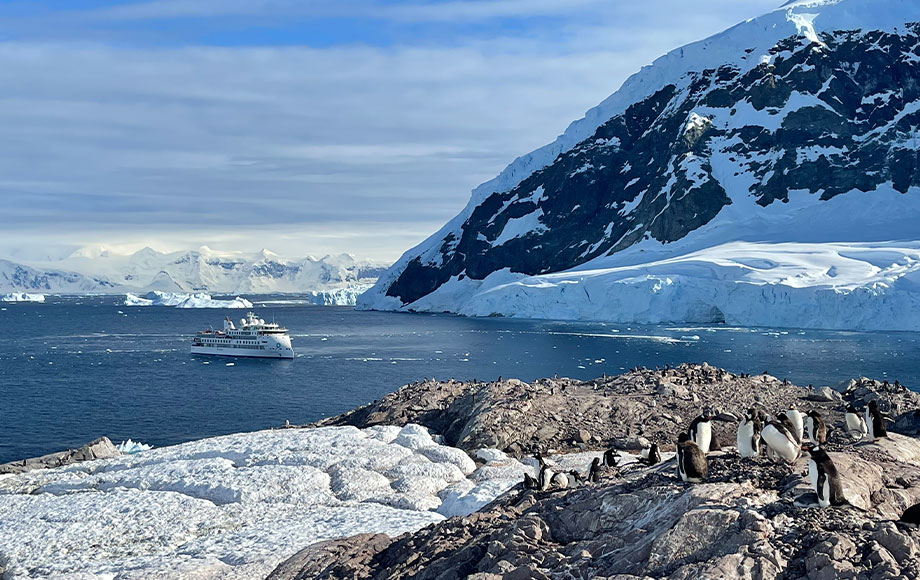 The vessel - Greg Mortimer
From my first view, I could see that the Greg Mortimer was a seriously impressive ship. Only 3 years old (it's maiden voyage was in November 2019), it was beautiful, sleek, and equipped with an array of state-of-the-art technology that makes it a leader in polar expedition travel. Accommodating an average of 132 passengers, I felt very lucky to be sharing the journey with my fellow travellers onboard such an intimate vessel. With over 100 staff onboard, it's safe to say the level of service I experienced over the course of the journey was A+, from the expert Expedition Team to the catering and cleaning staff.
Spike and I shared a beautiful Balcony Stateroom. The room was very spacious for two people, featuring very comfortable twin beds, a sitting area and a roomy balcony, where we spent many hours enjoying whale sightings and the passing scenery. The ensuite bathrooms were easily large enough for our needs, and had a clothes line that could be pulled across the room to dry our wet gear such as gloves and beanies. The bathroom could even be turned into a mini "dry room" which we used regularly.
Over the course of the trip I did inspect a few other rooms which were all just as superb. The one that stood out to me was the wheelchair accessible room, of which there are multiple. The design is excellent, and it was BIG. A completely flat bathroom and a huge living area next to the bed that offered plenty of space. The vessel also has an elevator that allows for easy access all across the vessel.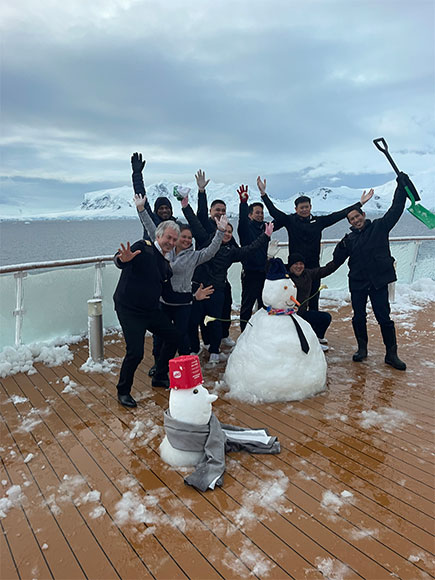 Sensational food and friendly, fun staff
During our 10 days onboard, one of my favourite experiences was watching the staff and guest interaction, both from afar and first-hand. With only 61 passengers and 102 staff the service was incredible. At dinner I'd take a sip or two of my wine or water before, almost silently, a waiter was refilling the glass. No request was too much for anyone, and as a vegan, I was continually asked by staff whether everything was okay, or if they could offer something else. At lunch and dinner someone would always bring me out a specially made vegan desert!
When we go overseas and represent our company it's also important to take note of how other companies operate and act – even more importantly when they are our regular ground or cruise operators. What I experienced and saw amongst Aurora Expeditions' staff really blew my mind. They were superbly professional as well as friendly and relaxed in their manner.
The waitstaff and cooking team were constantly joking with one another and guests alike - unafraid to give back a little friendly banter - singing and laughing. One of the managers, Tony, loved to sing, and would often grab a microphone and serenade many of the guests to gales of laughter from the rest of the passengers onboard.
The off-shore Expedition Team were equally enthusiastic and friendly. Spike and I were amongst the 12 guests who chose to do kayaking. There were 6 or 7 kayak staff we spent many hours with, and they too joked and got on well, many of whom had worked together for several seasons. One of our guides, Matt, was experiencing his very first time guiding in Antarctica. It was great to see and share our experiences with him and chat about the days incredible encounters. But, it was equally great to see how quickly he was taken under the wing by the other more seasoned expedition guides. By the end of trip, it felt as if he'd been a part of the team for months. Whether it was a zodiac guide, kayak instructor, chef or waitstaff, every staff member seemed to genuinely get on well with each other, which was really fantastic to see.
Coupled with outstanding service, the vessel boasted so many luxury comforts I felt it should almost be considered a floating hotel! The amenities onboard were first class; there are two bars (one with a mini grand piano); a library stacked with books on polar travel and geography, board games and comfortable couches; a fitness studio complete with cable machines, treadmills and exercise bikes; a sauna; steam room; and two rooftop Jacuzzis - that Spike and I jumped in after dinner our first night onboard.
Okay. Enough about how amazing the boat was - though all these creature comforts are superb, it's not the reason we travel to other-worldly, geographically mesmerising, wildlife-rich and hard-to-reach destinations like Antarctica (but it does help to do it in style and comfort)!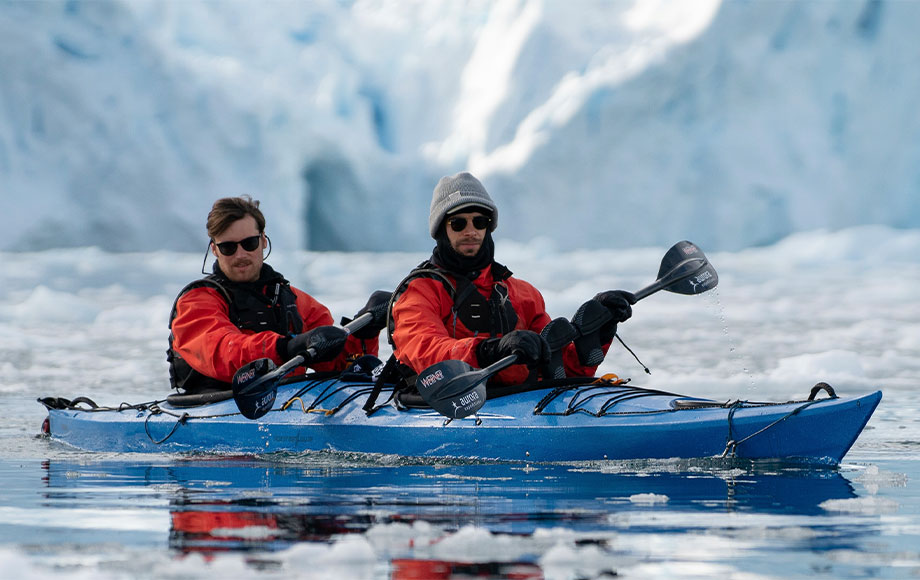 Wildlife - Whales, seals, penguins and more whales!
What was even more amazing was Antarctica itself. There is nowhere else like it. And to me, it is possibly the closest you can get to feeling as if you are on another planet. Everywhere you look the scenery offers something else; towering mountains straight out of the water, cracking glaciers, ethereal ice bergs, narrow channels, picturesque islands, or sheer cliff faces. Everyday offers a new landscape to explore.
The inhabitants of this desolate yet breathtakingly beautiful landscape? Penguins, seals, seabirds and whales that traverse its nutrient rich waters, and physically adapted to live in this environment. We were lucky with both the weather and the unforgettable encounters we enjoyed, whether it was on land, in a kayak or, even from the balcony of our stateroom!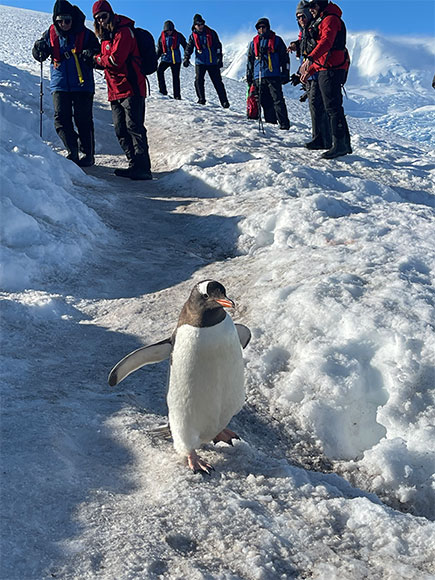 Where to begin…. Whales!
Though everyone associates penguins as the highlight of an Antarctic expedition (and rightly so), for me on this occasion it was the whale viewing I enjoyed most. Jumping into our kayak, Spike and I shared many close encounters, humpback whales in particular. As little as 5 minutes into our first kayak of the trip and we'd come within 5 metres of a humpback whale coming up for air! Little did we know that this was going to occur a few more times over the next 8 days, but that moment was a true highlight for us both.
There was one particular afternoon I'll remember forever. Again, it started out in our kayak, and again, we were coming within a few metres of humpback whales. But this time, they were everywhere! They were feeding in pods of 5 or 6 individuals all around us.
We spent close to 90 minutes paddling silently amongst these huge krill feeders, minding our own business as they minded theirs. Eventually, the other guests who were on land nearby and could see the whole show unfolding, decided they wanted to join the party. When all the zodiacs entered into the water, Spike and I decided we'd go and check out the landing site, which was home to a colony of Gentoo penguins. We were the only kayakers who decided to do this with our guide Ello. So the three of us went ashore and climbed the hill to the Gentoo colony. We had the entire landing site to ourselves! We decided to sit down on the hilltop and watch the show below, as our fellow guests aboard the zodiacs experienced some unreal humpback encounters. We sat and chatted and enjoyed a splendid afternoon amongst the penguins and whales.
But the show didn't stop there. Later on after everyone had returned to the boat, we were again treated to a mesmerising humpback display. We'd just returned to the room when over the speaker our Expedition Leader Dan quickly brought to our attention that the humpback pods were now feeding next to the boat! We opened the balcony window and started taking more pictures! Eventually we headed up to the specifically built hydraulic viewing platforms that can be extend out over the boat for this exact sort of occasion! We weren't the only ones however. Guest and crew alike were all craning over the edges for a glimpse of the whales. It wasn't hard, they were simply everywhere! Though the Captain wanted to move the vessel, it was impossible. So we spent almost 2 hours running back and forth from the Port to the Starboard side whale watching, some coming within just 2 or 3 metres of the vessel! When you hear the expedition staff all talking and laughing excitedly about such encounters, you know it's truly special.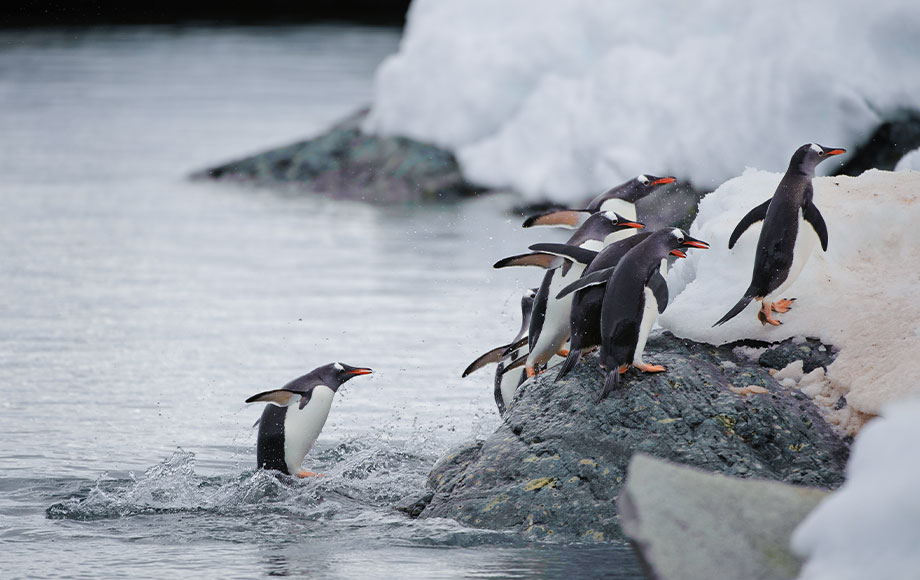 Penguins x3
We were lucky to see all three penguin species found on the Antarctic Peninsula - Gentoo, Chinstrap and Adelie. Of the three, the Adelie was the hardest to come across, as they are generally found further south than the Gentoo or Chinstrap.
We came across a colony on Yalour Island (the farthest point south we went) and had a memorable landing, taking photos and watching their curious facial expressions. Adelie's are my favourite penguin because, to me, their eyes are so incredibly expressive. Their heads are completely black so their eyes are surrounded by black fur, with a white eye ring, and their breast is also white –it's as if they are dressed in a little tuxedo!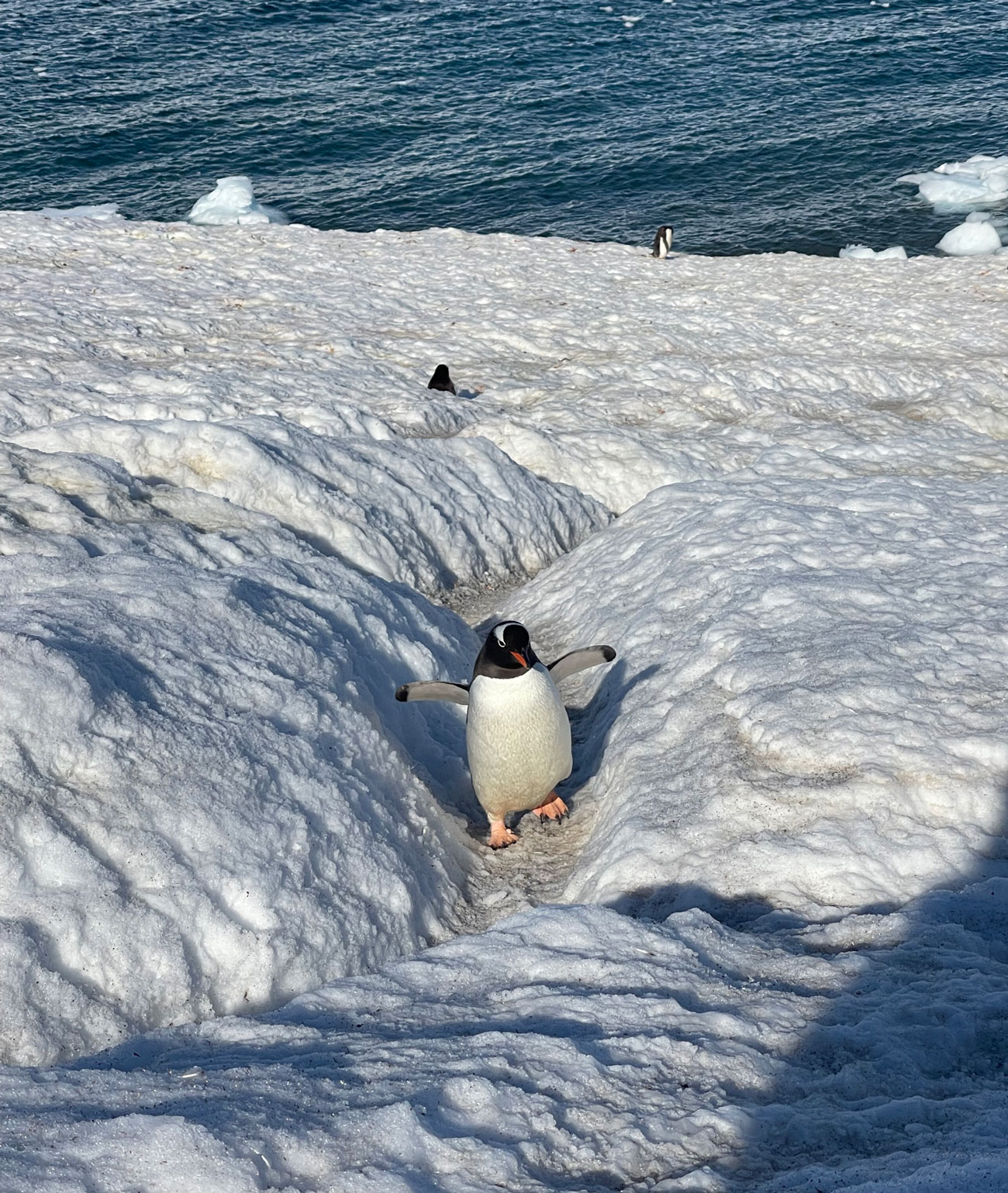 Of the three species the Gentoo was the most common, and we enjoyed multiple landing sites getting up close to them. Whatever the landing, you can be sure that 1000 different things will be going on. Whether it's their calls, their interaction with the chicks, stealing rocks from other birds' nests, or walking up and down the "penguin highways", penguins will keep you thoroughly entertained.
Last of the three is the Chinstrap. Black and white, it is easily identifiable by the thin black strap that runs underneath its chin. We saw a large colony on our last full day, at Half Moon Island in the South Shetland Islands. The island was also full of adolescent fur seals, as well as one elephant seal. The fur seal interaction was a lot of fun to witness. There is also an Argentinean Research Station found here, Cámara Base, which adds to the scenic view.
It wasn't only on landings we saw penguins, but also when out kayaking, particularly close to the shore. We'd often see penguins swimming in groups of 3 or 4, a fantastic sight to see as they bounded through the water. We even had one curious Chinstrap come right up to us and follow us along for a few minutes, perhaps wondering what the slender blue object was gliding through the water.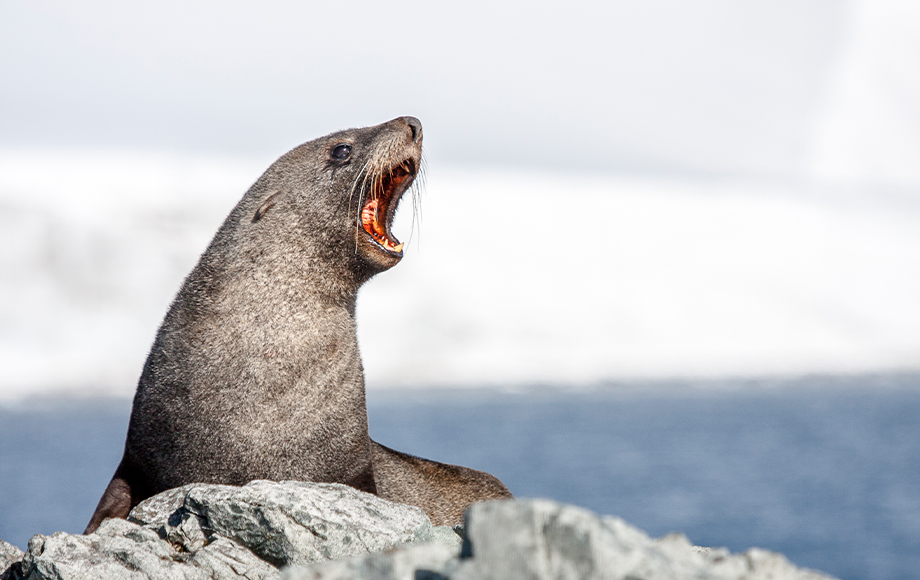 Countless Fur Seals and other kinds too
I remember going to Antarctica in 2006/2007 with my parents. We saw ONE fur seal. Sitting on a beach, somewhere high up in the Shetland Islands more than likely. Perhaps Deception Island - a fascinating and beautiful volcanic caldera.
On this trip in February, I simply lost count of how many fur seals I saw. Thousands. They were everywhere. And it was just amazing to see so many! I spoke to some of the Expedition Staff about this, and it seems the main reason (aside from no longer being hunted) for their population boom over the last 10-15 years has been the vast amounts of krill in the nutrient-rich waters surrounding the continent.
But the new threat facing the species (and other species) that feed on krill is that WE are now fishing for krill in Antarctica. The Expedition Team talked very openly about this, and highly recommended to everybody to spread the word and not use krill products such as krill oil. This is a potential catastrophe facing Antarctic species now, as no one knows what the outcome will be. A recent article I found reported that demand for krill is dramatically on the increase. In 2001 the annual krill catch by humans was approximately 104,000 metric tonnes. This has now risen to 451,000 metric tonnes in 2020 and is on the rise.
Over the course of my time down there, I also came across Weddell and crabeater seals, whilst many guests also came face-to-face with a leopard seal (which sadly, Spike and I didn't get to see).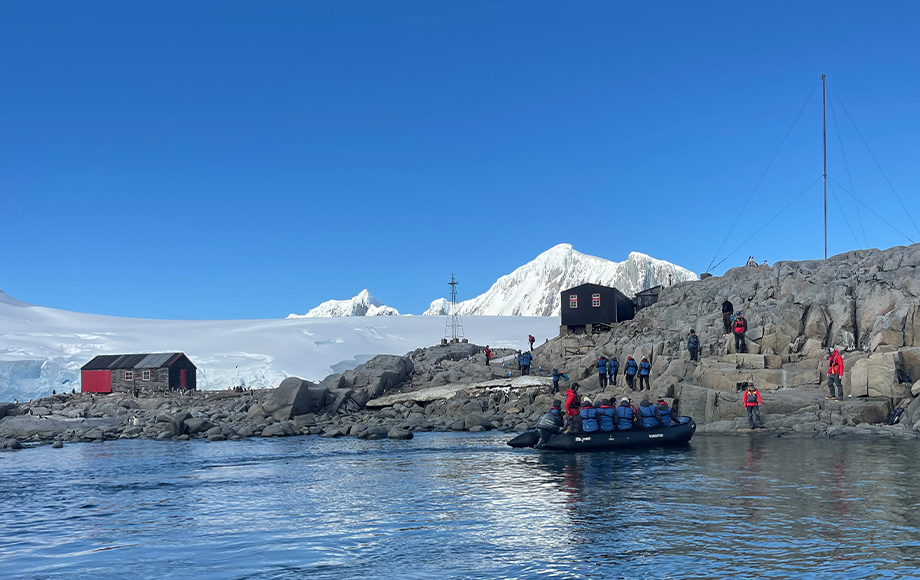 Research Stations, Bases and the world's most "southernly" Post Office
Research Stations abound on the Antarctic Peninsula. There are dozens. However sadly, you will not get to visit any. However, one historic base most expedition cruises do get to visit is the former British Base at Port Lockroy on Goudier Island. Now looked after by the UK Antarctic Heritage Trust, the old base is now a living museum, post office and shop. The trust has done a fabulous job at maintaining the base, and it really gives an insight into what the living conditions would've been like. Here, you can also buy some souvenirs, get your passport stamped, and even post a letter! The island is inhabited by a Gentoo penguin colony, so it's important to watch your step when you are moving around!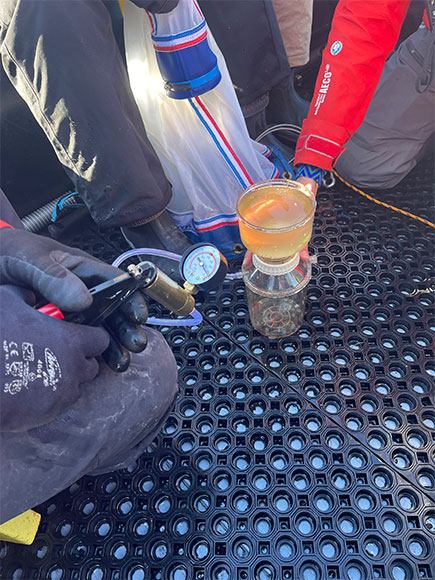 What factor does weather play in your chance to see wildlife?
Weather conditions are a major factor when it comes to deciding what you see and do on each day. Wind plays a big role, as does how rough the water is. Visibility isn't as important, as you can still land if the conditions are calm enough. Like all wild and remote destinations, whether in Antarctica, Africa or Alaska, we are always subject to what mother nature decides.
During our 8 full days traversing the South Shetland Islands and the Antarctic Peninsula, I considered us lucky with the weather. The Expedition Team, and in particular Dan, our Expedition Leader, was excellent in keeping everybody up to date with evolving plans. The team would show us maps and charts of the expected conditions for the next day, showing us where they thought it would be best to land. Dan would often say "this is plan A" on our evening briefing for the next day's activity, "but this may change to plan E by 8am tomorrow morning". Generally it stayed true, but plans can also change depending on what you come across as well.
The Expedition Team WANT to get guests off the boat as much as possible. They want everyone to experience the very best Antarctica has to offer, and show us why they love working here for 4+ months of the year. The reality is though, that weather conditions don't always allow for you to get off the boat. When this happens, the team will put on extra lecture presentations, which are always interesting! It also offers an opportunity to catch up on some photo-editing or journalling.
Though we generally had great weather - calm waters on many days and a few "blue sky" days too - we also had two afternoons of rough weather and high winds. On these days, the Captain used this time to cross the Bransfield Strait - the open section of water between the South Shetland Islands and the Antarctic Peninsula (even if you skip the Drake Passage crossing, there is still the potential for some sea sickness).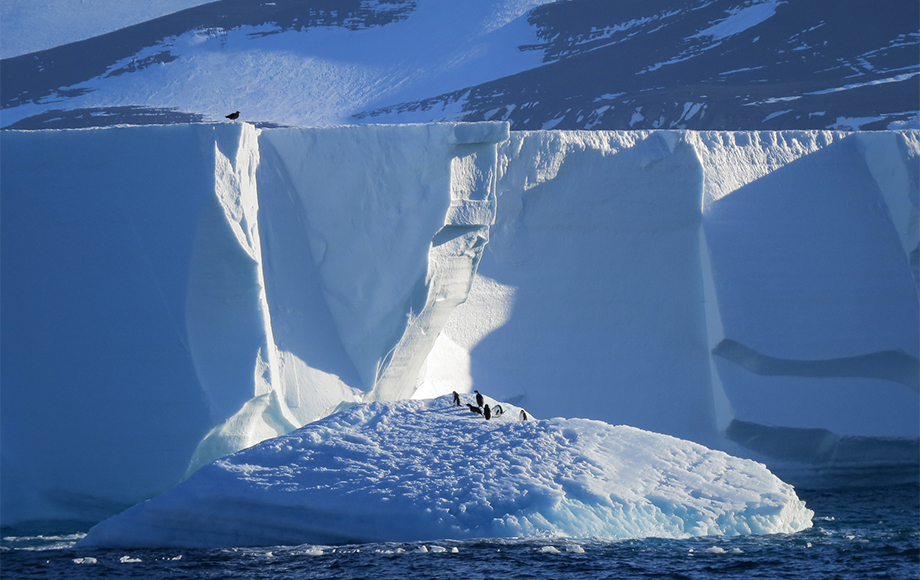 There and back again 
Coming to the end of our time in Antarctica the weather turned. We were able to make a final morning landing on our last full day, at Half Moon Island, which was really fantastic and memorable. There were countless Fur seals, Elephant seal (singular) and a large colony of Chinstrap Penguins to farewell us. It was proper winter weather (see picture below). Sadly we were unable to do an afternoon activity so we headed for our final anchoring point near King George Island in preparation for our flight back to Punta Arenas the next day.
The next day, the weather was again poor. And as a result, we were unable to fly out. This can happen from time to time. Usually, flights are only delayed by a few hours. A day is far less common. And even longer is very rare. We were delayed 1.5 days. Which is okay once you've finished your cruise, but not ideal if you are just starting. It is for this reason that a pre and post night is included (and mandatory) in Antarctica itineraries. After my experience, and enjoying a few nights in Punta Arenas (or Ushuaia if departing from there), I think two post nights is even better. Punta Arenas is a lovely little town, and a great spot to relax before or after an Antarctic cruise. Why rush? It's better to relax a little before making the long journey back home!
There are also some fantastic day trips you can do from Punta Arenas - either into the majestic Torres Del Paine National Park (however I recommend a 3 night stay at one of the lodges), or a day trip to see either the Magellanic penguins or… King Penguins! King penguins are the second largest species of penguin, and are not easily seen, so a day trip is something to strongly consider.
Final Thoughts
Whatever happens on an Antarctic cruise, whether you experience the sometimes choppy waters of the Drake Passage, a bit of bad weather here or there, sing and dance onboard with the staff, kayak amongst icebergs, zodiac cruise along the coastline or land at a penguin colony or historic site, you can be sure to return with memories that will last a lifetime.
If you are interested in exploring Antarctica, please contact us for more information on 1300 363 302.
Summary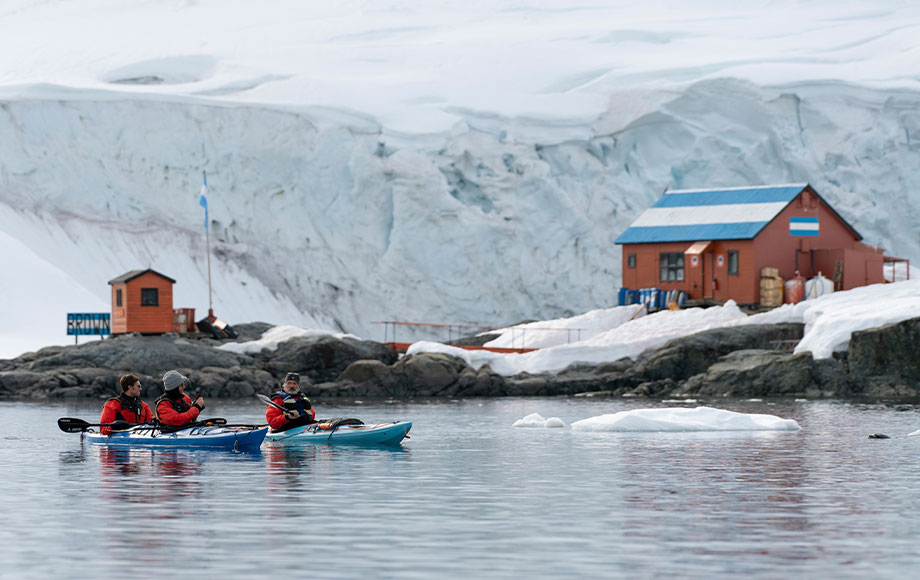 Article Name
Returning to the Antarctic Peninsula
Description
In February 2023, Natural Focus copywriter James Cameron journeyed to Antarctica with a friend, travelling aboard Aurora Expeditions' superb expedition vessel the Greg Mortimer.
Author