Sara and Steve Cameron, joint founders of African Wildlife Safaris recently returned to Sabi Sabi Game Reserve in South Africa and discovered that the leopard viewing was as fantastic as they remembered.
With our borders open again we couldn't wait to get back to Africa, and in August this year we flew to Johannesburg and down to beautiful Sabi Sabi, one of South Africa's most renowned private game reserves. It was amazing to be back in the African bush with the sun shining, the serenity of being immersed in the natural world, and the thrill of close encounters with iconic African animals.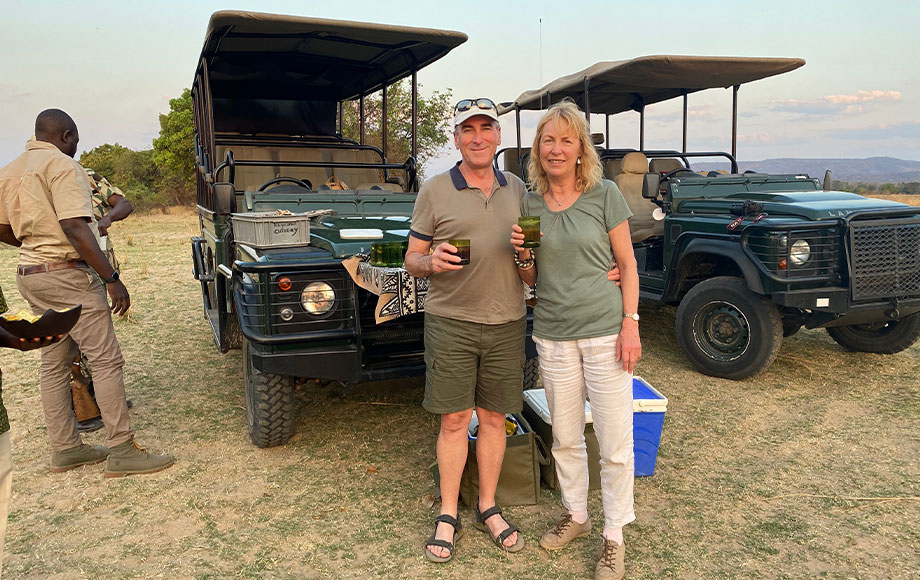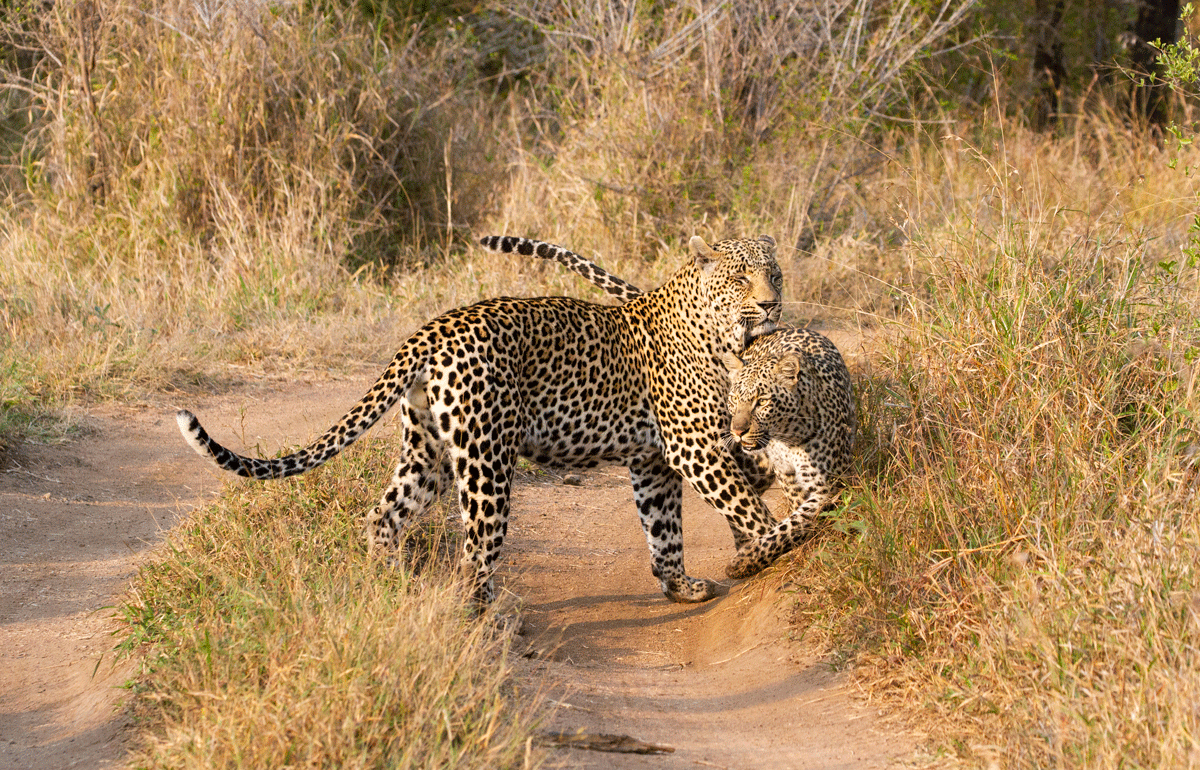 The dry season months of August and September are perfect for wildlife viewing as there is little surface water available, so we saw large numbers game at the rivers and waterholes. Much of the vegetation was bare of leaves and the grass was short so the animals were easy to spot. The weather was also perfect, with cool crisp nights and early mornings, whilst the days were warm and sunny.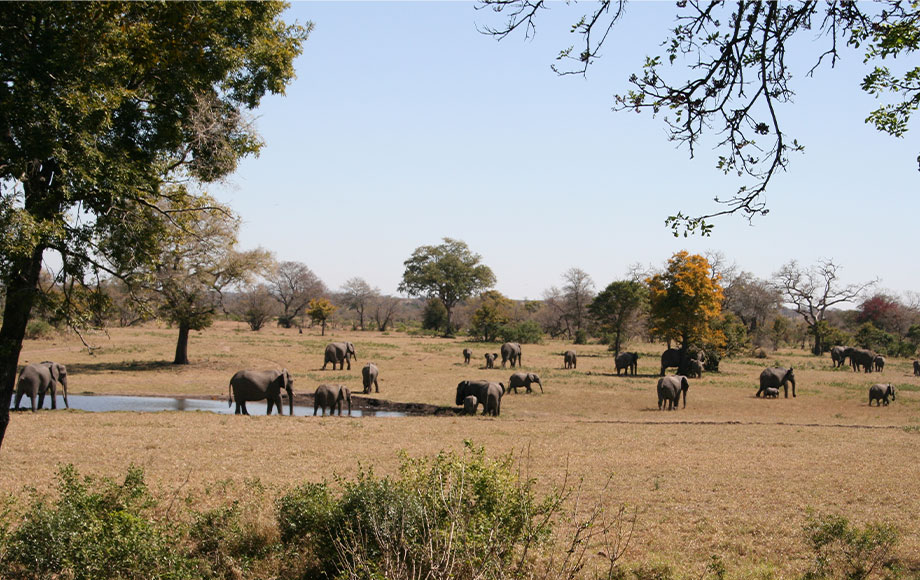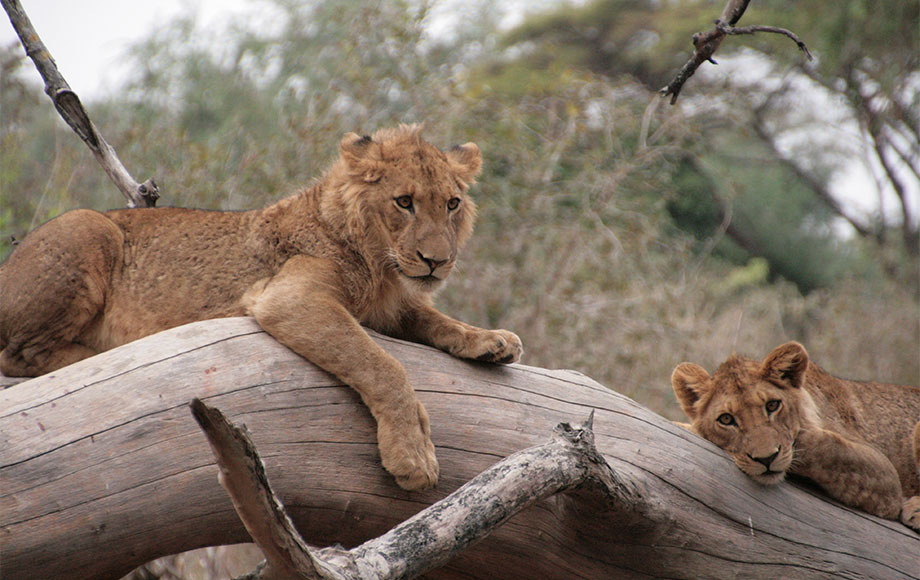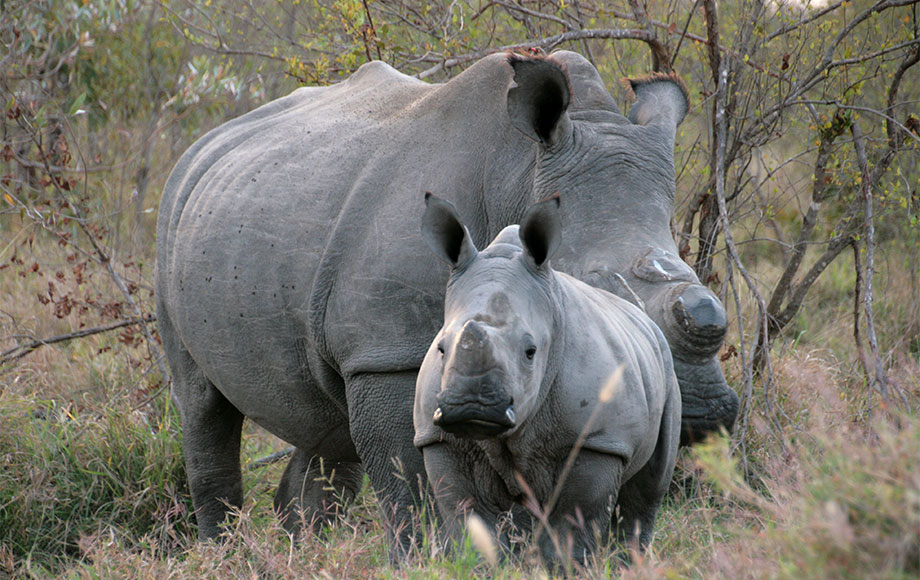 The Sabi Sabi area is a recognised 'hotspot' of biodiversity. The reserve was established back in 1979 and has always been a leader in ecotourism, dedicated to sustainability, conservation and community. The game viewing here is legendary, particularly for big cats, and on our recent visit we had some amazing wildlife encounters.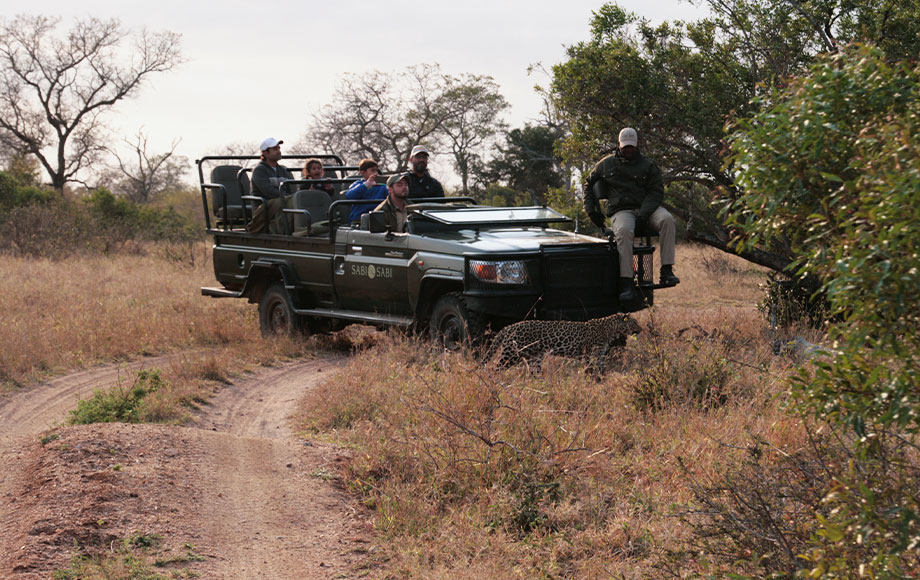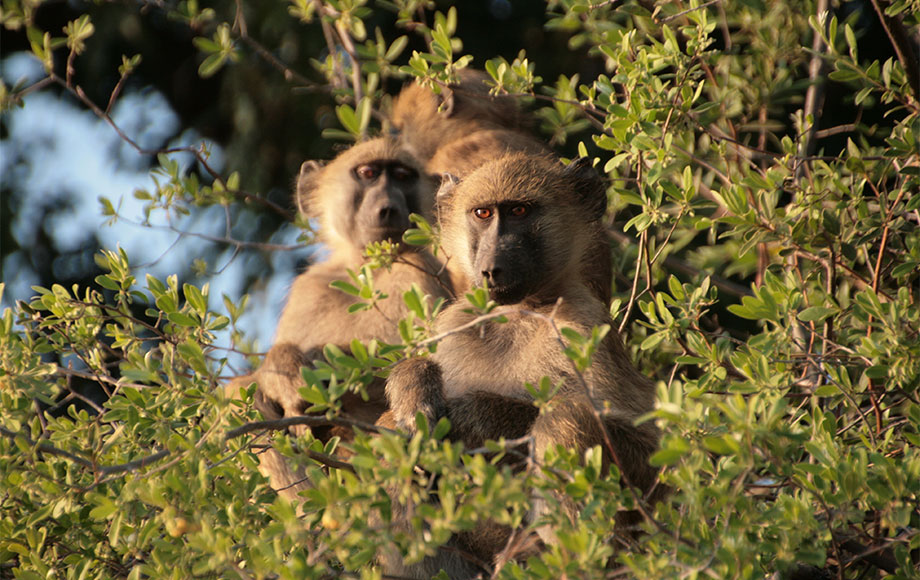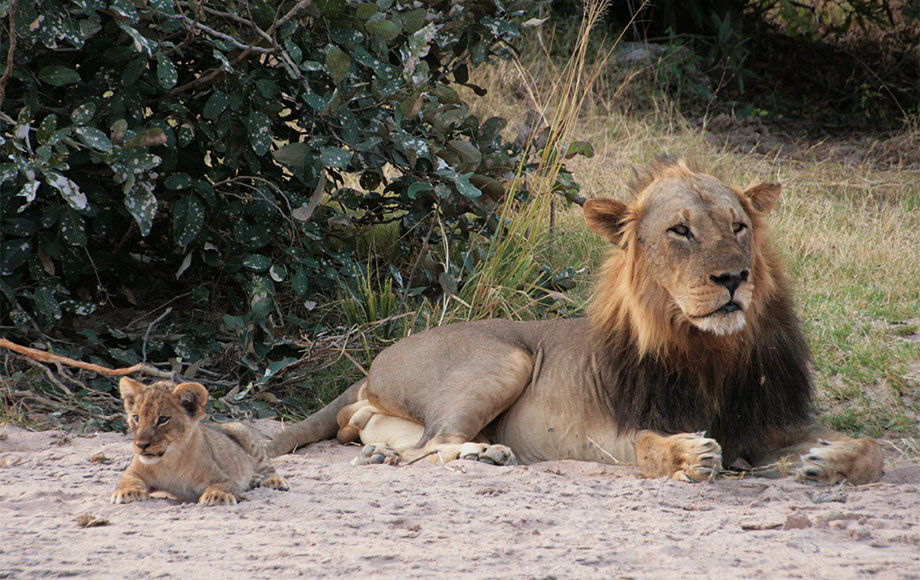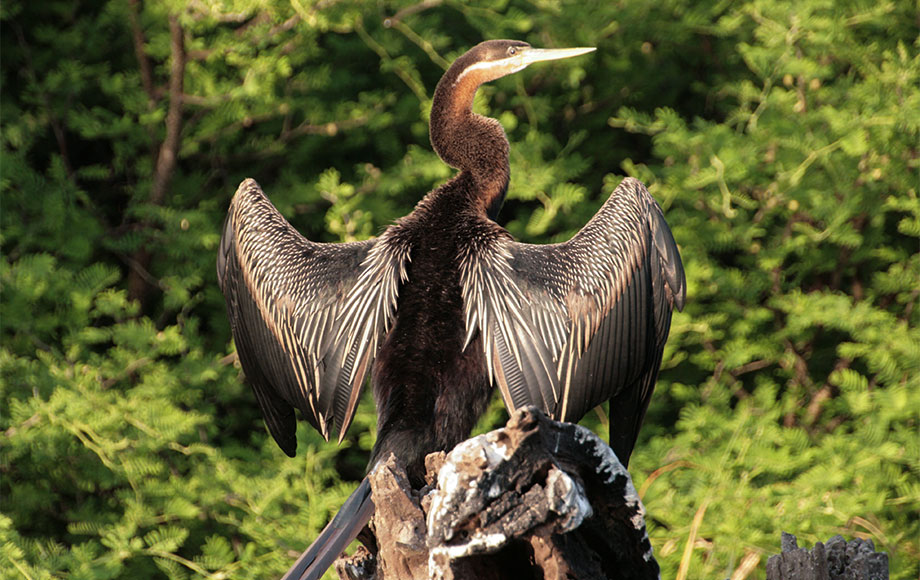 Our guide Lawrence accompanied us on all our game drives and foot safaris throughout our stay. He had a profound knowledge of the birds and animals, trees and insects, whilst our tracker Sidney also had incredible skills and hawk-like vision. They were also good fun to be with, with a great sense of humour and lots of stories to tell. 
With Lawrence and Sidney we found lions lazing under trees, graceful giraffe feeding on sausage trees, and a pair of cheetahs who'd just had their kill stolen by hyenas. One day we came across a pair of mating leopards who were not at all shy and were conducting their love affair in broad daylight right in front of our vehicle.  She would start flirting and waving her tail at him, he would follow and then after a quick pairing she would snarl at him and swipe at him with her paw, and then they would collapse in the grass and rest. Then about 20 minutes later they would start again. Incredibly, both lions and leopards, when the female comes into oestrus, mate every 15 to 20 minutes for up to 5 days.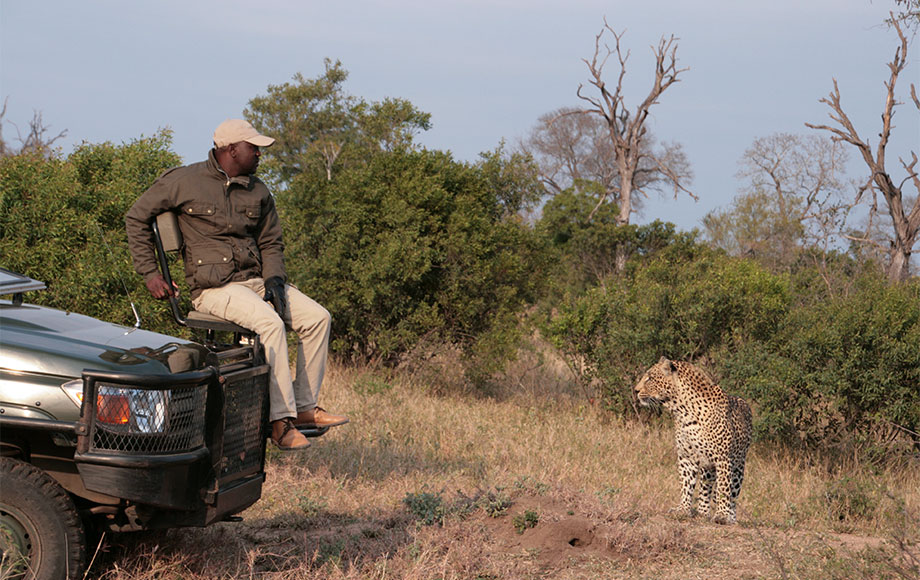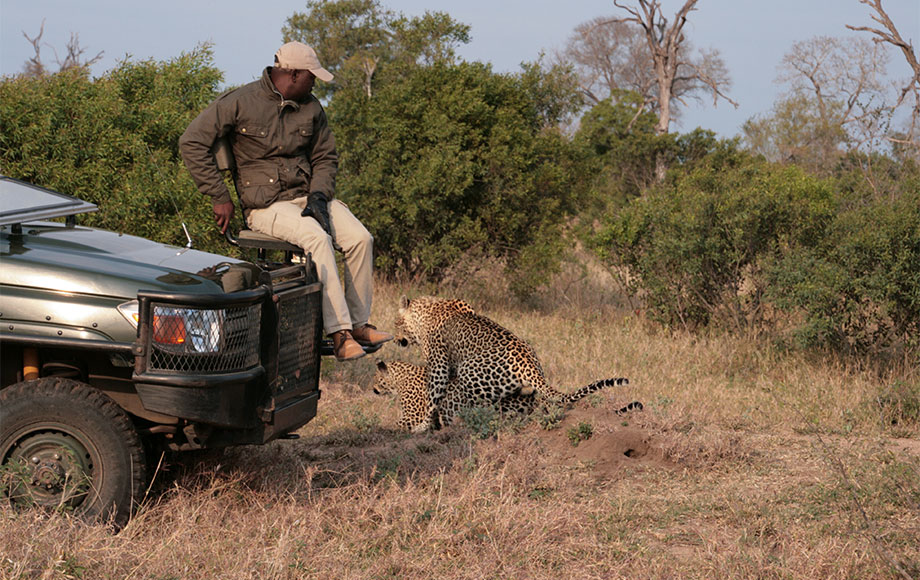 This was definitely a 'David Attenborough wildlife moment', and one which a decade or more ago would have been unheard of. Even our guides had seldom watched leopards mating during the day in full view of a vehicle. But leopards are much easier to see these days in areas like Sabi Sabi. Once it was a very rare thing to see a leopard, whereas now we almost expect it on every safari.  
During our drives we also saw many breeding herds of elephants with young, including babies just a couple of months old. Elephants are always fascinating to watch, as apart from their huge size they are such intelligent animals. The herds are led by the matriarch, along with her sisters and other females who all take care of the younger members. We loved watching the mothers protecting their babies, or young elephants practising using their trunks to feed.  And it's always amusing to see the adolescent males tussling together or giving us a mock charge to warn us off.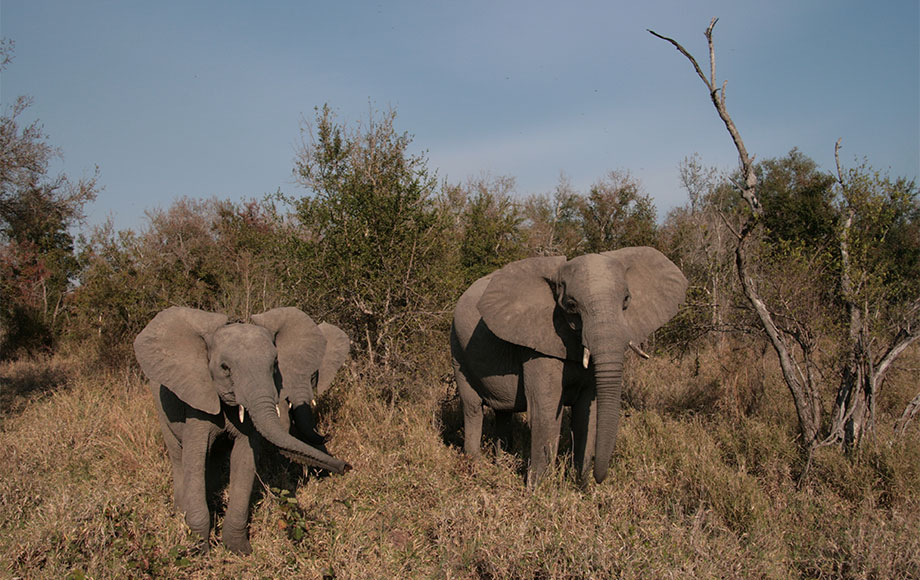 On this visit Steve and I stayed at Selati Camp – our favourite of Sabi Sabi's four superb properties, even though all are luxuriously comfortable and beautifully situated. 
Selati overlooks the Msuthlu River where herds of elephants, impala and other game come to drink throughout the day. We loved sitting at breakfast or lunch in the outdoor dining areas, shaded by giant Acacia trees, and watching the wildlife coming and going below. The food was excellent, from the tasty and nutritious breakfasts to the elegant three course dinners. The staff who work here are all incredibly warm and welcoming and most grew up in the communities who live just outside the reserve. Our guide Lawrence Mkansi went to school in the local village, trained to be a guide and is now Head Ranger and Assistant Lodge Manager. Sidney also went to the local school, and Lawrence's sister Lindiwe also worked at Selati. Community upliftment and success has always been an important part of the Sabi Sabi philosophy.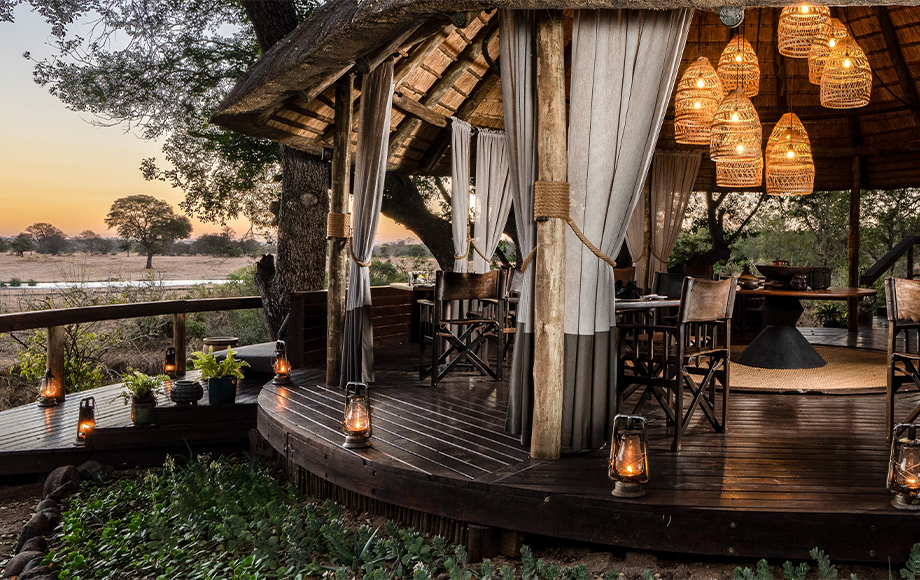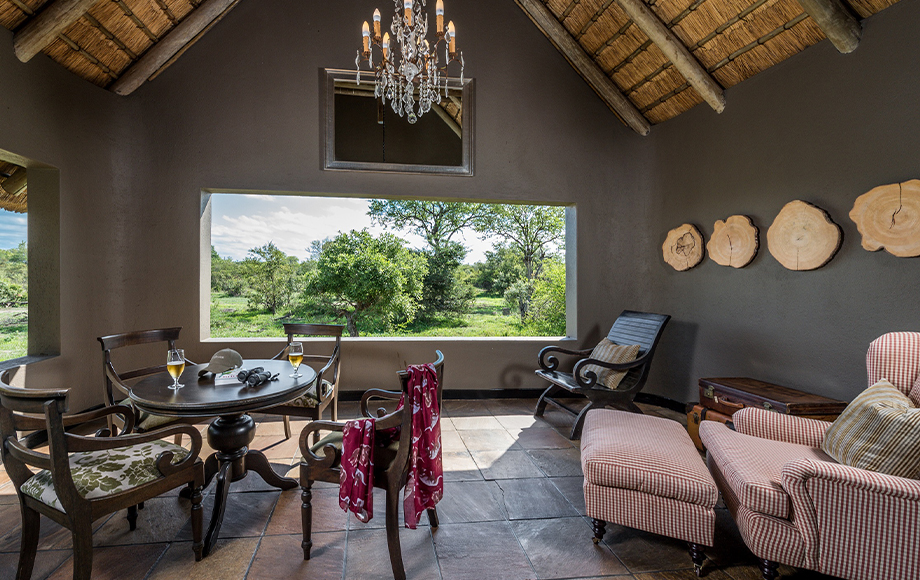 With just seven thatched guest suites surrounded by gardens Selati is intimate and tranquil. Our suite had a king size bed, sitting area, large bathroom and an outdoor garden with a shower. The camp's décor reflects the history of a bye-gone era when there was a Selati rail line transporting gold from the highlands to Mozambique. There is a beautifully furnished lounge area with books and artifacts, a bar, small shop, and an outdoor swimming pool for the hotter months. 
Like all camps and lodges in the Sabi Sand Private Game Reserve area, Selati is not fenced. Sometimes elephants may wander through the gardens as one did while we were there, searching for flowers or seed pods off the acacia trees.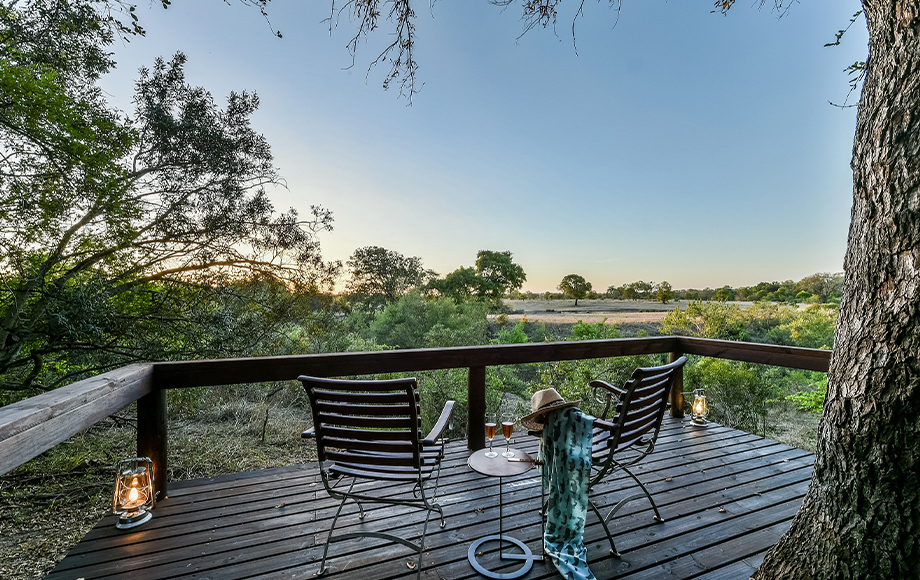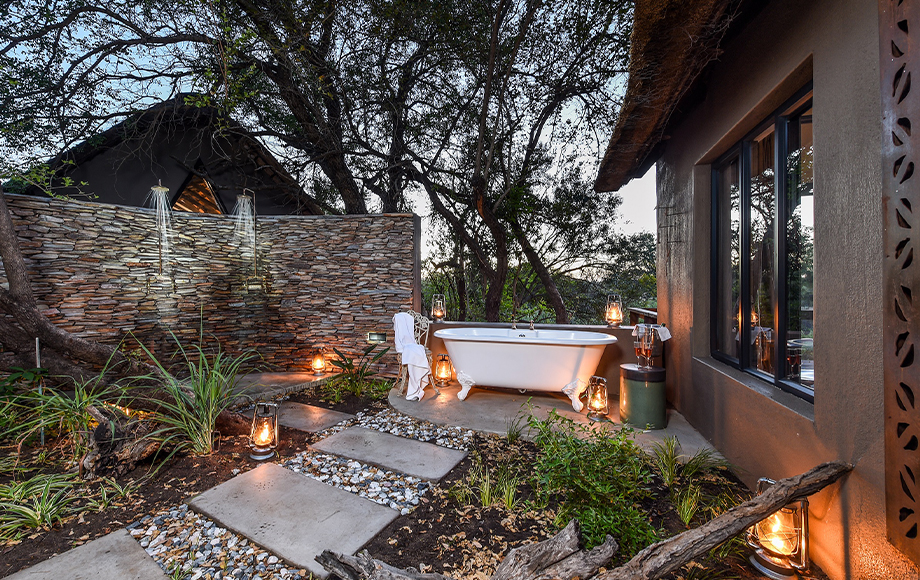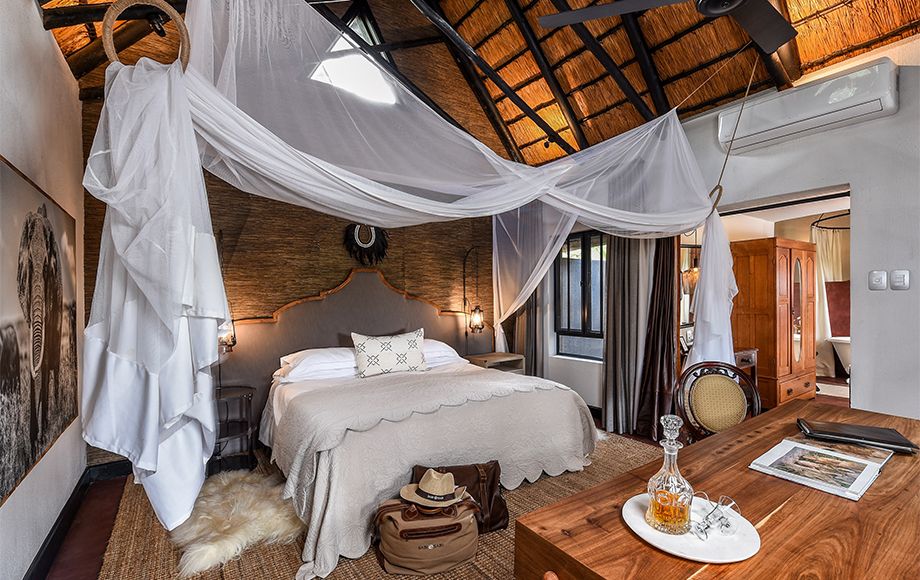 Over just a handful of days in Sabi Sabi we saw an incredible number and variety of wildlife, including kudu, buffalo, giraffe, zebra, nyala antelope, bushbuck, hippo and crocodiles, to name a few. When out in the reserve on foot Lawrence and Sidney taught us how to identify the numerous animal tracks, showed us the tiny homes of the ant lion, and explained the medicinal uses of various plants. Amongst the yellows and browns of the winter bushveld, we saw the brilliant pink and white of the impala lily, and the vibrant red flowers of the boerbean and sausage trees.  
Another highlight was when we saw some of the reserve's white rhino, all of which have been de-horned to protect them from poachers in a massive conservation operation. One of the baby rhinos was scratching its tummy on a fallen tree trunk while it's mother grazed nearby. Watching six of these giant creatures lumbering across the road just in front of us was awe-inspiring.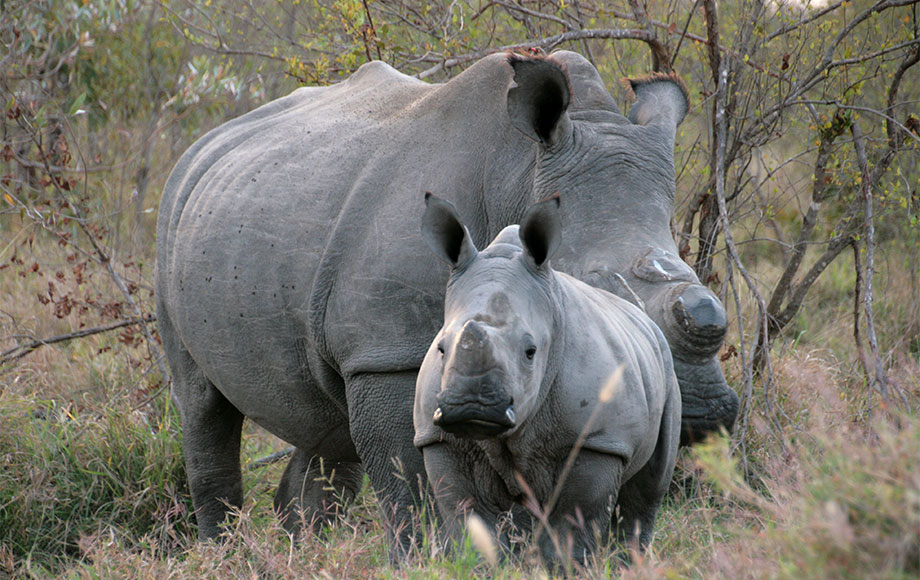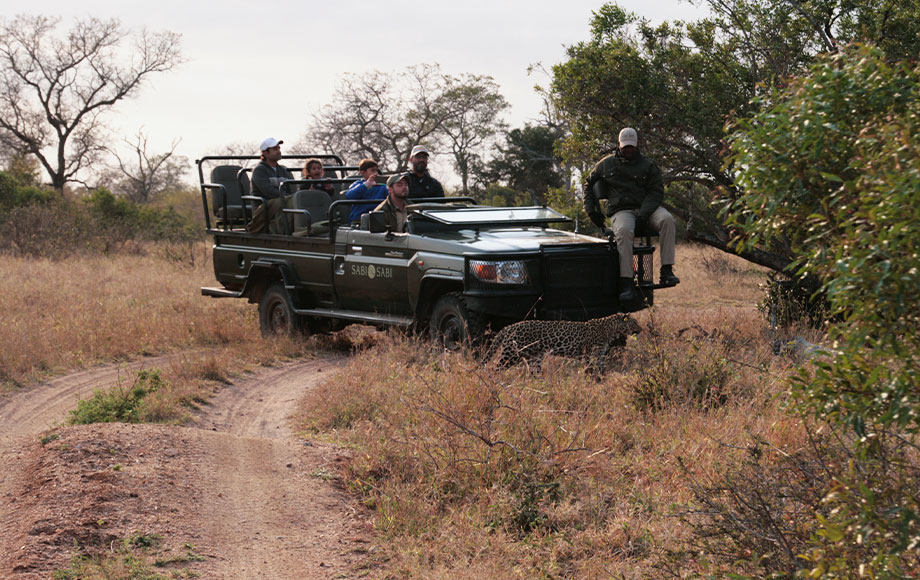 As the sun sank towards the horizon we would stop for sundowner drinks in the bush, watching the gorgeous African sunsets as we drank our G & Ts. Then, as the sky turned deep purple, we would climb back onto the land cruiser and Sidney would get the spotlight out for our return to camp. On the night drives we often saw civets or spotted genets, once a bushbaby, and sometimes a started scrub hare or a furtive mongoose. 
To see so many animals, big and small, roaming free in the wild was both thrilling and a balm for the spirit. To walk in nature, to learn about the many small creatures, the plants and the inter-connectedness of things was educational and inspiring. We were taken care of at every stage by the warm and welcoming camp staff and our brilliant guides. Steve and I loved Sabi Sabi and we will definitely be back as soon as we can.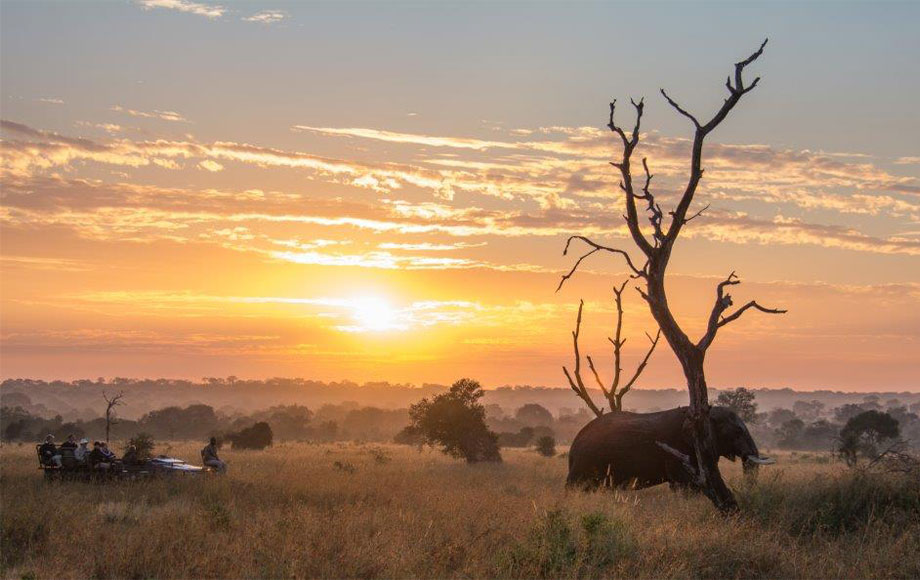 Summary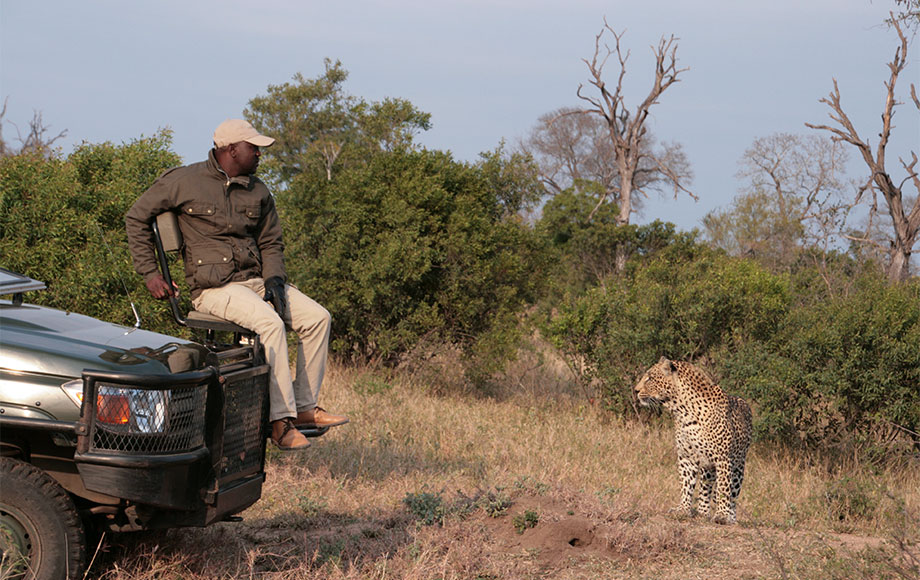 Article Name
A Return to the African Bushveld
Description
Sara and Steve Cameron, joint founders of African Wildlife Safaris recently returned to Sabi Sabi Game Reserve in South Africa
Author