Antarctica is a vast continent that is governed by several countries. Certain coastal areas of the continent are accessible to tourists, and all offer magnificent opportunities to experience this remarkable and beautiful destination. But how do you choose which Antarctica Expedition best suits you? 
The most visited section of this ice-covered land is the Antarctic Peninsula, approximately 1000 kilometres south of the small port city of Ushuaia, in Argentina. Most visitors leave from here by cruise ship, experiencing the dramatic crossing of the turbulent Drake Passage, literally seen as a 'rite of passage' to get to Antarctica. The other option now available is to fly across the Drake Passage, landing on King George Island and embarking on a cruise from there. This is popular for those short on time, or for those who are prone to seasickness.
However, there are also several other regions of the continent and its surrounding islands that travellers can explore. These include The Ross Sea in west Antarctica, The Weddell Sea and various sub-Antarctic islands that surround Antarctica and can be visited en route to the continent itself.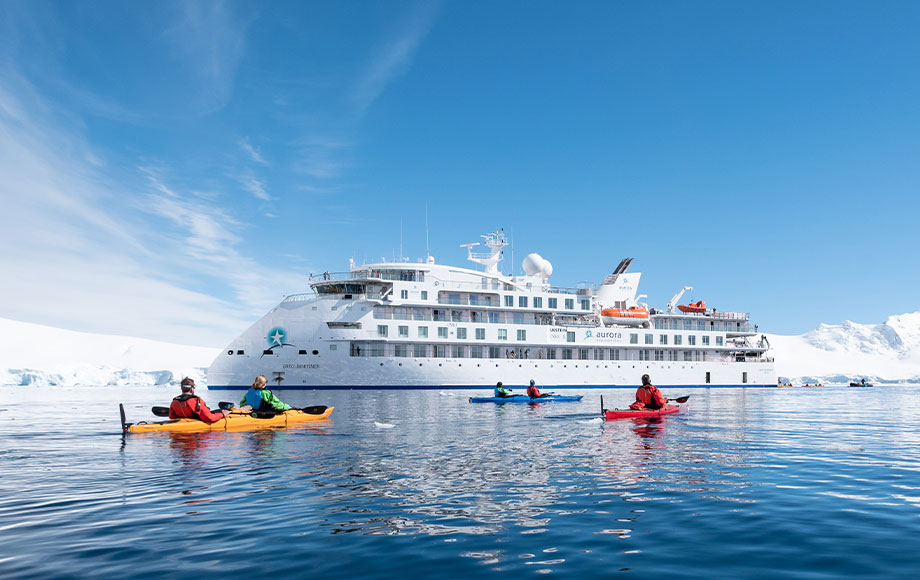 The Difference between Vessels
There is no shortage of superb expedition vessels operating in Antarctic waters. The best way to experience Antarctica is by small, expedition vessel. This generally means, less than 200 passengers. However, many vessels only accommodate between 120-140 passengers. The reason for this is simple. Only 100 passengers are allowed at a landing site at any one time. Luxury cruise operators have therefore decided that the perfect number of guests lies generally within the 100-140 passenger range. Though only 100 passengers are allowed ashore at any one time, other guests can be out kayaking, scuba diving or exploring by zodiac. So there is no cause for alarm if you choose a boat that can take over 100 passengers.
Most of the vessels Natural Focus offer are in this range. However, we also offer vessels that accommodate as few as 67 guests – mostly on the Fly the Drake departures (this is because the aircrafts used to fly to King George Island take a maximum of 70 guests).
In the last few years we have seen a big shift towards the "luxury" end of the market. Ships with all the amenities you can think of – spas, saunas, Jacuzzis, gyms, as well as other things that make your stay more comfortable – stabilisers, and large staterooms and suites.
There are still several "expedition" vessels, that are generally smaller, older vessels (that are still very comfortable!). They all have expert guides and staff, just fewer bells and whistles. The other benefit of sailing on these older vessels is that they are more intimate – sometimes carrying as few as 67 or so passengers.
Although the type of vessel might play a part when choosing your Antarctic cruise, there are other even more important factors to consider, such as the length of time you have to travel, where you want to visit, when you wish to go and of course, cost; the more days onboard ship the more expensive the cruise.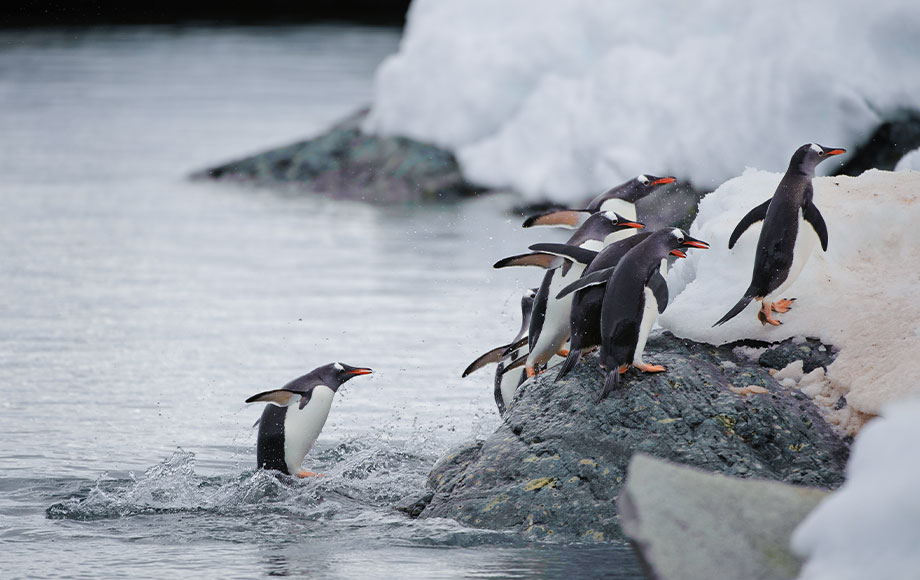 Below we have featured 7 excellent itineraries and suggested some of the pros and cons for each, to help you make an informed decision. However we also recommend that you speak to one of our Antarctica Specialists, who have the knowledge and expertise to advise you, by calling us on 1300 363 302. 
1). Antarctic Explorer – The Antarctic Peninsula
This is the classic Antarctica adventure departing from Ushuaia at the southern tip of Argentina in South America. These journeys range in duration from 10 to 15 days and explore the Antarctic Peninsula north of the Arctic Circle. You will sail from South America across the Drake Passage, which takes about two days depending on the seas and weather, spend 5 or 6 days exploring the Peninsula and then return across the Drake Passage.
What you may see:
Passengers will be able explore the Antarctic Peninsula on shore excursions and Zodiac excursions. Wildlife sightings might include Gentoo, Chinstrap and Adelie penguins, elephant and Weddell seals, humpback whales, orcas and a variety of birdlife. Another highlight may be a visit to an Antarctic research station. Some cruise operators offer a selection of activities at an additional cost, which may include camping, sea kayaking, snorkelling or helicopter excursions.
Pros:
Exploring Antarctica expedition style
Lots of opportunities to see superb scenery and wildlife
Opportunity to see wildlife/birdlife during your crossing
The adventure of crossing the "infamous" Drake Passage
Entry level prices
Cons: 
Between 3-4 days at sea, potentially in rough conditions
Less time on the continent, as you spend more time getting to/from Antarctica
Natural Focus recommendation:
This is the Classic Antarctica expedition voyage and popular with most visitors to the continent unless you wish to avoid the Drake Passage.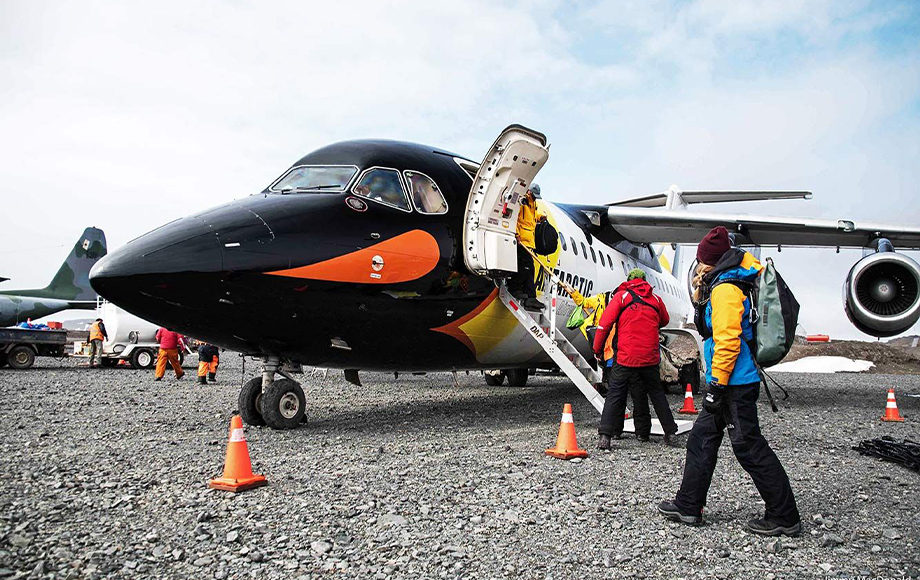 2). Antarctic Air Cruises – Fly the Drake
The Antarctic Air-Cruise has become a very popular option in recent years due to the significant time saved crossing the Drake Passage. As a result, the itinerary length is only 8-10 days. It's also a good choice for those who suffer badly from seasickness.
What you may see:
Travellers will explore the same area of the Antarctic Peninsula as mentioned above, and can expect the same highlights.
Pros:
Ideal for those who suffer from seasickness
Perfect for people after a shorter trip to Antarctica
Cons: 
Though a low risk there is the potential for delays and/or flights being pushed back a day due to weather conditions
You miss the chance of seeing sea birds like albatross during the crossing
Not quite the same build-up of anticipation as crossing the Drake
Generally a little more expensive than traditional cruises
Natural Focus recommendation:
These air-cruises are perfect for those that are short on time, or those that suffer from sea-sickness if you are willing to spend a little more.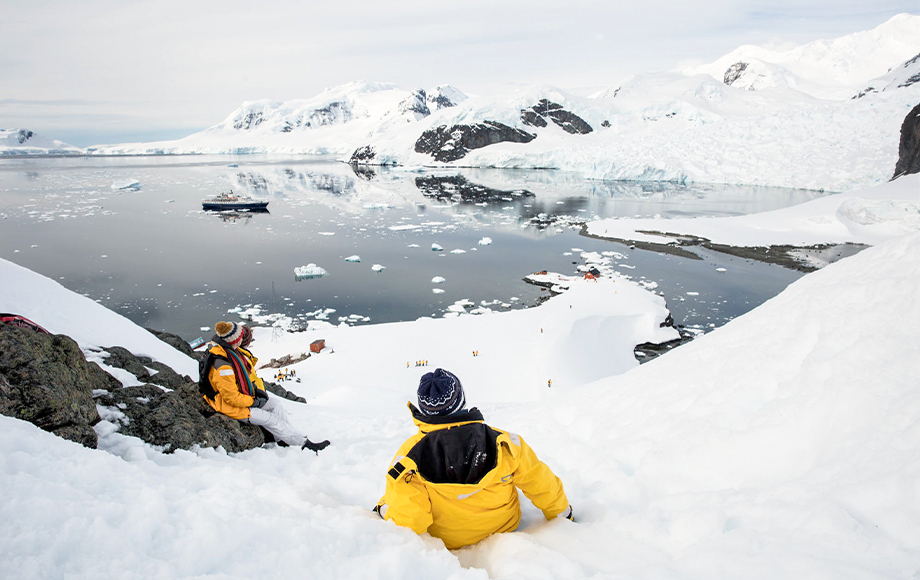 3). Exploring the Antarctic Circle
These Antarctic adventures offer a few more days exploring deeper into the continent and are generally between 11-15 days. The ship cruises further south along the Antarctic Peninsula, going beyond the Antarctic Circle.
What you may see:
In addition to the classic itinerary of the Antarctic Explorer mentioned above, ships might visit Pourquoi Pas Island, Horseshoe Island, Stonington Island – home to the former British Base E – and Hanusse Bay, a good place to spot whales. And crossing the Antarctic Circle is of course another highlight.
Pros:
An extensive exploration of the Antarctic Peninsula
A more in-depth Antarctic experience
A chance to visit a less-explored areas of Antarctica which few people ever see.
Cons: 
Between 3-4 days at sea, potentially in rough conditions
Greater potential for unfavourable weather further south
Natural Focus recommendation:
These are itineraries suited to anyone who has the time and would like to explore more of the continent.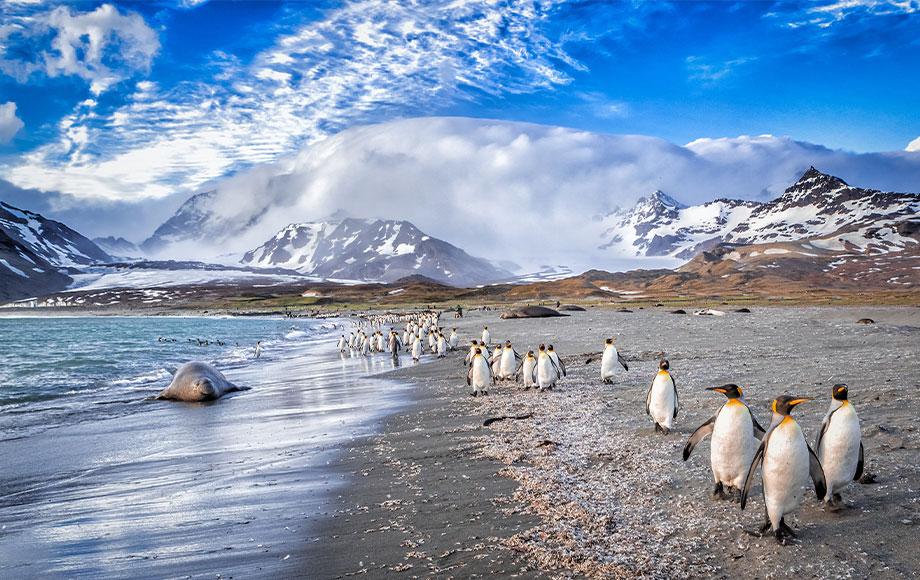 4). South Georgia, Falkland Islands and the Antarctic Peninsula
Considered one of the ultimate Antarctic journey's, these longer cruises are between 18 and 23 days in length. Visit the magical sub-Antarctic island of South Georgia – home to open sandy beaches filled with King Penguins, elephant and fur seals. The Falkland Islands are also interesting, and provide travellers with superb birding opportunities and fascinating historic sights. These two islands are also combined with a visit to the Antarctic Peninsula, with the potential to also visit the rarely-visited South Orkney Islands on select departures. Guests that wish to do this voyage must be prepared to spend many days at sea, travelling between each destination. Though the travel time is longer, the rewards are worth it, and guests will create memories to last a last time.
What you may see:
As well as all the highlights of the Antarctic Peninsula, South Georgia offers travellers incredible, sub-Antarctic vistas. Imagine standing on a beach filled with King Penguins and elephant seals in their thousands, with breathtaking mountains in the background. The Falkland Islands also offer a different element to an Antarctic cruise, providing a mix of excellent birdlife and culture.
Pros:
A wide variety of landscapes to discover
Search for the impressive King Penguin
Discover fascinating history
An in-depth itinerary of the region
Falkland Islands birdlife, history and culture
Cons: 
Longer travel time
More days spent at sea
Generally, more expensive than shorter cruises
Natural Focus recommendation:
Whether you are a first time traveller to Antarctica or not, this journey has it all.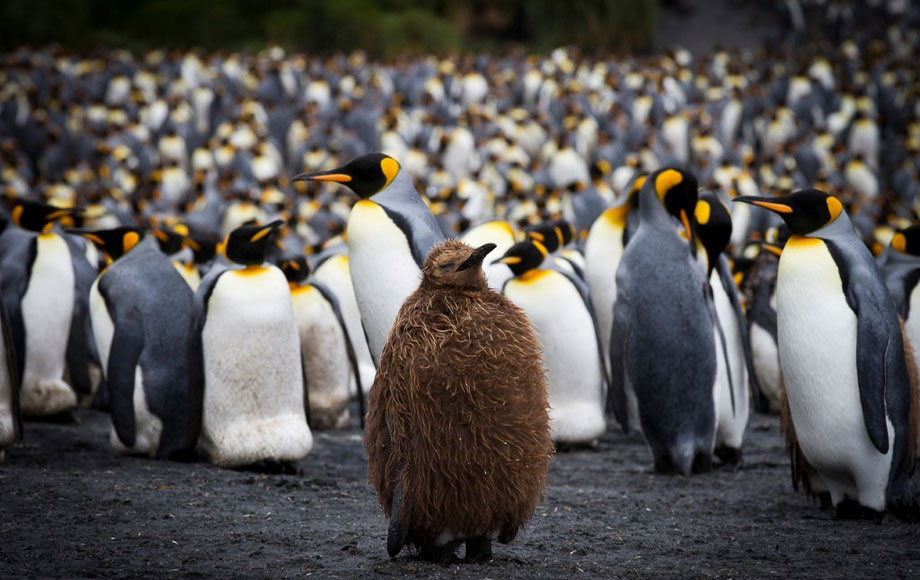 5). New Zealand's sub-Antarctic Islands and the Ross Sea
A 30-day adventure of a lifetime, this voyage exploring New Zealand's sub-Antarctic islands and the Ross Sea area west of Antarctica follows in the wake of legendary explorer Ernest Shackleton. Departing from New Zealand this is an epic journey, exploring remote locations and not for the faint hearted. Intrepid travellers will discover the amazing wildlife of Macquarie and Campbell islands and the incredible landscapes and historic sites in Antarctica's Ross Sea.
What you may see:
There are four species of penguin found on Maquarie Island – King, Gentoo, Rockhopper and Royal, the only place in the world where this penguin breeds. Elephant seals also lounge on the beaches. The highlight of Campbell Island is walking to the hilltop breeding sites of the Southern Royal Albatross. What you will see in the Ross Sea section of Antarctica can never be guaranteed, due to unpredictable ice and weather conditions. But highlights may include walking amongst Adelie Penguin rookeries at Cape Adare or Franklin Island, a visit to Shackleton's Hut and Scott's Hut(s), or visits to a scientific field station – such as Scott and McMurdo stations (dependant on weather and station operational requirements). Terra Nova Bay is also home to several research stations you might visit.
Pros:
One of the most unique journeys to the Antarctic continent
Explore a region few people in the world will ever get the chance to see
Discover fascinating history, magical wildlife and remarkable scenery
An opportunity to visit Antarctic scientific research stations
The wonders of Macquarie Island – home to 4 penguin species
Cons: 
At least 7 days cruising at sea
A month of expedition travel
Natural Focus recommendation:
For travellers who are highly adventurous, or someone who has already visited Antarctica. Must be prepared for a long expedition-trip and many days at sea.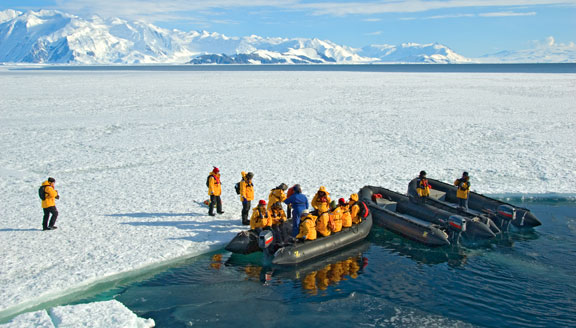 6). The Weddell Sea – In search of Emperors
Explore the more remote eastern side of the Antarctic Peninsula – a nature lover's and photographer's paradise. The major aim of these voyages is to see the Emperor Penguins, most likely at Snow Hill Island (mid November-mid December). The eastern side of the peninsula can be unpredictable, rough and icy. If conditions don't allow a visit to Snow Hill Island, other places you might visit include Brown Bluff, home to rookeries of Adelie & Gentoo penguins, and Hope Bay, the location of an Argentine research station. Paulet Island is another potential stop. A large Adelie Penguin rookery can be found here as well as an historic hut built by the Swedish expedition team of 1901-04.
What you may see:
The ultimate goal of this expedition is to see Emperor Penguins. You may also get to see Adelie or Gentoo penguin rookeries, as well as sensational scenery, a scientific research station or historic hut.
Pros:
Exploring one of the more remote sections of Antarctica
An exciting expedition in search of Antarctica's most iconic penguin species
Cons: 
Can be challenging weather and ice conditions
Might not see as much wildlife on the eastern side of the peninsula
Natural Focus recommendation:
Not ideal for first timers. A unique trip for those that really wish to see Emperor Penguins.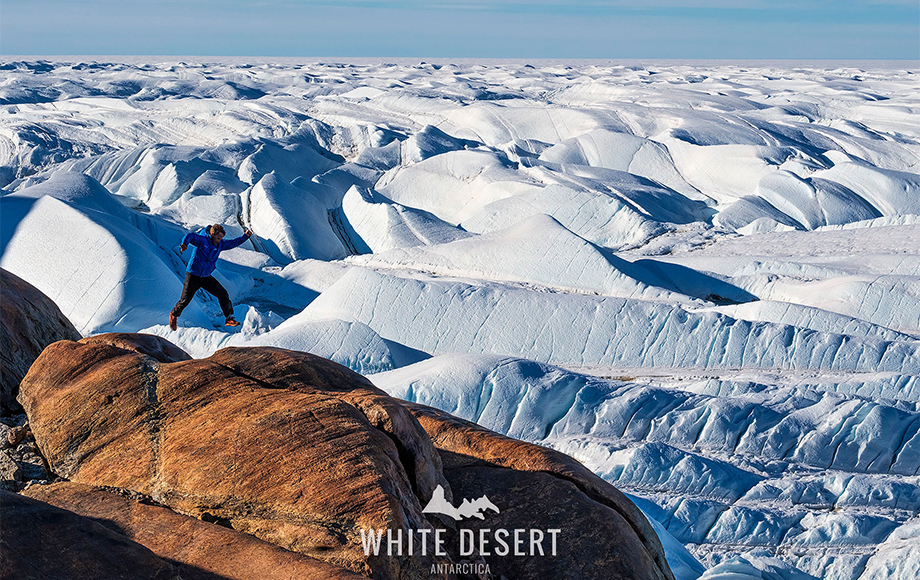 7). Exploring the White Desert on land – The Ultimate Antarctic Experience
This can only be described as Antarctica's – and perhaps the world's – most exclusive polar experience. Staying in the interior of Antarctica at a truly remote (and very comfortable) camp and exploring the White Desert is a bucket-list experience few will ever achieve. The camp can only be reached by a 5-hour flight from Cape Town, South Africa, before a shorter, 30-minute flight aboard a Basler BT-67 aircraft. There are a few different itineraries guests can choose. One of the most popular is a visit to a 28,000 strong colony of Emperor Penguins located at Atka Bay – where the first episode of Sir David Attenborough's documentary Seven Worlds, One Planet was filmed. With very few visitors to this colony, the penguins are unafraid of humans. These itineraries also boast unique activities such as ice climbing, abseiling, exploring ice tunnels, hiking and an Antarctic truck safari.
What you may see:
A landscape few others will ever get to witness. Though you may see less wildlife than on a cruise along the Antarctic Peninsula, you will still explore some of the continent's most remote rookeries. The major aim is to visit the 28,000 strong colony of Emperor Penguins at Atka Bay. What you will also see is spectacular landscapes and explore amazing wilderness areas on unique activities.
Pros:
One of the most exclusive experiences on the planet
Get up close to Emperor Penguins
Plenty of unique activities such as ice climbing, abseiling and exploring ice tunnels
The most exclusive accommodation in Antarctica
Very small groups – maximum 12 guests
Cons: 
Natural Focus recommendation:
These are the ultimate in Antarctic adventures, suited to seasoned explorers and those who love off-the-beaten-track adventures – literally!
Summary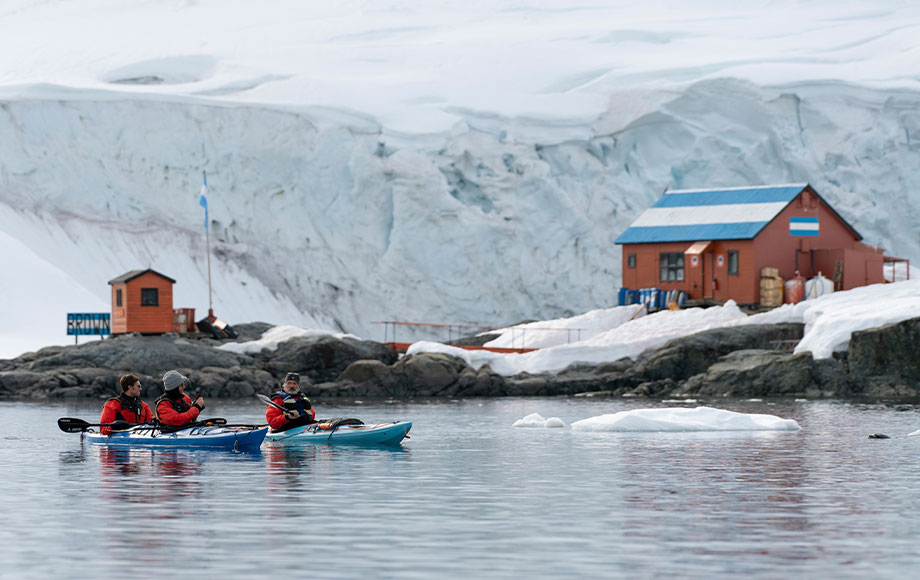 Article Name
Returning to the Antarctic Peninsula
Description
In February 2023, Natural Focus copywriter James Cameron journeyed to Antarctica with a friend, travelling aboard Aurora Expeditions' superb expedition vessel the Greg Mortimer.
Author